6 Types of Parks and Gardens
You Must Explore in Sunda
Who doesn't want to enjoy the view of beautifully landscaped parks and gardens? Many people love to spend their days strolling in the manicured park and garden, hike in the forest, or climb a mountain. Are you wondering whether you will find them here in Sunda? You'll be surprised by the number of parks and gardens here. It because this land is well known for its beauty, as mentioned in the famous quote from M.A.W. Brouwer, a Dutch scholar who spent most of his adult life teaching in Sunda.
Bumi Pasundan lahir ketika Tuhan sedang tersenyum
- M.A.W Brouwer
Loosely translated from Bahasa Indonesia, it means God was smiling when He created Sunda (resulted in a gorgeous landscape).

Note: the land of Sunda has several aliases, such as Tatar Sunda, Priangan, and Bumi Pasundan. They are referring to the same thing, the area on the western part of Java.
In this article, we will focus on the parks and gardens scattered all over Sunda. Here we will explore the botanical gardens, city forests and parks, flower gardens, and tea plantations.
1. Botanical gardens in Sunda

Established in the 1800s, the botanical gardens in Sunda is one of the favorite parks and gardens. Bogor Botanical Garden is a vast garden in the heart of the city of Bogor. Hence, it is easy to come here by taking public transportations. 
Strolling inside Bogor Botanical Garden, you will see many hundreds of years old trees. Some trees are parts of the many gardens here, such as the Mexican garden, Teisjman garden, bamboo garden, the lotus ponds, and the orchid greenhouses. 
Cibodas botanical garden is much bigger than the one in Bogor. The location is on the slope of Mount Gede Pangrango, which also serves as the gate to climb the mountain. Similar to Bogor botanical garden, it has many gardens, such as fern garden, bryophyte park, rhododendron garden, and liana garden. If you come at the right time, you will witness the flower of Cherry blossom in the Sakura Garden or the bloom of the giant corpse flower in Amorphophallus Garden. 

Cherry blossoms in Indonesia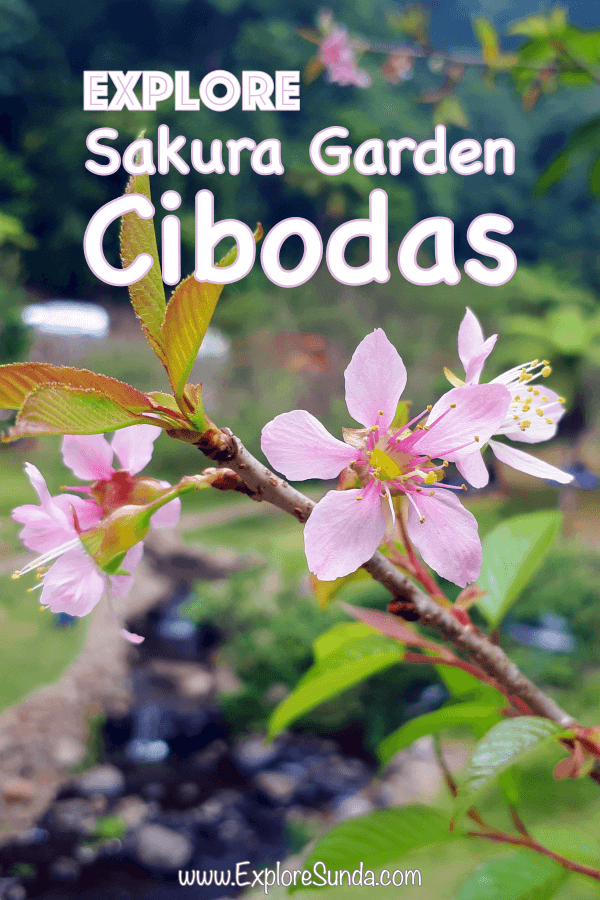 Sakura or cherry blossom is a very famous flower in four-season countries. It usually blooms at the beginning of spring. 
Cibodas Botanical Garden started to plant four types of cherry blossom trees in 1971. Surprisingly they flourish here on the highlands of Sunda. They even bloom twice a year!
Continue reading Sakura Garden in Cibodas Botanical Garden ...
2. Explore city forests in Bandung

Bandung has a city forest called Tahura (Taman Hutan Rakyat) Juanda. The location is at Dago Bandung, accessible using public transportation. The area of this forest is enormous. If we hike through this forest, you will reach Maribaya Lembang. Along the way, you will see many beautiful views and the historical places of  World War II bunkers.
Another forest park in Bandung is Orchid Forest Cikole, at the slope of Mount Tangkuban Perahu. Usually, people grow orchids inside greenhouses. But at the Orchid Forest Cikole, you will see various orchids grow on the trunks of pine trees. 

3. Flower parks and gardens in the land of Sunda

Taman Bunga Nusantara at Cipanas, Puncak Pass, is the largest flower park in Indonesia. It has many thematic gardens, such as the Rose garden, the French garden, the Mediterranean garden, the Japanese garden, the Balinese garden, and many more. 
On the other hand, Begonia Garden in Lembang is much smaller in size. But you will still enjoy walking around the garden and take as many pictures as you wish. 
Grace Rose Farm is a productive rose farm that harvests hundreds of colorful roses every day. Although the greenhouses of the rose farms are off-limits, this five-hectare farm is vast and has many flowers and gardens you can enjoy. You even can take a look at how the workers pack the roses, ready for shipment to cities in Indonesia.
4. Tea plantations in the highlands of Sunda.

In the 18th century, the Dutch brought tea and coffee seedlings and started plantations in the highlands. Some of these plantations still exist today. 
The tea plantations are state-owned, under PTPN VIII. The three most popular ones in Sunda are Gunung Mas at Puncak Pass, Rancabali at Ciwidey, and Malabar at Pangalengan. 

Gunung Mas offers several activities, such as horse or ATV riding through tea plantations, various photo spots, and children's playground. We, at ExploreSunda.com, recommend the ATV ride. It is a guided tour, where you ride the ATV through the dirt path between the tea shrubs.

Driving through the Rancabali tea plantations in Ciwidey Bandung, you will reach the legendary lake of Situ Patenggang. The view is superb here. Presently, there are two accesses to Situ Patenggang, either through the original gate or through the newer gate to Glamping Lakeside Rancabali. Besides the restaurant and the view of the tea plantation, Rengganis crater and its hot-spring are waiting for you!

5.  Taman Buah Mekarsari


Mekarsari is unique since it is the only park in Indonesia that has various orchards. You must join a guided tour to visit some of the orchards, usually the ones that are ready to be harvested. You could pick the fruit directly from its branch, weigh, and pay it on the spot. 
The guided tour will vary from time to time, depending on the harvest time of every orchard, since many of them are seasonal fruits.
Besides the orchard, Taman Buah Mekarsari offers some activities, photo spots, a vast lawn and a lake. 
6. City parks and gardens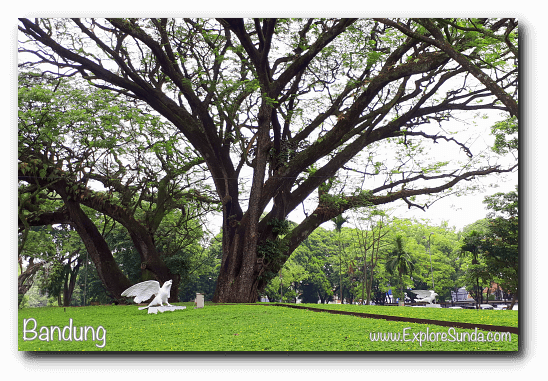 You don't have to go far to enjoy the parks and gardens. Over the years, many cities in Indonesia upgraded their city parks and gardens and assigned a theme to each. For example, pet garden, senior citizen garden, forest city park, etc. 
Many people come to these city parks to exercise in the morning and enjoy some fresh air. Some even have a small library so you can read books while enjoying the outdoor.
Going to the parks and gardens to exercise or to have a picnic is no longer satisfying for some people. They expect more. Especially in this day and age, with the development of smartphones, digital cameras, and social media, people love to take pictures and share them with their circle of friends. Children want to go on thrilling rides instead of playing ball. Thus, many new parks and gardens provide entertaining activities, photo spots, and restaurants to cater to these expectancies.
Next, let's explore these new and trendy parks and gardens. Where are they? What facilities do they have to offer?
Are you ready to explore other attractive places in the land of Sunda? 
Dec 04, 23 08:41 PM

Summarecon Mal Serpong: the favorite shopping mall in South Tangerang for the whole family to do shopping, pamper in beauty salons, learn to cook in a cooking studio, watch movies, and play in the arc…

Oct 26, 23 11:32 PM

A visit to Benteng Heritage Museum at the old town of Tangerang to see the history and culture of China Benteng.

Oct 13, 23 03:33 AM

Explore De Voyage Bogor, a new European theme garden for selfie and hang out. Take tons of beautiful pictures and join the activities :)