A Family Vacation to Kawah Putih
and Situ Patenggang in Ciwidey, Bandung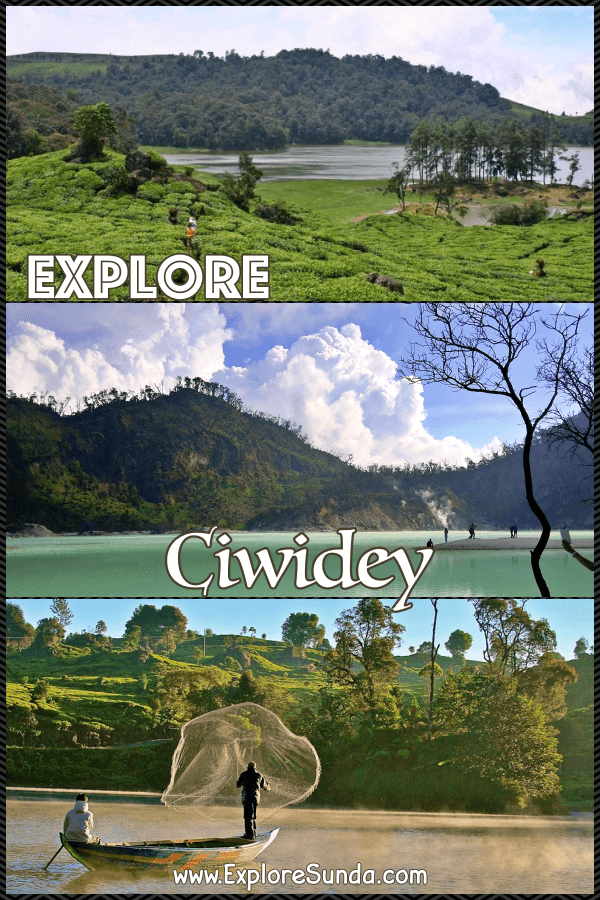 Ciwidey is a small town in southern Bandung. It is the gateway to the beautiful highland on the slope of mount Patuha. 
For years, the top two places of interests in this area are:

Kawah Putih (White Crater)
Situ (lake) Patenggang
We, at the ExploreSunda.com, still believe that they are the must visit places. On top of that, there are newer places of interests, since this area has developed into an attractive tourist destinations. For example, you can buy strawberries by directly self-picking them in the strawberry farms, walk around and enjoy the beautiful scenery of tea plantations or just relax and indulge yourselves in the resorts.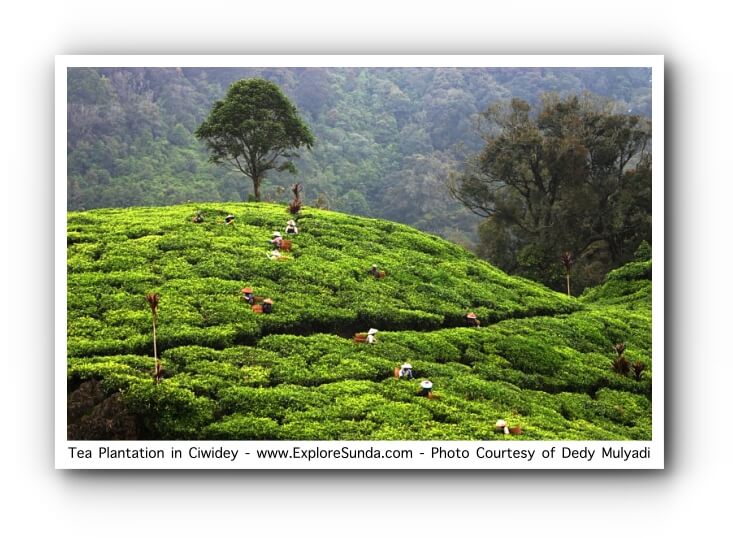 First Stop: Kawah Putih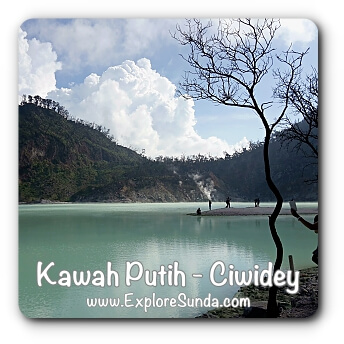 Kawah Putih, or White Crater in English, is one of Sunda's hidden gem. It is a beautiful volcanic lake, located approximately 47 km south of Bandung.


The view of the crater is amazing: from the mix of white and greenish color of the lake, the white sandy beach, to the limestone cliffs. Even some trees can grow in this crater.

Read more on Kawah Putih ...
Next: Situ Patenggang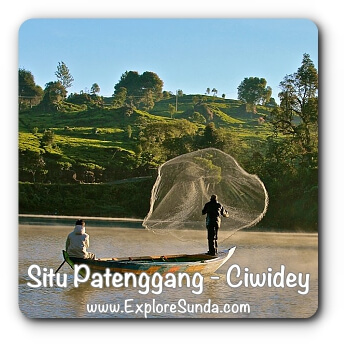 Continuing the journey, you will pass tea plantation and at the end of the road you will arrive at Situ (lake) Patenggang, which also known as Situ Patengan. It is a favorite family vacations destination in Sunda, due to its beautiful scenery.
Tea plantation that looks like a green carpet covering the hills, surrounded this lake. Together with the pine forest and the greenish lake they form a very beautiful and relaxing view.

Read more on Situ Patenggang ...
Glamping Lake Side Rancabali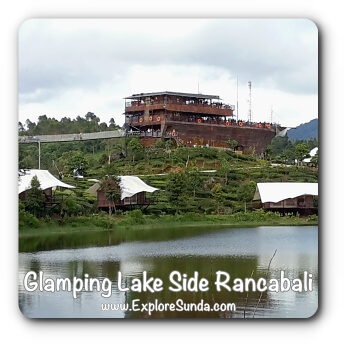 Glamping Lakeside Rancabali combines glamping and dining while enjoying the relaxing view of Situ Patenggang and Rancabali tea plantation that surrounds it. It is located right on top of the legendary Batu Cinta.


Read more on Glamping Lake Side Rancabali ...
Kampung Cai Ranca Upas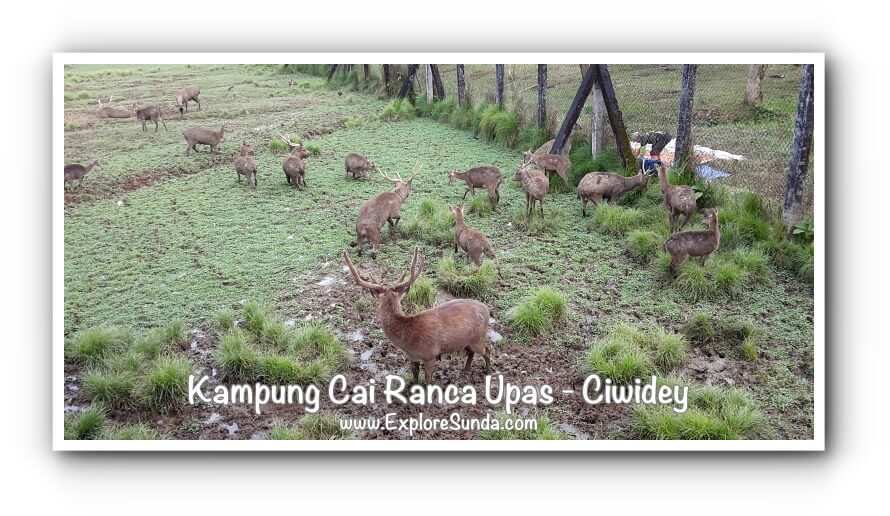 Originally Ranca Upas was a forest with a big swamp, that's how it got its name: Ranca is a sundanese word for swamp and Upas is a species of flora that was often found in this area. Then the area is used for breeding Javan Rusa a.k.a. Sunda Sambar (Rusa timorensis), a species of deer native to the islands of Java, Bali, and Timor.

The brochure mentioned that the breeding area is 5 ha. However, we only saw 20 deer inside the fence during our visit to Ranca Upas. So I'm not certain whether the 5 ha is divided between the breeding area, camping and play ground or the 20 deer in a fence is the only ones for display, while others roaming freely in the woods. Anyway, since their habitat is so muddy, we'd better stay in the wooden platform. They are tame enough since they are used to visitors feeding them carrots.

In addition to the deer breeding, Ranca Upas has camping grounds and water park. We even can rent the camping gear. Then we can play all day long in the water park. Although it is rather cold in Ciwidey, the brochure mentioned the water used for the water park is warm, since it comes from the nearby hot spring.
Fun Activity: Strawberry Picking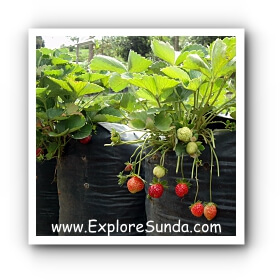 The cool weather in the slope of mount Patuha is perfect for strawberry farms. Hence, there are many strawberry farms here, but they will be crowded during weekend and holidays. So, you'd better come early. 


The farmer will give you a basket and you can pick the strawberry by yourself. The price is more expensive than buying them in the store, but strawberry picking is always fun, especially for children.
Traditional Snack From Ciwidey
There are several traditional snacks you can only find in Ciwidey. First snack is sweets made of orange skin. It is called 'kalua jeruk'.

Next snack is 'berondong jagung' (pop corn ball). It is pop corn glued together with palm sugar.

Since there are many strawberry farms in this area, some strawberries are cooked into strawberry sweets called dodol strawberry. They are made of sticky rice, sugar and strawberry juice.
Meal and Accommodation in Ciwidey

Several years ago, Sindang Reret is the only recommended restaurant and hotel in this area. But today, there are so many options you can choose: spend a night in the villas, hotels and motels, guest houses and inns. The latest trend is to stay in the glamping camp.
Check out the best glamping camp in Southern Bandung here ...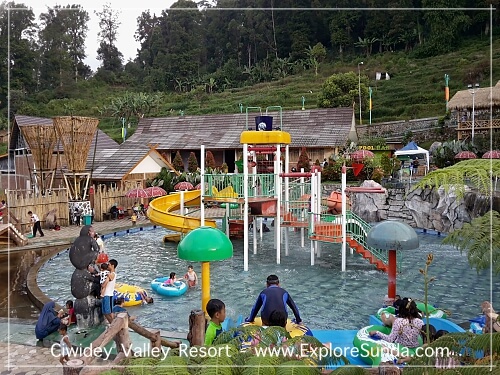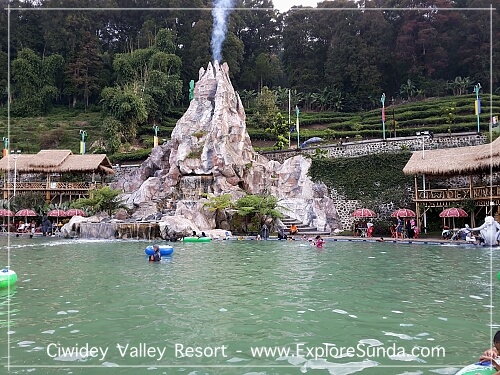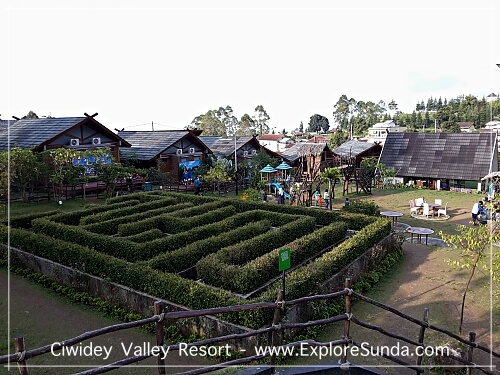 Today, Ciwidey has several resorts. One of them is Ciwidey Valley Resort. It is very easy to reach because the location is on the side of the main road and close to Kawah Putih. It has a small water park with warm water from the nearby hot spring and a playground with a small labyrinth. You can choose to stay in the 2 story hotel or in glamping. 

Another resort is eMTe Highland Resort. Its location is right in front of the Kawah Putih's entrance. In addition to the hotel and restaurant, this resort offers outdoor activities such as flying fox, pedal boat, horse ride, atv ride, strawberry farm and fishing pond.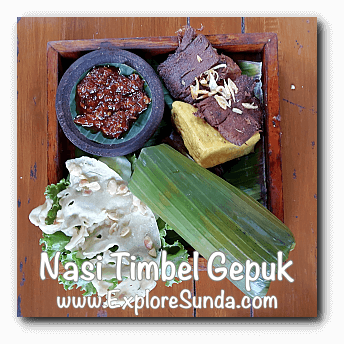 Although Sindang Reret hotel looks outdated compared with the newer hotels, resorts, and glamping; the Sundanese food here is still the best. One of their specialty is 'Gepuk'. Gepuk is a sliced beef that is spiced and then cooked for hours until tender. The taste is rather sweet. 

If you like spicy food, you can try the Sundanese salad named karedok. Karedok consists of raw vegetables such as cucumber, string beans, eggplant and cabbage with oncom sauce. Oncom is made of beans fermented with fungi, which you can only find in Sunda. If you prefer cooked vegetables, you can order gado-gado, which comprises cooked cabbage, string bean, bean sprouts, boiled egg and potato, fried tofu and tempe with peanut sauce.
Do you know?
There are several types of Sundanese salads. How many have you tasted? Which one is your favorite? Find out about the Sundanese salads here ...

How to Go to Ciwidey, Kawah Putih, and Situ Patenggang
This highland is approximately 50 km southwest Bandung. The easiest way to go to Ciwidey is via Soroja (Soreang - Pasirkoja) toll road, an extension of Purbaleunyi toll road.   So, if you enter the toll road from Padalarang, Pasteur, and Cimahi, you should choose direction to Cileunyi and go to the direction of Pasirkoja and Soreang. If you come from other access, such as Cileunyi, Buahbatu, and Moh. Toha, then you should choose direction to Padalarang and exit at Pasirkoja and Soreang. Look out for the exit at km. 132. It is a bit confusing for the first-timer, because as soon as you direct your car to the exit, you must choose direction to Soreang straightaway. Nevertheless, this toll road helps to reduce the time travel to Ciwidey, since it bypass the traffic jam between Kopo and Soreang. 
Remember:
Don't forget to bring your jacket, since the cold wind in the area of  Ciwidey, Kawah Putih and Situ Patenggang makes it quite freezing up there.
Ciwidey in the south, Lembang in the north, and Garut in the east, it is absolutely worth it to explore the Bandung highland. Which one is your favorite? 

Sep 22, 23 01:49 AM

Explore Eco Green Park in Batu, East Java. Have fun family vacation surrounded by colorful and exotic birds, while learning ecology and green living.

Sep 18, 23 04:59 AM

Have fun in Jawa Timur Park 2, where you explore Batu Secret Zoo, Museum Satwa, join thrilling rides at Happy Land and play in the Fantasy Land waterpark, all in one place :)

Sep 12, 23 06:26 AM

Explore many interesting places outside the land of Sunda, mainly tourist destinations in Central Java, Yogyakarta, and East Java.