Specials During Imlek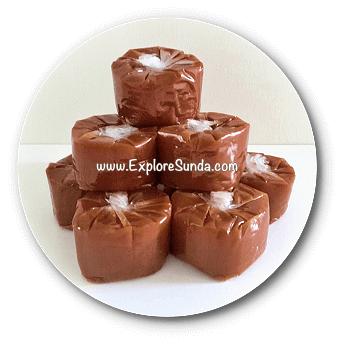 Special food during Imlek: Dodol Keranjang (Nian Gao).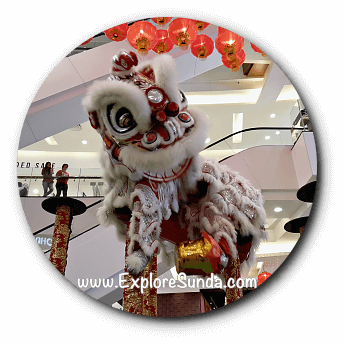 Special performance during Imlek: Lion Dance.
The special food that only made and sold during Imlek is basket cakes, in Sunda we called it dodol keranjang or dodol China, or Nian Gao in mandarin. We called it basket cakes because we use a bamboo basket as a mold for the dough. The main ingredients of this cake are sticky rice and sugar, but now it has various flavors such as vanilla, chocolate and pandanus (the extract of pandanus leaves provides the green color and smells good). We can eat it as is, but many people prefers to steam it with shredded coconut or fries with beaten egg.
The special performances during Chinese New Year are lion dance and dragon dance. The Chinese believe these animals bring prosperity and push away the bad luck. 
The Dragon is carried by many people, since it has long body. Hence, it usually performs on the street.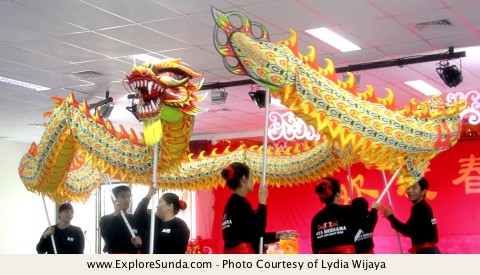 Special performance during Imlek: Dragon dance.
Lion dance is more popular, because nowadays almost every mall in Indonesia invites it. The lion is represented by 2 men under one hood. There are several varieties of the dance, they can dance on tables, on poles, they even can do moonwalk and gangnam style!
The most difficult style of lion dance is the pole lion dance. They dance and jump on 21 poles that have different height and range.
At the end of the show, we give hongbao to the lion, as our appreciation. Children love doing it :)
My favorite place to watch pole lion dance performance is at Living World Mall in Alam Sutera, South Tangerang. The group who always performs in this mall is Kong Ha Hong. They won several pole lion dance championships, both national and world championships. Their lions are always expressive and agile. Kong Ha Hong team is creative. They have an LED lion dance, a very bright one where its body is fully covered with LED. They perform many varieties of pole lion dance stunts, such as a drunken lion dance and the monkey king Sun Go Kong plays with the lion dance on top of the poles,  as well as a Gang Nam lion dance. One thing for sure, their lions always come in a pride, they never come alone :)
Look at the crowd! People are eagerly waiting for each of their performance.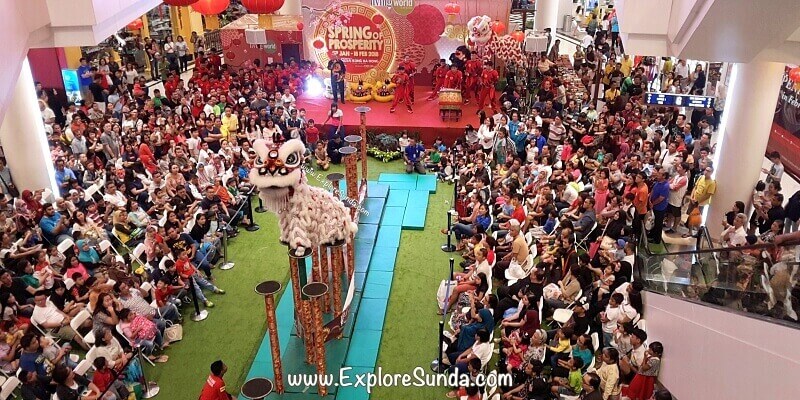 A Pole Lion Dance performance always attracts crowds.
I have compiled their performances over the years and put some of the best pictures in sliders below. I hope you enjoy watching their performance as much as I do.  :)