Shopping Malls in Tangerang Selatan
In the previous page we have explore several shopping malls in Tangerang Selatan: 
Here we will explore:

IKEA Alam Sutera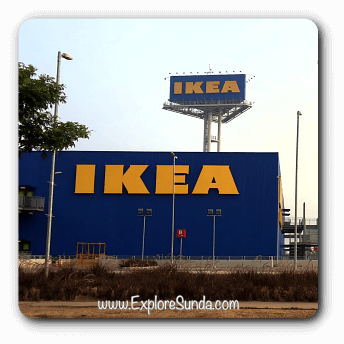 Address: Jalan Jalur Sutera Boulevard kav.45, Alam Sutera, Tangerang Selatan.
GPS coordinates: 6°13'13.0"S 106°39'47.0"E (-6.220278, 106.663055)
Although IKEA can not be defined as a shopping mall per se, but in our opinion the shopping experience and facilities in IKEA are comparable to other malls, except for the products offered. IKEA designs and sells ready-to-assemble furniture and home accessories only.

IKEA store is literally huge. You will find many layouts in IKEA so you can visualize how the furniture look like in your room, kitchen, apartment, or even your house, complete with accessories required, such as lamps, vases, candles, glasses, plates, and utensils.

The fun part of the buying process in IKEA is a self service store. Hence, once you intend to buy some furniture, you must write down or take picture of where the knock down parts are located. Then you head down to the racks and locate where it stores. You bring these parts to cashier and load it to your vehicle, all by yourselves!
However, not everybody can carry those big boxes of parts. Hence, IKEA also offers services to deliver them to your home and assemble them.

IKEA also provides a small playground for young children, so their parents can shop comfortably without worrying their children and the children can have fun too.

Another favorite section in IKEA is its cafetaria. It serves different menu for breakfast, lunch, and dinner. Many people come to IKEA just to hang out and dine here.
Mall @ Alam Sutera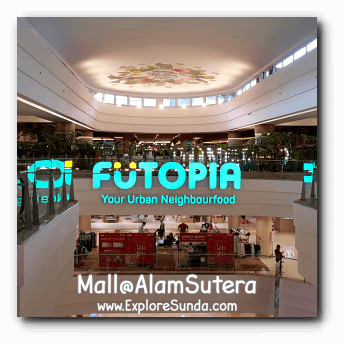 Address: Jalan Jalur Sutera Barat kav.16, Alam Sutera, Tangerang Selatan.
GPS coordinates: 6°13'22.2"S 106°39'13.8"E (-6.222833, 106.653819)
Next we are exploring the mall near IKEA: Mall @ Alam Sutera. One word I would use to describe this mall is spacious. It has a lot of space for us to walk comfortably or take a rest on the benches under the decorated trees.

Exploring Mall @ Alam Sutera, you are going on a long walk from the west end that are occupied by Gramedia and Cinema XXI, to the east end where you can shop at Sogo, Food Hall supermarket and dine-in at the Food Court. It used to be Mango Farm in Lower Ground Floor, but recently it is replaced with Futopia in the second floor.
In between you will find specialty shops, Fun World arcade game and restaurants. Unfortunately, these days there are too many vacant shops in this mall and not so many visitors. But I saw some renovation in the east end, so hopefully it can attract more visitors and tenants soon.
Living World Mall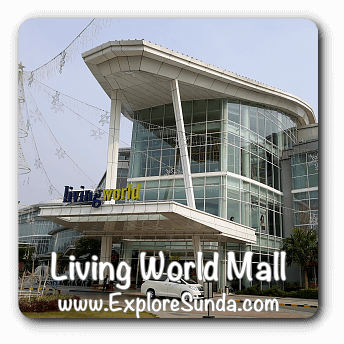 Address: Jalan Alam Sutera Boulevard Kav. 21, Alam Sutera, Tangerang Selatan.
GPS coordinates: 6°14'38.0"S 106°39'16.0"E (-6.243889, 106.654450).
Living World Mall is the first shopping mall in Alam Sutera.

The main tenants of Living World Mall are ACE Hardware, Informa, Toys Kingdom and Pendopo. The remaining areas are full with stores range from electronics and gadgets to cosmetics, shoes, clothes and accessories.

Tired of shopping? You can hang out in the many restaurants and cafe on the ground floor. It is called Living Walk. After the renovation, the area near the east atrium is called the garden, while the area near the west atrium is called the market. Anyway, you will find many finger-licking good meals  here with a lot of varieties. For example, you can opt for Indonesian cuisine at Bebek Tepi Sawah, Chinese cuisine at Jun Njan, Eaton, Din Tai Fung or Ta Wan. Burgers at Wendy's and Burger King. Or go western at Steak 21 and Fish & Co. Another alternative is to dine-in in the food court called Food Town on the second floor.

One thing for sure, we, at the ExploreSunda.com, always look for our favorite event that always held every January in Living World Mall: the lion dance performance during Chinese New Year.
Bintaro Jaya Xchange Mall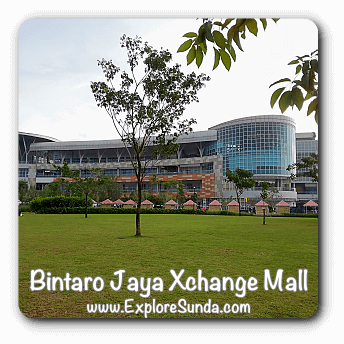 Address: Boulevard Bintaro Jaya Blok. O-2, Bintaro Jaya Sektor VII, Tangerang Selatan.
GPS coordinates: 6°17'11.0"S 106°43'42.0"E (-6.286389, 106.728333).
Bintaro Jaya Xchange Mall is conveniently located beside Jakarta-Serpong toll road. As soon as you exit at Pondok Aren - Bintaro - Ciputat you will see many traffic signs that show you to the right direction.

Similar to other shopping malls, you will find many shops, restaurants, cinema and Fun World game center here. However, one special thing in Bintaro Jaya Xchange Mall is the ice rink! BX Rink is one of the few ice rinks in Jabodetabek (Greater Jakarta), so don't miss skating here :)

Another special from this mall is its large park. Many visitors just sit and relax on the grass, others play skateboard on the provided rink. It is really great to play in the outdoor :)
---
Have you checked out other shopping malls in Tangerang Selatan?
Sep 22, 23 01:49 AM

Explore Eco Green Park in Batu, East Java. Have fun family vacation surrounded by colorful and exotic birds, while learning ecology and green living.

Sep 18, 23 04:59 AM

Have fun in Jawa Timur Park 2, where you explore Batu Secret Zoo, Museum Satwa, join thrilling rides at Happy Land and play in the Fantasy Land waterpark, all in one place :)

Sep 12, 23 06:26 AM

Explore many interesting places outside the land of Sunda, mainly tourist destinations in Central Java, Yogyakarta, and East Java.