Bandung Shopping Guide
Where Are The Souvenir Shops?
I believe your Bandung shopping list would not be complete without shopping for the unique Sundanese souvenirs. You might wonder, what kind of souvenirs that typical Sunda and where can you buy them?

Many kind of Sundanese souvenirs
Some souvenirs are so unique that makes it difficult to find them outside Sunda. They are:

Angklung. This is a Sundanese traditional music instrument made from bamboo. We play it by shaking it and each instrument will reflect one note. Therefore, the souvenir shops usually sell it as one set and in smaller dimension for interior decoration. The good manufacturer of angklung is Mr. Udjo Ngalagena House of Angklung at Padasuka street. Here you can see the performance as well as the production of angklung.
Actually Sundanese has other bamboo music instruments such as flute and calung, but angklung is the most popular one.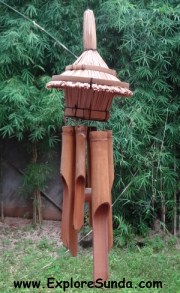 Wind Chime made of bamboo. I really like the sound of this wind chime because unlike wind chime made of metal, its sound is not high pitched.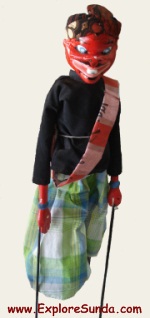 Wayang Golek or Sundanese puppet. There are two types of wayang as puppet: the 3 dimension Wayang Golek from Sunda and the 2 dimension of Wayang Kulit (Leather Puppet) from Central and East Java. However, most of their stories are similar, based on the Indian Mahabarata story. Each puppet represents a character from the story. The story teller called Dalang will sit in front of the audiences and play the puppet while telling the story all night long!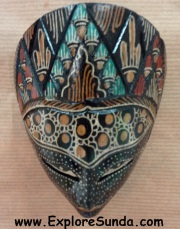 Wooden Mask. Originally this mask is used for mask dances from Cirebon. But, it will become an artistic ornament for your home.

Sundanese Batik. UNESCO has recognized batik as one of world heritage culture from Indonesia. Batik is the process of dyeing a cloth through wax resist method. Despite of the similar process, each region in Indonesia has its own unique technique, color, motives and patterns. Nowadays you can easily find batik in batik boutique in malls as well as department stores such as Metro, Matahari, Keris, or Yogya, but most of them are Javanese batik from Jogjakarta, Solo or Pekalongan. The major producers of batik in Sunda come from Cirebon. One of them is Batik Komar that has a showroom in Sumbawa street no 22, Bandung.

Bandung Shopping Guide: Souvenir Shops
There are several souvenir shops in Bandung, selling Sundanese souvenirs as well as souvenirs from other region in Indonesia. The souvenir shops are:

Sin Sin. The location of this shop is at the first Bandung shopping arcade, Braga street. Sin Sin has been in souvenir business for a long time. It is always well known for selling high quality souvenirs. I remember my dad often took me here when I was young, to buy souvenirs for his colleagues from abroad. There are many kinds of souvenirs here: wooden statue, wooden carved name plate, paintings, silver products, wayang (Indonesian puppet), angklung, etc. Alternatively, there is a seller on the pedestrian walk in Braga street who also sells Sundanese souvenirs, but of course with lower quality.


Cupumanik at H. Akbar street, across Bandung railway station. The location is convenient if you come by train. It sells wayang golek (Sundanese puppet) among other souvenirs.

Cihampelas 39, the name of this souvenir shop is the same as the address. The location is on the right side of Cihampelas street, after the crowded jeans factory outlets, near the Pasupati flyover.

I hope this Bandung shopping guide helps you find the Sundanese souvenirs you love.