Bandung Shopping Guide:
Where Are The Souvenir Shops?
I believe your Bandung shopping list would not be complete without shopping for the unique Sundanese souvenirs. You might wonder, what kind of souvenirs that typical Sunda and where can you buy them?

Bandung Shopping List of Sundanese Souvenirs
1. Angklung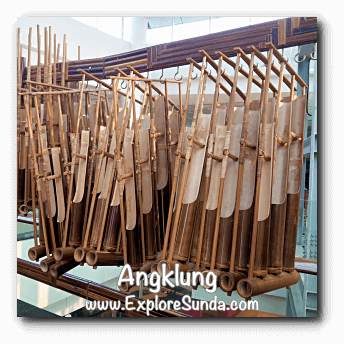 Angklung is a Sundanese traditional music instrument made of bamboo. We play it by shaking it and each instrument will reflect one note. Therefore, the souvenir shops usually sell it as one set and in smaller dimension for interior decoration. The good manufacturer of angklung is Mr. Udjo Ngalagena House of Angklung at Padasuka street. Here you can see the performance as well as the production of angklung. 

Actually Sundanese has other bamboo music instruments such as flute and calung, but angklung is the most popular one.

2. Bamboo Wind Chime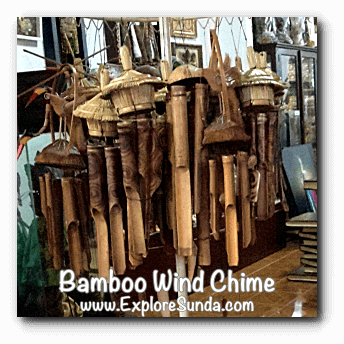 As obviously named, this type of wind chime is made of bamboo. I prefer the soft sound of this wind chime than the high pitched sound of the metal wind chime. However, it has shorter life span when we hang it in the outdoor.

3. Wayang Golek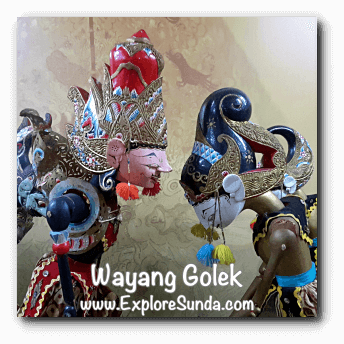 Wayang Golek is the Sundanese puppet. The face, torso and limbs are made of wood. Then they are painted and accessorized with sparkly things such as crown and clothes.
There are two types of wayang as puppet: the 3 dimension Wayang Golek from Sunda and the 2 dimension of Wayang Kulit (Leather Puppet) from Central and East Java. However, most of their stories are similar, which are based on Mahabarata story from India. Each puppet represents a character from the story. The story teller called Dalang will sit in front of the audiences and play the puppet while telling the story all night long!
4. Wooden Mask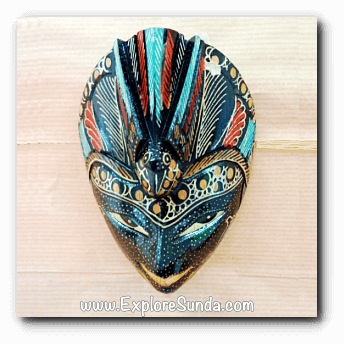 This wooden mask is worn by the dancers from Cirebon when they perform the mask dance. However, due to the intricate and beautiful designs of these masks, many people collect them. That's when these masks transform into artistic ornaments in many homes.
5. Sundanese Batik
UNESCO has recognized batik as one of world heritage culture from Indonesia. Batik is the process of dyeing a cloth through wax resist method. Despite of the similar process, each region in Indonesia has its own unique technique, color, motives and patterns. Nowadays you can easily find batik in batik boutique in malls as well as department stores such as Metro, Matahari, Keris, or Yogya, but most of them are Javanese batik from Jogjakarta, Solo or Pekalongan. The major producers of batik in Sunda come from Cirebon. One of them is Batik Komar that has a showroom in Sumbawa street no 22, Bandung.

6. Paintings at Jalan Braga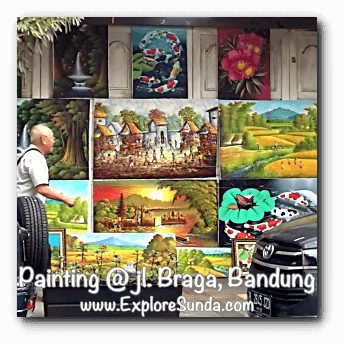 There is a section on the pedestrian of Braga street that is used to display and sell paintings. They have been there for who knows how long.
Most of the paintings are nature related, such as paintings of scenery, animals, and flowers. 
Bandung Shopping Guide: Top Three Souvenir Shops in Bandung
There are several souvenir shops in Bandung, but their merchandises are not limited to Sundanese souvenirs. They also sell many souvenirs from other regions in Indonesia.
The most prominent souvenir shops in Bandung are:
1. Sin Sin
I believe this is the oldest souvenir shop in Bandung. It is located at the first Bandung shopping arcade: Braga street.
Sin Sin has been in souvenir business for a long time. It is always well known for selling high quality souvenirs. I remember my dad often took me here when I was young, to buy souvenirs for his colleagues from abroad. There are many kinds of souvenirs here: wooden statue, wooden carved name plate, paintings, silver products, wayang (Indonesian puppet), angklung, etc. 

2. Cupumanik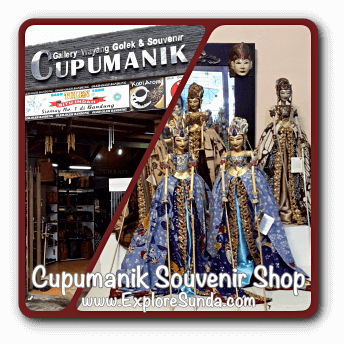 Cupumanik is located at jalan H. Akbar no.10, a small road across the newer Bandung railway station (north gate) at jalan Kebon Kawung. The shop is also conveniently laid in front of Kartika Sari, one of the famous cake shops in Bandung. 

One thing I noticed in this shop is that it has plenty collections of wayang golek we can choose from. But you also will find other souvenirs such as various keychains, bamboo wind chimes, etc. etc.
3. Cihampelas 39
The name of this souvenir shop is conveniently the same as the address. The location is on the right side of Cihampelas street, after the crowded jeans factory outlets, near the Pasupati flyover. On the bright side, you can do all of your shopping at once: jeans, tempe and oncom chips and souvenirs in one area. The only downside is the congested traffic occurs almost all day long at Cihampelas street.

I hope this Bandung shopping guide helps you find the Sundanese souvenirs you love. Another option if you don't have sufficient time to visit these souvenir shops is to go to the Indonesian souvenir department at prominent shopping malls in big cities. For example, Pendopo at LivingWorld mall in Alam Sutera, Alun-Alun at Grand Indonesia mall in Jakarta, and Sarinah department store at jalan MH. Thamrin, Jakarta.
Since Bandung is famous as a Shopping Paradise, perhaps you should check out other shopping venues, such as Pasar Baru, factory outlets and Bandung shopping malls.
Bandung is not only about shopping. Many people love this city because of its delicious food and many activities we can do here, especially in Lembang and Ciwidey.  

Dec 04, 23 08:41 PM

Summarecon Mal Serpong: the favorite shopping mall in South Tangerang for the whole family to do shopping, pamper in beauty salons, learn to cook in a cooking studio, watch movies, and play in the arc…

Oct 26, 23 11:32 PM

A visit to Benteng Heritage Museum at the old town of Tangerang to see the history and culture of China Benteng.

Oct 13, 23 03:33 AM

Explore De Voyage Bogor, a new European theme garden for selfie and hang out. Take tons of beautiful pictures and join the activities :)