Plan a Trip to Bandung Indonesia
So, you are thinking of going on a trip to Bandung Indonesia. Sometimes planning a trip is overwhelming, especially if we are going to a new place. What we will see and do there, how to get there, where will we stay, etc., etc.. and on and on... Where would you start?
Don't worry, here is a simple list to plan a trip to Bandung Indonesia:

Let's get started to plan a trip to Bandung Indonesia!
1. Things to do in Bandung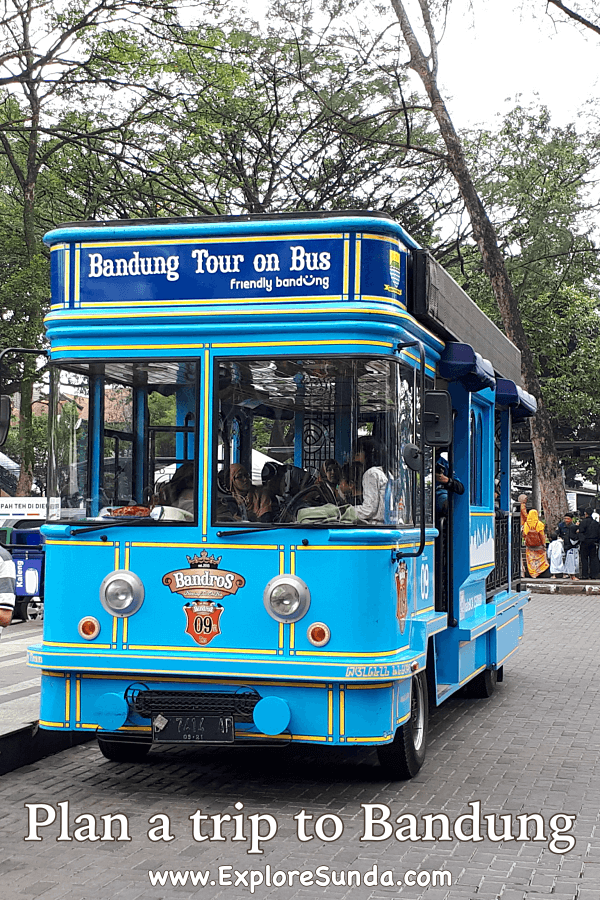 Bandung is one of the top vacation destinations in Indonesia. This city is famous as a shopping paradise. Thus, many people visit Bandung to go shopping in Factory Outlets, Pasar Baru Trade Center, and shopping malls, to buy souvenirs among other things.
Located on a highland, the weather in Greater Bandung is nice. A tropical warm climate with lots of cool breezes. Hence, the favorite places in Bandung are mostly outdoors, such as volcanoes and their craters, forest, parks, gardens, lakes, and zoos. 
I have compiled a list of places to go in Bandung, including detailed information you might need here:
- Top 12 things to do in Bandung ...
I hope now you have a pretty good idea of what you want to do during your trip to Bandung Indonesia. The next step is to decide how you will go to Bandung :)
2. Trip to Bandung Indonesia: how to get there


Being on Java island and quite near to Jakarta, Bandung is well connected. Hence, it is easy to visit Bandung Indonesia. There are several options you can choose from:
Each mode of transportation has its advantages and disadvantages. 
An airplane is much faster than a train or a car, but a plane ticket is more expensive and many airports are not in the city. 
Train stations are downtown, but the schedules are limited. 
Hence, many people choose to catch a bus/shuttle bus or drive a car, especially since the toll road stretches the whole distance between Jakarta and Bandung. Another perk of driving to Bandung is you can go whenever you want and take a break anytime you want. 
However, the traveling time is quite unpredictable. You might be able to cover 130 kilometers (the approximate distance between Jakarta and Bandung via Cikampek and Purbaleunyi toll road) in less than three hours when the traffic is light. On the other hand, you might be stuck there for more than six hours during the long weekend or the holiday season.
Often, my decision to drive or take public transportations depends on how do I get around at my destination. So, let's take a look at how easy to get around Bandung!
3. Getting around Bandung

How are we getting around Bandung? That would be a simple question with a rather long answer :)
In short, whenever you have a trip to Bandung Indonesia, the options of getting around in this city are:
Click the links to read each option in detail or read the full page on getting around Bandung here ...
4. Accommodations in Bandung

So far our plan for a trip to Bandung Indonesia has covered things to do in Bandung, how to go to Bandung, and how to get around the city. Depending on how long you are going to stay in this city, you might need a place to stay.
Don't worry, being one of the top destinations in Indonesia, Bandung has a full range of accommodations:
luxury hotels (five-stars hotels) with all of their facilities and amenities ready to spoil you!
hotels for business, 
hotels for family, 
budget hotels, and 
guest houses.
Perhaps the ordinary hotels bore you, then you might want to try something different, such as: 
Another way to get your best choice of a hotel is to firstly decide on the area of Bandung you want to stay. Many hotels in Bandung are clustered. It means once you have chosen the area you want to stay, you have several hotel options. You might choose that particular area because it is close to shopping areas, plenty of food vendors, short rides to many tourist attractions, etc. Favorite areas for hotels in Bandung are:
Dago (Ir. H. Djuanda street).
Ciumbuleuit.
Riau (L.L.R.E. Martadinata street).
In this digital age, it is easy to book a room in any of these hotels through your favorite travel app or book it through a travel agent. You even can call directly to the hotels. Often you could get a deep discount during low seasons.
5. Best food in Bandung Indonesia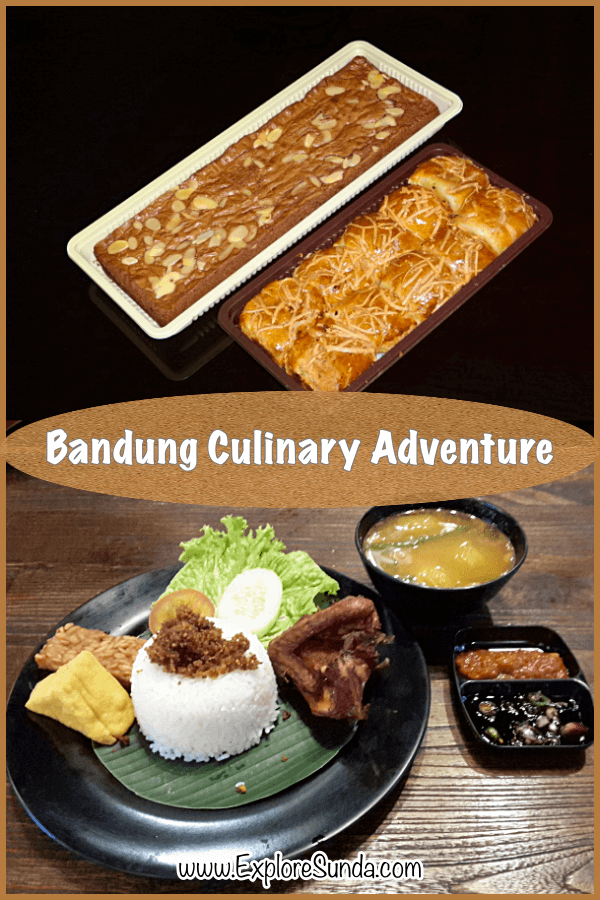 Last on our plan for a trip to Bandung but very important is food. What is the best food in Bandung, and where are they?
Bandung is famous as one of the best cities for food hunting. Many people visit this city, not for its rich culture nor its beautiful nature but its distinctive food. 

Today you can find food from all over the world in Bandung. For example, Chinese, Japanese, Korean, Mongolian restaurants as well as American franchises such as Mc Donald, KFC, Burger King, Pizza Hut, and Domino Pizza. But I don't think that's what you are looking for if you are a foreigner in Bandung :)

The Sundanese cuisines constitute chicken or gourami fish (seasoned then fried or grilled), gepuk (sliced seasoned fried beef), accompanied with rice wrapped with banana leaves, fried tempe, and tofu, raw vegetables called lalaban, and lots of chili shrimp sauce.
While you are in Bandung, you might want to try classic European and Indonesian dishes. The restaurants on Braga street opened since the 1920s, surviving Dutch and Japanese settlements as well as several economic recessions. They serve authentic dishes since they never change their menu and recipes!
Continue reading about the best food in Bandung ...
Plan your trips to other places too ...
Oct 03, 22 04:34 AM

Kawasan Wisata Punclut, the Sarae Hills, the best place to enjoy the amazing view of Bandung at Puncak Ciumbuleuit, a.k.a. the Punclut Bandung!

Sep 14, 22 01:15 AM

Stroll around the gorgeous park of WOW Sarae Hills Bandung and take pictures with world-famous landmarks! It feels like going around the world in one day!

Aug 31, 22 07:33 AM

A God sent to earth to find his true love, a princess exiled to the woods... But what a langur has to do in the legend of Lutung Kasarung?