Flights to Bandung
3 International Airports Near Bandung
Often taking flights to Bandung is faster than any other means of transportation, especially if you are visiting from abroad or from other islands in Indonesia. Presently, three international airports are serving Bandung: one in downtown and two much larger ones quite near.
What do you call the airport in Bahasa Indonesia?

Bandar Udara is Bahasa Indonesia for airport (bandar means port and udara means air). 
However, many people feel saying bandar udara all the time is too long, hence, they most likely will say bandara or airport instead of bandar udara!
Flights to Bandung Husein Sastranegara International Airport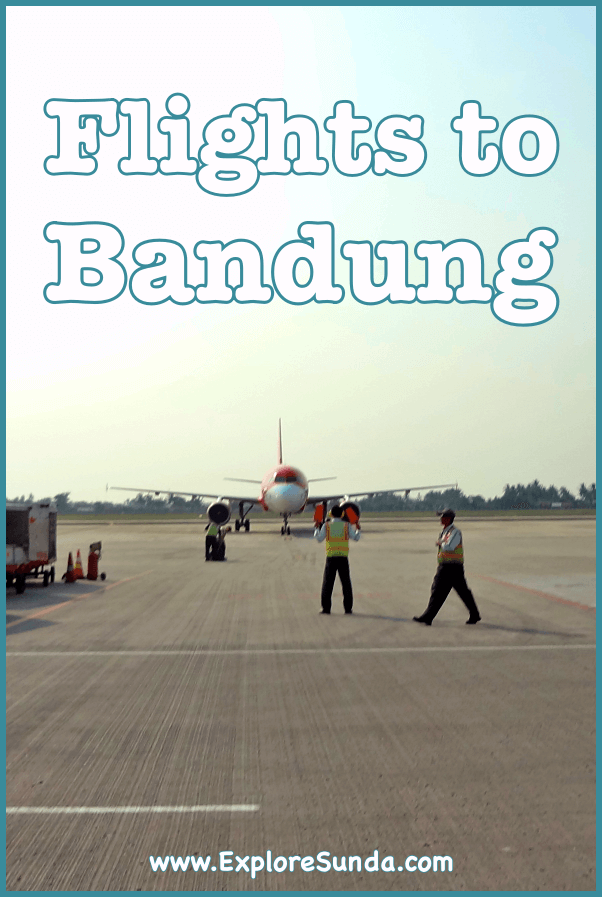 IATA codes: BDO, ICAO codes: WICC
Address: Nurtanio Utara street, Bandara Husein Sastranegara, Bandung. 
GPS coordinates: 6°54'14.0"S 107°34'46.6"E [-6.903899, 107.579616].
The gate to this airport is at Abdur Rachman Saleh street. It also has a back street to Dr. Djundjunan street near the Pasteur toll booth. In short, it is strategically located near tourist attractions in Bandung, Lembang, and Ciwidey. 
Husein Sastranegara serves both international and domestic flights. In this digital age, it is easy to book flights to Bandung using your favorite airline sites or apps. Just remember that the IATA code for Husein Sastranegara airport is BDO. Presently, Silk Air from Singapore and Air Asia from Malaysia serve international flights. Citilink, Lion Air, and Wings Airlines offer domestic flights to Bandung.
Similar to other airports in Indonesia, visitors could only use the official taxi from the airport (Primkopau of Husein Sastranegara) to go to their destination.  In the past, there were many complaints regarding the expensive fee, poor service, and the old fleet used. Thankfully, a couple of years ago Primkopau joined Grab, one of the leading ride-hailing apps in Indonesia. It means Primkopau follows Grab's standard of less than five-year-old cars and customers pay Grab's tariff, which is surely much favorable to customers.
On the other hand, it is up to you how you choose to go to the airport: hail a taxi or online-taxi, use ojek (motorcycle taxi), rent a car, etc. because any vehicle may enter the airport, as long as you pay the parking fee.
Since the beginning, this airfield is used together with the Indonesian Air Force. The total area of Husein Sastranegara Airport is 145 hectares. However, since Bandung is surrounded by mountains, not all types of aircraft can be landed here. Due to its limited capacity and the keep increasing flight schedules (both international and domestic flights) to and fro Bandung, a new and much bigger international airport was built in Majalengka Regency, approximately 68 km from Bandung. It is called Kertajati International Airport.
Flights to Bandung Kertajati International Airport 


IATA codes: KJT, ICAO codes: WICA
Address: Majalengka, West Java, 45457. 
GPS coordinates: 6°39'07.6"S 108°09'28.3"E [-6.652109, 108.157846]
Known as Kertajati International Airport, BIJB (Bandarudara Internasional Jawa Barat or West Java International Airport in English) opened in May 2018. This big and new airport will serve West Java, mainly the area between Greater Bandung and Cirebon, as well as some parts of Central Java such as Brebes and Tegal.

Presently, Air Asia, Citilink, Garuda Indonesia, Lion Air, and Malaysia Airlines have already operated through Kertajati Airport.
The only drawback is the distance to the cities it served. It is more than 60 km either from Bandung or Cirebon, not to mention the time spent due to the traffic. Anyway, access to this airport will be much better and faster when the Cisumdawu (Cileunyi Sumedang Dawuan) toll road is completed at the end of 2021.
Despite its remoteness, there are several options of ground transportation to and fro Kertajati airport:
Damri bus

, the state-owned bus company. It serves cities such as Bandung, Cirebon, Indramayu, Karawang, and Tegal-Brebes. Damri bus pool in Bandung is adjacent to the Bandung train station, at Kebon Kawung street no. 20.
Shuttle bus. There are several brands of shuttle buses that serve between Kertajati airport and surrounding cities, such as Bandung, Cirebon, Indramayu, Kuningan, Majalengka, Purwakarta, Sumedang, Subang and Tasikmalaya.

Bluebird taxi

and

Grab

through their apps. 
While the bus and shuttle bus will pick up and drop passengers at their place and then you have to figure out the next mode of transportation to reach your final destination, Bluebird and Grab are taxis that will take you to wherever your destination is.

Soekarno Hatta International Airport (SHIA)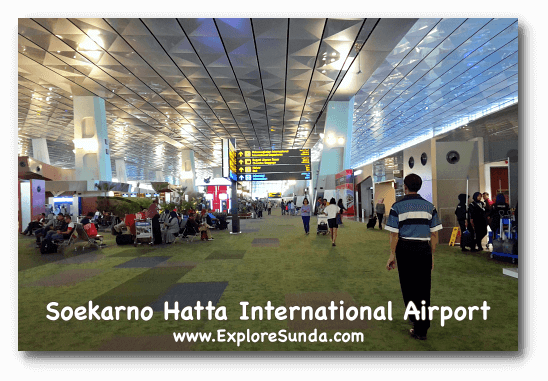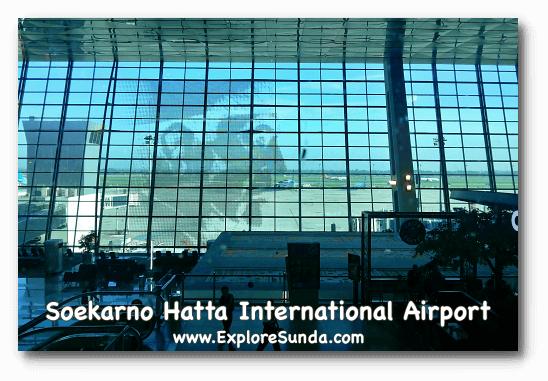 IATA codes: CGK, ICAO codes: WIII.
Address: Tangerang, Banten, 15126. 
GPS coordinates: 6°07'24.2"S 106°39'42.9"E [-6.123376, 106.661925]
Soekarno Hatta International Airport (shortened as Soetta or SHIA) is popularly known as Cengkareng Airport. Although it is located on Tangerang, Banten, the main access to this airport is through a toll road from Jakarta.
This is the largest and busiest airport in Indonesia. Hence, you could get more flight options than Husein Sastranegara airport or Kertajati airport. You might get a cheaper flight too. That's why many people prefer SHIA whenever they book their flights to Bandung. 
The only drawback is it is quite a distance from Bandung (approx. 170 km through Cikampek and Purbaleunyi toll roads). But, there are many ground transportations you can choose from SHIA to Bandung. For example:
Damri bus

. This state-owned bus serves Greater Jakarta (Jabodetabek) routes. If you take SHIA - Gambir train station route, you could continue your journey to Bandung with an Argo Parahyangan train. 

Primajasa bus

serves SHIA - Bandung route.
Shuttle buses (locals call it Travel bus) are popular transportation from Cengkareng airport to Bandung. Several brands are serving Cengkareng airport to Bandung, among them are X-trans, Lintas, and Citi-Trans.

Taxi

serves the Greater Jakarta (Jabodetabek) area. It means you take a taxi to any place in Greater Jakarta, then you change to another mode of transportation to reach Bandung.

Soekarno-Hatta Airport Railink

, the airport train that connects SHIA to Jakarta. Its last station is at Manggarai. From Manggarai station you hop on the commuter line train to Jatinegara station (they use the same railways), then catch an Argo Parahyangan train to Bandung! Of course, good timing is everything here, because the train to Bandung only stops over for several minutes at Jatinegara train station.
The first four options above have to pass the toll road between Soetta airport and Jakarta, which has unpredictable traffic. Yes, there is a back street, which is ideal if you want to go to Tangerang. But if you need to go to Jakarta without worrying about the traffic on the toll road, you should choose the airport train. Unfortunately, the airport train ticket is expensive.
Airport Tax or Passenger Service Charge (PSC)

Whenever you depart from any airport in Indonesia, you must pay a Passenger Service Charge (PSC) or popularly known as an Airport Tax. How much the airport charges each passenger varies depending on the airport. For example, Soekarno Hatta International Airport applies different tariff on each of its terminal (there are three terminals, each serves both domestic and international flights).
Starting March 1, 2015, passengers pay the PSC when they book the flights. 
So, of these three airports, which one will you choose when you book flights to Bandung? Personally, my first choice would always be Husein Sastranegara Airport due to its location in downtown Bandung.
However, a trip to Bandung doesn't always involve planes. Ground transportations such as trains, buses, shuttle buses and cars are favorite options too.
May 23, 23 04:28 AM

Planning to travel to Jakarta? Find the tips on traveling to Jakarta, getting around Jakarta, history, and frequently asked questions here ...

May 22, 23 11:28 PM

Get all the information on Jakarta airport train here: the train stations, how much the ticket cost, and how to buy tickets.

May 19, 23 03:36 AM

Get the best view of Malabar tea plantation, Situ Cileunca, and Pangalengan Bandung from Nimo Highland!