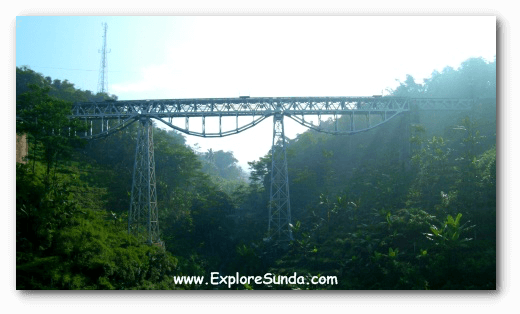 Bandung - Jakarta railway bridge, a view from Purbaleunyi toll road.
Last but it could be the most important reason why people choose a train instead of a plane or car is because it is passing scenic routes. Sometimes the railways are parallel with roads, but often the train is passing through tunnels and bridges over beautiful gorges. Some of them are:
Cikubang bridge (with a 300 meters span it is the longest train bridge in Indonesia), 
Cisomang bridge (with a 100 meters support it is the highest train bridge in Indonesia), 
Sasaksaat tunnel, the 950 meters tunnel. You will not miss it (unless you are sound asleep). It takes several minutes to pass the tunnel. During that time, the railcars will be a bit dim, pitch black when you look out, and the noise inside the railcar is louder.