8 Reasons Why The Train Trip 
to Bandung Indonesia is The Best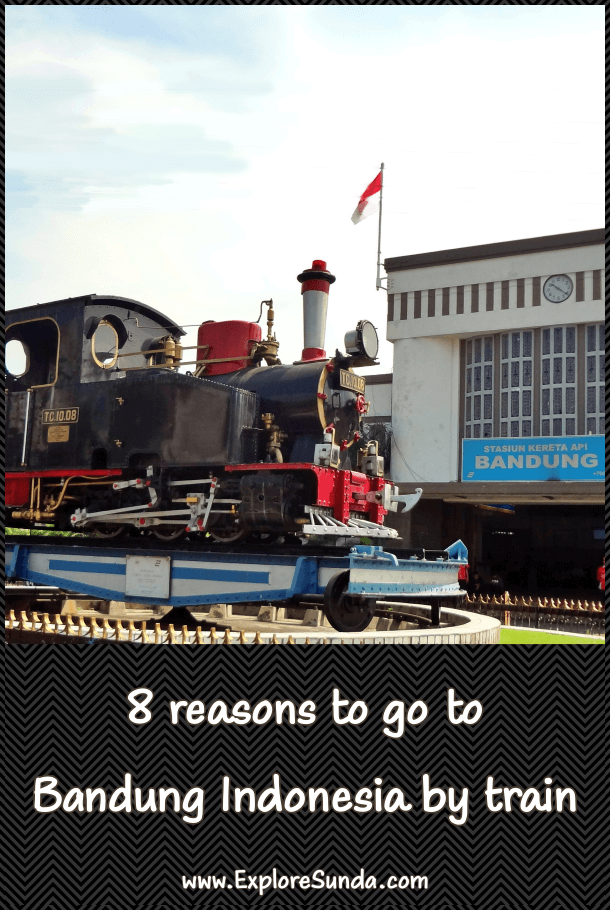 Are you planning a trip to Bandung Indonesia? Have you figured out how to get there?
As the saying goes, there are many roads lead to Bandung ;-) You can book a flight, catch a train, get on a bus or shuttle bus, or drive/rent a car.
If you are considering to catch a train for your trip to Bandung, I would say it's an excellence choice :) 
Here are eight reasons why a train trip to Bandung Indonesia is superior to flying or driving:
#1. Bandung has well-connected railways. 

The most connected railway network in Indonesia lies in Java. Bandung, the capital city of West Java province, has two types of trains: long-distance trains and commuter trains.
The favorite long-distance train in Bandung is Argo Parahyangan, which serves the Jakarta-Bandung route. You also can catch a train from Bandung to Semarang, Yogyakarta, Surabaya, and many towns in between.
#2. The train trip to Bandung Indonesia is cheaper than a plane trip.

Compared to a plane ticket, a train ticket is cheaper, does not fluctuate much, and no surcharge fee. As a senior citizen, you can get a discounted price from the standard ticket price. A child under three years old is free when s/he shares a seat with the accompanying adult.
Usually, every train consists of several classes of railcars, such as premium, executive, business, and economy. Each has different features attached to them, resulting in different prices. Presently, all railcars are air-conditioned, but the economy class still uses the old seat. It is a shared seat for two people and can't be adjusted. On the other hand, you will get individual reclining seats, more leg-room, and a TV in the premium class.
Anyway, based on my experience, the most comfortable seats are the ones in the middle of the railcar while this railcar is directly behind the locomotive :)
#3. Easy booking.

You can start booking train tickets 90 days before your departure date. In addition to the ticket booth in the train stations, you could book a train ticket at:
KAI (Kereta api Indonesia) website and mobile app (KAI Access).
Minimarket, i.e. Alfamart, Alfamidi, and Indomaret.
Travel market sites, such as Traveloka, Tiket.com, etc. 
Post Office.
My favorite is the official KAI mobile app. You can download KAI Access at Google Play Store or Apple store. Once you have registered your account, you can buy train tickets and download the e-boarding pass. You also can change your schedule or cancel your tickets through this app. No more back and forth to the train stations and queueing there to amend your tickets :) There are many ways to pay the tickets, such as transfer via ATM, pay at the mini-markets, and credit cards. Unfortunately, it only accepts credit cards issued by Indonesian banks.
You also can come to the train station on the day of your departure and buy the tickets at the ticket booth. They start to sell the ticket three hours before the departure time. However, the ticket you want might be sold out and you end up buying a more expensive one or even worse you have to delay your trip to Bandung Indonesia.
#4. The train trip to Bandung Indonesia is convenient because the train stations are downtown.

Since the railway networks in Indonesia were built during Dutch settlement in the 19th century, the train stations were built first, then towns were established around it. Hence, train stations are always downtown.
As a traveler, downtown is easier to reach than going out of the city limit to the airports or toll roads. Bandung train station has two entrances: the older one is at Stasiun Timur street, the newer one is at Kebon Kawung street no.43. If you go out through the new station, there are many one to five stars hotels within walking distance and many delicious restaurants too, including the many shops, hotels, and restaurants in Paskal Hypersquare. Even Pasar Baru Trade Center is within walking distance if you go out through the old Bandung train station.
The first train trip to Bandung Indonesia ...
The first train trip to Bandung Indonesia was on June 16, 1884. This first train route was from Jakarta (it was Batavia back then) to Bogor (it was Buitenzorg) to Sukabumi to Bandung. Then it continued to Cilacap in Central Java to Yogyakarta, and then to the final destination at Surabaya. Sadly, the Sukabumi Bandung route is discontinued since the collapse of the Lampegan tunnel in 2001.
In 1906, a new Jakarta Bandung route through Cikampek and Purwakarta was introduced. This route was 156 kilometers, much shorter than the Jakarta-Bogor-Sukabumi-Bandung route (194 kilometers). 
The train company was very proud when they promoted this new route, since the journey from Jakarta to Bandung was 2 hours 45 minutes only, compared to the horse cart that needed almost 3 days to reach Bandung.
Since the route to Bandung passed through mountains, the locomotive used was a mountain line locomotive. Many people were in awe with this big, black, and strong locomotive. They gave it a nickname: Si Gombar. Sadly, none of these locomotives exist today, not even in the museum.
#5. The train trip to Bandung Indonesia requires less queueing than a plane trip.

Imagine if you book flights from Jakarta to Bandung. You have to consider the traveling time from your place to the airport, either Soekarno Hatta International Airport or Halim Perdanakusuma Airport. You need to arrive at the airport at least two hours before the departure time because there are airport procedures you must complete before going on the plane, such as check-in and security check. Unfortunately, they all require queueing. When you arrive at Husein Sastranegara you have to wait for your luggage before queuing to check-out, then another queue to get ground transportation to your destination in Bandung. It seems the queuing takes double or maybe triple than the time it takes to fly from Jakarta to Bandung (which is less than one hour).
If you choose to catch a train from Jakarta to Bandung, either you get on the train at Gambir station (the main train station in Jakarta, adjacent to National Monument a.k.a. Monas) or Jatinegara station (the train only stops over for several minutes here). Then it will go non-stop to Bandung train station. Normally, it takes 3 hours and 15 minutes to reach Bandung. You only need to show your boarding pass to enter the train station, proceed to the train and stow your luggage in the overhead racks.
Similar to airplanes, each train passenger may bring baggage up to four bags for the total weight of 20 kilograms and maximum dimensions of 70x48x30cm. You can bring in wheelchairs and strollers too, and they are free of baggage charge. Porters are available at every station. You can easily spot them because they wear bright uniforms. There is not any official fee, but on average, people pay Rp. 20,000 - Rp. 35,000. 
#6. No traffic and no car sick.

Compared to car trips, there isn't any traffic jam on the railways. 
If you easily get car sick, train travel might be your best choice for a trip to Bandung Indonesia. The occurrence of motion sickness on a train is small. Yes, the train travel here is not as smooth as train travel in Europe, but unlike cars, there won't be any sharp curve to the left and right :)
#7. Trip to Bandung Indonesia in comfort.

Presently, all railcars are air-conditioned. Hence, you can relax in a comfortable railcar. You don't have to worry about traffic or motion sickness. The higher the class, the more comfort it offers, such as more leg-room, touch screen TV for every passenger, electric sockets, and reclining seats. 
Every passenger will receive a snack box, including a glass of mineral water. If you are still hungry, you can order fried rice, coffee, or tea, from the dining car :) Or, you can pack a take-away from the restaurants in the train station.
Recently, Gambir train station in Jakarta upgraded its waiting rooms to provide more comfort. Today it has a free co-working space and children's playground.
#8. The train trip to Bandung Indonesia is passing a scenic route.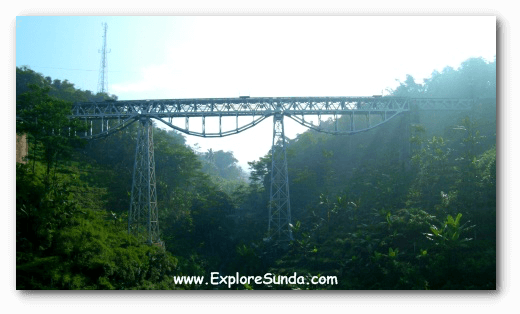 Last but it could be the most important reason why people choose a train instead of a plane or car is because it is passing scenic routes. Sometimes the railways are parallel with roads, but often the train is passing through tunnels and bridges over beautiful gorges. Among them are:
the Cikubang bridge (with a 300 meters span it is the longest train bridge in Indonesia), 
the Cisomang bridge (with a 100 meters support it is the highest train bridge in Indonesia), 
Sasaksaat tunnel, the 950 meters tunnel. You will not miss it (unless you are sound asleep). It takes several minutes to pass the tunnel. During that time, the railcars will be a bit dim, and it feels like the noise from the train is louder.
Train networks fro and to Bandung is extensive. You can go to Jakarta, Bogor, Cirebon, Pangandaran, Yogyakarta, etc. Check out the places of interest in these cities!
Oct 03, 22 04:34 AM

Kawasan Wisata Punclut, the Sarae Hills, the best place to enjoy the amazing view of Bandung at Puncak Ciumbuleuit, a.k.a. the Punclut Bandung!

Sep 14, 22 01:15 AM

Stroll around the gorgeous park of WOW Sarae Hills Bandung and take pictures with world-famous landmarks! It feels like going around the world in one day!

Aug 31, 22 07:33 AM

A God sent to earth to find his true love, a princess exiled to the woods... But what a langur has to do in the legend of Lutung Kasarung?