Road Trip to Bandung Indonesia in Comfort 
The Bus and Shuttle Bus
Are you planning a trip to Bandung Indonesia? How about taking a road trip to Bandung? You could take a bus, a shuttle bus (people called it a travel bus), or drive/rent a car. 

A road trip to Bandung Indonesia: get on a bus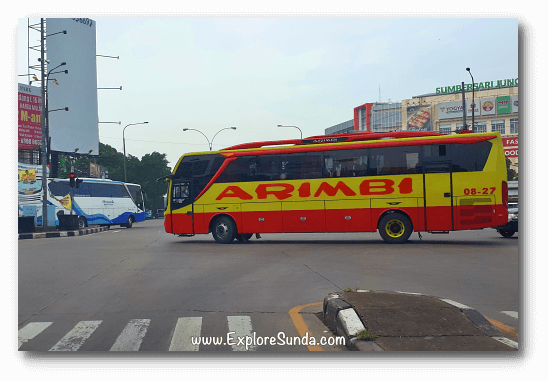 First thing first, let's clear up the difference between a bus and a shuttle bus other than their sizes. All intercity buses must start and end their routes in the city bus terminal. An intercity bus has a capacity of up to 59 seats for an economy bus and 32 seats for an executive bus. The executive bus has bigger leg rooms, wider seats, and some also provide leg rests. All buses are fully air-conditioned, but the economy bus might stop several times during the trip. Hence, if you want to take a bus, you'd better choose the executive bus. You can get on and off the intercity bus at the city's bus terminal. The intercity bus terminals in Bandung are at Leuwipanjang and Cicaheum. Another benefit of taking a bus is the big trunk accessible from the side of the bus.

Consider a shuttle bus for your trip to Bandung Indonesia.
On the other hand, a shuttle bus uses a small van, for example, Toyota Hi-Ace, Hyundai H1, and Isuzu Elf. Depending on the vans used, the capacity of each shuttle bus ranges from eight to fourteen seats. They are all air-conditioned cars with reclining seats (anyway, considering twelve people in one car, the seats can't be reclined much). You will get on and off the shuttle bus at its pools. Some shuttle bus companies also offer pick-up and drop-off at the customer's destination. Although it helps to reduce the hassle in finding transportations between the shuttle pool and the customer, it will result in longer travel time.
The favorite routes of these shuttle buses are: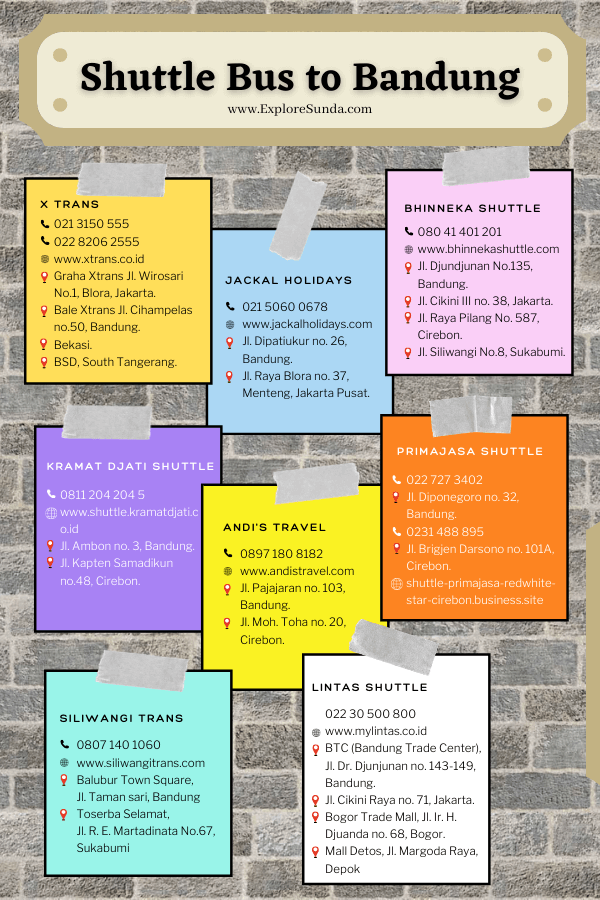 Jakarta - Bandung route

, including Jakarta's satellite cities, such as Tangerang, Depok, and Bekasi. The ticket ranges from Rp. 110,000 to Rp. 125,000 per person. XTrans, Bhinneka Shuttle, Lintas, and Jackal Holidays are the most sought after since they have been in this business for several years.

Cirebon - Bandung route.

 Some are going via the toll road, but others are going on the provincial road, which takes longer. The popular shuttle buses on this route are Kramat Djati, Primajasa, Andi's Travel, and Bhinneka shuttle. The price ranges from Rp. 90,000 to Rp. 130,000.

Bogor - Bandung route.

 They either go to Jagorawi, JORR, Cikampek, and Purbaleunyi toll roads, which is more expensive due to the toll roads' tickets, or through Puncak Pass. One of the shuttle companies that serve this route is Lintas Shuttle. The cost is approximately between Rp. 125,000 and Rp. 140,000.

Sukabumi - Bandung route

 served by Bhinneka Shuttle as well as Siliwangi Trans. It costs approximately Rp. 75,000.
Most of these buses and shuttle buses take advantage of JORR (Jakarta Outer Ring Road), Cikampek, Cipali, and Purbaleunyi toll roads. Normally, these road trips to Bandung takes three to four hours.
Some of these shuttle bus operators offer routes to airports, either Soekarno Hatta International Airport (Cengkareng) to Bandung or Kertajati International Airport to Bandung. 
A road trip to Bandung Indonesia: take a bus vs. a shuttle bus
If you are foreigners, I wouldn't recommend catching a bus for a trip to Bandung Indonesia. First, the bus terminals are near the edge of the cities. Second, it would be very challenging if you can't speak Bahasa Indonesia. It is so hectic and crowded in the bus terminal. There are so many brands of buses, each brand has many routes to towns and cities all over Java, Sumatra, and Bali. 
On the other hand, although the operators in shuttle bus depots speak in broken English, the routes are limited. Hence, the chance you get lost on your trip to Bandung Indonesia is small. You can call and book the seats before your departure date so you can plan your arrival accordingly. Usually, there are several trips to Bandung Indonesia in one day. The only drawback is that the shuttle bus is more or less cramped.
Next:
Rent a car for your trip to Bandung Indonesia.
If you have more time, you might want to consider driving or renting a car for road trips to Bandung. It is more comfortable, convenient, and there are many attractive places you can visit along the way to Bandung.
Find out the Five Favorite Road Trips to Bandung here ...
May 23, 23 04:28 AM

Planning to travel to Jakarta? Find the tips on traveling to Jakarta, getting around Jakarta, history, and frequently asked questions here ...

May 22, 23 11:28 PM

Get all the information on Jakarta airport train here: the train stations, how much the ticket cost, and how to buy tickets.

May 19, 23 03:36 AM

Get the best view of Malabar tea plantation, Situ Cileunca, and Pangalengan Bandung from Nimo Highland!