Travel Indonesia
The Essential Information
To travel Indonesia, especially as a first time traveler, you need to know basic information such as: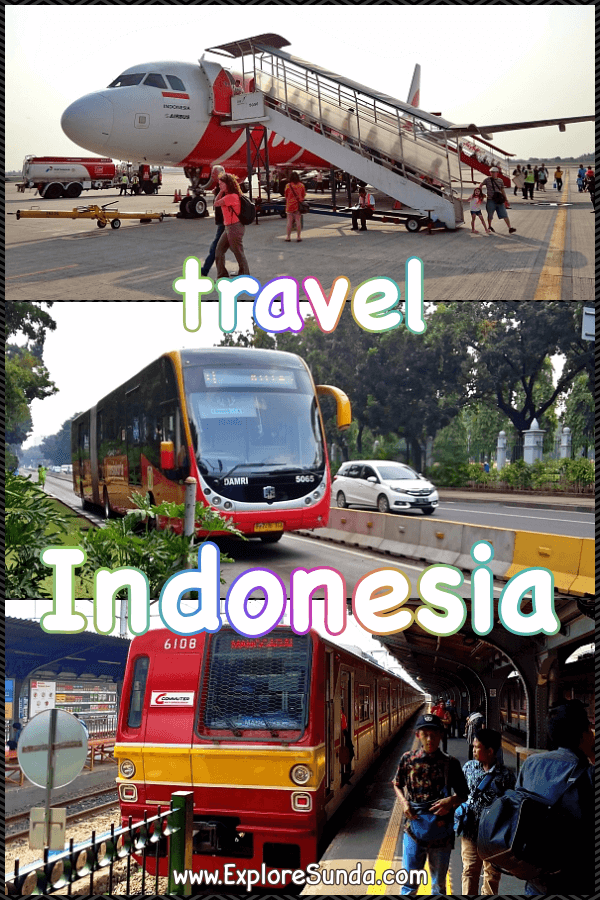 Where is Indonesia. I bet you are more familiar with the word Java or Bali than Indonesia, although Java and Bali are the only two of the 16,056 islands in Indonesia. Sunda, the place I described in this website, is located in the western part of Java island.
Indonesia visa. This is the very important information if you want to travel to Indonesia. You need to know whether you need a visa to enter Indonesia, where you can get the visa and what type of visa you need. 
Indonesia currency is Rupiah. You need to know about the foreign currencies that can be exchanged, the approximate exchange rate and where you can exchange it. 
Indonesia climate and weather, which will affect your traveling preparation. 
Flights to Indonesia. There are many international airlines provides flights to Indonesia. The Indonesian airlines, Garuda Indonesia Airways, also provides international flights as well as domestic flights. 
The official Indonesia language is Bahasa Indonesia. It is simple and easy to learn. Here are the examples on how to say in Indonesia.
Knowing Indonesia time will help you prepare for the jet lag. 
In this era of technology, keep in touch with relatives and friends is a necessity. There are many cell phone services in Indonesia and few can also reach villages across Indonesia! 
When all these basics information are covered, the next thing you must know is: What are the great places to visit in Indonesia.
Travel Indonesia: Flying, Driving or Sailing
To travel Indonesia, you can choose between flying, driving, or sailing because Indonesia is an archipelago. As of 2018, Indonesia comprises 16,056 islands. The main island, in terms of the majority of population, the location of capital cities and largest cities, is Java, where the land of Sunda is located. 

If you have spare time, you might take a cruise or a yacht. But this isn't the common way for Indonesian, although our nation has more sea than land.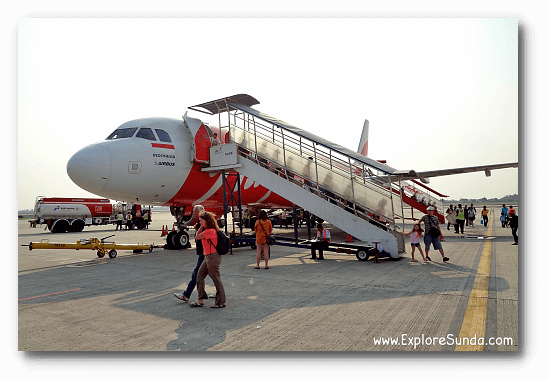 Flying would be the time efficient way of traveling in Indonesia. There are airports in the major cities of Indonesia, such as Jakarta, Bandung, Jogjakarta, Surabaya, Denpasar and Medan to mention some. In Sunda, Jakarta and Bandung both have international and domestic airports.
The largest and busiest airport in Indonesia is Soekarno Hatta International Airport, or popularly known as Cengkareng airport. This airport is well connected to Jakarta using cars, shuttle buses, and airport train. The shuttle buses also serve routes to Bandung.
The new domestic and international airport is the Kertajati international airport. It is intended to replace Husein Sastranegara airport in downtown Bandung. The only problem is this airport is located in Majalengka district, which is 68 kilometers from Bandung. Presently, the traveling time from Bandung to Kertajati international airport takes approximately 2.5 hours by bus.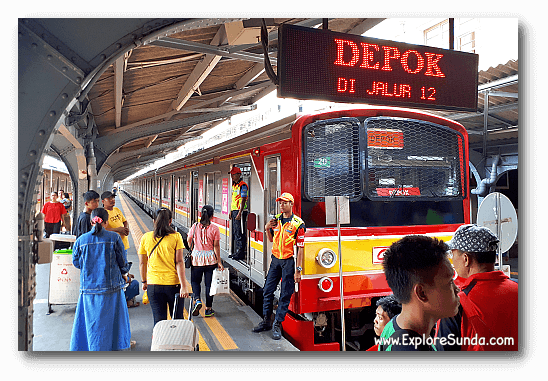 However, there isn't much to see if you are flying between these cities. Therefore, if you want to explore Sunda, I recommend flying to Jakarta or Bandung, then go around on the ground, either rent a car or take a train.
The train routes in Sunda are: Jakarta-Bandung and Jakarta-Cirebon. Actually the train networks in Java is quite extensive. You can start from Jakarta or Bandung to Semarang in Central Java, Yogyakarta and Surabaya until Banyuwangi in East Java. Some of the trains will stop at small towns in between these cities. In 2020, a train ticket from Jakarta to Bandung and vice versa costs Rp. 150,000.
Then there are commuter trains. The commuter trains mainly serve Jakarta and its surrounding satelite cities. The routes are from Jakarta to Bekasi, Depok, Bogor, Tangerang, Serpong, and Rangkasbitung to the farthest west. Bandung also has a commuter economy trains that serves areas nearby such as Cicalengka. The ticket price starts from Rp. 3,000.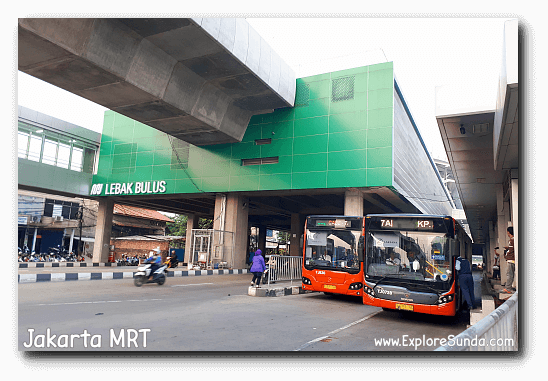 Renting a car would be the most convenient way of traveling in Indonesia. You can stop anywhere and take as much time you like in places you want to explore more. However, driving in Indonesia is difficult. The traffic is hectic in the cities. Driving between cities is more difficult, since there are many low speed trucks and high speed buses that can stop anywhere they like, on a two-way lane. Therefore, it is better to hire a car with a driver. You can sit and relax enjoying the view along the way.
If you travel on a tight budget, intercity bus is another option. There are economy and executive buses, please choose the executive bus. The price is a bit more expensive, but it is air conditioned, it is cleaner and it provides more comfort.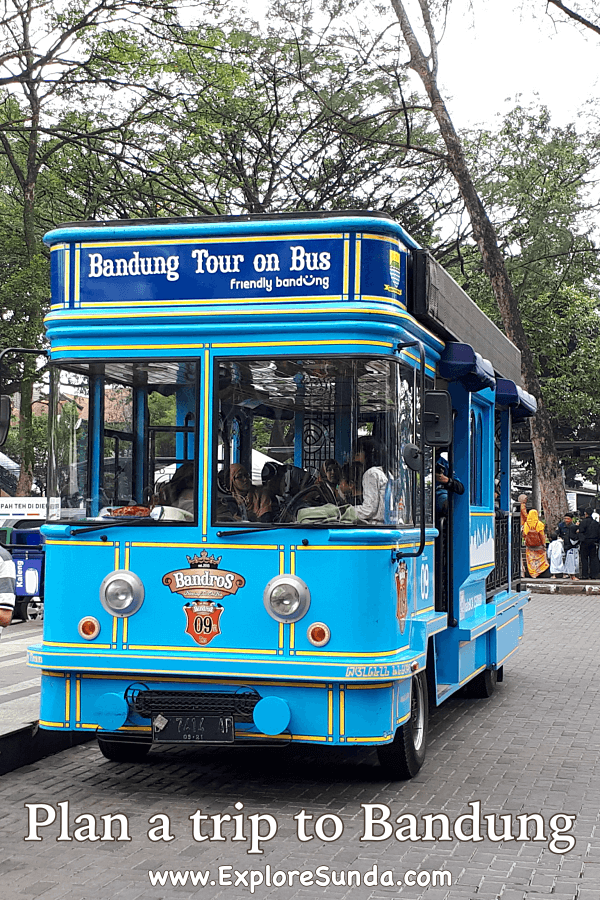 The next best alternative to travel Indonesia without headaches is to join a tour. There are many nationwide tour operators offering tour around Java and other tourist destinations such as Bali, Lake Toba, Lombok, etc. There are some tour operators that can suit your needs, if you want to go to places other than common tourist destinations, such as exploring a national park or climbing a mountain.
There are many ways to travel Indonesia, so you can choose the one that suits you best. Let's start with Sunda. This land has so much to offer: beaches, highlands, cities, shopping, theme parks, they are ready for you to explore!

Dec 04, 23 08:41 PM

Summarecon Mal Serpong: the favorite shopping mall in South Tangerang for the whole family to do shopping, pamper in beauty salons, learn to cook in a cooking studio, watch movies, and play in the arc…

Oct 26, 23 11:32 PM

A visit to Benteng Heritage Museum at the old town of Tangerang to see the history and culture of China Benteng.

Oct 13, 23 03:33 AM

Explore De Voyage Bogor, a new European theme garden for selfie and hang out. Take tons of beautiful pictures and join the activities :)