Indonesia Visa
Do You Need One to Travel Indonesia?
Whether you need an Indonesia visa to travel Indonesia depends on several factors.
First, the purpose of your travel: is it for leisure, family visitation, business, research, etc.
Second, how long are you planning to stay in Indonesia. Will it be less than 30 days? 60 days? Or longer?
So, if you want to travel Indonesia for a sightseeing or visiting relatives that take less than 30 days, you might not need an Indonesia visa if you are a passport holder of certain country.
But first and foremost, make sure your passport is still valid at least for the next six months upon the date of your arrival :)
In accordance with the theme of this site, which is exploring Indonesia and Sunda in particular, let's start with Indonesia visa for tourism.
Indonesia visa is not required if ...

As of 2020, there are 169 countries listed in Indonesia Foreign Ministry that their citizens/passport holders are allowed for a short visit to Indonesia without visa. Here are the lists:

However, please make sure you understand the conditions for this visa free:
Short visit means less than 30 days and it can not be extended.
According to kemlu.go.id [the official website of Indonesia foreign ministry], this visa exemption is only valid for tourism, family visit, social visit, art & cultural activity, official government visit, giving lecture or attending seminar, attending meeting held by head office or representative office in Indonesia, attending international exhibition, and transiting to continue journey to other country.
You must be able to show your round trip ticket.
This visa-free is definitely convenient if you are a tourist who just want to do a short visit, i.e. less than 30 days, but what if you come to Indonesia for other purposes? You might be eligible to apply for Visa on Arrival.
Apply Visa on Arrival [VOA].
If your country is one of the 68 countries listed, then you are eligible for applying Indonesia Visa on Arrival [VOA].
Indonesia Visa on Arrival means you apply visa upon your arrival in Indonesia international airport, seaport, or landport. Each of the designated port has an immigration office.
The international airports in the land of Sunda are: 
Soekarno Hatta International Airport [CKG], Jakarta
Halim Perdana Kusuma International Airport [HLP], Jakarta
Husein Sastranegara International Airport [BDO], Bandung
Kertajati International Airport [KJT], Majalengka - West Java.
The seaports in Sunda that offer Visa on Arrival service:
Tanjung Priok, Jakarta
Ciwandan, Cilegon - Banten
Yos Sudarso, Cirebon - West Java.
However, the issuance of the visa on arrival is solely on the discretion of the Immigration Officer there.
Similar to free-visa above, your passport must be valid at least for the next six months and you must be able to show your round trip ticket. This visa only valids for 30 days. In 2020 the fee is USD. 35. 
Visa on Arrival can be extended for another 30 days if you have a sponsor, but you apply for the visa extension at the immigration office where you reside in Indonesia. Considering the sponsor and how busy the immigration offices in Indonesia, if there is a possibility you will stay more than 30 days in Indonesia, you'd better apply the visa at the Indonesia embassy in your country beforehand.
Applying Indonesia Visa at the Indonesia Embassy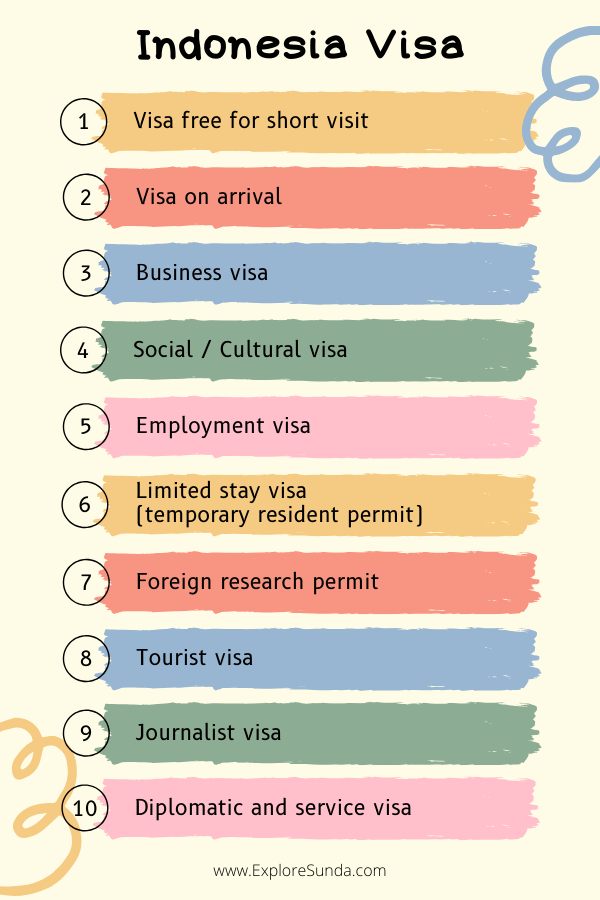 The Indonesia Embassy issues different types of visas, covering every purpose of visitors. See the list in this pinterest pin.
Nowadays, every Indonesia Embassy has a website where you can find detail information on the requirements, the applicable fees, as well as the opening hours. In some countries they also accept visa applications by mail.
Usually people got confused with the expiry date of the visa. There are two expiry dates involved here.
First, you must use Indonesia visa within 90 days after the issued date, otherwise it will be expired.
The second expiry date is the duration of stay in Indonesia, which is up to 60 days starting at the date of your arrival.
All Indonesia visa is a single entry visa. 
Note: this article is not a legal advice. Should you have any doubt, please consult an Indonesia embassy.


I hope this information on Indonesia visa helps you preparing to travel Indonesia. Either for leisure or business purposes, you may also want to browse other pages in this site about places of interests in Sunda.

Sep 22, 23 01:49 AM

Explore Eco Green Park in Batu, East Java. Have fun family vacation surrounded by colorful and exotic birds, while learning ecology and green living.

Sep 18, 23 04:59 AM

Have fun in Jawa Timur Park 2, where you explore Batu Secret Zoo, Museum Satwa, join thrilling rides at Happy Land and play in the Fantasy Land waterpark, all in one place :)

Sep 12, 23 06:26 AM

Explore many interesting places outside the land of Sunda, mainly tourist destinations in Central Java, Yogyakarta, and East Java.