Flights To Indonesia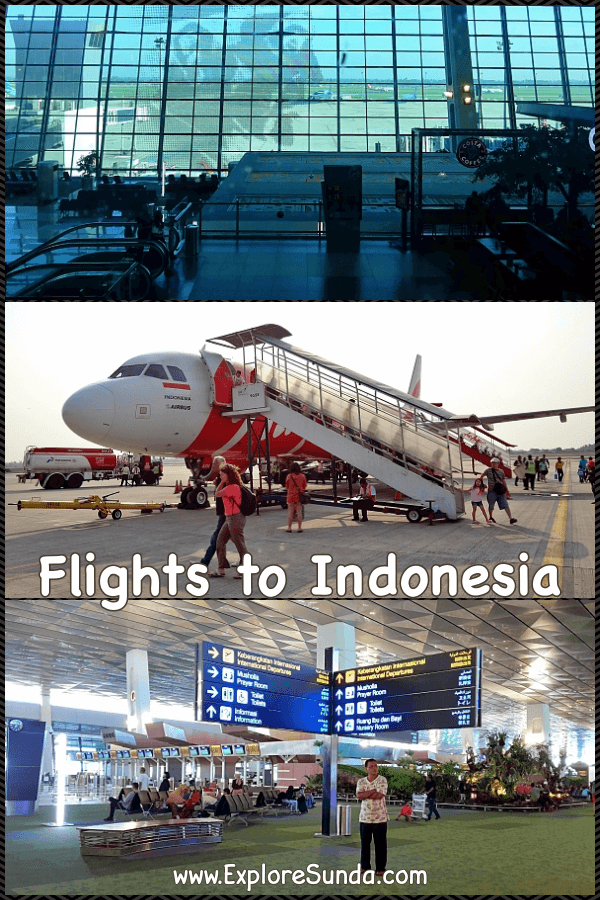 Nowadays it is easy to get flights to Indonesia. There are various airlines you can choose: either Indonesian airlines such as Garuda Indonesia Airways, Lion Air, and Citilink, or global airlines such as Singapore Airways, Air Asia, Lufthansa, KLM, Emirates, Malaysia Airlines, Qantas and many more.
The largest and busiest international airport in Indonesia is Soekarno Hatta International Airport [SHIA] at Cengkareng, Tangerang, which is approximately 30 kilometers from Jakarta. Hence, popular name of this airport is Cengkareng. Hence, the IATA code is CKG. 
You can request Visa on Arrival [VOA] in Soekarno Hatta International Airport. If you fly with Garuda Indonesia Airways, usually the crews have VOA form on hand, hence, you can speed up the process. But, before you do that, check whether you are eligible for Indonesia Visa on Arrival.
Other major cities and tourist destinations in Indonesia such as Surabaya, Bandung, Jogjakarta, Denpasar, and Medan have international airport too. Therefore, if you intend to visit Sunda, you can fly either to Jakarta, Bandung, or Kertajati International Airport. 
There are two airports serving Greater Jakarta: the main one is Soekarno Hatta International Airport, popularly known as Cengkareng Airport. This is the largest and busiest airport in Indonesia. The second one is Halim Perdanakusuma Airport in East Jakarta. It is an older airport belongs to the Indonesia Air Force, but presently it is partly used for commercial to reduce the load in Cengkareng airport.
Currently, there are two international airports serving Bandung. The first one is Husein Sastranegara International Airport in downtown Bandung. The new and much bigger one is Kertajati International Airport in Majalengka district. It serves Bandung, Cirebon and hopefully reduce the load of Cengkareng airport too. Read more information on flights to Bandung here.
Cheap Flights To Indonesia
Whenever I travel by plane, I always try to find the cheapest flight available, without ignoring safety. Over the years I learned that there are two kinds of cheap filghts: low cost carrier and connecting flight.

There are several low cost carrier operated in Indonesia. Among them are: Air Asia, Citilink, Lion Air, Batik Air, Wings Air and Sriwijaya Air. As low cost carriers, they offer several promotion programs every year. So, if you plan ahead of time, you can save a lot. But, once you buy the ticket, you can not make any changes, or it will be very costly to change it. On the other hand, the airlines can change the schedules and you must follow the new schedule. So, think wisely whether the low price is worth your time or not.

The next option to get cheap flight to Indonesia is to find a connecting flight. For example, once I flew with Lufthansa from Jakarta to Bangkok. It was the cheapest flight because Lufthansa wanted to fill in the empty seats between Jakarta and Bangkok, since Bangkok was a transit hub only while the final destination was Frankfurt. The drawback of this kind of flight is inconvenient time of arrival, in my case I arrived at midnight.

The easiest way to buy this type of ticket is to shop around between several travel agents and ask for the cheapest ticket to your destination. Luckily, the internet era save the time of shopping around. The cheap ticket can be found in several clicks. But always remember to check whether there is any transit and how long the transit time will be. Sometimes it is not worth to trade off cheaper ticket with long transit time.

The question is: which type of flights to Indonesia do you prefer?
---
Having secured the flights to Indonesia, the next step would be to start looking for places you'd like to visit. Let's start with the land of Sunda, which has so much to offer: stunning beaches, gorgeous highlands, modern cities, charming small towns, theme parks, botanical gardens, and much more.
Dec 04, 23 08:41 PM

Summarecon Mal Serpong: the favorite shopping mall in South Tangerang for the whole family to do shopping, pamper in beauty salons, learn to cook in a cooking studio, watch movies, and play in the arc…

Oct 26, 23 11:32 PM

A visit to Benteng Heritage Museum at the old town of Tangerang to see the history and culture of China Benteng.

Oct 13, 23 03:33 AM

Explore De Voyage Bogor, a new European theme garden for selfie and hang out. Take tons of beautiful pictures and join the activities :)