Ujung Genteng Beach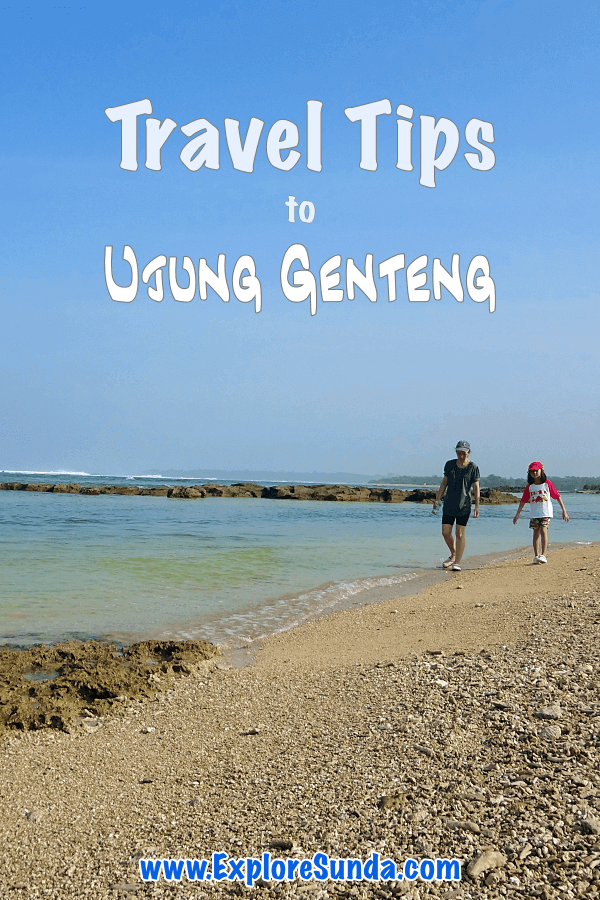 On March 2014, we spent a long weekend in Ujung Genteng, one of the beautiful tropical beaches in southern Java.
This beach is facing Indonesia Ocean (Hindia Ocean). It is a beautiful beach with white corral sands and clear sea water. The sand is mostly made of broken corrals and the shallow water is filled with rock formations. The rocks prevent big waves reach the beach, but the waves and currents are very strong beyond these rocks. Therefore, it is not suitable for swimming.

Since the beach is the backyard of our hotel, we always played here in the morning. We played in the shallow water waiting for the waves to hit us, strolled along the beach to find beautiful shells and hermit crabs, watch fishermen caught small fish with their nets, we even caught several fish that are trapped in the rocks.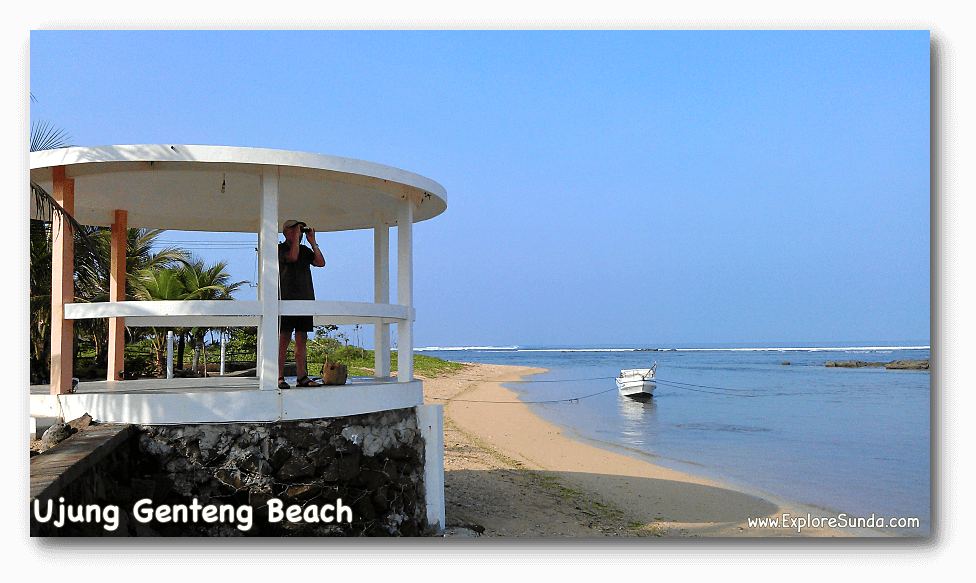 Further up the street you can see fishermen unload their boats. The catch mostly are fish called layur (Trichiurus lepturus). The english name of this fish is largehead hairtail or beltfish. They are mainly exported to Korea.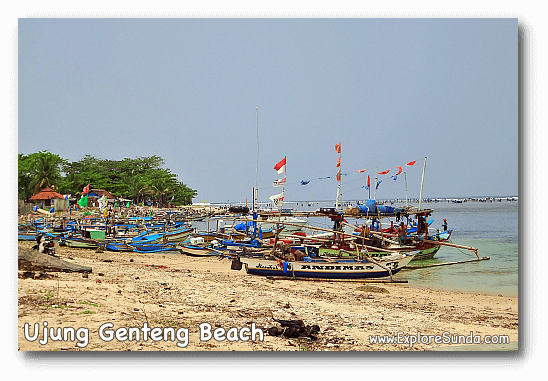 In addition to the beach, there are several places of interests nearby Ujung Genteng. The most famous is the Green Turtle Conservatory at Pangumbahan beach. 
Green Turtle Conservatory at Pangumbahan Beach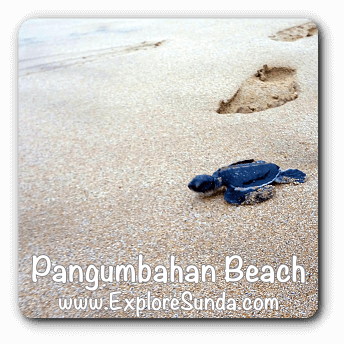 Pangumbahan beach is famous of its Sea Green Turtle (Chelonia mydas) Conservatory. The biggest attraction here is to watch either green turtle lay eggs at nights or release turtle hatchlings on sunsets. 

Read more about the activities in Green Turtle Conservatory and where is Pangumbahan beach…

Although the turtle conservatory is the biggest attraction here, there are other interesting places as well. They are:

Curug Cikaso

Curug Cikaso [curug is a Sundanese word for a waterfall] is one of the many waterfalls in Ciletuh Geopark. 
Read more on Curug Cikaso and directions to go there ...
Do you know?
The area of Ujung Genteng and Curug Cikaso are parts of Ciletuh Geopark.
In 2018 UNESCO has acknowledged Ciletuh as Global Geopark. It covers 1,260 square kilometers, from Cisolok [Maja beach] to Ujung Genteng [Ciemas].
What's on The Vicinity of Ujung Genteng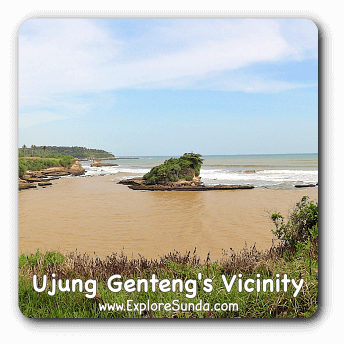 There are many gorgeous beaches along the coastline of Ujung Genteng, but they are not as established as Ujung Genteng and more remote.
Read more on the vicinity of Ujung Genteng beach ...
Food and Accommodation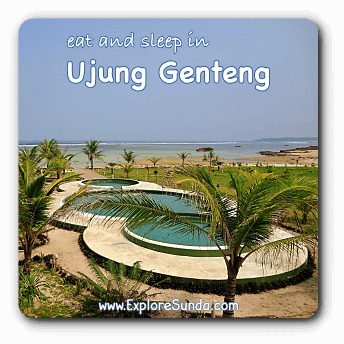 The two essentials items that we need for a memorable holiday, so find out where to eat and where to sleep in Ujung Genteng beach ...
Directions to Ujung Genteng Beach
The GPS coordinates are 7°17'42.1"S 106°25'32.7"E [-7.295038, 106.425741].
Either you start from Jakarta or Bandung, you will go through the town of Sukabumi. So, the general direction is to Sukabumi first, then you change directions before you enter the town.
From Jakarta
First, we go through Jagorawi toll road, continue through the new toll road and exit at Cigombong. Choose the direction to Sukabumi, then take small road to Kiaradua, Jampangkulon, Surade, and finally Ujung Genteng.
According to Google map, it takes approximately five to six hours to cover the distance.
From Bandung
First, we go to Padalarang Cileunyi toll road exit at Padalarang. Next, we choose direction to Cianjur then Sukabumi. Once there, we could go to Pelabuhan street, but the traffic is usually bad there. Therefore, it would be better to go to Cimerang (the street direction always mention Sagaranten), then choose direction to Surade. Either way we will arrive at Ujung Genteng beach, but it will take longer through Sagaranten. Last time we used this route, it took eight hours from Bandung to Ujung Genteng beach. It is mostly due to the bad condition of the road. It is uncomfortable to maintain speed above 30km/hour.

Despite of the distance and bad road condition, the trip is still worth it! :)

Although playing all day long on white sandy beaches is an incredible way to spend your holiday, the land of Sunda has other interesting places to explore too, such as highlands, cities and theme parks.
Sep 22, 23 01:49 AM

Explore Eco Green Park in Batu, East Java. Have fun family vacation surrounded by colorful and exotic birds, while learning ecology and green living.

Sep 18, 23 04:59 AM

Have fun in Jawa Timur Park 2, where you explore Batu Secret Zoo, Museum Satwa, join thrilling rides at Happy Land and play in the Fantasy Land waterpark, all in one place :)

Sep 12, 23 06:26 AM

Explore many interesting places outside the land of Sunda, mainly tourist destinations in Central Java, Yogyakarta, and East Java.