Batu Karas Beach
The first time I came to Batu Karas beach, it was due to curiosity. Some friends talked about it some time ago and I wondered what it looked like. When I went to Green Canyon, I saw a street sign directing to this beach. So I drove following the sign hoping to see a beautiful tropical beach.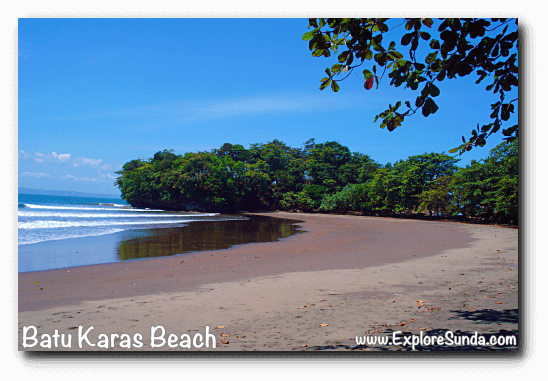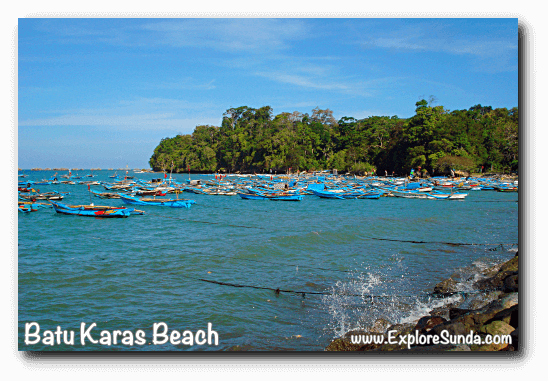 The road is side by side to the coast. At some point we could see fishermen boats tied up in the sea, since there was no beach there (usually the fishermen pulled their boats to the beach).

We arrived about half hour later. The view was beyond my expectation: it is a very beautiful beach! The waves are stronger than Pangandaran, suitable for surfing. The beach is very clean and quiet. If you don't like crowds, this will be the perfect beach.
Don't worry about accommodation since there are two hotels there, bed and breakfast type. Other than that, perhaps you have to drive back and forth to Pangandaran, which is about one hour drive.

In my opinion, being secluded yet close enough to Pangandaran, the beauty and stillness of Batu Karas beach creates a perfect atmosphere for a relaxing vacation.
Speaking of holiday on the beach, each beach is unique. For example, Pangumbahan beach has the green turtle conservatory while the Krakatoa eruption washed over Anyer beach. Furthermore, have you ever tried taking a holiday in an island resort? It's awesome :)