Recommended Eateries Around 
Pangandaran Beach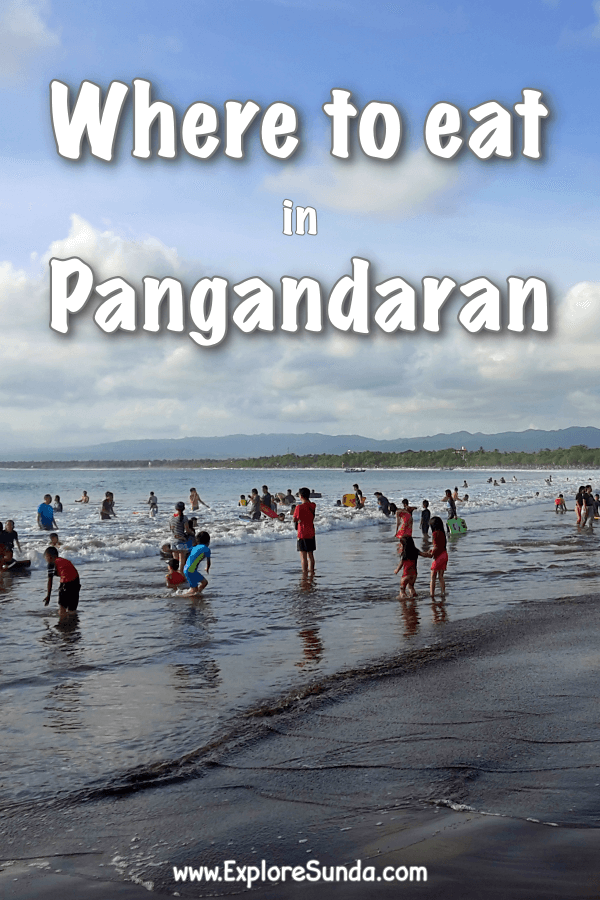 Being in the seaside, fresh seafood is always the most sought after food in Pangandaran. There are many seafood restaurants scattered around the area. You choose the live seafood by yourself and request how you want them to be cooked: fried or grilled, spicy, sweet or sweet and sour, black pepper, etc. 
One of the famous seafood restaurant in this area is Rasa Sayang. Located at the end of Kidang Pananjung street, it is right in the middle of east and west beach. One of its famous dish is salted egg prawns.
There are many other restaurants on this street. Many serves fresh seafood too.
However, what if you are allergic to seafood or simply don't like it? Luckily, you still have many alternatives :) 
Non-Seafood Restaurants in Pangandaran

1. Rasa Sayang Restaurant.
First, as I mentioned before, Rasa sayang restaurant serves both seafood and non seafood dishes, such as sautéed morning glory and Fu Yung Hai (some kind of Chinese omelette dish).
2. Acip Noodle House. 

Located at the back of Laut Biru resort, it is famous for its delicious homemade noodle and meatballs. This noodle house is a favorite, because noodle and meatballs are staple food for many Indonesians. Usually it is fully packed during lunch time, when tired and hungry people come directly from the beach to take a short lunch break.
3. Pringsewu Restaurant.

This restaurant specializes in Indonesian dishes such as fried or grilled chicken or gourami fish, and gado-gado (the Indonesian version of cooked salad with peanut sauce). Being in the seaside, it also offers some seafood in its menu. This restaurant was established years ago, but it just moved to the current location recently. It is on the right side before Pangandaran gate / ticket booth if you come from Banjar. You will not miss it, since as a trademark of Pringsewu restaurant, it placed many banners starting from several kilometers away, informing us about the menu and how far is the restaurant.

4. KFC (Kentucky Fried Chicken).

I believe everybody knows this global franchise of restaurants. Many people said it serves junk food, but many more love it. It has become a staple food for many Indonesians, especially its trademark menu of rice and fried chicken. It is located in one of the new shop houses near Pangandaran ticket booth. 

5. CFC (California Fried Chicken).

A rival of KFC, CFC is more conveniently located next to Laut Biru Resort, right in front of the beach. So, whenever you are tired and hungry after a long day on the beach, you can just go straight to this restaurant. 

6. Padang Restaurant. 

Wherever you go in Indonesia, you will find Padang restaurants, either locally owned or a franchise, including in Pangandaran. It is a small establishment, I never try it, but I know many people love the spicy Nasi Padang and might be wondering whether they can find it in Pangandaran. And the answer is YES, Nasi Padang is available here ;-)
Tips:

If you have a sensitive stomach, please avoid drinking with ice cubes in the glass. You'd better ask for a cold drink from a refrigerator or cold box, just in case the ice cubes are not made from a drinking water.

So, you don't have to worry about eateries in Pangandaran, plenty to choose from :) Next is the places of interest around Pangandaran: check out the Pasir Putih beach, Green Canyon, Batu Karas beach, and Karapyak beach!
Dec 04, 23 08:41 PM

Summarecon Mal Serpong: the favorite shopping mall in South Tangerang for the whole family to do shopping, pamper in beauty salons, learn to cook in a cooking studio, watch movies, and play in the arc…

Oct 26, 23 11:32 PM

A visit to Benteng Heritage Museum at the old town of Tangerang to see the history and culture of China Benteng.

Oct 13, 23 03:33 AM

Explore De Voyage Bogor, a new European theme garden for selfie and hang out. Take tons of beautiful pictures and join the activities :)