Tropical Beaches in Sunda
Tropical beaches have always been one of the favorite family vacation destinations, including my family.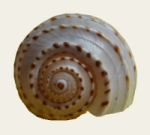 Here in Sunda, tropical beaches are not rare, since we are right in the equator and Sunda is one third of Java island. Hence, we can enjoy warm weather, blue sea and sandy beach all year long.
Many of these beaches are already developed for tourist, offering various facilities, but many more are still natural beaches without any facility. Which one do you like?
Beaches in Southern Sunda Land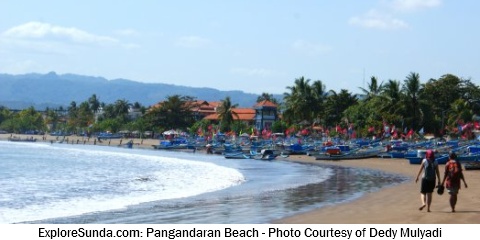 Beaches in the south of Java island have strong waves and strong current since they are facing directly to the Indonesia Ocean (Indian Ocean). There are several popular beaches here:
Pangandaran beach, the most famous beach in Sunda. You can stroll along the beach watching the fishermen working, eat fresh seafood, go snorkeling, and many more. You can also visit Green Canyon and Batu Karas beach while you are in Pangandaran.
Pelabuhan Ratu beach. Some of the white water rafting ends here. It is also the entrance to go to Ujung Genteng beach and turtle conservatory in Pangumbahan.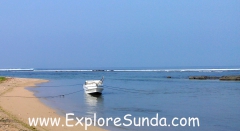 Ujung Genteng beach, a secluded beach in the tip of south Java island. In addition to the beautiful beach, it has a freshwater waterfall at Cikaso, and the gate to green turtle conservatory at Pangumbahan beach.
Pangumbahan beach, the place of sea green turtle conservatory, where we can see the turtles lay their eggs and release the hatchlings to the ocean. This white sandy beach is wide with great waves.
Pameungpeuk beach, another secluded and beautiful beach in the south of Garut. 
One thing to remember though, whenever you go to the south beaches of Java island, please do not wear anything green to respect local believe of the legend of Nyi Roro Kidul, the ruler of the south sea.
Beaches in Sunda West Coast

The beaches in the west of Java island are relatively easier to visit, thanks to the Merak toll road, connecting the busy Merak harbor with Jakarta. The waves are calmer. The popular beaches here are:
Anyer and Carita beach

, two favorite beaches for a weekend getaway from Jakarta. There are many public beaches between these two that are popular for camping and picnic.
Tanjung Lesung, this is a beach resort, small almost no waves but the water is so clear that you can see the bottom clearly.

Umang Island

, a tiny island in the south west corner of Sunda. It has been developed into a beach resort and spa, which offering a beach holiday in an island. Umang is an Indonesian word for hermit crab, so do you think we find this creature during our holiday here?
Beaches in Northern Sunda Land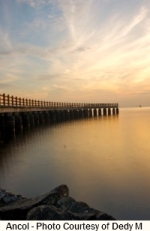 The north beaches are not developed for tourists, most of them are fishermen villages. One exception is Ancol beach in Jakarta. It is part of Taman Impian Jaya Ancol theme park (Jaya Ancol Dreamland).
There is a small harbor in Ancol where we can rent a boat to go to Thousand Islands, a group of small islands at north of Jakarta. The Thousand Islands is a marine national park, hence, the beaches here are very different than Ancol beach. They are clean and less polluted. Many of the islands are surrounded by coral reef where we can go snorkeling or diving. This archipelago is functioned as fishermen settlement, tourist resorts and wildlife conservatory for varieties of birds, coral reefs and turtles.

The land of Sunda has many tropical beaches we can explore, each one of them is unique. Which one is your favorite?