The Best Seven Indoor Theme Parks in Sunda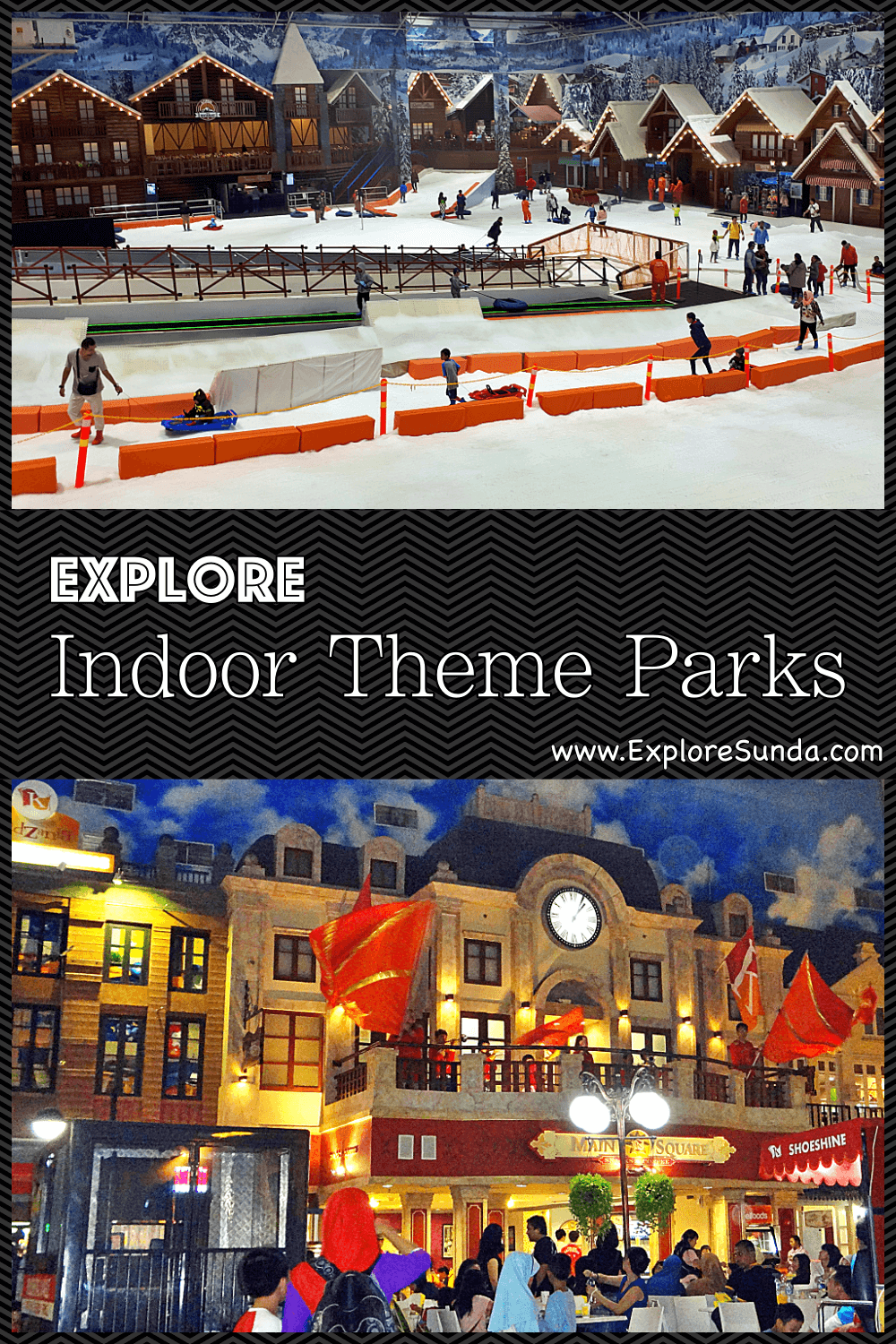 Going to an indoor theme park is unquestionably has the advantage of not getting a sunburn. It because, being in a tropical country, often it is scorching hot to play in the outdoors all day long. Hence, the land of Sunda is so lucky to have indoor theme parks, not only one but five indoor theme parks!
Since an indoor theme park uses a lot of space, you will most likely find it inside a shopping mall. For example, Kidzania at the top floor of Pacific Place Mall, while Trans Studio and Trans Snow World at the Trans Shopping Malls.
Without further ado, here is the list of the top 7 indoor theme parks in the land of Sunda:
1. Kidzania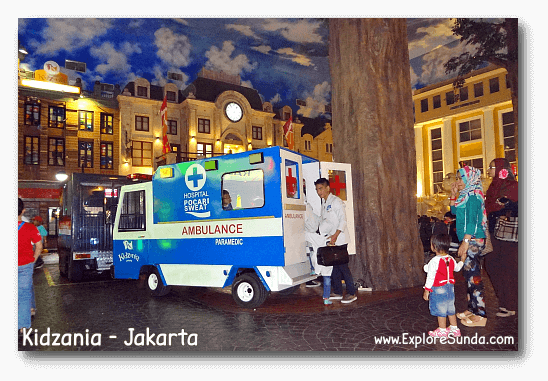 Opened in 2007, Kidzania looks like a tiny city, but at the same time, it is a giant children's playground. The pretend city of Kidzania is very crowded. Each building has a complete facility to perform a profession. So children can play pretend to be many professions: firefighters, delivery boys/girls, scientists, dentists, pharmacists, and many more. No wonder many elementary schools arrange field trips to Kidzania.
Continue reading Kidzania at Pacific Place Mall, Jakarta ...
Another place where your children can play pretend into many professions is at Kota Mini, Lembang. It is an outdoor setting, where you can enjoy some fresh highland air. 

2. Trans Studio Bandung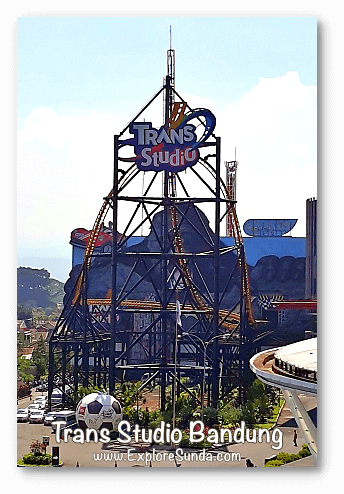 Presently, Trans Group is the leading indoor theme park in Indonesia. Trans Studio Bandung is its first indoor theme park in the land of Sunda. It offers twenty thrilling rides. The most thrilling one is Yamaha Racing Coaster. Some parts of its track swirl out of the building! This roller coaster can go from 0 to 120 kilometers in 3.5 seconds.
The location of Trans Studio Bandung is inside Trans Shopping Mall Bandung. It is an integrated complex of a shopping mall, an indoor theme park, and hotels.
3. Trans Studio Cibubur

Following the success of Trans Studio Bandung, Trans Group built an even bigger indoor theme park at Trans Studio Cibubur. This indoor theme park offers 18 rides in 5 zones: Trans Central Station zone as the entrance and where the facilities are, Beachwalk zone where the restaurants are, Lagoon zone is the location of the rides, Sci-Fi city zone where you can ride Boomerang Coaster, and Adventure Zone.
One ride here that is different than other usual rides in an indoor theme park is the iFly Skydiving. It is an indoor sky diving that feels like the real one.
4. Trans Snow World Juanda - Bekasi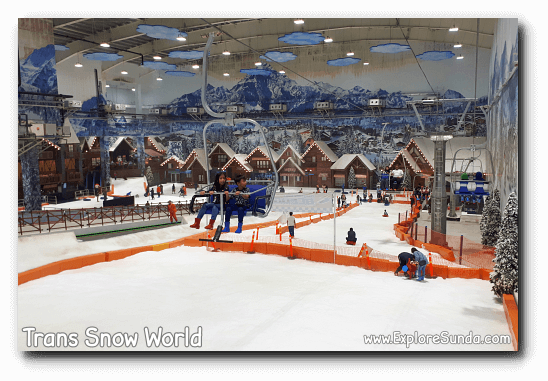 Referring to the name, you will correctly guess that Trans Snow World is the place to play in the snow! Indonesia is a tropical country, so snow is a luxury for us. Hence, a chance to play in the snow is a new experience :)
You can learn to ski, ride a gondola, slide on a snow tube, or slide on a sled in Trans Snow World Juanda. Of course, you will take lots of pictures too, because this place looks like a beautiful European ski resort :)
Continue reading Trans Snow World Juanda - Bekasi ...
5. Trans Snow World Bintaro

Following the success of Trans Snow World Juanda in Bekasi, Trans Group opens another place to play snow at Trans Snow World Bintaro, South Tangerang. This indoor theme park offers a similar experience to Trans Snow World Juanda - Bekasi. The only difference is you will have a backdrop of a Japanese village instead of a European ski resort.
The next two indoor theme parks are much smaller in size since they focus on one theme: one is an indoor wall climbing site, the other is the ice skating rink. Both are fun and entertaining :)

6. Wall climbing at Bremgra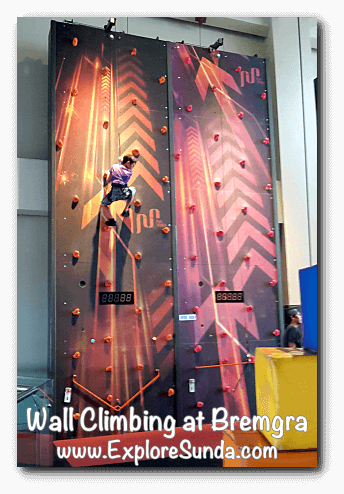 Bremgra is one of the large indoor wall climbing in Sunda. It has walls with several challenges and a separate area for children. Besides wall climbing, Bremgra also has a go-cart circuit. It is quite a fun place for you who like adrenaline :)
Continue reading wall climbing at Bremgra ...
7. Ice Skating Rinks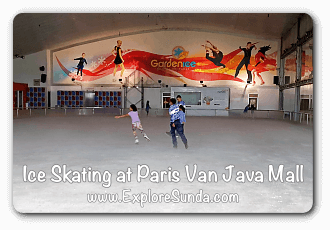 Since Indonesia is a tropical country, even the indoor ice skating rinks often melt, especially during warm days when there are too many people skate. 

Ice skating is still an expensive sport in Indonesia; that's why ice rinks are only available in shopping malls in big cities. 
The location of ice rinks in the land of Sunda are:
Taman Anggrek Mall, West Jakarta
AEON Mall Jakarta Garden City, East Jakarta
Bintaro XChange Junction, South Tangerang
Paris Van Java Mall, Bandung
---
Indoor theme parks are just one of the attractive places to hang out in the land of Sunda. There are many more enchanting places to explore, such as beaches, parks and gardens, museums, mountains, and active volcanoes. Which one would be your favorite?
Dec 04, 23 08:41 PM

Summarecon Mal Serpong: the favorite shopping mall in South Tangerang for the whole family to do shopping, pamper in beauty salons, learn to cook in a cooking studio, watch movies, and play in the arc…

Oct 26, 23 11:32 PM

A visit to Benteng Heritage Museum at the old town of Tangerang to see the history and culture of China Benteng.

Oct 13, 23 03:33 AM

Explore De Voyage Bogor, a new European theme garden for selfie and hang out. Take tons of beautiful pictures and join the activities :)