Jungleland
The Adventure Theme Park

Jungleland is a new theme park in Sentul, Bogor. It has just opened on April 27, 2013, by launching the robot zoo and one of the three ride parks: The Carnivalia.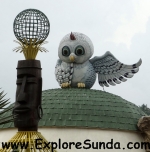 Our first impression of this theme park: good looking building with promising interesting attractions, even though they are still under construction.
But what really intrigued me to visit Jungleland is the robot zoo. It is a colaboration with Singapore Science Center. It is also supported by Indonesian Institute of Science (Lembaga Ilmu Pengetahuan Indonesia - LIPI).
Robot Zoo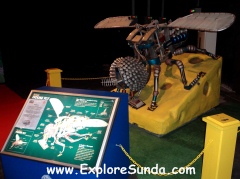 A bunch of dino robots welcome us to the robot zoo, but my favorite is the cute giraffe :)

Unfortunately, the displays inside are below our expectations. First, the place is a bit too dark, makes it gloomy. There are two kinds of displays: the one that moves automatically and continuously so we can read the explanation and watch the presentation. The other type is the ones that allow us to learn how these animals hunt their preys by moving the joystick and press a button. For example, how a bat hunts, how a chameleon see two different things with its eyes, or what color a chameleon use when it is angry, attract or hide. The latter is more interesting for the visitors, but in my experience these robots are clunky, their movement is difficult to control and not smooth at all.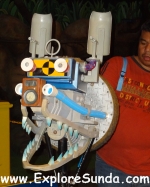 Passing on the robot exhibitions, we will see several canvases displaying optical illusions images. There is an explanation what to see below each canvas.

At the far end, the area is used for simple physics and chemistry experiments. There are several live shows where we can interact with the host, who at the end of the experiments will explain the phenomenon or show us the solution. For example, a piece of paper is soaked into a bowl of water, then it is burned, but the fire didn't damage the paper! It turns out that the water is mixed with alcohol, hence the alcohol helps to turn on the fire but the water protects the paper from damage. Or, a puzzle on how to create a balance between 2 forks, a toothpick and a dough on top of a glass, but only the toothpick that can touch the glass.

Here we can learn many things:
When we ride a bike we can change the energy to electricity.
Learn how magnet reacts to the same and different polar.
What are the types of renewed energy.
How a generator works.
How to create a lightning!
They even have a video of robots dancing gangnam style!
The most attractive of all is a machine where we move a small ball with our minds. It's not pyschokinetic but it's moved by changing the energy from our nerves in our forehead and ear to create a wind that blows the ball.

Overall, they are a very interesting science, although the written explanation of each display is not easily understood for young children. Moreover, some staffs need extra training to be able to explain it more clearly. Some of them seem only speak what they memorize, instead of understanding the concept.

In my opinion, Jungleland is more appropriate for third grades of elementary school students and up. Nevertheless, with extra effort from the parents and hosts, kindergarten students still can join the fun and start learning and put interest in science :)
Carnivalia Park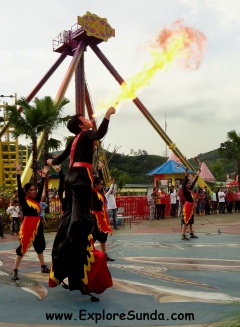 The next area we explore is Carnivalia. It is an open air area with some rides and live shows. We watched a fire dance!
Some of the rides are mini train, bumper cars, carousel, car race and some rides that is scarier than roller coaster. Most of the rides requires rider whose heights are at least 135 cm. So, it is a dissappointment for young children who can only ride carousel and mini train.

Unlike other theme park in Indonesia that use english names, I notice Jungleland use Sundanese language in naming the rides. For example: mobil jeger-jegeran for bumper cars and kolecer for carousel.

When I visit this theme park in mid of May 2013, it opens from 10am until 6 pm. But when it fully opens its four themeparks, it will close at 10pm. Although it is on a highland, often the outside temperature at 10 am is already hot. The cool area is in the Robot Zoo and science exhibition, since it is indoor and fully air conditioned.  Therefore, if you are not used to the warm weather in Indonesia, it's better to come here after lunch and start with Robot Zoo exhibition. Hence, you can explore the open air  rides in the late afternoon. One more thing: please be prepared for a rainfall, since Jungleland is still in Bogor area.

There is a foodcourt in Carnivalia, but the menu is limited, not to mentioned overpriced. It seems Mc.Donald will open soon in the front building. Other than that it is difficult to find any restaurant in the nearby areas, since Sentul Nirwana complex is still under construction. However, when I check Jungleland's website, it seems there will be several popular restaurants serve here.


Directions to Jungleland
Jungleland is easily accessible through Jagorawi toll road. The exact location is behind Sentul Nirwana. There are several exits to Sentul, since the area is huge. If you come from Jakarta, you should exit at Sentul City, this exit is right after a rest area. If you come from Bogor, it is much easier, since it is the first exit.

Next, you only need to go straight to the far end of Sentul, look around, there are some signs showing the directions to Jungleland.

Dec 04, 23 08:41 PM

Summarecon Mal Serpong: the favorite shopping mall in South Tangerang for the whole family to do shopping, pamper in beauty salons, learn to cook in a cooking studio, watch movies, and play in the arc…

Oct 26, 23 11:32 PM

A visit to Benteng Heritage Museum at the old town of Tangerang to see the history and culture of China Benteng.

Oct 13, 23 03:33 AM

Explore De Voyage Bogor, a new European theme garden for selfie and hang out. Take tons of beautiful pictures and join the activities :)