World of Wonders 
at Citra Raya - Tangerang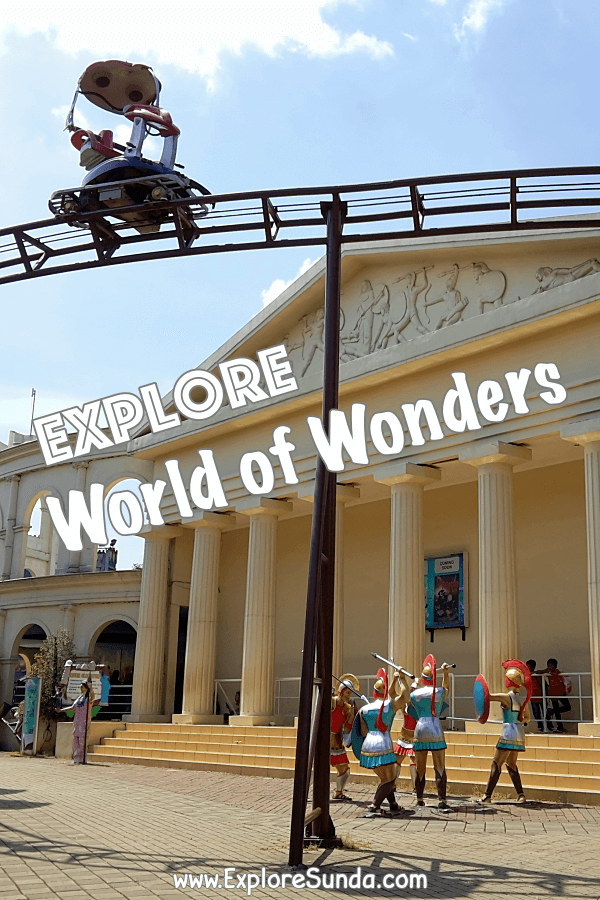 World of Wonders is a theme park inside Citra Raya residence, in Cikupa, Tangerang. The name refers to the miniatures of some iconic buildings around the world, such as Italy's Pisa Tower, China's Forbiden City, Indonesia's Borobudur temple, San Fransisco's Golden Gate, and others. There is also the statue of Nessie the Lochness monster in its lake. They are all laid near the entrance gate. 
So, I suggest you start your day here by strolling around this area and get some selfies :) Although it is a bit difficult to appreciate and take really good pictures since they are all cramped in small area. 
Another place for selfies is the garden with several backdrops, such as European and Japanese houses as well as the Hollywood letters. Unfortunately, it is located near the animal sheds, where the stinks waft to nearby areas.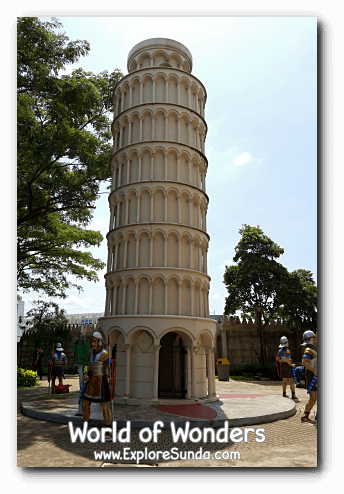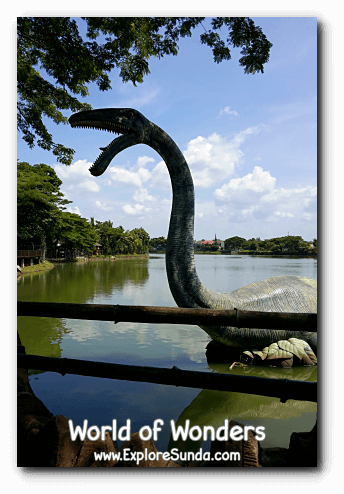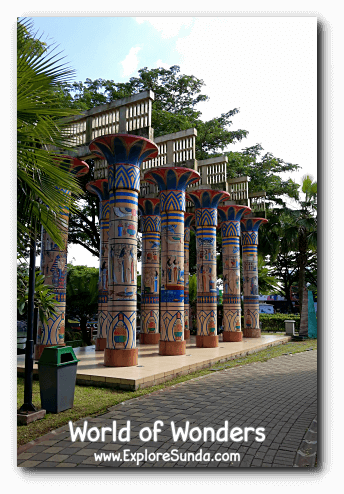 Next is the Galeri Ilusi (Illusion Gallery in English), a building with lots of paintings. These paintings are gorgeous, but our pose that will make it look real. We have to take off our shoes and wear socks here. So, don't forget to bring your socks :)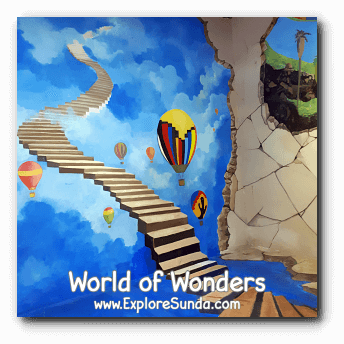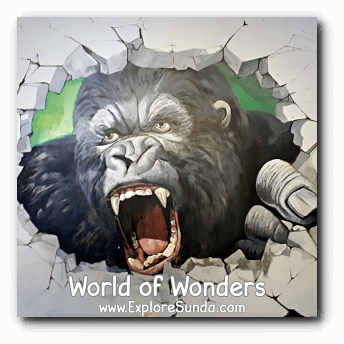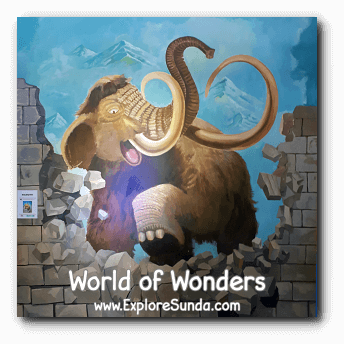 World of Wonders in a glance
World of Wonders is more than just a place for selfies though. There are many rides and games you could join. If you look up, there are some bicycles on a rail high above the ground. You should try it if you are not afraid of heights. You could look around the park from different perspective :)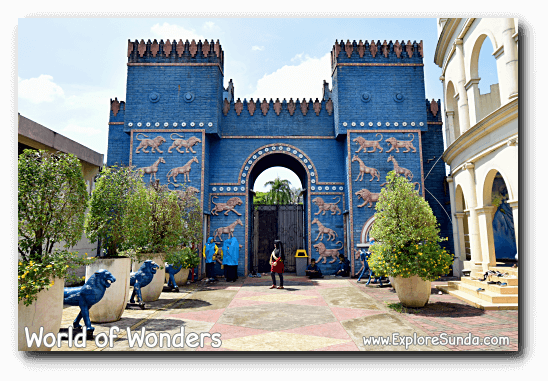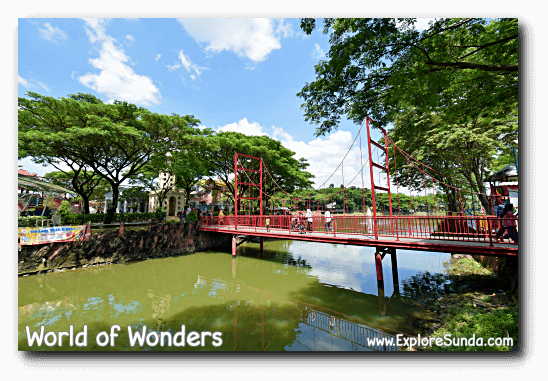 This park is divided by a river where the statue of Nessie, a pirate ship, and the red bridge lay. There are more rides on the other side of the river. For example, the swinging ship, bumper cars, floating balloon in a pond, the ferries wheel, a small roller coaster, and the carousel. Most of the rides require us to buy additional ticket though. The prices vary depending on the rides or games.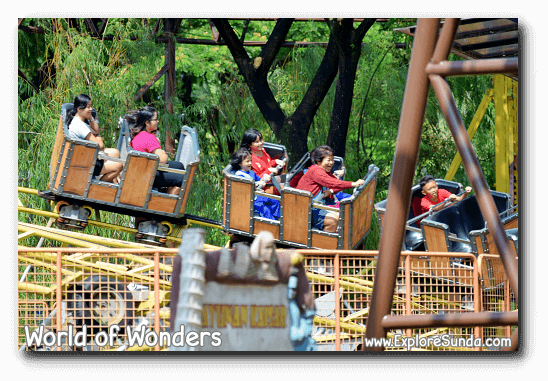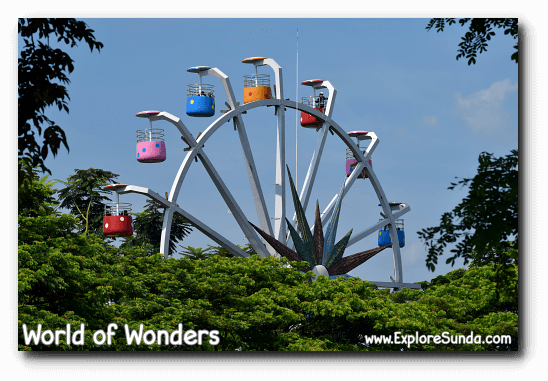 Of course there are places where you can have fun without having to pay additional tickets. There is a playground for young children where they can climb and slide throughout the structure. It is safe because it is made of hard plastic instead of iron bars. Next is Taman Air (Water Garden in English): an area with lots of sprinkler and shallow pond with a big bucket that pour water regularly. You can play under the water til your heart content :)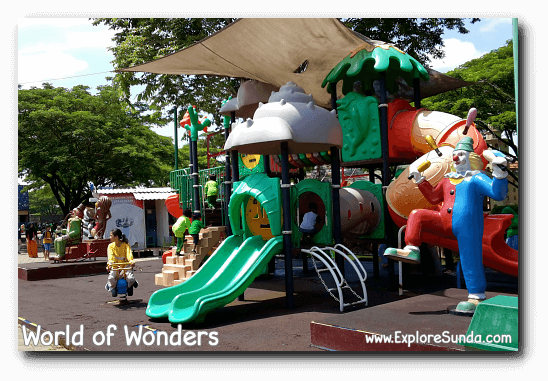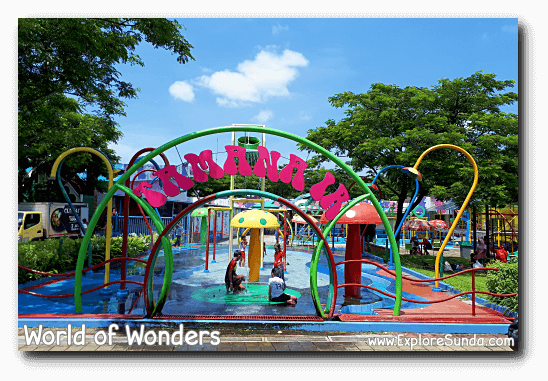 Most of the World of Wonders rides are outdoor, which is fun, except when it's a very warm day. Whenever it's too hot, we could take a break under the shades of the food court. The food is just so so, I believe the best items on their menu are the cold mineral water and ice cream: the best treat on a hot day!
Whenever it's too hot or rainy, you could play indoor. There are Istana Ceria (Happy Palace in English) for young children, Rumah Angker (Horror House in English) which might be full of surprises, a virtual ride, and the house of science, where you could enjoy a small planetarium.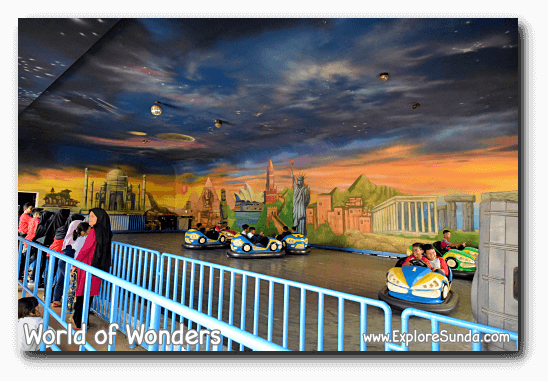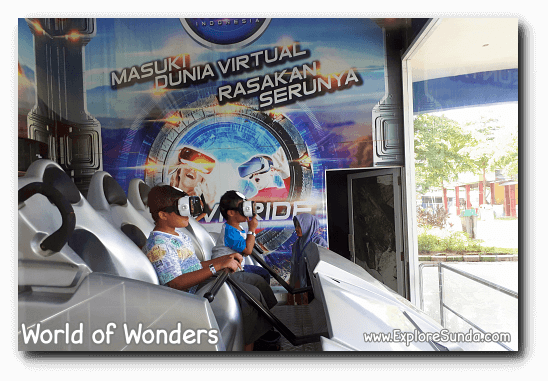 You read it right, World of Wonders has a planetarium! Unlike other planetariums, it actually is a tent shaped dome. So, you must take off your shoes outside then go inside the tent and lay down. The projector is in the middle and shoot to the ceiling. As usual, it provides information about the space and galaxy.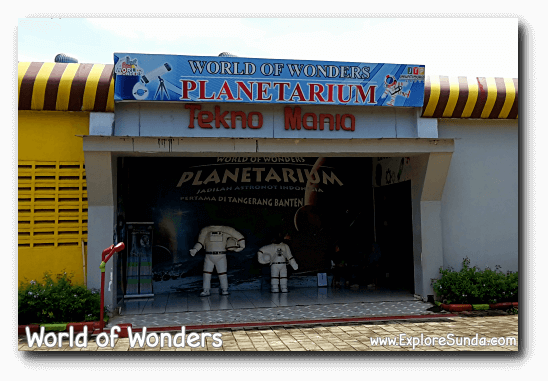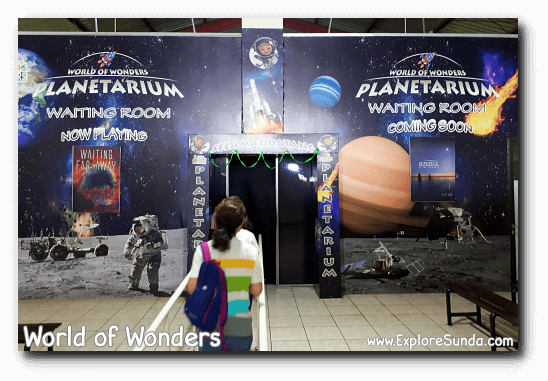 Next to the planetarium is a building with lots of exhibits and information on human body, animals, and insects. Adjacent to that is exhibits on law of physics. They are quite interesting because the exhibits are in the form of simple experiments with a note explaining how it works. Visitors are allowed to try them all :) Unfortunately you won't be able to stay here for long because the humidity and warm weather without air condition makes staying in this room uncomfortable.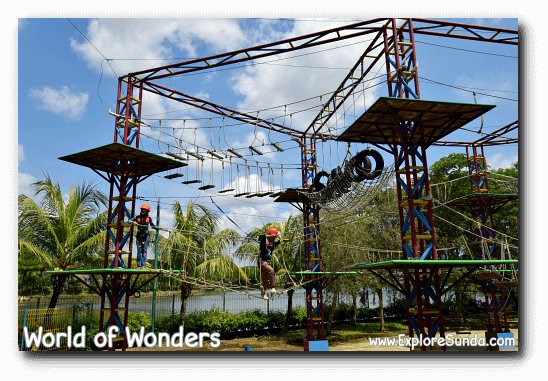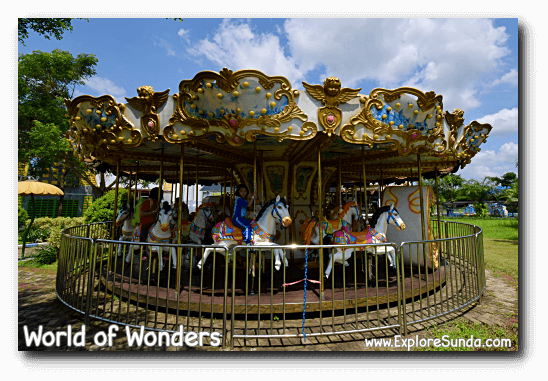 Directions to World of Wonders

As I mentioned before, World of Wonders is located inside the Citra Raya Residence in Cikupa, Tangerang. The GPS coordinates are 6°14'53.0"S 106°31'32.0"E (-6.248055, 106.525558). 
If you drive from Jakarta, you should take Jakarta-Tangerang-Merak toll road and exit at Km.26. Then, direct your vehicle to Jalan Raya Serang. Unfortunately, the traffic is usually heavy here and the road directions are confusing. 

Address:

Ecopolis Boulevard Mekar Bakti Panongan Mekar Bakti Panongan, Cikupa, Tangerang
GPS Coordinate:

6°14'53.0"S 106°31'32.0"E

Opening Hours:

Sat-Thu: 9am-5pm

Closed on Fridays

Ticket:

Weekend: Rp.100,000
Weekdays: Rp.90,000
Since World of Wonders is part of Jatimpark Group, it has some resemblance with other parks, such as Jatim Park 2 and Eco Green Park, in terms of the rides offered and the availability of e-bike. So, if you don't like walk too much, you can just rent the e-bike and drive around the park. World of Wonders is small though, so it only takes several minutes to cover all the ground with the e-bike. 
The remaining parks of Jatimpark Group, including Jatim Park 2 and Eco Green Park are all located in Batu, Malang. They are a bit far, but worth the visit, since they are much bigger parks on a highland, so the weather is much more conducive for outdoor activities. However, during a very warm day, you might prefer play indoor, for example playing snow or wall climbing :)
Sep 22, 23 01:49 AM

Explore Eco Green Park in Batu, East Java. Have fun family vacation surrounded by colorful and exotic birds, while learning ecology and green living.

Sep 18, 23 04:59 AM

Have fun in Jawa Timur Park 2, where you explore Batu Secret Zoo, Museum Satwa, join thrilling rides at Happy Land and play in the Fantasy Land waterpark, all in one place :)

Sep 12, 23 06:26 AM

Explore many interesting places outside the land of Sunda, mainly tourist destinations in Central Java, Yogyakarta, and East Java.