The second part of this park's attractions is the learning zone, where the trained staff will introduce you to things that are related to the green-living lifestyle. They will show you how to process animal waste into biogas and organic garbage into compost. You also can learn how to process milk and grow hydroponic strawberries, mushrooms, and vegetables. You can even gain knowledge about medicinal plants, locally known as Toga (Tanaman Obat Keluarga in Bahasa Indonesia).
You might wonder why a miniature of the Prambanan temple is inside the Eco Green Park? It turns out to be the Eco Science Center, where you can experience simulators of earthquakes, winds, and the cold temperature of the underground mine. Other simulators in Eco Green Park are the power plants. They are a micro-hydroelectric (a small-size hydroelectric power plant that uses the natural flow of water as its source of energy), a hydroelectric, and an electric steam power plant.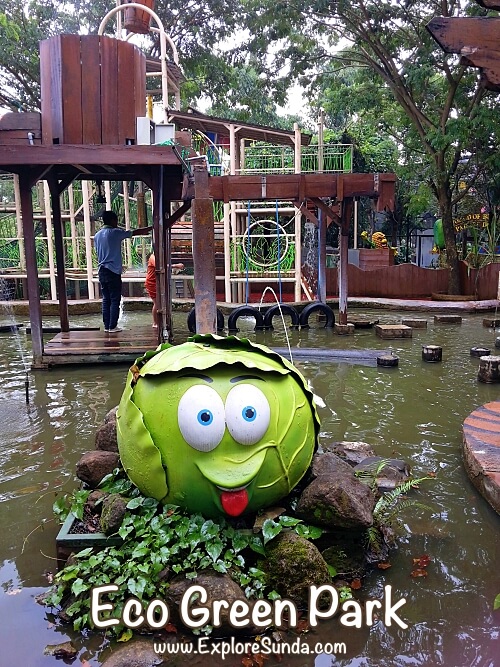 Pass through the obstacles in Water Outbound or get wet! :)
In between exhibits and learning, you will still have fun playing games :) First, play music by shooting water to the instruments installed in Music Plaza. In The Jungle Adventure, you will ride a car and shoot the poachers, while you will go on a boat ride to kill the pests in Kendali Hama.  If your children love water so much, they might want to try the Water Outbound, where they will walk through obstacles. Whenever they fail, they will fall into the pond and get really wet. Or explore Rumah Terbalik (Upside-down House in English). Everything in this house is put upside down. Unfortunately, I felt dizzy after a while.
One attraction we recommend to watch is the story of Hanoman in the Dome Multimedia. Unlike a typical movie theater, here you must stand at all times in the center of the dome. Once the film begins, the entire interior walls of the dome transform to become the screen. It is fun to watch the scenes unfold all around you! :)
One final ride before you exit Eco Green Park is the Eco Journey. It is a relaxing ride to see dioramas exhibiting the journey of humankind from prehistoric to modern times.
Feeling exhausted from exploring the park? Why not take a break at the food court? You'll be delighted by the performances like dancing and singing that happen there. Also, there are many snack shops located throughout the park.