Eco Green Park
Green Living in Batu, East Java
Eco Green Park is a grand park mostly covered with big trees and greenery, where you can have a fun family vacation while learning about ecology and green living :)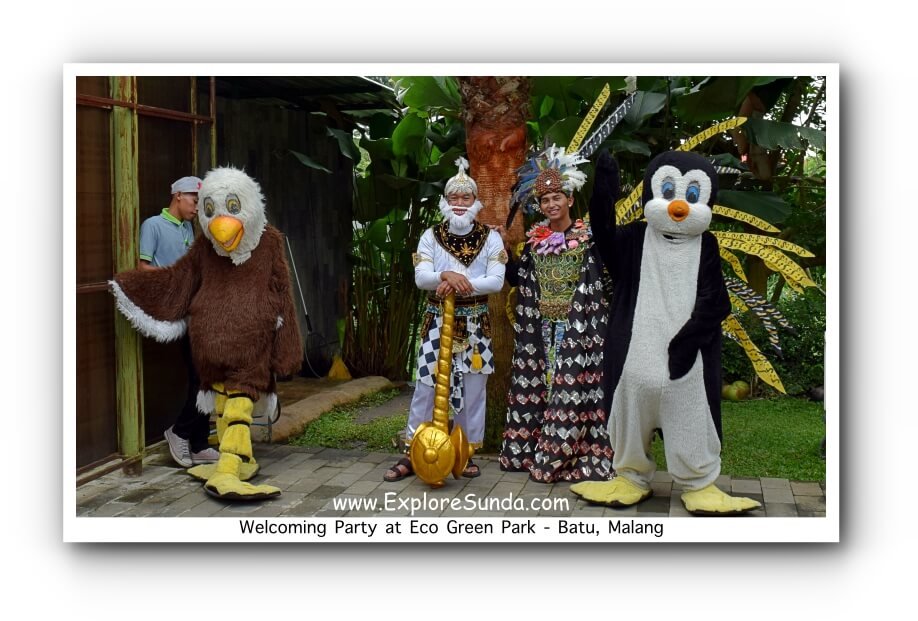 There will be a lot of walk to explore this 6 hectare park, thus, we prefer to rent an e-bike. It is fun to ride it, although the rental is a bit expensive, Rp. 100,000 for 3 hours.

Highlights of Eco Green Park
Opening Hours:
9am-5pm

Ticket:
Mon-Thu:
Rp. 40,000

Fri-Sun, High Season:
Rp. 60,000

Address:
Jl. Oro-oro Ombo No 9A Kota Wisata Batu - East Java, Indonesia

Since Eco Green Park's motto is Fun and Study, the attractions in this park fall into 3 types: education, games, and exhibits.

The first exhibit is the Insectarium with the scorpions as the welcoming party. A staff will introduce you to these scorpions. They still look deadly although their toxic had been removed. You will find more insects inside the insectarium, both alive and preserved. They are all exotics in their own way.

Next you will meet a lot species of birds:

Walking bird such as ostrich, peacock, and stork, walking leisurely inside their designated area. You even can take pictures with the beautiful peacock! Unfortunately, during our visit, the white peacock habitat is still under construction.
Roosters and hens guiding their chicks unalarmed with the closeness to the visitors.
So many varieties of parrots with their distinctive colorful feathers. Each type are put in a big cage. The rows of these cages seem endless. We, at the ExploreSunda.com, believe the parrot collection of Eco Green Park is the best that we have seen in Indonesia. Some birds are already trained, so visitors can take pictures with them.
Bird of paradise also known as Cendrawasih in Bahasa Indonesia.
Since owls are nocturnal creatures, their exhibits are an indoor area.
Birds of prey such as eagles.
Several types of toucan.
And our favorite: the duck pond! Many types of ducks and swans are swimming here and you can buy fish food to feed them :)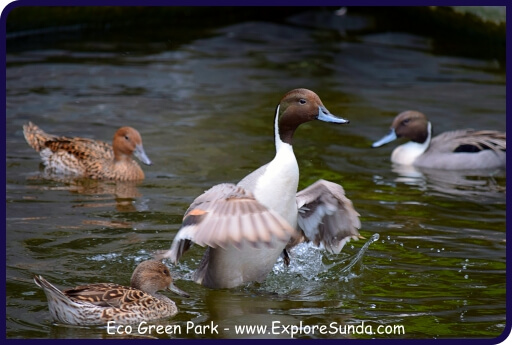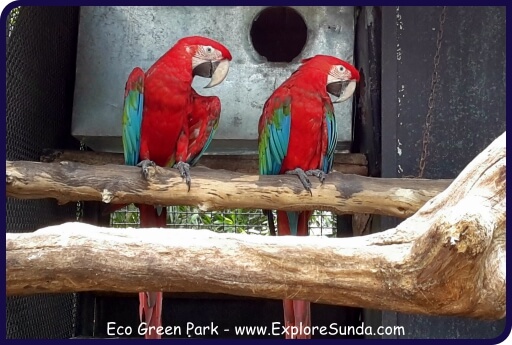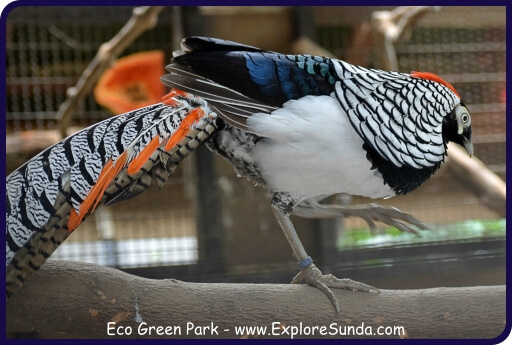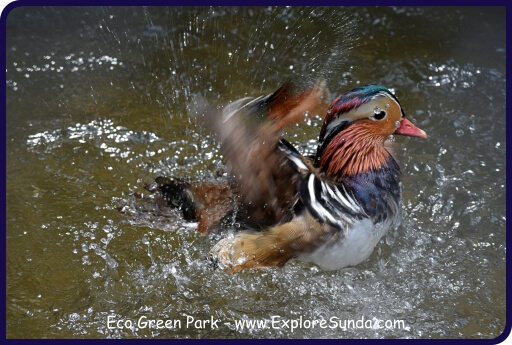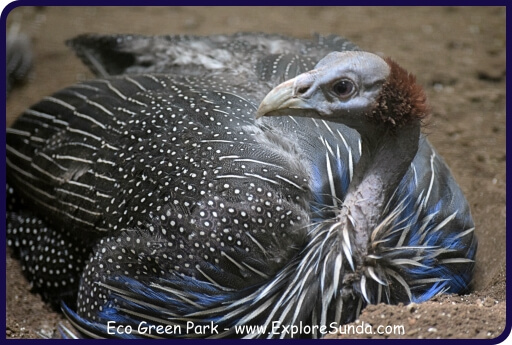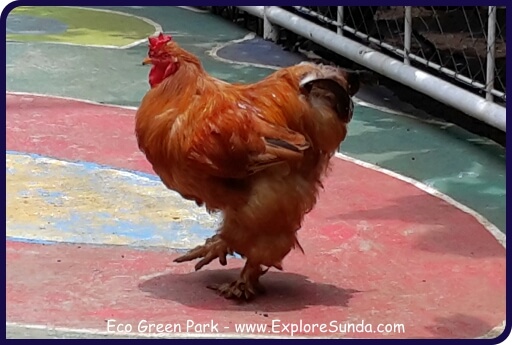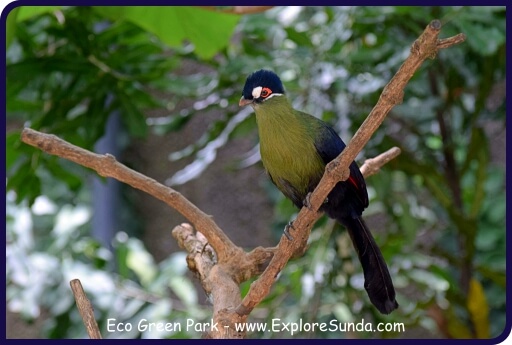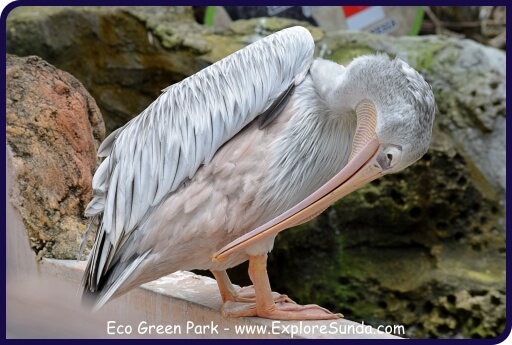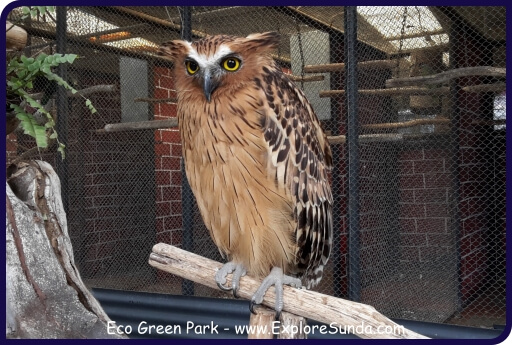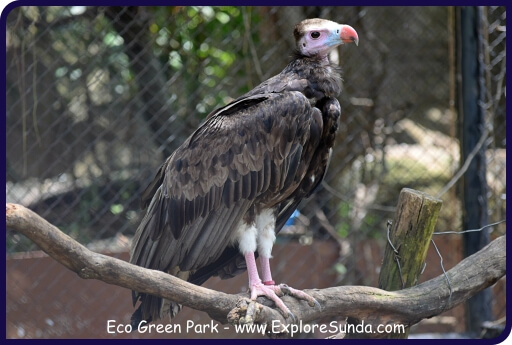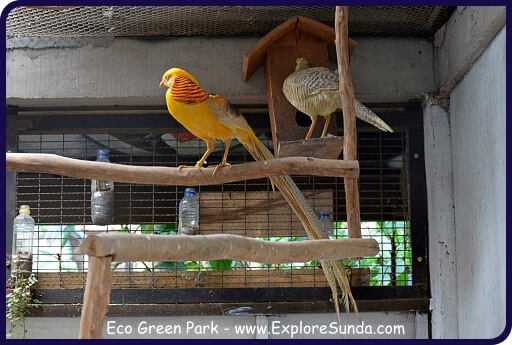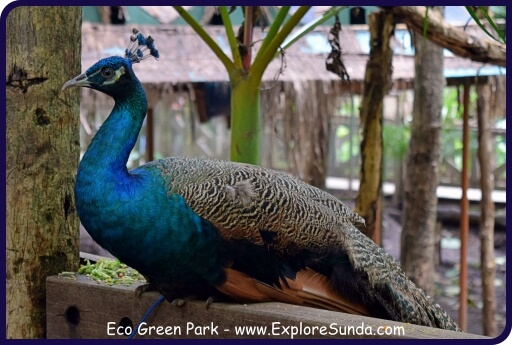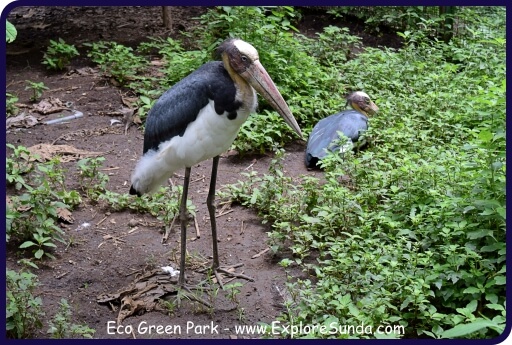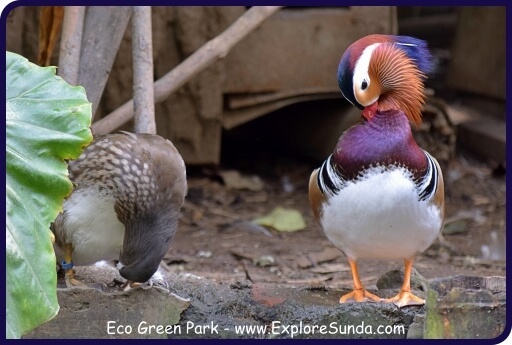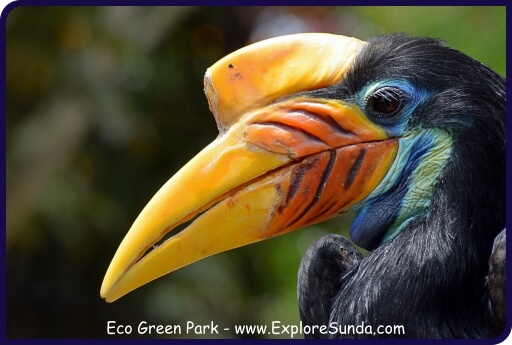 The second part of this park's attractions is the learning zone, where the trained staffs will show you how to

process animal waste into biogas or garbage into compost.
grow strawberries and mushrooms.
process milk.
grow vegetables and familiarize yourselves with many vegetables you eat everyday.
In between exhibits and learning, you will have fun playing games :) For example a car ride in The Jungle Adventure to shoot the poachers, or go on a boat ride to kill the pests in Kendali Hama.
You also can play music by shooting waters to the instruments installed in Music Plaza.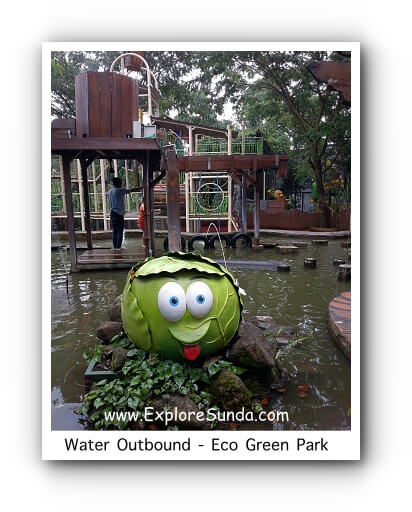 If your children love water so much, they also can try the Water Outbound, where they will walk through obstacles. Whenever they fail, they will fall to the pond and get really wet.
Another unique attraction is Rumah Terbalik (upside down house). Everything in this house are put up side down. Unfortunately, I felt dizzy after awhile.

Then, you can take a relaxing ride in Eco Journey to watch dioramas exhibiting the journey of mankind from prehistoric until modern world.
One attraction we recommend to watch is the story of Hanoman in the Dome Multimedia. The visitors stand in the center of the dome and the inside walls of the dome is the screen. Then, start paying attention to the movie, since it will take place all over the dome!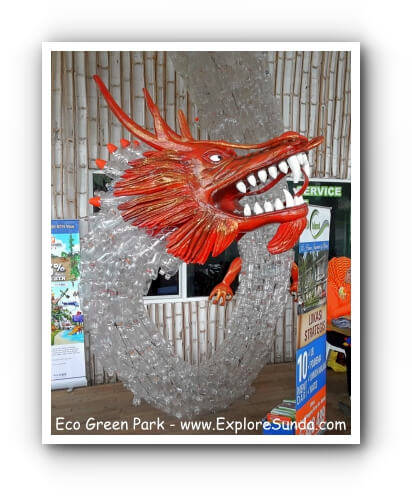 Tired of exploring the park? You can take a break at the food court. Most of the time you will be entertained watching some performances, such as dancing and singing. In addition, there are several snack shops scattered around the park.

Whenever you pass any decoration in the Eco Green Park, please take a closer look. You might be surprised with the materials they are made of. For example, the elephant made of broken televisions and the dragon made of used water bottles.
Love this post? Why don't you save it in your favorite Pinterest board :)

Have you explored other parks in Batu, Malang? You will see Batu Secret Zoo, Museum Satwa, waterpark, and some rides inside Jatim Park 2. Or go to Museum Angkut and have fun looking at so many classic cars and take pictures in the movie sets!
May 23, 23 04:28 AM

Planning to travel to Jakarta? Find the tips on traveling to Jakarta, getting around Jakarta, history, and frequently asked questions here ...

May 22, 23 11:28 PM

Get all the information on Jakarta airport train here: the train stations, how much the ticket cost, and how to buy tickets.

May 19, 23 03:36 AM

Get the best view of Malabar tea plantation, Situ Cileunca, and Pangalengan Bandung from Nimo Highland!