A Trip to Borobudur Temple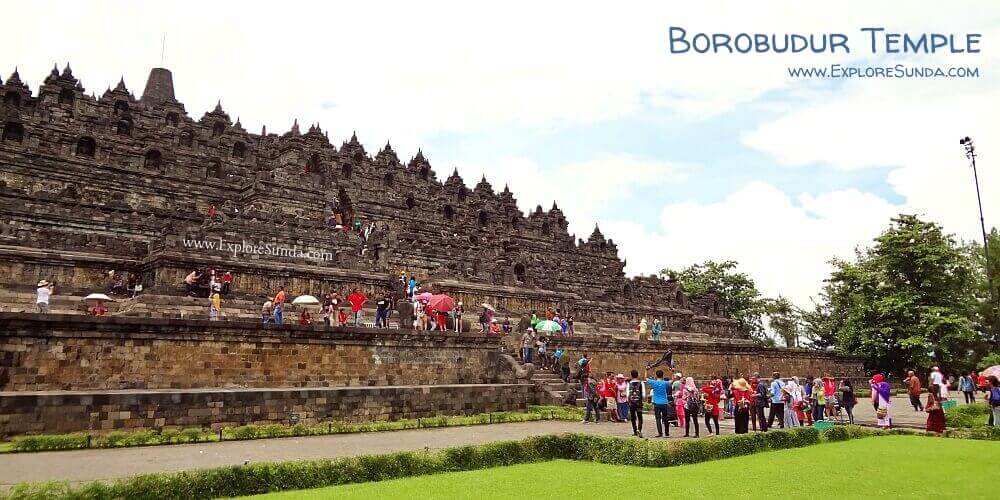 Everyday thousands of tourists explore Borobudur Temple.
Candi Borobudur has a vast garden surrounding it. The garden makes the temple more picturesque. Vehicles must be parked far away from the temple because too many vehicles create too much vibrations that will damage the temple. If you don't want to walk through the park, you can buy a ticket and ride an open vehicles that will take you from the entrance gate to the backside of Borobudur. From there, you only need to take a short walk (less than 50 meters) to the temple yard (the foot of Borobudur temple). 

Opening Hours: 08.00-16.00
Tickets For Indonesian:
> 10 years old: Rp.50,000

3-10 years old: Rp.25,000
Tickets For Foreigners:
> 10 years old: USD.25 ~ Rp.387,500

3-10 years old: USD.15 ~ Rp.232,500
In the past, you can admire the relief sculpture by circling Borobudur temple level by level. There is one set of stairs on each side of the temple. Some people just climb straight to the top, but it's better to stop at each level and walk around it. You will be surrounded by stone walls covered with relief sculpture depicting the life of Buddha. The top level doesn't have relief sculpture, it only has many stupas, each filled with a Buddha statue, except the stupa at the peak. It is the largest stupa, plain without any relief and there is not any Buddha statue inside.
Candi Borobudur, the largest Buddhist Temple in the world.
However, in 2022, the number of visitors to Borobudur temple is limited to 1,200 people per day. Plus, you are not allowed to climb Borobudur temple. Please note that from Tuesday to Sunday, you can only admire this world of wonder from the temple yard (at the foot of Candi Borobudur) and the surrounding temple parks. On Mondays, you can only stroll around the surrounding temple parks.

Taman Wisata Borobudur, the office that manages Candi Borobudur, also manages Candi Prambanan and Candi Ratu Boko. Hence, it offers a bundling ticket to visit two of these three temples in one day.