Candi Gedong Songo
Bandungan - Semarang - Central Java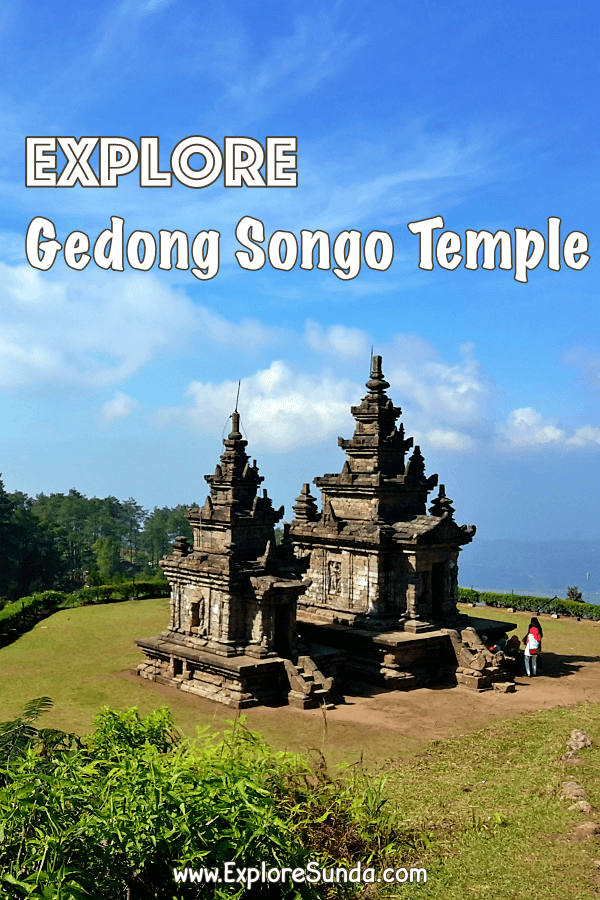 Candi Gedong Songo is a complex of small Hindu temples. It consists of nine temples, scattered in the slope of Ungaran mountain. Thus, it is called Candi Gedong Songo, since in Javanese language Candi means temple, Gedong means building, and Songo means nine. 

There are some distances between each temple. The first one is approximately 100 meters from the entrance gate. Other temples are further away from the first one. During a clear day, we can see the ninth temple at the top of the highest hill, several hundred metres away from the first temple. Hence, there are two options to visit those temples: walk uphills following the stone path or pay for a horse ride. In my opinion, the horse ride is the most fun way to visit Gedong Songo temples.
It is easy to locate the stables, since it is near the first temple. The men tending the horses will approach every visitor and offer the tour ride. They will accompany you along the way and hold the horse's rein, especially in difficult path, but whenever you are confident enough, they will let you ride by yourselves. The horses are very tame and well trained. They even know where to go, so you only need to hold the rein to steady yourselves and keep them away from eating the grasses along the way :)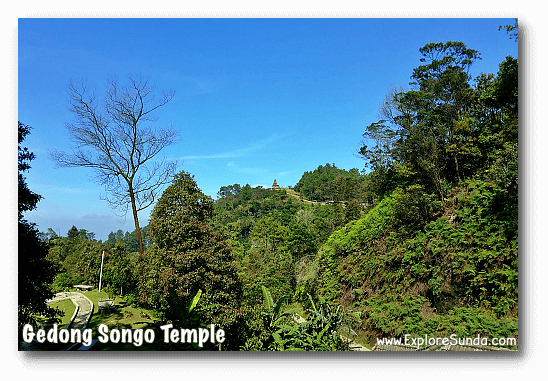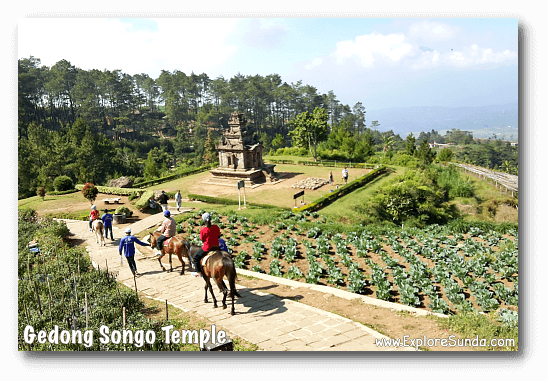 There are three options of the horse ride, depending how many temples you want to visit. We, at the ExploreSunda.com, recommends to take the one that visits all nine temples plus a hot water spring. Although it is the most expensive (In 2014 it was Rp 70,000 per person for a domestic tourist, the international tourist paid a bit more expensive), it's definitely worth it. The tour takes approximately one hour. The first temple you will visit would be the furthest one, the one on top of a mountain. The scenery is breathtaking, . It was my first experience to ride a horse uphill and it's very fun!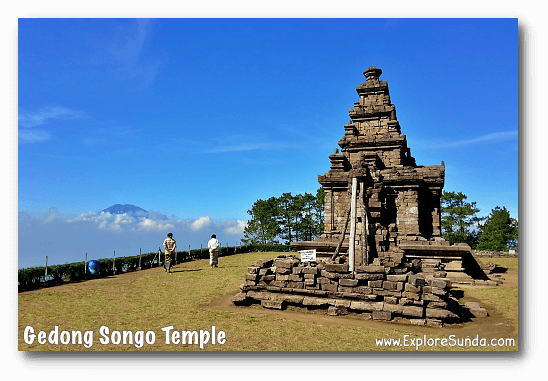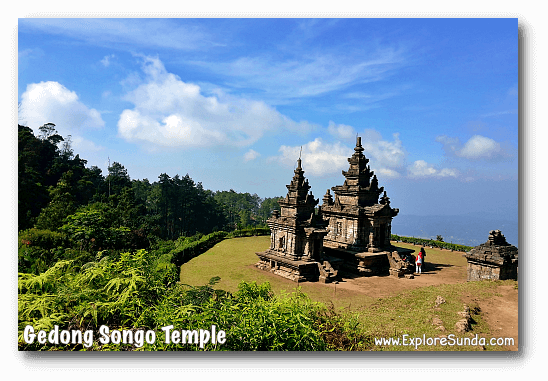 You will pass through pine forest and vegetable fields, until you reach a field where the horses can take some rest and you can walk around to visit the temples nearby. There are three temples here, you must walk up fifty something stairs to reach the highest temple on top of the mountain.
Whenever the day is clear you can see beautiful valley below, but I think the mist that often surrounds the mountain makes the temple looks more magical :) The other two temples is in the same level as the field.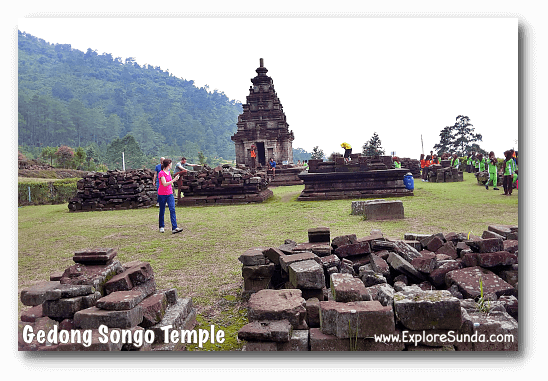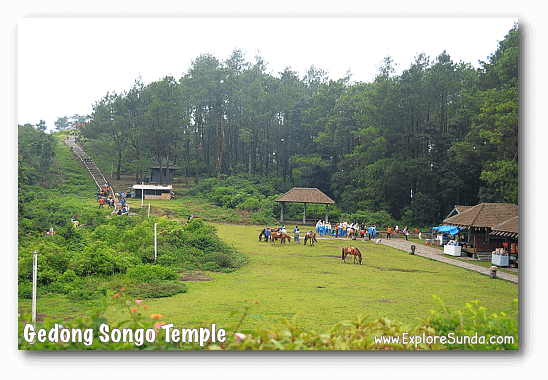 You may notice that each temple is not a standalone. It looks more like a small complex of its own, where it has one main temple and a couple of smaller temples in front or besides the main temple. Unfortunately, some temples are ruined, where you can only see the foundation. It also used to have a statue inside each temple, but many of them are empty now.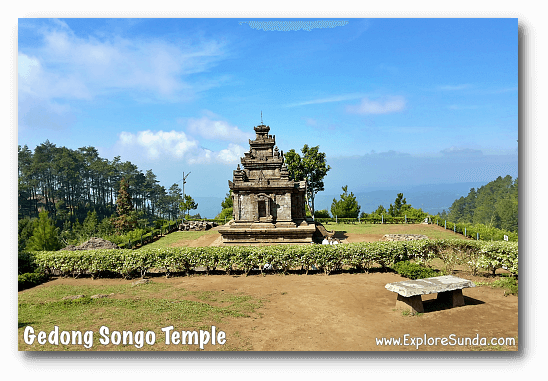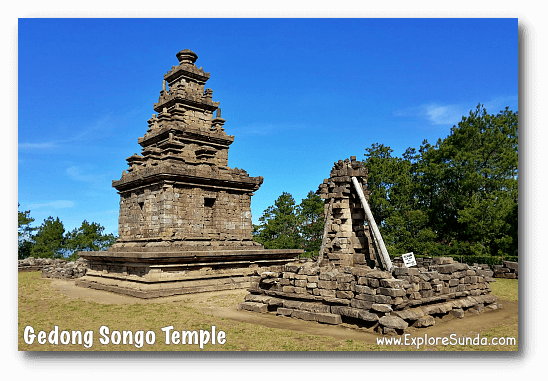 Finishing up there, you will continue riding the horses to the next destination: the hot water springs that contains sulphur. People believe the water can cure many diseases, especially skin diseases. Since it is in the slope of a mountain, the place is not big. There are several bathrooms if you want to take a bath.

Then you will continue going downhill passing the remaining temples. Each temple is different from the other. I wish I know the history behind each temple, I believe they would be very fascinating. Researching the internet, I only found out that Gedong Songo temple is an Hindu temple and archeologists predicted it was built around 8 century by Sanjaya Hindu Dynasty, who ruled  Central Java at that time.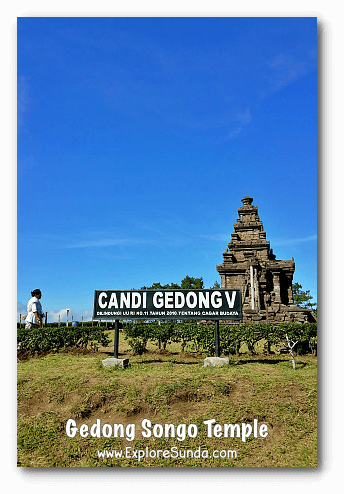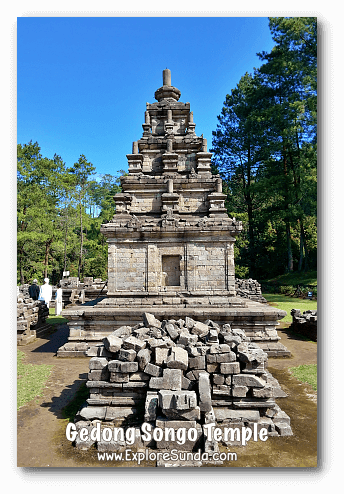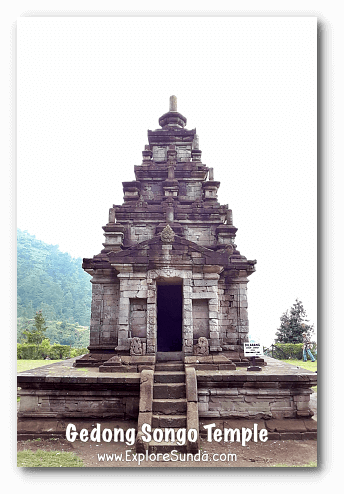 Presently, Candi Gedong Songo is still actively used for religious ceremony of Hinduism. Local schools also often come to this complex, either for school field trips or boy scout exercises.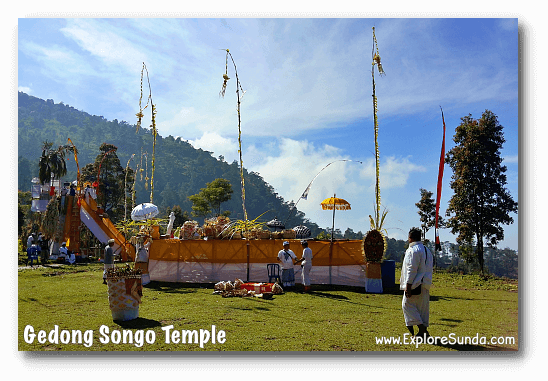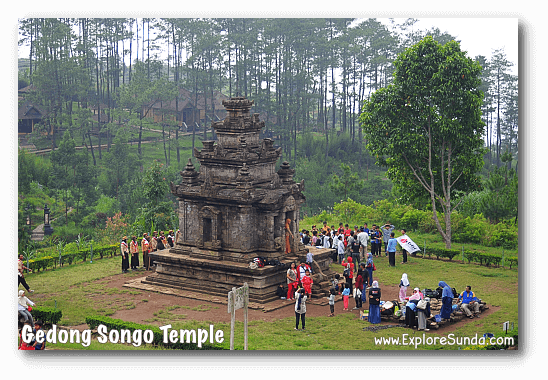 Similar to Dieng temples, Candi Gedong Songo are located in the highland, approximately 1200 meters above sea surface. It is surrounded by pine forest and locals vegetable fields. The good thing about it is its cool temperature (approx. 19-27 degrees Celsius) and the greenery surrounds it. Thus, the best time to visit Candi Gedong Songo is in the morning to mid afternoon, before the mist covers the mountain.

Accommodation near Candi Gedong Songo

The best way to start early is to spend a night in the hotel at Bandungan. It is close to Semarang, hence, it becomes a favorite place for a weekend getaway due to its cool weather. So, no wonder there are many small hotels here, range from inns to 1 or 2 stars hotels. I guess it would be a bit difficult to secure a room during weekend, but if you come here during weekdays you can just drive around and ask the price directly to the front office, even negotiate the price!

You might find some hotels in the internet too, but if you have time I think it would be wiser to just come and see the room first before you book it, since often the pictures in the internet was taken when the hotel is still new. You will be surprised with so many hotels are operated in the small place like Bandungan.

The much better option of accommodation is to spend a night in Semarang. Since Semarang is a big city, you have many choices: from an inn to the five stars hotel. The only drawback is that it takes more than an hour to reach Bandungan due to the traffic, although the distance is only 45 kilometers. In our experience, it was difficult to find the direct way from Semarang to Bandungan. We eventually drove too far south until we reached Ambarawa and from there we went up north to Bandungan via a small road.

Directions to Candi Gedong Songo
Since the location of Candi Gedong Songo is a bit secluded, it is difficult to find public transportation that reach here. Of course there are some that will reach the village of Bandungan. Thus, the most convenient way is to drive or rent a car, either from Semarang in the north (approx. 45 kilometers) or Yogyakarta in the south (approx. 70 kilometers).

GPS Coordinates:
-7.203890, 110.338000

Ticket:
Entrance Fee:Rp 7,500

Horse Ride:Rp 70,000
It is always exciting to visit highlands and experience the cool weather, gorgeous view and beautiful parks. Luckily, you can find plenty of them in Sunda :)
Sep 22, 23 01:49 AM

Explore Eco Green Park in Batu, East Java. Have fun family vacation surrounded by colorful and exotic birds, while learning ecology and green living.

Sep 18, 23 04:59 AM

Have fun in Jawa Timur Park 2, where you explore Batu Secret Zoo, Museum Satwa, join thrilling rides at Happy Land and play in the Fantasy Land waterpark, all in one place :)

Sep 12, 23 06:26 AM

Explore many interesting places outside the land of Sunda, mainly tourist destinations in Central Java, Yogyakarta, and East Java.