See The Wild
in Taman Safari Indonesia
Taman Safari Indonesia in Cisarua Bogor is the first safari park in Indonesia and it is the only one in Sunda. The second and the largest safari park is in Prigen, East Java. The newest one is Safari and Marine Park in Bali. They are all managed under one company.
Taman Safari Cisarua is strategically located in the busy road between Jakarta, Puncak and Bandung. This area is the best weekend getaways from Jakarta. There are many restaurants, hotels, villas as well as park recreation arenas scatterred around this cool area.

The Safari park provides buses for tour circling the park. The advantage is there will be a tour leader explaining each area. But my favorite is to drive my car around the park and stop whenever I want to spend more time watching some animals or feeding them.

Yes, you read it right. We are allowed to feed the herbivore such as zebra, lama, hippo, monkey, deer and elephant with carrots and bananas. You can find many small kiosks selling carrots along the way to the park. I think this is a win win win solution. The farmers win because they can sell their carrots. Usually the carrots are low grade quality and the price is more expensive than in the market. Taman Safari Indonesia wins because they can save on animals foods, especially during high season. We as the visitors also win because feeding the animals is always fun, especially for children.

The animals are grouped based on their origins: animals from Asia, Africa, and America continents. But don't expect to see animals living in the four seasons country or the arctic, because they can't stand the tropical heat. Taman Safari Indonesia once had a polar bear. Its tank is located farthest uphill in the park, but after a while he couldn't survive.

This Safari park has special area for lions, tigers, and bears. There are 2 gates for each entrance and exit, to keep these wild animals inside. When a car arrives at the first gate, it will automatically open and close when a car has passed. Then the second gate will open to let the car enters. You must be extra careful here, never ever open any window. Sometimes the animals are in the perfect pose that we can't stand to open a window and take great pictures without considering the impact.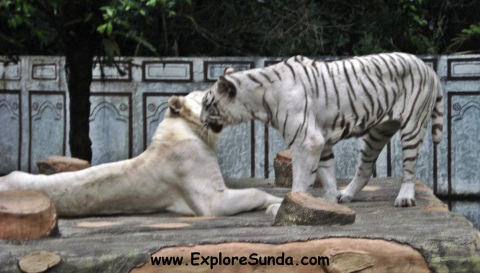 If you really want great pictures with the tigers, you can pose with their babies at the baby zoo. Here you can buy a ticket for each pose with a tiger or an orang utan or a snake.
The baby zoo area is not only for baby animals. The park also have a bird aviary, white tigers, little kangaroos, and orang utan here.


The baby zoo is also part of the amusement park in Taman Safari Indonesia. Hence, there are many rides such as merry go round, go kart, jet coaster, etc as well as several on stage shows. Some of the shows are bird of prey performance, lion and tiger show, cowboy show, and elephant show. The elephants can paint with their trunk. They usually paint on t-shirt so we can buy and wear their painting.

Whenever you are tired and hungry, you also can stop by in the amusement park area, because there are several restaurants, food court, and canteen nearby, but the taste is just so so.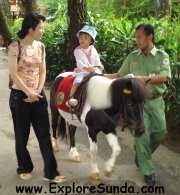 Now let's continue the excitement by riding some of these animals. Adjacent to baby zoo, we can ride a ponny, a horse, a camel or an elephant. However, the ride is only circling small area.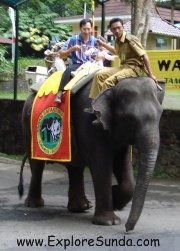 The ride my family really enjoys is an elephant ride around the park. The elephant walked into the herbivore area, passing the sun bear, lama, zebra, deer, among others. We also crossed a small creek too. It was really fun!

This ride is a bit expensive though. Last time it was Rp. 100,000 per elephant. Maximum passengers for each elephant are two persons.

Taman Safari Indonesia in Cisarua also opens at night during the weekends. The park certainly look different at night. So, try to visit the night safari and see some nocturnal animals.

If you have more time and like walking, there is a walking trail circling the Taman Safari Indonesia, called Safari Trek. There are two trails: the shorter one is Kancil route and the longer one is Macan Tutul (Leopard) route. These trails and outbound area are opened on Saturday, Sunday and national holiday, from 08.00 until 11.00am. Here you can enjoy Mount Pangrango view and walking in the fresh mountain air.

Another place to visit if you love hiking is Jaksa waterfall, which is in the farthest uphill. You can go there either by the shuttle bus or drive your car and park it in the last parking lot. The waterfall is less than 30 minutes walk from there.

Do you think there are too many things to do in one day? Don't worry, this Taman Safari Indonesia has a hotel inside the park. You can choose either stay in a caravan or a traditional stage house. Just make sure you make a reservation first, especially during weekends and school breaks. Or if you prefer camping, this safari park also has a camping ground near the Safari Trek.

How To Go To Taman Safari Indonesia In Cisarua Bogor
Taman Safari Indonesia in Cisarua Bogor can be easily reached either from Jakarta or Bandung.

If you start from Jakarta, you need to drive through Jagorawi toll road exit at Ciawi, which is the last exit. After that you just follow the road for approximately 20 kilometers, then turn right when you see the big sign and giant elephant tusks. That is the gate entrance, but the park itself is still further uphill, just follow the small road until you meet the ticket booth.

It takes longer time if you start from Bandung, but the scenery is more beautiful because you will pass mountains, including Puncak with its tea plantation that looks like green carpet covering its many hills. There are many restaurants with great taste and beautiful view along the way. Usually it takes approximately 3 hours from Bandung to this Taman Safari Indonesia in Cisarua Bogor.

One last tip: Taman Safari Indonesia in Cisarua is one of the most popular family vacation destinations in Sunda, hence, avoid coming here on peak season such as long weekends. It will be overcrowded, which I think makes both visitors and animals uncomfortable.