See The Wild In
Taman Safari Indonesia Cisarua Bogor

Taman Safari Indonesia (TSI) in Cisarua Puncak (Bogor regency) is the first safari park in Indonesia. It's never boring to visit TSI since it keeps adding new collection of animals, live shows and amusement park.

Spot the Wild Animals in Safari Journey
Safari Journey is the main attraction in Taman Safari Indonesia, where we can observe the behavior of wild animals in their own habitat. Of course, they are not really wild, since most of them are bred and grown up here. They are accustomed to the visitors.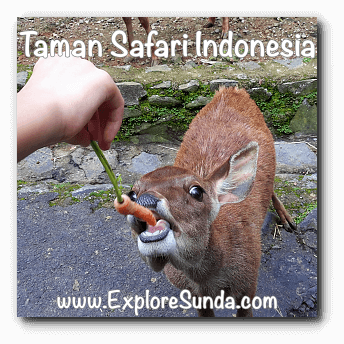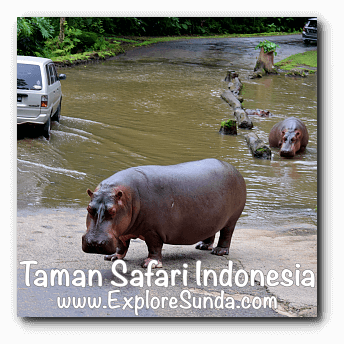 Many of the herbivores, such as zebra, lama, hippo, camel, monkey, deer, and elephants, are used to the visitors feeding them with carrots and bananas. We met a very smart elephant doing patrol in Safari Journey with his keeper. He will take whatever we give him and sort them right away. He will spontaneously eat carrots and bananas he gets, and give other things to his keeper on his back.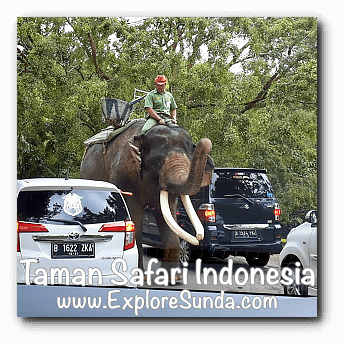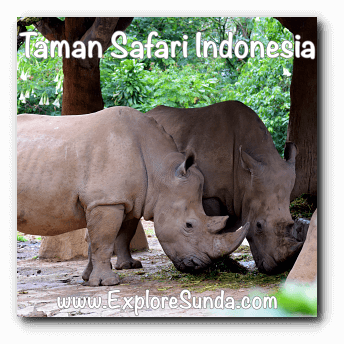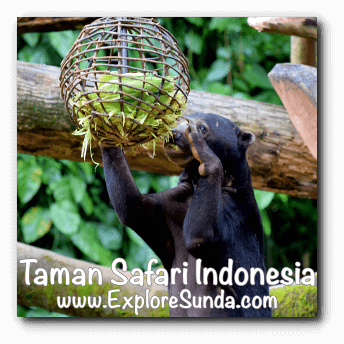 Although they look tame and sometimes cute, please remember they are still wild animals, not pets. Thus, be careful, because whenever you open your car windows, it will be at your own risk.
The animals are grouped based on their origins: animals from Asia, Africa, and America continents. Taman Safari Indonesia doesn't put all of its wild animals here though, some of them have their own habitat in other parts of Taman Safari Indonesia, which we will explore after the Safari Journey. 
Passing through the herbivore section, we will enter the carnivore habitats, home of the  lions, tigers, and bears. There are 2 gates for each entrance and exit, to keep these wild animals inside. When a car arrives at the first gate, it will automatically open and close when a car has passed. Then the second gate will open to let the car enters. You must be extra careful here, never ever open any window. Sometimes the animals are in the perfect pose that we can't stand to open a window and take great pictures without considering the impact.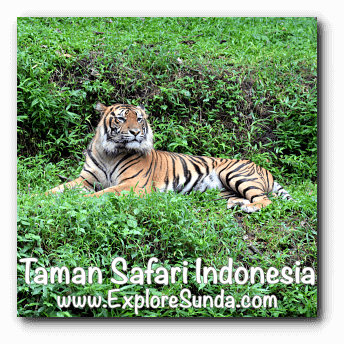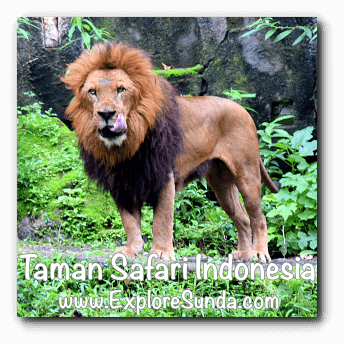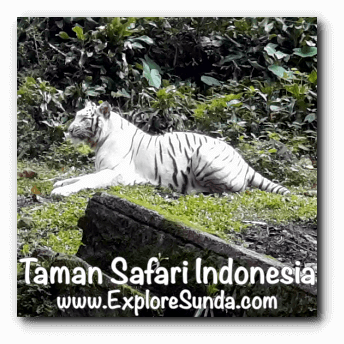 You might want to keep an eye out for dead trees with a hollow trunk, you will be surprise to find an owl perch inside.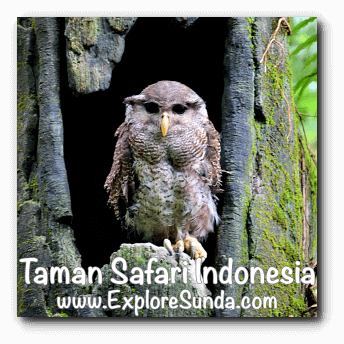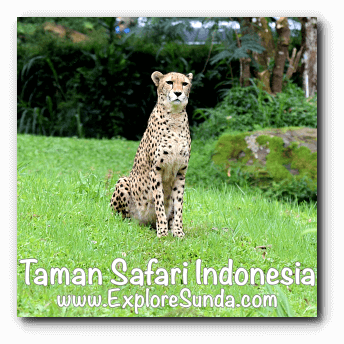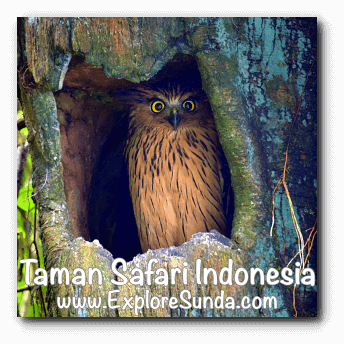 The Safari Journey takes approximately one hour, it really depends on how long you want to spend on each habitat. It might takes a bit longer during weekend, due to so many cars queueing in this track. So, you'd better come early in the morning. The ticket booth opens at 8am.

Presently, the Safari Journey is not the only attraction in Taman Safari Indonesia. There are many more things to do here. Let's explore them all!

Baby Zoo in Taman Safari Indonesia Cisarua Bogor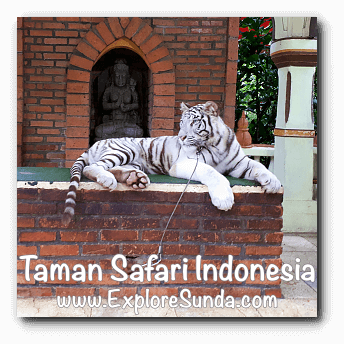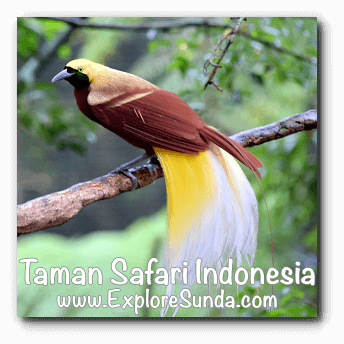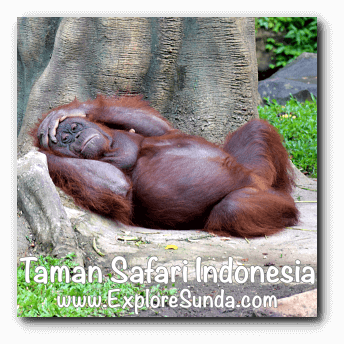 Initially, this area is the place for viewing and taking pictures with a tiger cub, a lion cub, baby orang utan, and snake. It used to be a real cubs, but last time I was there the cubs have grown up! The lion is not cute anymore and looks drowsy. The white tiger looks elegant though. Due to their sizes, many people prefer to pose behind the tiger or lion, instead of putting them on their lap like it used to be. The ticket is Rp. 25,000/person/animal, using our own camera. A cameraman also standby there, should a visitor wants an instant picture.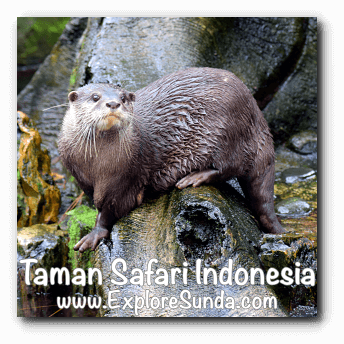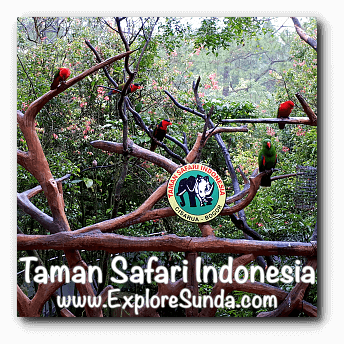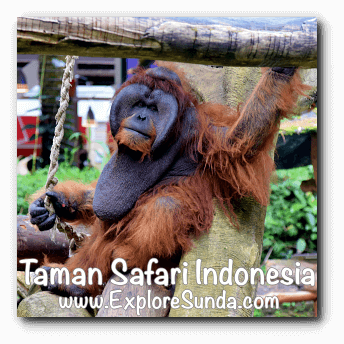 Over the years, this Baby Zoo expands. Now it has a bird aviary, where we can find various birds, including the exotic bird of paradise (cendrawasih in bahasa Indonesia). There is a photo booth where we can pose with many colorful birds.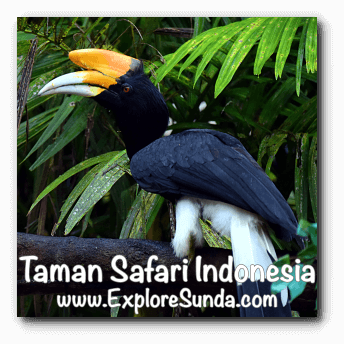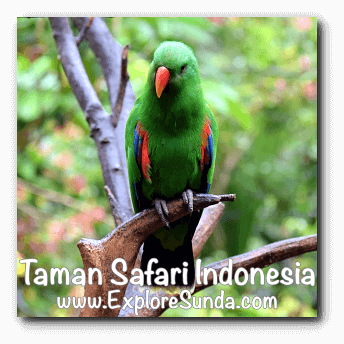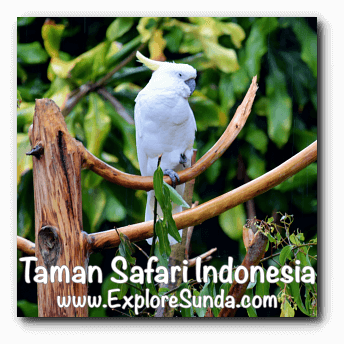 Orang utans and white tiger also have their own habitat in Baby Zoo area. The last addition is an Australian Outback habitat for gray kangaroos and if you are lucky you will spot kookaburra, the native bird from Australia. This habitat is combined with the Big Cat Center, where each of the big cats has its own habitat with glass walls in front. It looks like many big aquariums. One funny thing there: we found ring tailed lemurs' favorite spots are on top of the information panels of the big cats!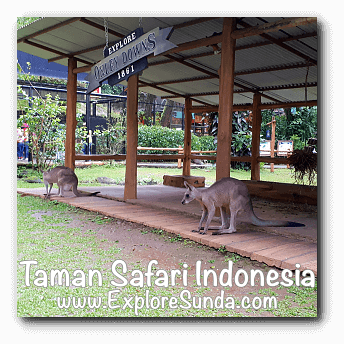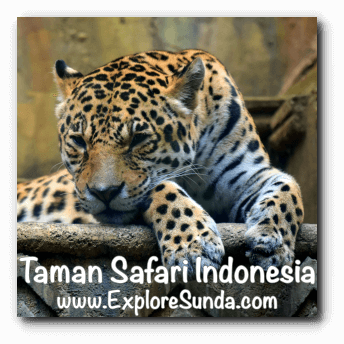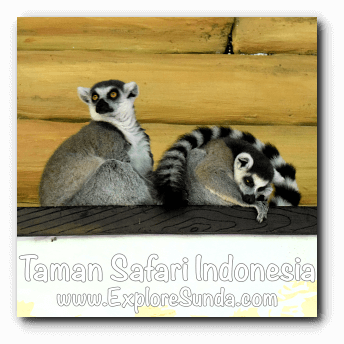 Live Shows and Rides in Taman Safari Indonesia Cisarua

Some of the animals in Taman Safari Indonesia are trained to perform. Hence, there are many live shows we can watch all day long. For example, elephants show, dolphins show, various animal show, tiger show, sea lions show, and birds of prey show. Taman Safari Indonesia also has circus like performances, such as cowboy show, globe of death and safari theatre. Therefore, please make sure you ask for the map when you buy tickets at the front gate, since the map has complete information about the park as well as the show times.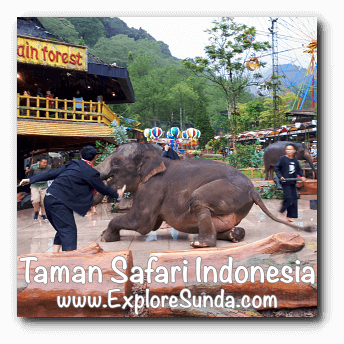 The Elephant Show at Plaza Gajah is the favorite show in TSI. It is hard to miss since it is right in front of the Rain Forest restaurant and obviously because the elephants are gigantic!
The story is about how people destroy the forest where the elephants live, in return the elephants visit the village looking for foods. Then, there are poachers who hunt for the tusks. We watched this show while it drizzles. The funny thing is the actors and actresses keep performing while the elephants take shelter under the Rain Forest Restaurant :) It's so funny when the performers keep twisting the dialog to match with the elephants' unexpected acts under the rain.
Another attractive show is the Tiger Show. It is a performance of three trained Sumatran tigers with their keepers. The show is opened with the act of one tiger climbing a very high pole to get its treat. It's really impressive.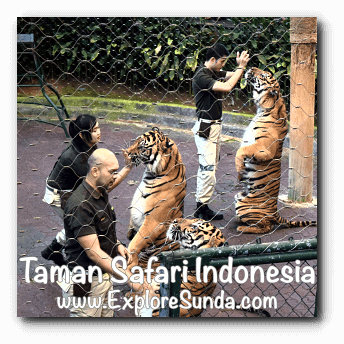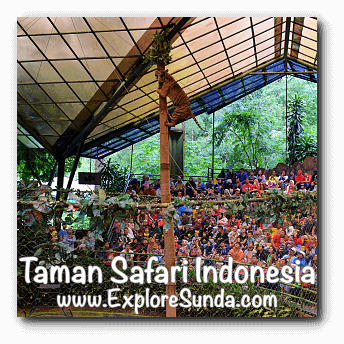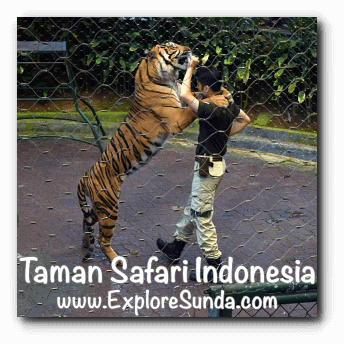 Watching these shows are not only entertaining, but it also provide us with good information about the animals. It is a really good education tool for us all.

Another expansion in Taman Safari Indonesia is the habitats of Komodo in Komodo Dragon Island, Primate Center and Reptile Tunnel, Meerkat and Bekantan, Penguin house and Dolphins. Taman Safari Indonesia even has a program to swim with dolphins.
Next to do in Taman Safari Indonesia is have fun in the amusement park. There are many rides such as merry go round, go kart, jet coaster, etc. If you are not afraid of heights, try cycling up in the air near the Dino Park. Or play at Safari Waterpark.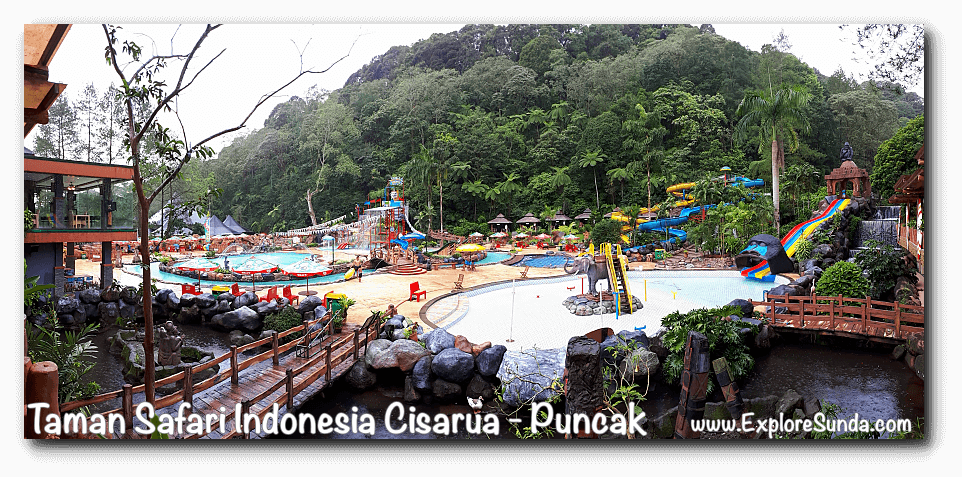 Ticket:
Daytime TSI incl. Panda
Domestic:
< 5 years Rp. 210,000
> 6 years Rp. 230,000

International:
< 5 years Rp. 310,000
> 6 years Rp. 350,000

Daytime TSI w/o. Panda
or Nite Safari, each:

Domestic:
< 5 years Rp. 160,000
> 6 years Rp. 180,000

International:
< 5 years Rp. 250,000
> 6 years Rp. 300,000

Parking:
4W vehicle Rp. 20,000
2W vehicle Rp. 10,000

Now let's continue the excitement by riding some of these animals. Adjacent to baby zoo, we can ride a pony, a horse, a camel or an elephant. However, the ride is only circling small area.

The ride my family really enjoys is an elephant ride around the park. The elephant walked into the herbivore area, passing the sun bear, lama, zebra, deer, among others. We also crossed a small creek too. It was really fun, but expensive.
Whenever you are tired and hungry, there are several restaurants, food court, and canteen spread throughout the park, but they are all overpriced with average taste.
Taman Safari Indonesia in Cisarua also opens at night during the weekends. The park certainly look different at night. So, try to visit the night safari and see some  nocturnal animals.

If you have more time and like walking, there is a walking trail circling the Taman Safari Indonesia, called Safari Trek. Another place to visit if you love hiking is Jaksa waterfall, which is in the farthest uphill. You can go there either by the shuttle bus or drive your car and park it in the last parking lot. The waterfall is less than 30 minutes walk from there.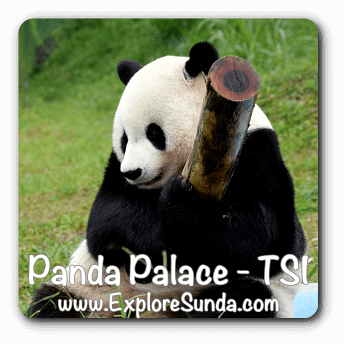 Last year Taman Safari Indonesia Cisarua Bogor adds two giant pandas to its collection. Its the newest and certainly the most exotic member of the year. They have their own habitat high up on the mountain. It is called Istana Panda (Panda Palace in English).

Explore Istana Panda in more details here ...
Do you think there are too many things to do in one day? Don't worry, Taman Safari Indonesia has a hotel inside the park. You can choose either stay in a caravan, bungalow or safari lodge. Just make sure you make a reservation first, especially during weekends and school breaks.
How to go to Taman Safari Indonesia Cisarua Bogor

Taman Safari Indonesia Cisarua is strategically located in the slope of mount Pangrango. The entrance is on the busy road from Jakarta via Puncak Pass to Bandung. Hence, it can be easily reached either from Jakarta or Bandung.

If you start from Jakarta, you need to drive through Jagorawi toll road exit at Ciawi, which is the last exit. After that you just follow the road for approximately 20 kilometers, then turn right when you see the big sign and giant elephant tusks. That is the gate entrance, but the park itself is still further uphill, just follow the small road until you meet the ticket booth. Due to the heavy traffic during weekend, we recommend you to start as early as possible. The ticket booth opens at 8AM. Alternatively, you can avoid the traffic jam in Ciawi area by driving through alternate route, i.e. less traffic but much smaller road, less smooth, and often with surprises such as steep slope with a u-turn.

It takes longer time if you start from Bandung, but the scenery is more beautiful because you will drive through mountain pass, i.e. Puncak Pass with its tea plantation that looks like green carpet covering its many hills. There are many restaurants with great taste and beautiful view along the way. Under normal condition, it takes approximately 3 hours from Bandung to Taman Safari Indonesia.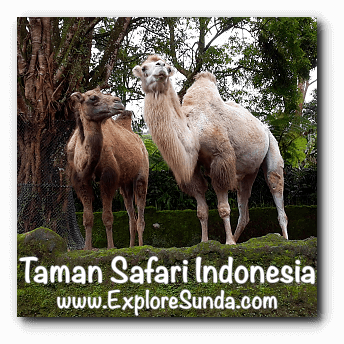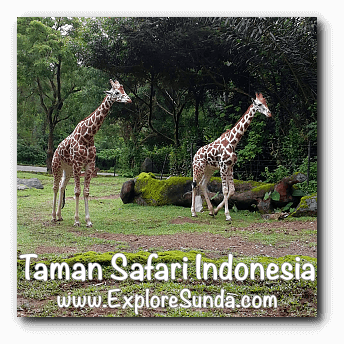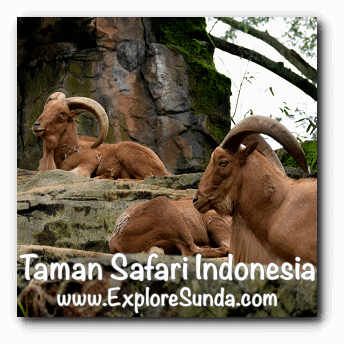 One last tip: Taman Safari Indonesia is one of the most popular family vacation destinations in Sunda, hence, avoid coming here on peak season such as long weekends. It will be overcrowded, which I think makes both visitors and animals uncomfortable. If you plan to come on weekends, make sure you arrive as early as 8am, before it is too crowded.

The very last tip: since most of the activities are outdoor and on a mountain, don't forget to bring jackets and umbrellas. You will never know when the rain starts pouring and how long it will last :)



Do you know that Taman Safari Indonesia has other parks spread throughout Java and Bali? Besides Taman Safari Indonesia, there are other attractive zoos in Java, such as Batu Secret Zoo and Gembira Loka Zoo.

Taman Safari Indonesia Cisarua Bogor
Dec 04, 23 08:41 PM

Summarecon Mal Serpong: the favorite shopping mall in South Tangerang for the whole family to do shopping, pamper in beauty salons, learn to cook in a cooking studio, watch movies, and play in the arc…

Oct 26, 23 11:32 PM

A visit to Benteng Heritage Museum at the old town of Tangerang to see the history and culture of China Benteng.

Oct 13, 23 03:33 AM

Explore De Voyage Bogor, a new European theme garden for selfie and hang out. Take tons of beautiful pictures and join the activities :)