What's Inside Lembang Park and Zoo?

Lembang Park and Zoo is a combination of a park and a zoo. Every building in this park is beautifully painted, such as the old houses in European villages. Once you enter the park, a beautiful landscape will be upon you: a lake with a tiny island in the middle. You can rent paddle boats to circle the lake. Children can have fun doing outbound activities on the island or playing in the small water park adjacent to the pond. Another fun activity in Lembang Park and Zoo is driving an e-bike.
Lembang Park and Zoo, great place for a leisurely walk.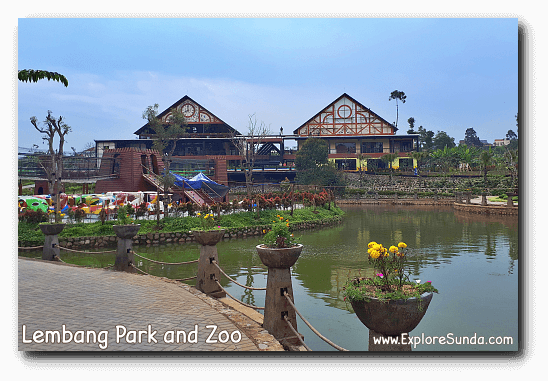 The lake inside Lembang Park and Zoo.
Opening Hours:
Mon-Fri: 9am-5pm
Sat-Sun: 8am-6pm
Ticket:
Mon-Fri: Rp. 50,000
Sat-Sun: Rp. 70,000
Although the best way to enjoy the zoo is by walking, Lembang Park and Zoo is rather massive. Hence, you might prefer renting an e-bike or a golf cart. The rental booth is in on the side of the lake. You can drive around the park and stop wherever you want. However, these vehicles can not access all areas of the park.

Walking further down the path, you will see several windmills on top of a food court. Instead of working windmills, they are snack kiosks. You have to take a couple flights of stairs to reach them. They are in the same area with a small pet shop and a cat cafe. The cat cafe is more like an indoor playground to interact with provided cats. The dining area is an outdoor area with several umbrellas and one wall covered with murals of cats. There is an additional charge of Rp.20,000/hour to enter this cat cafe.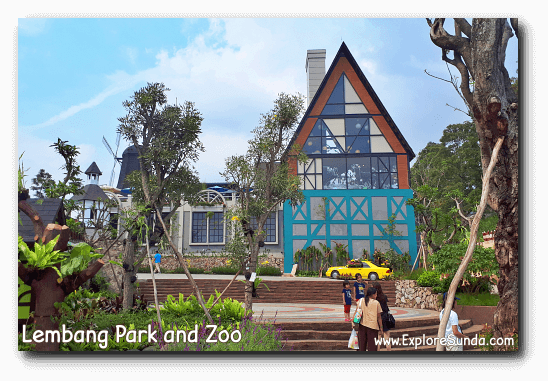 From house cats to Bengal tigers are inside this building!
Cat murals in front of the Cat Cafe.
You must enter the food court to see Bengal tigers. The habitats are made of three brick walls and one glass wall. Hence, the tigers are clearly visible from the food court. According to the name plaque, Lembang Park and Zoo has three Bengal tigers. However, we only saw two tigers: a normal tiger with a brown coat and black stripes and a white tiger. Perhaps they take turns in staying in these habitats? When they are awake, they look magnificent :) Since it's a glass wall, you can take pictures with them closely. You also can have lunch while watching them.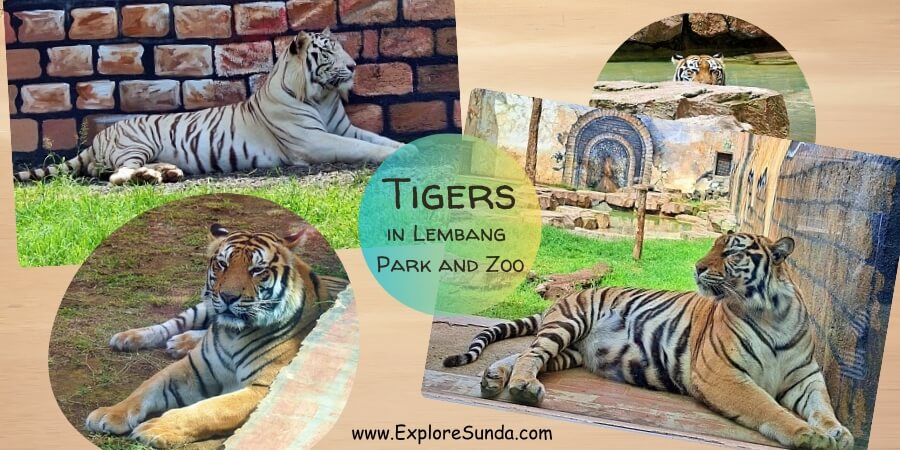 Magnificent Siberian and Bengal Tigers in Lembang Park and Zoo.
The tigers' exhibit is only the beginning. Keep walking down, and you will reach a fork. Going to the right, you will see ponies, alpacas, numerous hornbills (Rangkong, Enggang, or Julang in Bahasa Indonesia), various primates, and a fairground for young children. Going straight, you will enter a fort-like building, the home to reptiles, such as snakes, crocodiles, tortoises, and lizards. Finally, going to the left at the fork will take you to the rest of the zoo!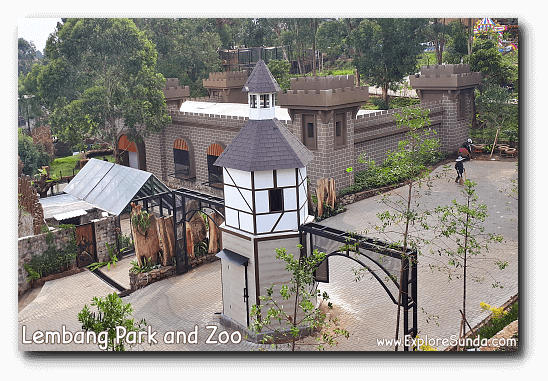 Istana Reptile – a home to many kinds of reptiles.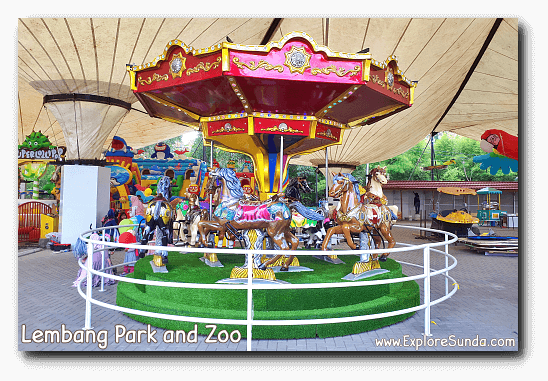 The carousel in Storyland.
Bengal tigers are not the only big cats in Lembang Park and Zoo. The zoo has Siberian tigers, white lions, caracals, and servals. They even have a section called Cat Kingdom, an area in front of the lion habitat, where they keep various wild cats.

Besides the Bengal tigers adjacent to the food court, the highlight of Lembang Park and Zoo is the Big Aviary. In the beginning, the zoo had two aviaries. However, the small aviary had been transformed into several habitats for hyenas, servals, and caracals.
Blue and Gold Macaw
Kakatua Jambul Kuning (Cacatua Sulphurea)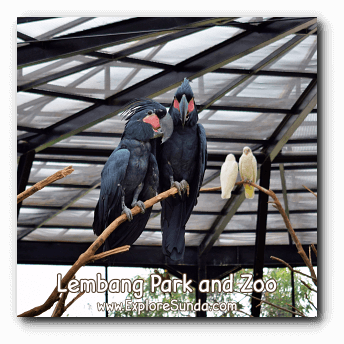 Kakatua Raja (Probosciger atterimus)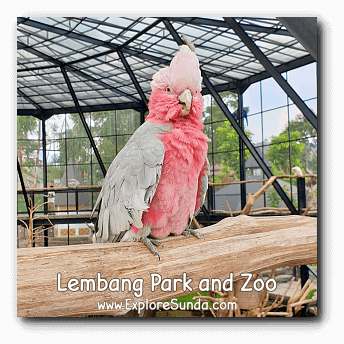 Kakatua Galah (Eolophus roseicapilla)
Although you have to pay an additional ticket (Rp.20,000) to enter the aviary, it is still worth it to interact with birds from the parrot family, such as cockatoos, macaws, red-breasted parakeets, and love birds. Before entering the aviary, you will get a small cup of sunflower seeds to feed the bird. Some of these birds are so friendly and spoiled that they only eat the sunflower seeds when they perch on your arm! You pinch the sunflower seed and feed it one by one. These curved bill birds will eat it without touching your finger! You might ask the keeper to put them on your arm or shoulder and take pictures with them. They are so cute and tame that you can take endless selfies with them! Then we met Emily, a cockatoo that loves dancing :) The aviary is so high that it has a raised platform around it. You have to take the stairs near the entrance, then you can walk around and see more birds. Here, you can see the birds up close on the railing and watch them fly around in the aviary.
Parrots are not the only animal you can feed in Lembang Park and Zoo. You can feed Bengal and Siberian tigers, lions, elephants, deer, peacock, rabbits, koi, ducks, pigeons, ponies, sheep, and ostrich. Plus, if you come on weekends, you can watch elephants and birds of prey, such as eagles, perform.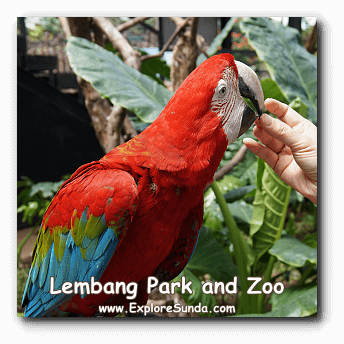 Feeding a macaw :)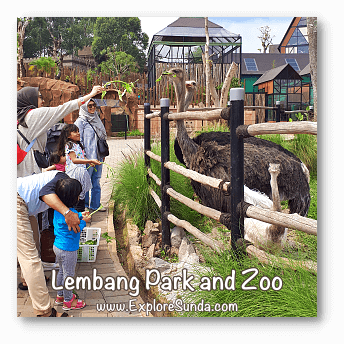 Feeding Ostrich.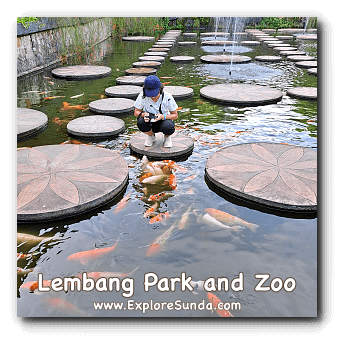 Feeding Koi fish.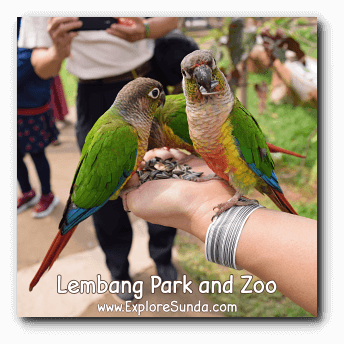 Feeding Yellow Sided Conure.
Although hundreds of birds live in the Big Aviary, Lembang Park and Zoo has many more birds that live in various habitats. There are numerous hornbills from all over Indonesia, birds of prey like Javan Eagles, endemic birds from Indonesia, such as Cendrawasih (birds of paradise in English) and Jalak Bali (Bali myna or Bali starling in English), flamingos, pelicans, storks, crown cranes, owls, and more macaws and cockatoos.

So many animals to see and vast areas to cover you will most likely spend hours exploring Lembang Park and Zoo. You can not bring food and drink from outside, so a picnic is out of the question. But you can easily buy food and drinks here because several food courts and snack kiosks are scattered around the park. If you prefer dining in a restaurant, try Lisung Gunung, a Sundanese restaurant near the koi pond.
Unfortunately, not all habitats are well maintained. For example, Kampung Bebek (duck village in English) is dirty and smelly, while the koi live in the green water pond. Otter habitat that used to have a water tunnel now looks so dirty, and the tunnel was blocked. Plus, many habitats have dirty glass walls. Hopefully, the zoo will upgrade these poor habitats soon.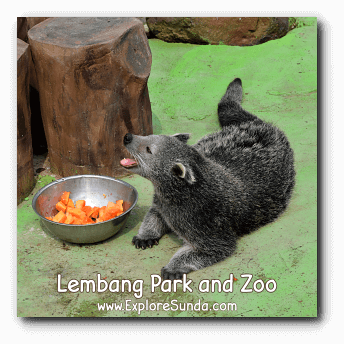 A Binturong a.k.a. Bearcat is having lunch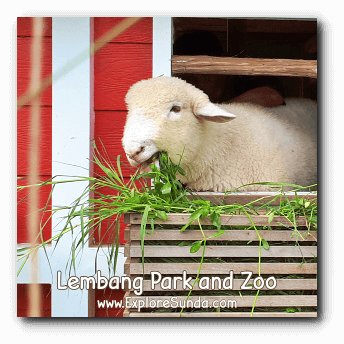 A Merino sheep is having lunch too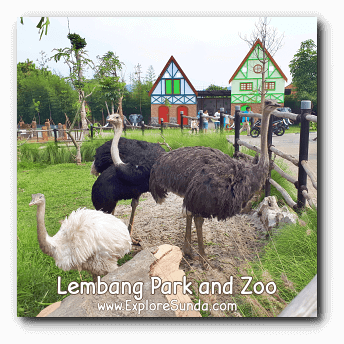 Ostrich the flightless bird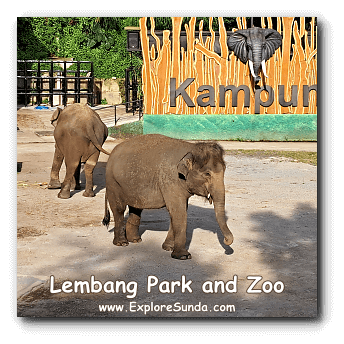 Sumatran Elephant