Mount Tangkuban Perahu
Cikole - Lembang
Mount Tangkuban Perahu, or Tangkuban Parahu in Sundanese dialect, is the most popular volcano in the land of Sunda, due to its easy access to go there (it is only 30 kilometers north of Bandung, the coordinates are 6°45'40.0"S 107°37'05.0"E) and we can see the crater up-close.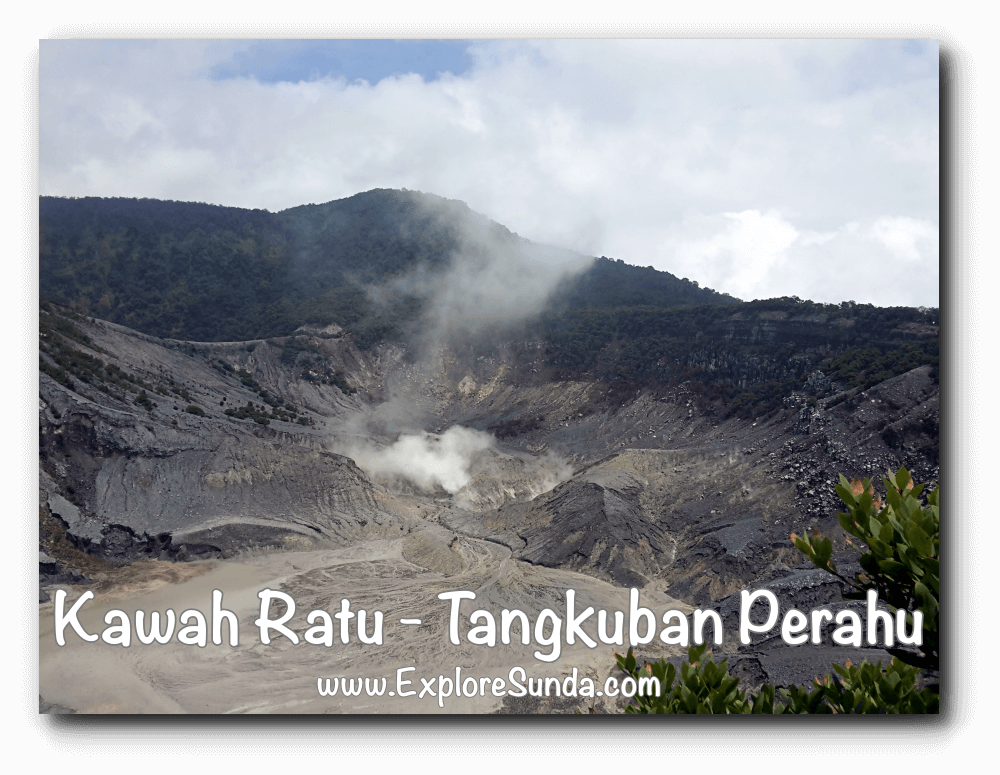 Exploring Mount Tangkuban Perahu
Tangkuban Perahu is an active volcano, which has erupted 30 times in more than forty-thousand years. These eruptions created 12 craters around the top of the mountain, which flattened its peak, hence, it looks like an overturned boat from a distance. On a clear day, we can easily spot this mountain from many places in Bandung.

Its unique shape reminds us of two things:

its name: Parahu is a Sundanese word for boat and Tangkuban is a Sundanese word for overturn.
it inspired the legend of Sangkuriang, a very famous Sundanese folklore that related to the geology of Bandung and its surrounding.
Ticket:
Rp. 35,000 for domestic tourist

Opening Hours:
8am - 5pm daily

The largest of the twelve craters in Tangkuban Parahu is Kawah Ratu (Queen Crater), which is very accessible to visitors of all ages. Why? Because in 1920s a Dutch organization called Bandung Vooruit built an asphalt road from the main road of Bandung - Subang to the crater. It is approximately 5 kilometers up hill through the forest.

Since then, all vehicles are allowed to go near the crater. The bus parking area  is a bit far from the crater though, so the passengers either walk or take a shuttle to reach it. However, small passenger cars and motorcycles are allowed to park in the upper parking lot, i.e. we park right in front of the crater! We only need to step out of the car and take several steps to reach the fence then look right into the crater below.

Please be careful though, Kawah Ratu (Queen Crater) is still active, hence, we are not allowed to go down into the crater. How do we know the crater is still active? The smoke coming out from the crater is the sure sign that it is still active. Sometimes the smell of sulfur is quite strong. Other times the wind carries it away. So, regardless of what the peddler saying, it really depends on you whether you need a mask or not.

The closest crater to Kawah Ratu is Kawah Upas. Previously, we were allowed to go down to Upas Crater. However, since the last eruption in 2013, there are some toxic gasses coming out near this crater, hence, it is closed for public.

Do you like hiking? There is a trail here from Upas Crater to the next crater: Domas Crater. Mind you, it is not a light hiking, the dirt path is slippery after rain and lots of dirt stairs made of dirt, bamboo, woods or tree roots. Although the trail is going down from Queen Crater to Domas Crater, if you park your car near Queen Crater, please remember the return trip will be up hill through hundreds of dirt stairs.
The beauty of Tangkuban Perahu is somewhat tainted with the many negative reviews and disappointed visitors throughout the internet. Their main concerns are:

The ticket price for foreigners are very expensive. I tend to agree with this one, since the foreigners must pay approximately tenfolds than the locals. I hope the management cease to discriminate the ticket price.
The visitors feel uncomfortable with peddlers following them and insist them to buy souvenirs. Since it is a very famous tourist destination, there are many souvenir kiosks as well as peddlers in this area. I experienced it too, they ceased following us after I decline their offer politely but firm. Do not keep their hopes up by saying no but you keep looking at their merchandise.

Lembang is always a great place for outdoor activities. Orchid Forest Cikole and Treetop Adventure Park are in the same area of mount Tangkuban Perahu. If you want something different, check out the most popular beach in the land of Sunda: Pangandaran beach or go shopping in Bandung!