Grace Rose Farm
in Cisarua Lembang Bandung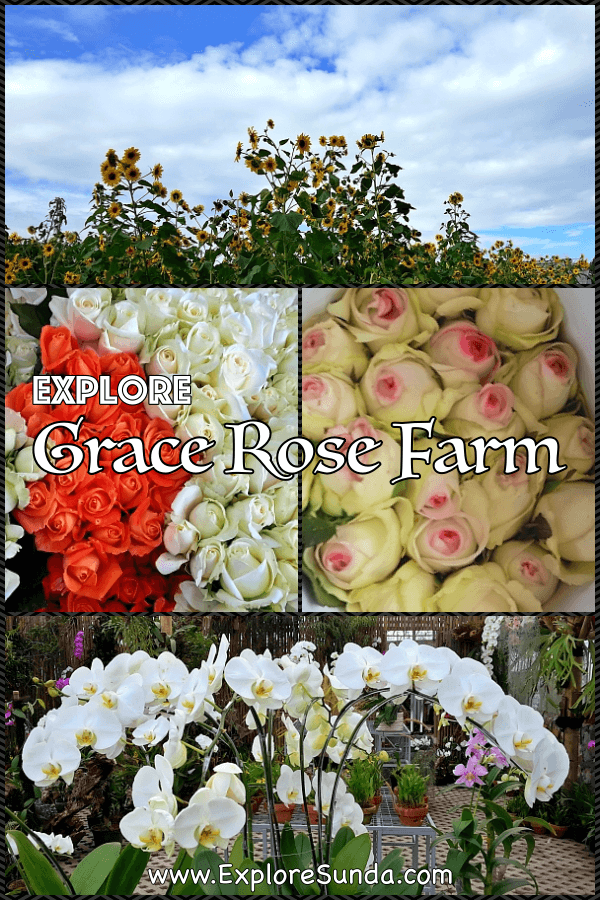 Have you ever been to Grace Rose Farm?
Lembang Bandung is well known as one of the best producers of flowers and vegetables. There are so many nurseries you can visit in Cihideung and Cisarua, an area between Lembang, Bandung and Cimahi.
However, only in Grace Rose Farm you can see the farmers harvest and pack fresh roses. You even can buy them as well as many other types of flowers, plants and vegetables. 
The entrance ticket to explore this farm is Rp. 25,000/person, including an optional tour guide. This point of entry also doubles as a shop, where you can buy various potted plants.

If you really want to know the many types of plants grew in this farm, I recommend you to choose the guided tour. On the other hand, it's okay too if you prefer to roam the land on your own, as long as you remember, you are not allowed to enter the green houses where the roses grow.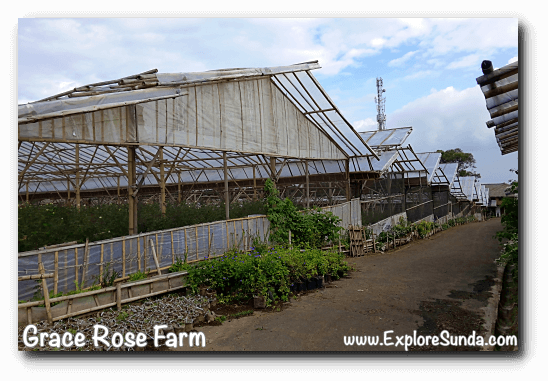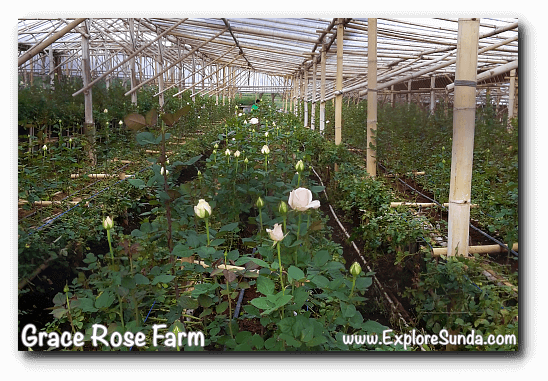 Grace Rose Farm is huge. It spreads on a five hectares of land. It has rows and rows of greenhouses, where colorful roses are harvested everyday. During our visit, we saw thousands of colorful roses are packed, ready to be delivered to big cities, such as Bandung, Jakarta, and Denpasar-Bali.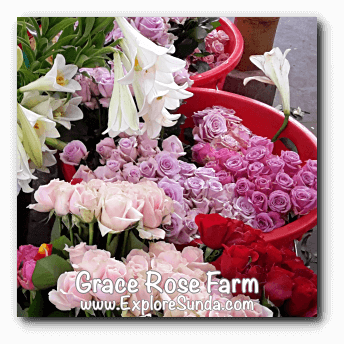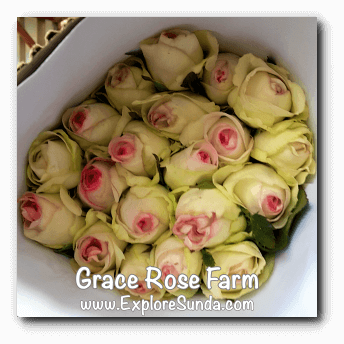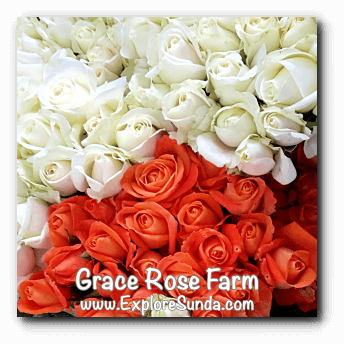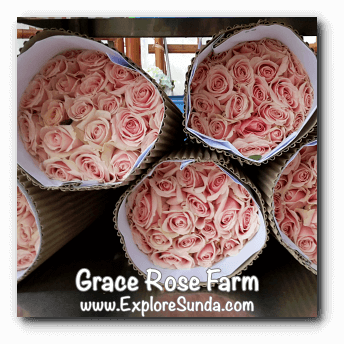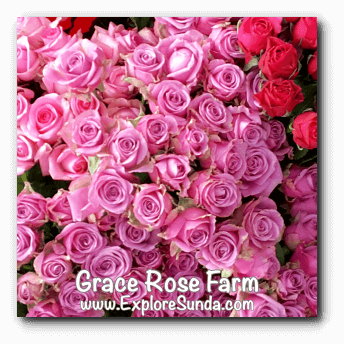 In addition to the roses, some of the land is transformed into a beautiful manicured garden, including a small playground.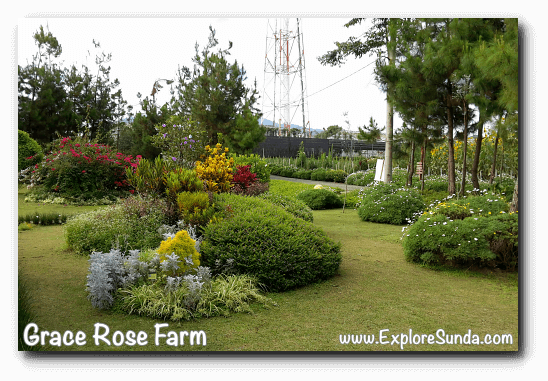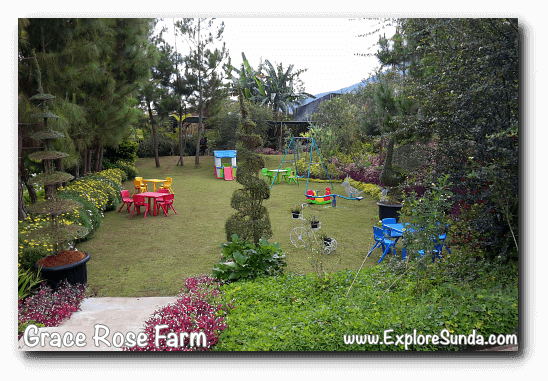 They also grow other types of cut flowers, such as Anthurium, orchid and sun flower. Since any floral arrangement would not be complete without great leaves, Grace Rose Farm also grows many types of decorative leaves.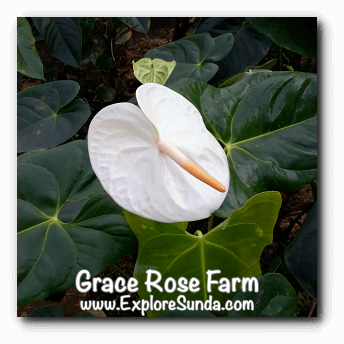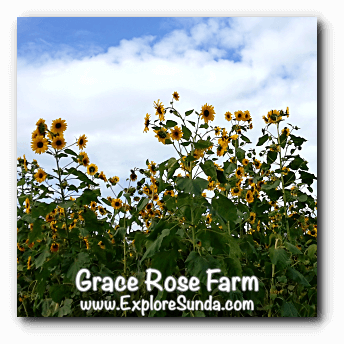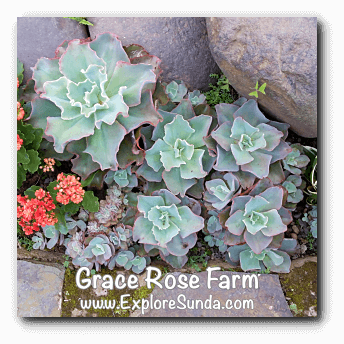 There is an orchid greenhouse at the back of the farm. There are many beautiful orchids here and they are for sale!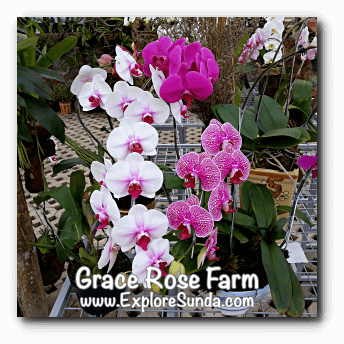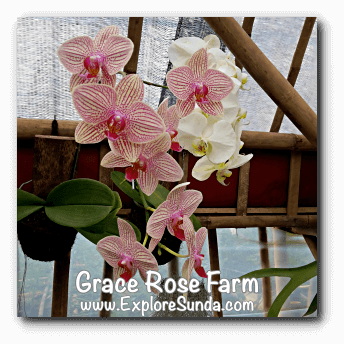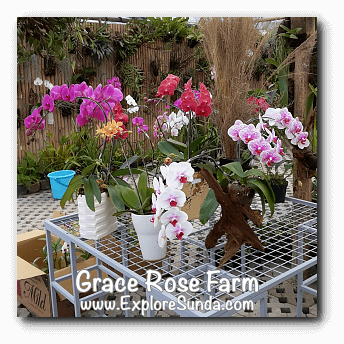 Grace Rose Farm has many green houses, its frames are made of bamboo, while the walls and roofs are covered with shading net, a special black net for gardening. Each of these houses is assigned for a variety of plant. Can you imagine millions of plants grow and bloom in this farm? All I can say is it's a lovely sight :)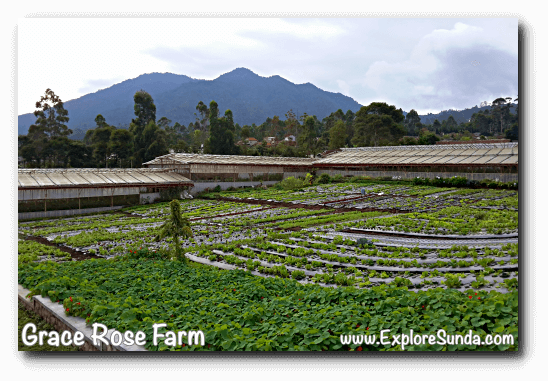 Finally, at the far end of the farm, they grow vegetables too. You can see mount Burangrang clearly as the backdrop of the farm. Similar to the other products of this farm, the vegetables are for sale too. 

So, at Grace Rose Farm you can buy cut flowers, various potted plants, such as orchids, anthurium, and cacti, as well as vegetables. Even if you don't buy anything, it's very refreshing to stay outdoor, roam a real flower farm and takes lots of pictures with those beautiful flowers, makes me wish I have green thumbs like them :)
Directions to Grace Rose Farm, Lembang

The address of Grace Rose Farm is at Kolonel Masturi street no. 305, Cisarua. The GPS coordinates are 6°47'54.0"S 107°34'25.0"E (-6.798333, 107.573608). There is a signboard on the gate, but it is more visible if you come from Cimahi to Lembang. So, from Cimahi you drive up to Cisarua on Kolonel Masturi street until you pass the road to Dusun Bambu, the gate is several meters on the left side of the street. Another way to pinpoint the location is to remember that the farm is right across the street from Curug Cimahi, the Rainbow Waterfall. 

Address:

Jalan Kolonel Masturi no. 305, Cisarua, Lembang
Opening Hours:

8am-5pm daily

Ticket:

Rp. 25,000

If you like flowers and garden so much, I recommend to visit Orchid Forest Cikole, Floating Market Lembang, and FarmHouse Lembang. They are all nearby.
Ready to explore other parks and gardens in Sunda? Bogor Puncak is the place for beautiful botanical gardens and the biggest garden in Indonesia: Taman Bunga Nusantara.
Dec 04, 23 08:41 PM

Summarecon Mal Serpong: the favorite shopping mall in South Tangerang for the whole family to do shopping, pamper in beauty salons, learn to cook in a cooking studio, watch movies, and play in the arc…

Oct 26, 23 11:32 PM

A visit to Benteng Heritage Museum at the old town of Tangerang to see the history and culture of China Benteng.

Oct 13, 23 03:33 AM

Explore De Voyage Bogor, a new European theme garden for selfie and hang out. Take tons of beautiful pictures and join the activities :)