Sakura Garden in
Cibodas Botanical Garden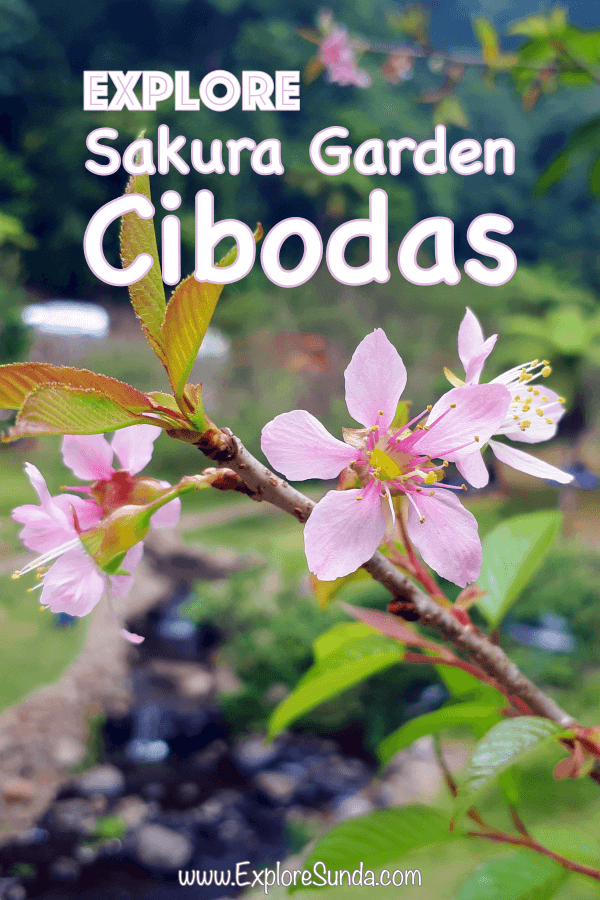 The best way to enjoy Cibodas Botanical Garden is having picnic there. Most people spread their picnic mat on its massive lawn. But, do you know that you can have a picnic under sakura trees?
Yes, you read it right! There are sakura trees flourish on the highland of a tropical country such as Indonesia.
Let's check out when is the best time to see them!
Hint: since Indonesia is a tropical country, i.e. we don't experience any spring season here, so this sakura doesn't bloom on April. They bloom twice a year though :)
Hamami in Cibodas Botanical Garden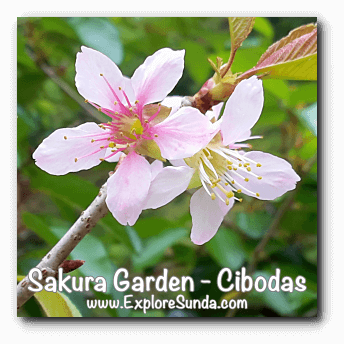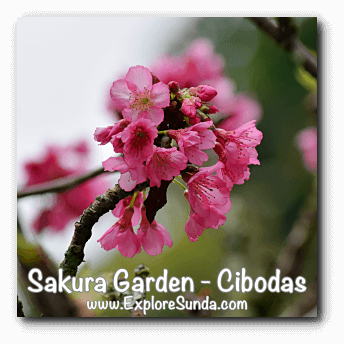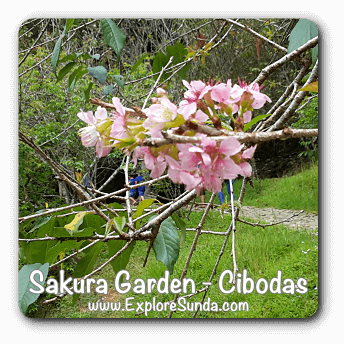 Sakura flowers, which is known as cherry blossoms in the European and North American countries, are very popular in Japan. Every spring people are eagerly waiting for sakura to bloom. The Japanese even has a tradition called Hamami.
Hamami literally means flower viewing, but in this case it is specifically viewing sakura flowers. The festive usually takes place early in the spring, when the sakura blooms. Many people have picnics under the sakura trees. 
Over the years, this tradition is not only held in Japan. Sakura are grown in many public areas around the world, so people can enjoy the flowers on springs. Although it is well known that Sakura flowers bloom in the spring, i.e. they bloom in the four seasons countries, Cibodas botanical garden also planted these trees.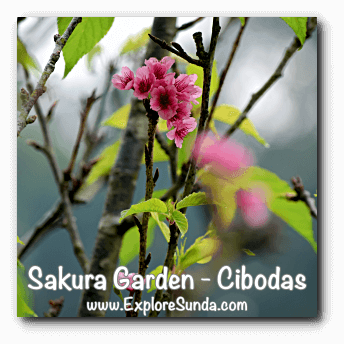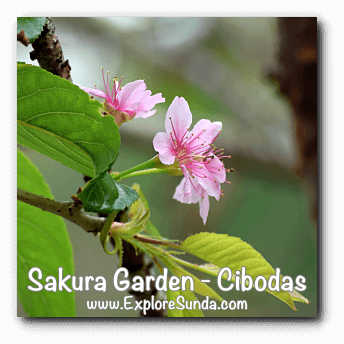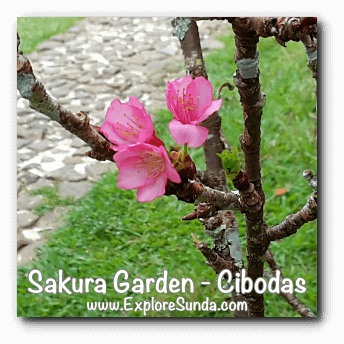 The question is: can sakura a.k.a cherry blossoms bloom in the tropical country?

Since Cibodas botanical garden is approximately 1,275 meters above mean sea level, it has similar characteristics with the place where Sakura originated. The flowers even can bloom twice a year here: in January to February and July to August.
Mind you, it doesn't mean the flowers will last for two months. Every time Sakura flowers bloom, they only last for four days. If you miss the peak period, during these months you still can see few late bloomers. For example, the Sakura bloomed on January 9 and July 17, 2018. When we, ExploreSunda.com, visited the garden on August 25, 2018, there were few flowers left. They are not as many as we expected, but let's hope we have better luck next year!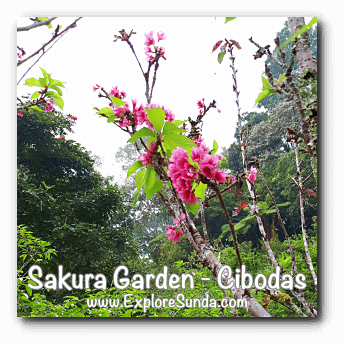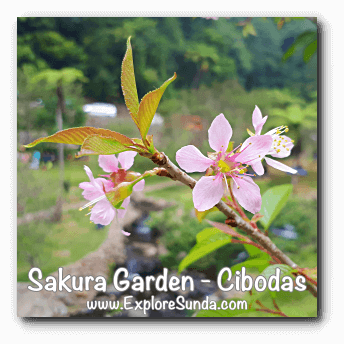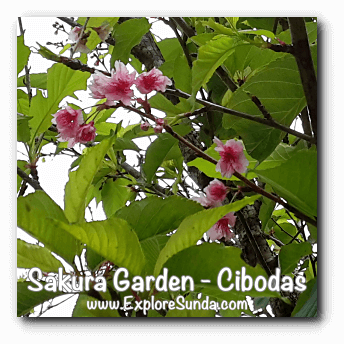 Anyway, the Sakura Garden here is still a nice place to have a picnic with and without the flowers :)
The first Sakura tree in Cibodas was planted on May 13, 1971. It was the corner stone of the Sakura Garden, but the garden itself was not built until 2007. They chose to plant four varieties of sakura in this garden and now they have approximately 435 trees.
Sakura Garden lies on a 6,647 meter square of land with Cibogo waterfall in one corner.  The water spills into the road, then it becomes a creek that flows through the garden.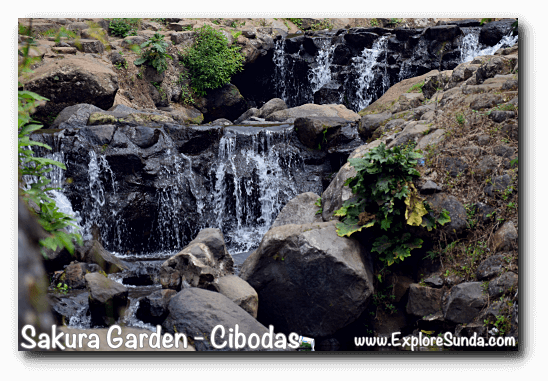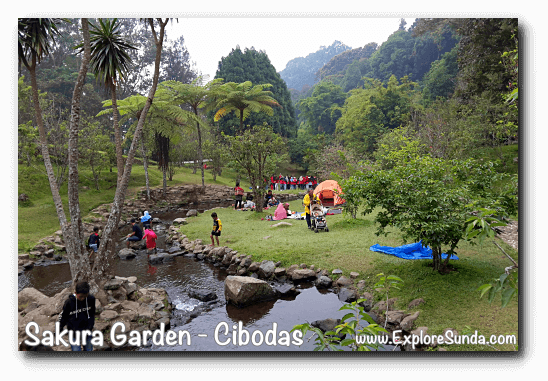 Thus, people love to have picnic in this garden. There are many Sakura trees and spacious grass field under the trees where we can lie picnic mats. You even can rent plastic mats on the spot if you don't bring one. Others put up small tents on the lawn! But we are not allowed to camp overnight here. 

We don't have to worry how to bring all of the equipments, since we are allowed to drive inside the botanical garden and there is a parking lot  for Sakura garden. Most of the time the parking lot is not sufficient though, hence, many cars parked on the road. 
Although the best part of Sakura garden is viewing the blooming flowers, it only occurs twice a year. While the creek splitting the garden into two is there all the time :) Flowing directly from Cibogo waterfall, the water in the creek is clean and refreshingly cold. Since the creek is shallow, children just jump in and play in the water, despite its coldness. There are many rocks, big and small, scattered in the creek, so you will see many people love to cross the creek in many different spots: some are using the rocks as stepping stones, others just waddle through the creek. If you don't like to get wet, there is a bridge for you to cross the creek as well as taking pictures ;-)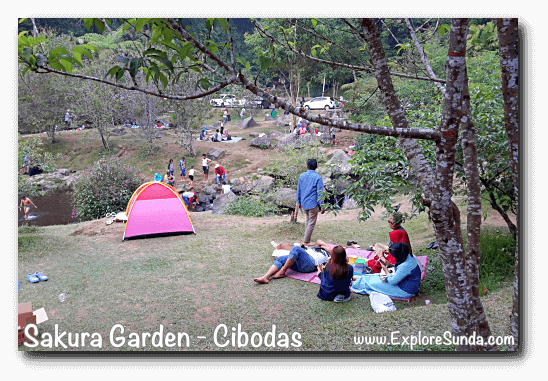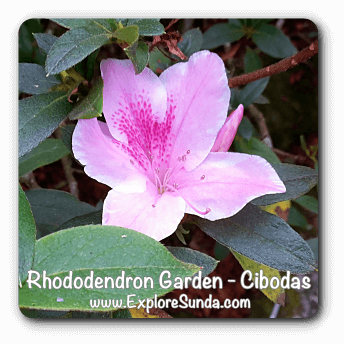 If you are up for a challenge, let's explore Rhododendron garden :) It's on a slope right across the road from Sakura Garden. Rhododendron or more popular as Azalea are shrubs with colorful flowers. But you will find more than Azalea decorating this garden, there are lotus and cacti too.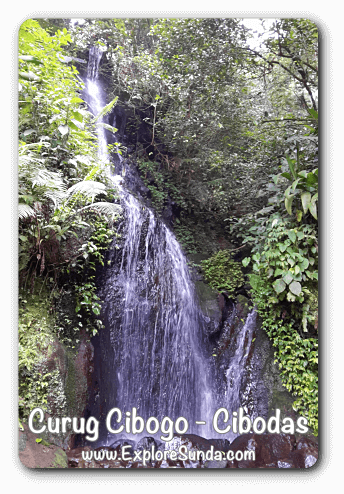 Then don't miss taking pictures with Cibogo waterfall as a backdrop. Unlike other waterfall, we don't have to hike to reach it. It is located near the canteen and waterway, in one corner of Sakura Garden.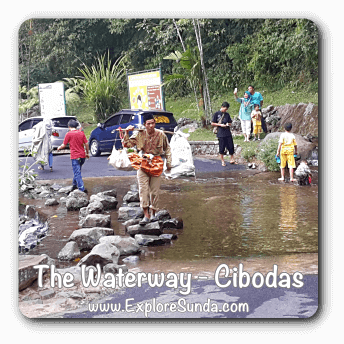 The next challenge is to step walking on the waterway. The road here is covered with a very shallow water from the spill out of Cibogo waterfall. To cross the waterway, we either use the rocks there as stepping stone or take off our footwear and cross it barefoot :)
Sakura garden is just a small part of Cibodas botanical garden. So, let's continue our exploration of this great botanical garden!

Highlands are suitable for flower gardens. Thus, many flower gardens in the land of Sunda can be found in the highlands. For example, Taman Bunga Nusantara, Orchid Forest Cikole, Begonia Garden, and Grace Rose Farm. Have you been there?
Sakura Garden in Cibodas Botanical Garden
Dec 04, 23 08:41 PM

Summarecon Mal Serpong: the favorite shopping mall in South Tangerang for the whole family to do shopping, pamper in beauty salons, learn to cook in a cooking studio, watch movies, and play in the arc…

Oct 26, 23 11:32 PM

A visit to Benteng Heritage Museum at the old town of Tangerang to see the history and culture of China Benteng.

Oct 13, 23 03:33 AM

Explore De Voyage Bogor, a new European theme garden for selfie and hang out. Take tons of beautiful pictures and join the activities :)