Floating Market Lembang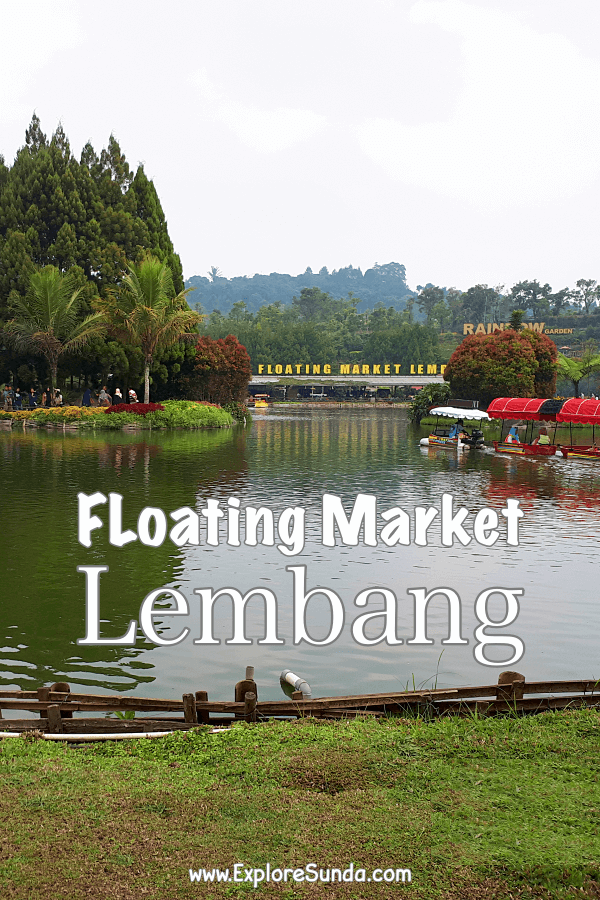 Floating Market Lembang is one of the trending parks in Lembang these days. It offers a place to relax and spend a day with our family to enjoy the cool atmosphere of Lembang, stroll along the park, experience the culinary adventure and play some games.
It has been upgraded and expanded a lot, so here in this page we will tell you about the attractions that already existed since its inception while we put the new attractions in the next page.
Without further ado, let's start to explore Floating Market Lembang!
Exploring Floating Market Lembang
Address:
Grand Hotel street no. 33E, Lembang.

Ticket:
Rp. 20,000/person
Rp.10,000/car for the first 3 hours
Opening Hours:
Mon-Thu: 9am-7pm
Fri-Sun: 8am-8pm
Similar to other parks in Lembang, we have to pay the entrance fee at the parking lot. Then, we exchange it with a welcome drink such as coffee, chocolate latte or ice tea.

The majority of this park is a lake, which is beautifully landscaped. People love to take pictures in front of this lake since it is one of the best photo locations in this park. If we look further uphill, we will see Boscha Observatory in the background.

Next, we can choose to walk around the lake or pay the ticket for riding a small boat to cross the lake. The boat will take us directly to the floating market, i.e. the foodcourt. Each food stall is in a small boat tied up to the dock. However, the guests dine-in on the allocated space on the ground with many rows of tables and benches. Hence, it is not literally a floating market such as the ones in Thailand or Kalimantan.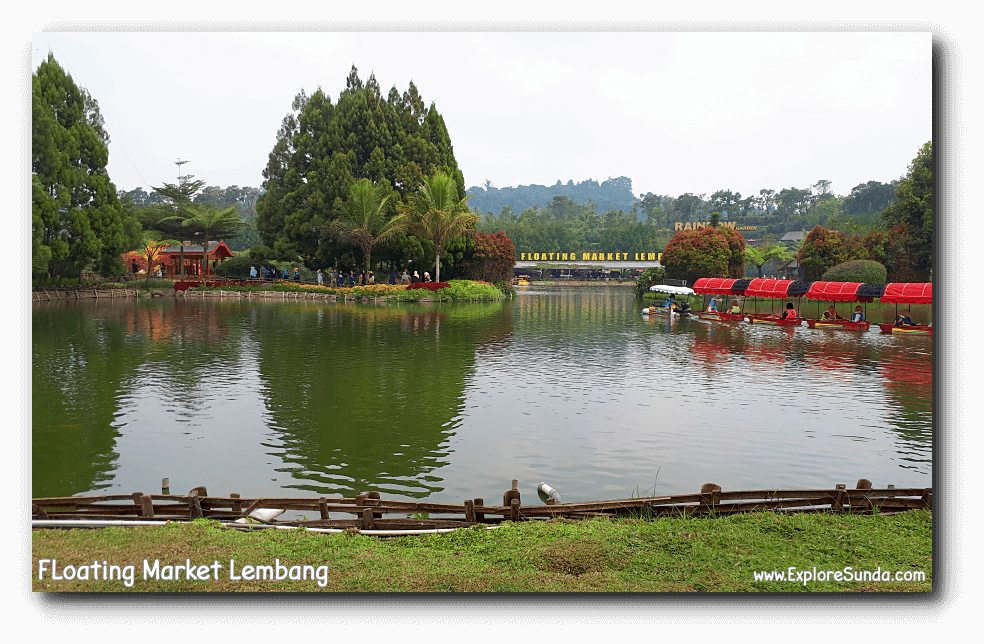 We also can reach the floating market by strolling around the lake to the left from the lobby. We will pass several pavilions for group gatherings as well as small restaurants. Then, don't forget to take a look of the stone garden. The landscape is a beautiful combination of plants and stones.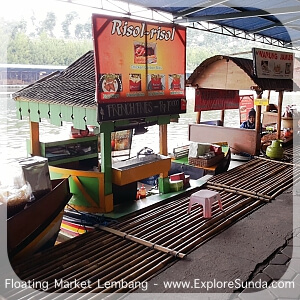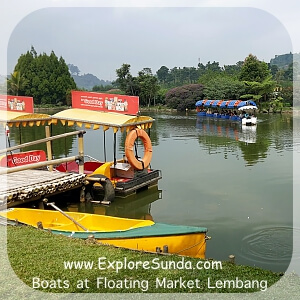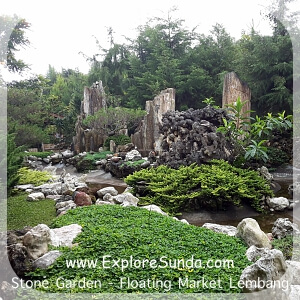 In addition to the various meals offered at the food court, eateries are scattered all over the park. Many of them are traditional meals and/or snacks.
For some people, a holiday is not perfect without shopping. Thankfully there are several shops in this park. Some of them sell traditional toys and local handicrafts, and one big factory outlet in front of Kota Mini.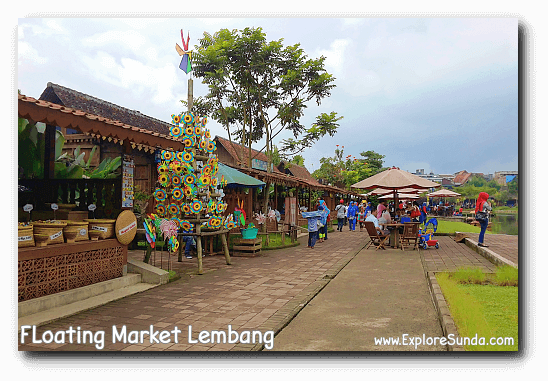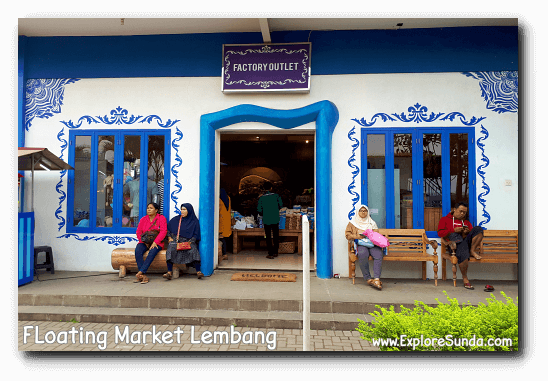 Feeding animals is one of the most favorite attractions in Floating Market Lembang. You can choose to feed rabbits, fish, swans, sheep or all of them :)
The rabbit garden is beautifully landscaped complete with burrows. Many rabbits roam here. Once we buy the ticket, we get carrots then we are set to feed these cute rabbits. 
Although the sheep are smelly, children still love to feed them with carrots :)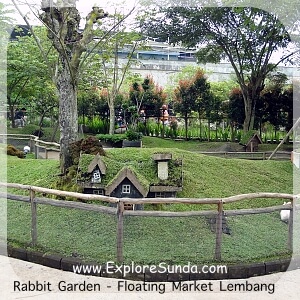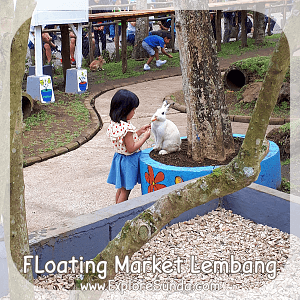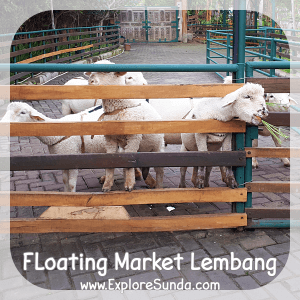 Other animals that we can feed in this park are swans and fish. We only need to buy the fish food in front of each pond. Unfortunately, the swans didn't bait for the food we threw. We might be luckier with the fish, but the fish are so small, so we are not really interested in feeding them. But, the fish pond is located inside a beautiful garden, one of the favorite spots for selfies!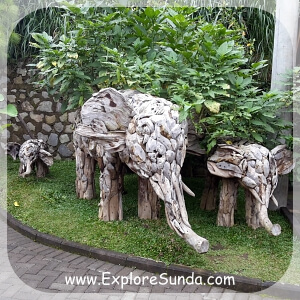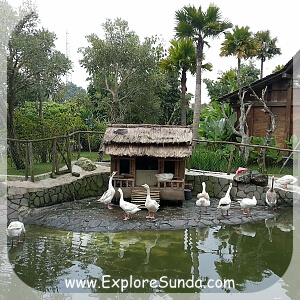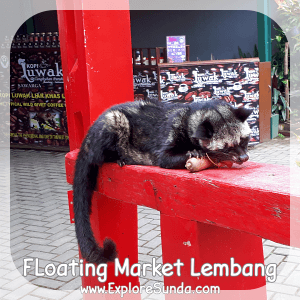 We also can play some games here such as fishing, small flying fox, and riding becak, boat or train. Unfortunately, there is not any one day ticket for all of the games, we have to buy them individually. So, at the end of the day it might be over your budget.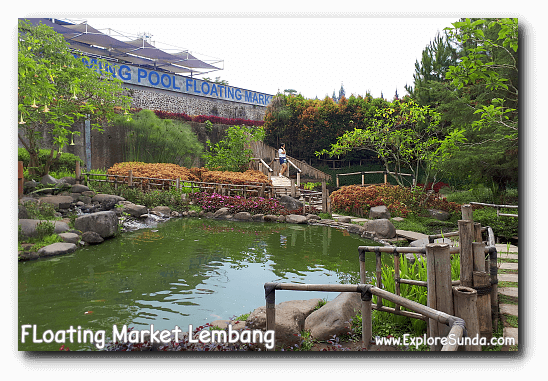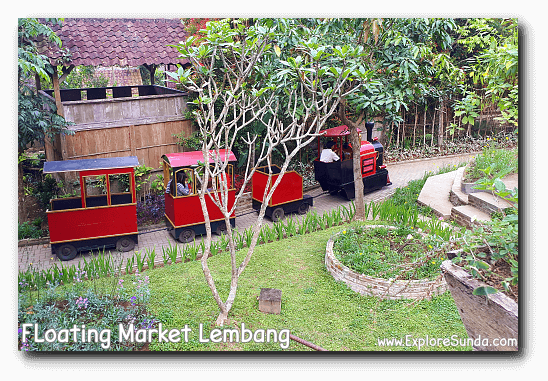 The free game we can do here is walking on bamboo stilts (egrang). They are lining up at a wall. We could just borrow and try walking with it, but don't forget to return them back to their place :) One thing for sure: although they are the short ones, it is very difficult to use them without lots of practice.

Next, check out the paddy field at the corner of this park. It was set up like a real one, complete with the hut and scarecrows: one is the traditional scarecrow, but others are Cepot, the red face Sundanese puppet (wayang golek)!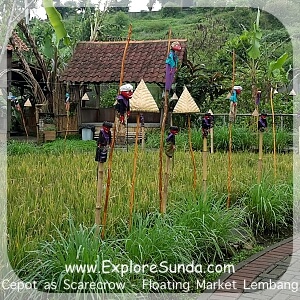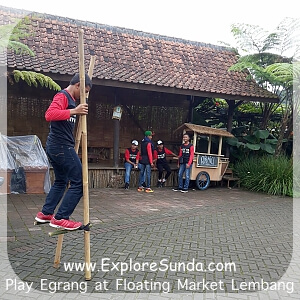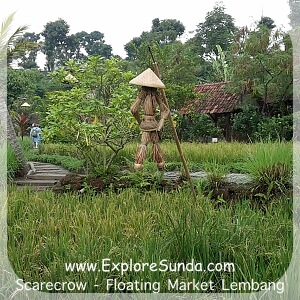 Floating Market Lembang is easy to reach. The address are Jalan Grand Hotel no. 33E, Lembang. The GPS coordinates are 6°49'05.0"S 107°37'04.8"E. You will not miss it, since the sign are prominent and it is on the left side of the road from downtown Lembang to Bandung.
Next: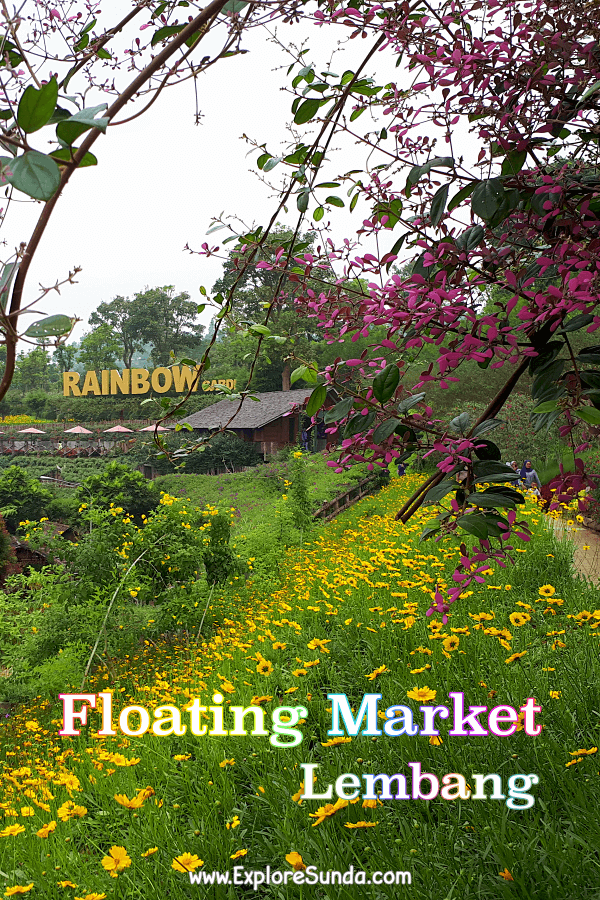 Floating Market Lembang has been upgraded and extended. The new attractions that instantly become favorites among visitors are:
The Rainbow Garden
Kyotoku
Kota Mini
Swimming Pool
Explore these new attractions in Floating Market Lembang here...
Being in highland with great weather, Lembang is famous for offering many outdoor activities. It has many great parks such as Dusun Bambu, De Ranch, and Cihanjuang Butterfly Garden, as well as the famous crater of Mount Tangkuban Perahu.
---
Lembang Bandung is just one of the favorite places of interest in the land of Sunda. There are other gorgeous highlands such as Puncak Pass and Ciwidey, many tranquil beaches such as Pasir Putih beach in Pangandaran, and the amazing view of Green Canyon.

Sep 22, 23 01:49 AM

Explore Eco Green Park in Batu, East Java. Have fun family vacation surrounded by colorful and exotic birds, while learning ecology and green living.

Sep 18, 23 04:59 AM

Have fun in Jawa Timur Park 2, where you explore Batu Secret Zoo, Museum Satwa, join thrilling rides at Happy Land and play in the Fantasy Land waterpark, all in one place :)

Sep 12, 23 06:26 AM

Explore many interesting places outside the land of Sunda, mainly tourist destinations in Central Java, Yogyakarta, and East Java.