Domas Crater at
Mount Tangkuban Perahu
Kawah Domas (kawah means crater in English) is one of the many craters in Mount Tangkuban Perahu. It is relatively safe to be visited, i.e. we are allowed to walk on the crater, soak our feet on the hot springs ponds and boil eggs in the scalding hot springs.
There are two ways to reach Domas crater, both need some hiking:
The first and longer route is hiking from Kawah Ratu (Queen Crater) through the woods. This route requires a lot of time and energy. 
My recommendation is to go to Kawah Domas via the proper entrance. We definitely pass it on the way from the ticket booth to Kawah Ratu. There is a limited car park and clean public toilet in front of this entrance.
Hiking to Domas Crater, Tangkuban Perahu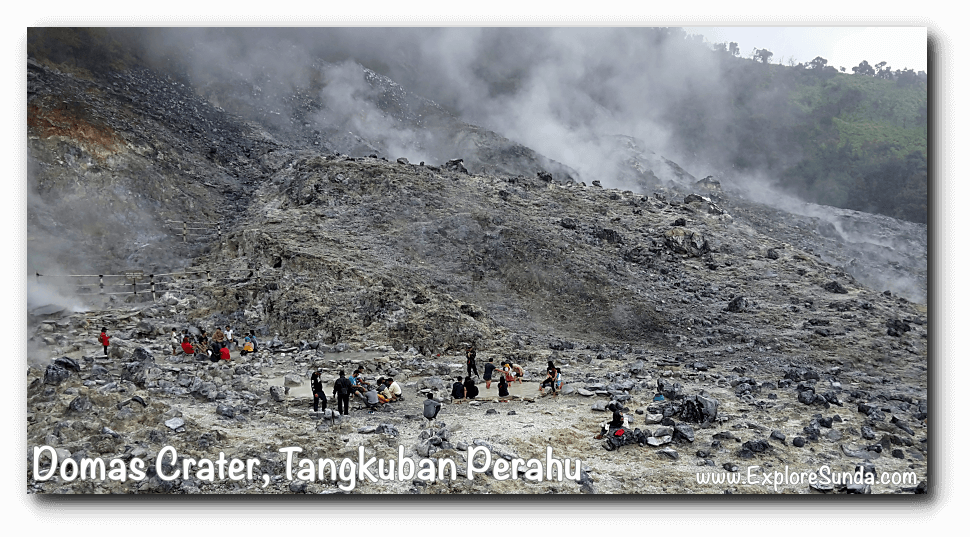 Ticket:
Rp. 100,000 incl. guide
1 guide for 1-6 guests

Opening Hours:
8am - 3.30pm daily

Since we have to walk for approximately 1.2 kilometers through the forest, we must hire a guide. In 2017 the ticket for domestic tourist is Rp. 100,000 excluding tip, for one guide. Each guide may lead up to six visitors. 
Our guide was polite and nice. He provided a lot of information regarding the ecosystem in this forest. For example, he showed us which one is the edible fern. Then he pointed out the oldest tree in this forest, it is a 300 years old Jamuju tree. It lives in a ridge right next to the trail. It looks like other tree, but he told us that what we saw is the top portion of the tree, we can't see the majority of the trunk, which is far below the ridge. 
The last eruption of Kawah Domas was in 1969. During that eruption, the hot lava passing trees destroyed them or made them an instant wooden fossil. Although the fossilized trees are dead, they are still standing up until now, since the trunks are hardened instead of weathered.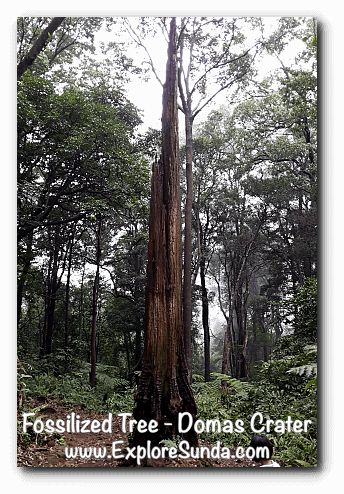 Presently, Domas crater is still active, hence, the Indonesian Agency for Meteorological, Climatological and Geophysics (BMKG) is monitoring its activities. The device is a small metal on top of what looks like a small brick cube. It is a very important device for the safety of thousands to millions of people, therefore, whenever you see one of them, please don't vandalize it.

The first 900 meters of the total 1.2 kilometers hiking to Kawah Domas is relatively easy, since it is slightly sloping dirt path. We can hire ojek (a motorcycle taxi) to reach this point, although it is expensive. Then we have to cross a bridge and the trail slopes downward with several stairs on some points. Overall, the hiking is not that difficult. Near the entrance to Kawah Domas, the path will merge with the grueling path from Kawah Ratu directly to Kawah Domas.

We can easily tell we have reached Kawah Domas, due to the strong smell of sulphur. It is ten folds stronger than Kawah Ratu. Regardless of the smell, we can take pictures here and walk right into the crater. There are several pools here, the very hot one where we can boil eggs and the warmer ones where we can soak our feet or take a mud spa for an additional cost.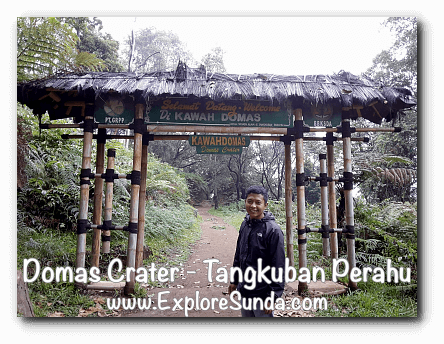 Although Kawah Domas opens daily from 8am to 3.30pm, the best time to visit it is in the morning. If you are lucky you will see Lutung Jawa (Javan Langur, Trachypitecus auratus), Surili (Javan Surili, Presbytis comata), Tando (Flying Squirrel, Petaurista elegans), and Elang Jawa (Javan Eagle, Spizaetus bartelsi) along the trail.

Since the hiking usually takes approximately 30-40 minutes one way, it is better to wear comfortable clothes and walking shoes. Should you want to try mud spa or soaking in the hot pool, it is better to wear shorts and t-shirt. However, rain and fog is unpredictable in this mountain. The trail could be closed anytime whenever the weather is not favorable.
When I was browsing the internet, I read so many negative reviews and comments about visitors' experiences in Tangkuban Perahu, including Domas crater. Most of them felt hassled with the peddlers asking to accompany them to the crater and kept asking to buy their merchandise. Let us share our experience during our visit to Domas crater: We, the ExploreSunda.com, visited Domas crater on a Sunday noon in October 2017. First, we found out it is a guided hiking to the crater, an additional cost on top of the ticket we bought at the entrance gate. But the price is officially stated in the ticket booth. Then, there were only us and the guide along the way, not a single peddler seen. The guide has a good knowledge and explained a lot of things about the ecosystem, we learnt a lot from him. So, we have good and memorable experience there.
A visit to Mount Tangkuban Perahu will not be complete without seeing Kawah Ratu (Queen Crater), the largest crater in this mountain. Next, would be a visit to Orchid Forest Cikole, which is on the same mountain but different entrance. 
Another recommended crater you should visit in the land of Sunda is Kawah Putih (White Crater) in Ciwidey. Another tourist attraction in Ciwidey is Situ Patenggang, a very ancient crater that has transformed into a tranquil lake.

Domas Crater at Mount Tangkuban Perahu
Dec 04, 23 08:41 PM

Summarecon Mal Serpong: the favorite shopping mall in South Tangerang for the whole family to do shopping, pamper in beauty salons, learn to cook in a cooking studio, watch movies, and play in the arc…

Oct 26, 23 11:32 PM

A visit to Benteng Heritage Museum at the old town of Tangerang to see the history and culture of China Benteng.

Oct 13, 23 03:33 AM

Explore De Voyage Bogor, a new European theme garden for selfie and hang out. Take tons of beautiful pictures and join the activities :)