Situ Patenggang Bandung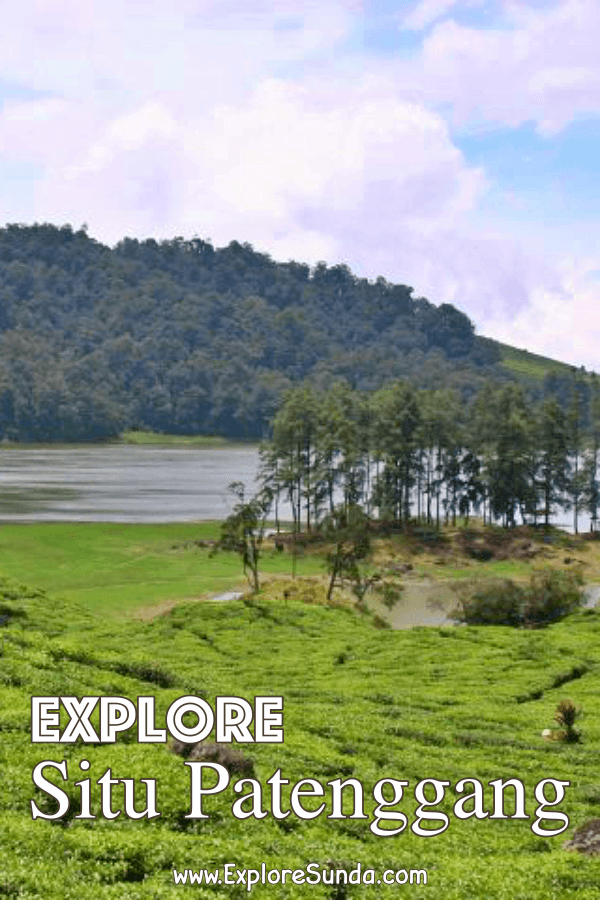 Situ Patenggang Bandung, also known as Situ Patengan is one of the best lakes in Sunda. Located 1,600 meters above mean sea level, it has cool climate. Hence, it is an ideal place for tea plantations. 
The tea plantation, which looks like a green carpet covering the hills, surrounded this lake. Together with the pine forest and the greenish lake they form a very beautiful and relaxing view.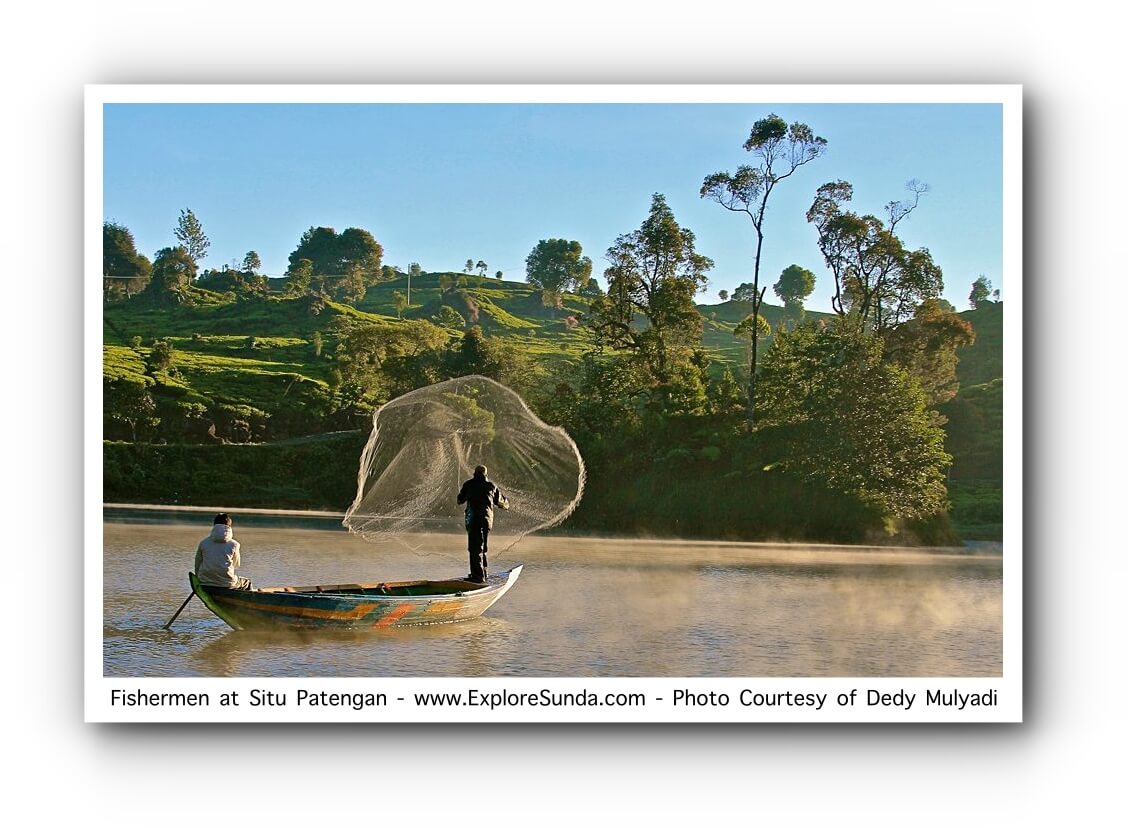 The Legend of Situ Patenggang Bandung
Situ is the sundanese word for lake. Patengan or Patenggang derives from a Sundanese word pateang-teang. It means looking for each other. This is based on a famous Sundanese legend of the love story between Ki Santang and Dewi Rengganis (Dewi means a goddess).

According to the legend, Ki Santang and Dewi Rengganis were very in love, but they were separated. Many years had passed when they met again at Batu Cinta (love stone) in Situ Patenggang Bandung.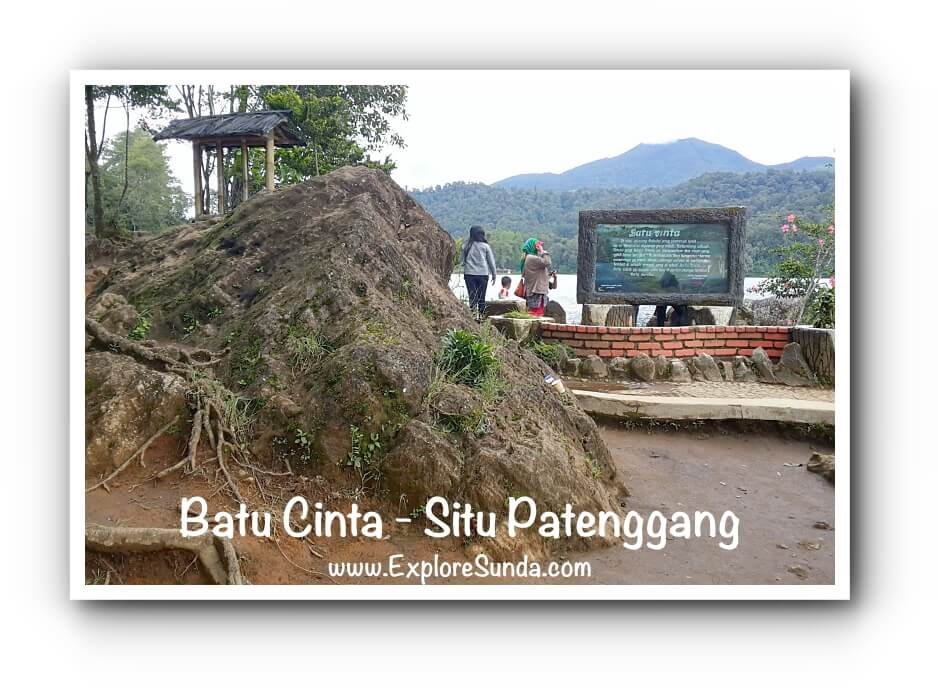 To celebrate the reunion, Dewi Rengganis asked Ki Santang to build a lake and a boat in that area. Today, the lake is called Situ Patenggang Bandung. According to the legend, the boat became a tiny island in Situ Patenggang, called Pulau Asmara (Amour Island). This island is also known as Pulau Sasaka.

The legend is concluded with the saying that lovers will have everlasting love if they visit Batu Cinta (Love Stone) and walk around the island.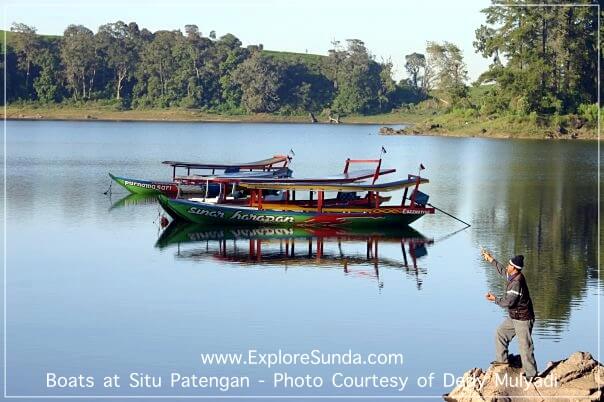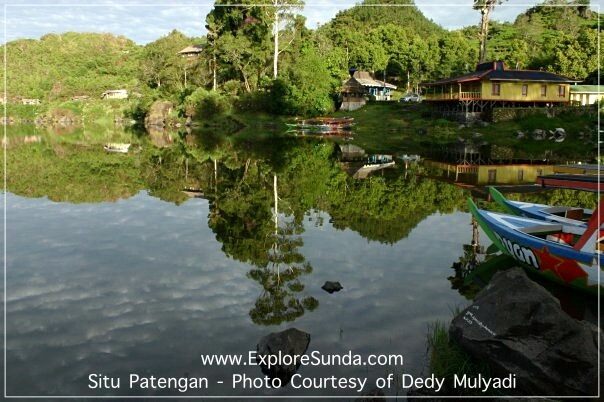 Fun Activities in Situ Patenggang Bandung

Apart from believing the legend, the best part of Situ Patenggang is its scenic view and cool weather. Here are some ideas of fun activities you can do while appreciating this beautiful lake:

The simplest way to enjoy the lake is by having a picnic on the shore, or buy some snacks from the vendor there.
To satisfy your adventure spirit, you can rent a boat to circle the lake or to go to Pulau Asmara in the middle of the lake.
Should you have more energy to spend, you can rent a pedal boat :)
How about camping? The camping ground of Situ Patenggang Bandung is very popular among campers. You can spend a night here by putting up a tent in the camping ground. The location is on the other side of the lake. The view is beautiful, but the cold wind makes it chilly, especially during night time. Thus, don't forget to bring a jacket.

New in Situ Patenggang Bandung: Glamping Lake Side Rancabali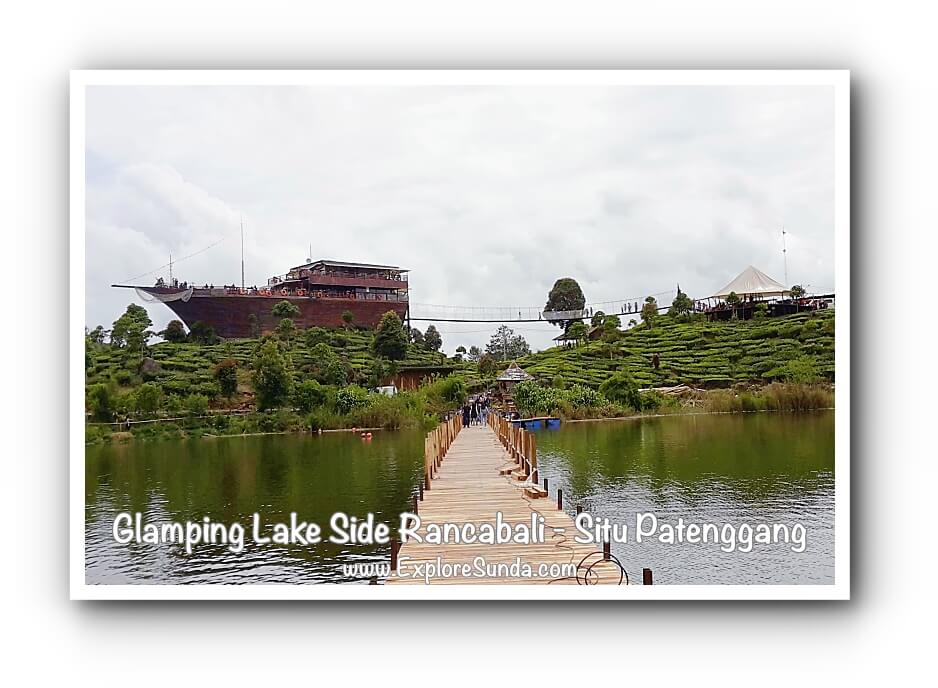 Glamping Lake Side Rancabali is a new resort located across the lake from Situ Patenggang entrance. The boat shaped restaurant is right on top of Batu Cinta. Thus, you can reach it by renting a boat. Alternatively, you drive back to the direction of Kawah Putih and drive through the main entrance.

Read more on Glamping Lake Side Rancabali ...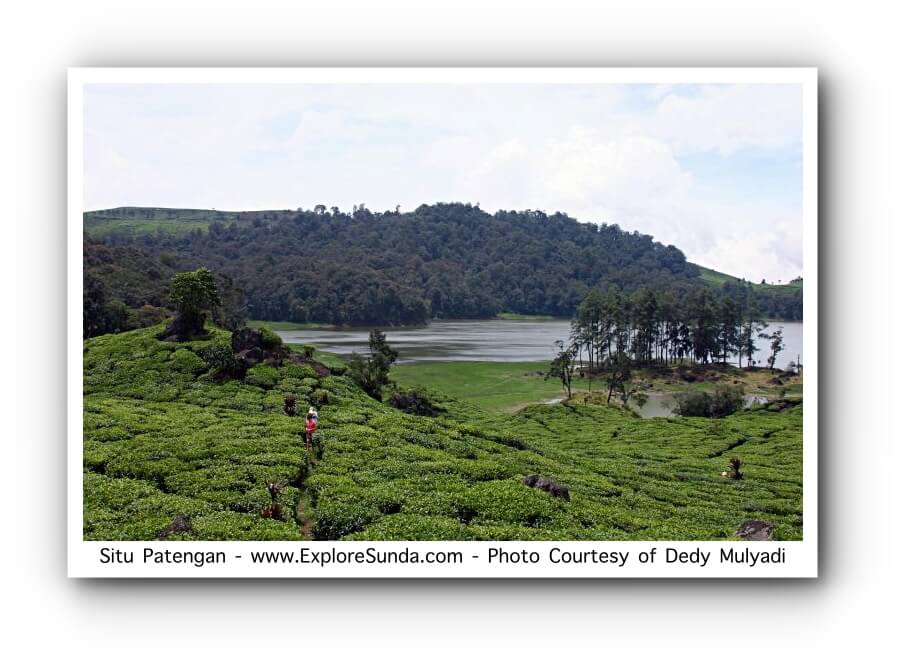 Where is Situ Patenggang Bandung?

Situ Patenggang (Situ Patengan) is located in Ciwidey Bandung. The GPS coordinates are 7°10'00.5"S 107°21'27.2"E (-7.166803, 107.357544). Since the opening of Soroja toll road (Soreang-Pasirkoja), the traveling time from Bandung to Ciwidey is shorter. First, you need to enter Purbaleunyi (Purwakarta-Cileunyi) toll road. The exit to Soroja toll road is at km. 132, you just need to drive until the end of Soroja toll road. Then, follow the road signs to Ciwidey and continue to Situ Patengan.
Situ Patenggang Bandung is a favorite family vacations destinations in Sunda, due to its beautiful scenery and proximity to Bandung. Thus, it is very crowded during Sundays and national holidays, especially the Eid Al-Fitr holiday. People comes in big buses, private cars, and motorcycles. Usually the traffic jam is inevitable since the provincial road is quite narrow and the parking lot is limited.
Do you know that Situ Patenggang is only 7 kilometers away from Kawah Putih? One is the most beautiful lake in Sunda and the other is the best crater in Sunda. The best of all they are both located in Ciwidey!
May 23, 23 04:28 AM

Planning to travel to Jakarta? Find the tips on traveling to Jakarta, getting around Jakarta, history, and frequently asked questions here ...

May 22, 23 11:28 PM

Get all the information on Jakarta airport train here: the train stations, how much the ticket cost, and how to buy tickets.

May 19, 23 03:36 AM

Get the best view of Malabar tea plantation, Situ Cileunca, and Pangalengan Bandung from Nimo Highland!