Dusun Bambu
Lembang Bandung
Dusun Bambu is often called Dusun Bambu Lembang Bandung, the latter are added to inform the location. The address is at Kolonel Masturi street km. 11, Cisarua, a village between Lembang, Bandung, and Cimahi.
Dusun Bambu is Indonesian words for Bamboo Village. It is a huge family leisure park offering plenty of activities for children and hang out places for the whole family. So, let's find out what we can do as a family in this bamboo village.
Out of curiosity: will there be any bamboo here? ;-)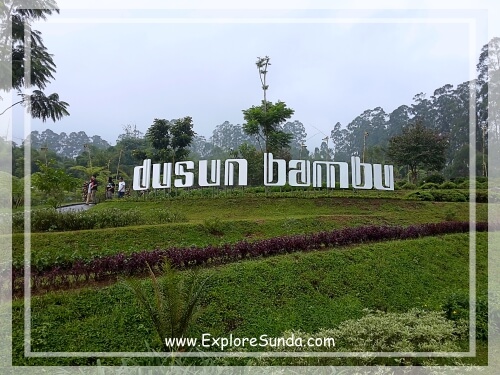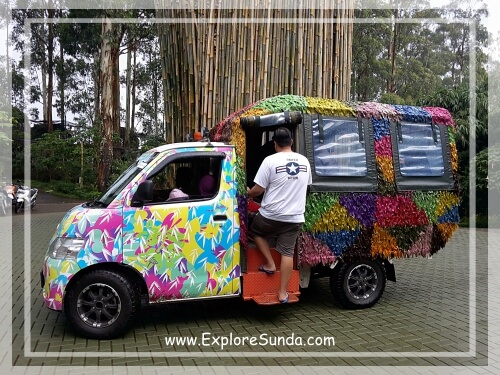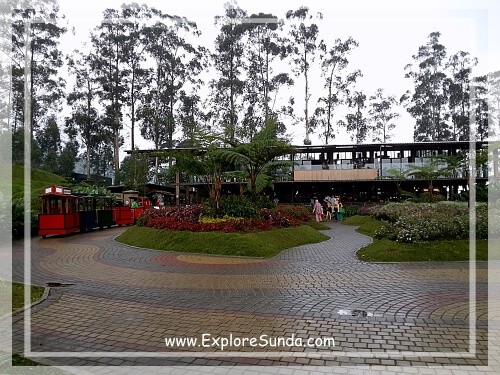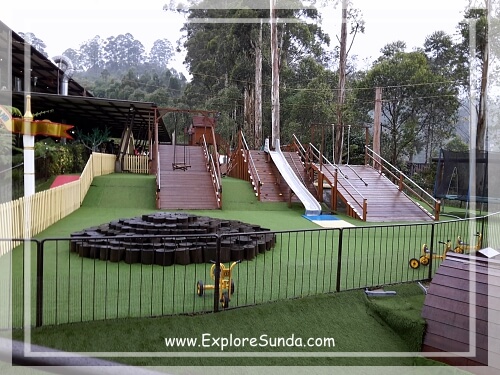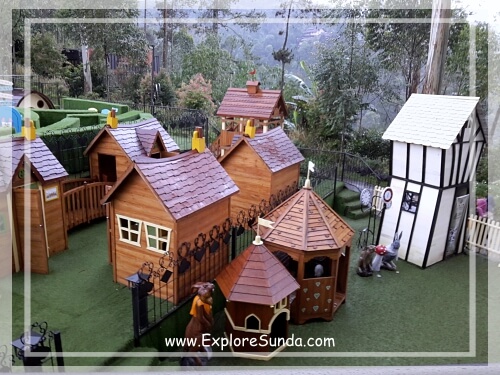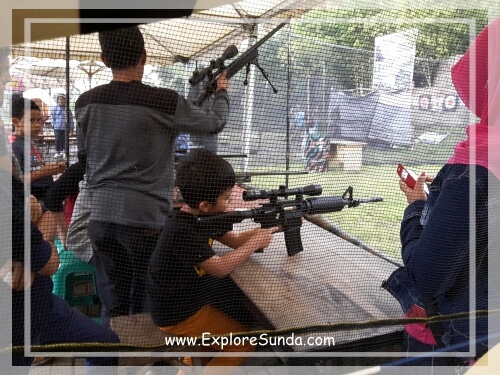 Directions to Dusun Bambu Lembang Bandung
As I mentioned before, Dusun Bambu is located at jalan Kolonel Masturi km. 11, Cisarua, a village between Lembang, Bandung, and Cimahi. Hence, you can drive either from
Bandung: drive through Setiabudhi street Bandung and turn left in front of Ledeng bus station into Cihideung village and follow the road to Cisarua.
Lembang: once you leave the town, turn right and follow the road to Cisarua.
Cimahi: find Kolonel Masturi street near the town square of Cimahi. Once you turn into this road, you only need to drive straight). 
Perhaps it is easier to turn on your GPS? Here is the coordinates 6°47'20.0"S 107°34'51.6"E.
The nearest public transportation to Dusun Bambu Lembang is Cisarua bus station, but you still need to walk or take ojek (motorcycle taxi) for at least one kilometer to reach the gate. Since Dusun Bambu is a huge park and you will walk a lot there, I wouldn't recommend walking from the bus station to Dusun Bambu Lembang.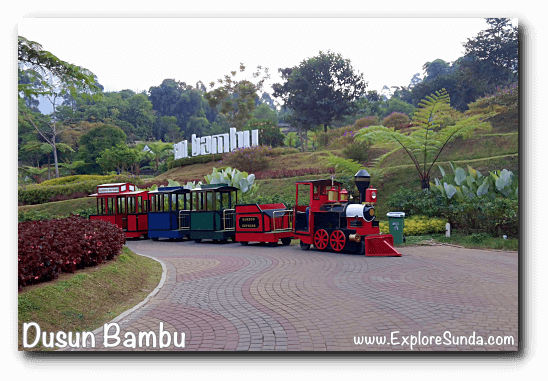 Address:

Jalan Kolonel Masturi km.11, Cisarua, Lembang
Entrance Fee:
Rp. 15,000/person
Rp. 15,000/car

If you are driving your own car, upon entering the gate, there will be two parking lots, make sure you remember where you park: P1 or P2, since these two parking lots are far from each other. 

Similar to other parks in Lembang, we have to pay entrance fee to enter this park. Then, on the exit gate we can exchange 1 ticket for a bottle of mineral water, or 2 tickets for 1 plant. 
Once tickets are ready, we just need to wait for the shuttle to take us uphill to the center of activities. It is only a short ride though, less than 5 minutes. 
Then, we will arrive at the main building where the restaurant and a food court resides. This foodcourt and souvenir shop called Pasar Khatulistiwa is the center hub for all of the activities here.
Fun Activities in Dusun Bambu Lembang Bandung

Since Dusun Bambu Lembang is a huge place, the activities are divided into several places: Taman Arimbi, Kampung Ulin, Tegal Pangulinan, Rabbit Labyrinth, Rabbit Wonderland, Creativity Ship, and Bamboo Playground.

Taman Arimbi, The Flower Garden

This garden is usually what we see first when we arrive. Plenty of colorful flowers decorate it. People love to stroll as well as taking pictures here. Since it is located close to Pasar Khatulistiwa (the food court), we can just relax and dine in the food court with a beautiful scenery of the flower garden. 

Bamboo Playground

This playground is located on one side of the food court, so parents can easily watch over their children. Parents are also allowed to accompany their children, especially the young ones. Children can run around, climb, slide, walk on the bridge, and crawl in the tunnel.
Creativity Ship

It is a small workshop located near the entrance to the Bamboo Playground. The materials required is already prepared by the staff and she will guide the children how to create the chosen crafts. For example, making slime. 
Rabbit Labyrinth and Rabbit Wonderland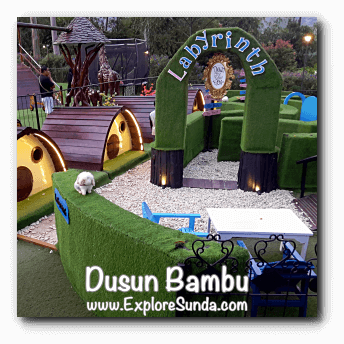 It seems feeding rabbits is a must in any park in Lembang. There are two places to do that in Dusun Bambu Lembang: at Rabbit Labyrinth and Rabbit Wonderland. The difference is only on the settings.
The labyrinth is approximately one meter tall, where the rabbits can run on top of it. We can feed them and take pictures.
Rabbit Wonderland is next to the labyrinth where the setting capture the scenes of Alice in Wonderland with its cute little homes.
Dusun Bambu Lembang claims they have hundreds of rabbit, so we don't have to worry the rabbits are too full to eat :) They also have various types of rabbits, you can choose your favorite! These places is located next to the Bamboo Playground.
Alternatively, we also can feed animals in Kampung Ulin.
Tegal Pangulinan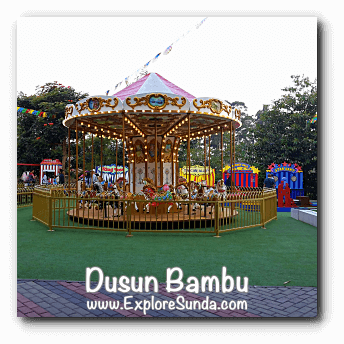 A bit farther from the garden we will reach Tegal Pangulinan, which is a Sundanese phrase for playground ;-) This is a newer playground than the Bamboo Playground. Its set up looks like a fair with a carousel, trampoline, and several booths of games, such as throwing darts, ball, rings, etc. and the winner will receive a prize. 

Kampung Ulin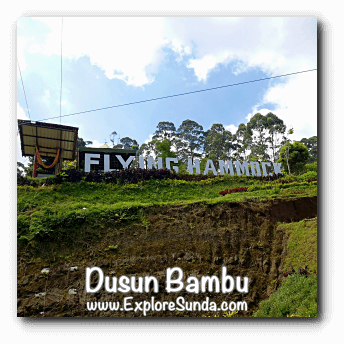 Walking further up the hill, we will reach Kampung Ulin (kampung means village, ulin means play). There are many booths on each side of the road, each offers different type of playing. For example, we can paint a shirt, learn how to create batik, do pottery or paint it. Not only making crafts, they also offers some games, such as shooting balls from a pirate ship to hit some targets, paint balls, and shooting ranges for archery and rifle (not the real ones). 

We also can ride a flying fox here, with a slight modification, hence, it is called Flying Hammock. Here we can choose to sit on the harness or lay down on the hammock to feel like a flying super hero. Of course, both use safety harnesses. Then, when you are ready, you will slide across 100 meters slope :)

If you like animals, perhaps you want to try petting the snake, feeding rabbits and their friends, riding a horse or relaxing in the fish spa. They even have a cart riding drawn by a horse. Unfortunately, the cart is made of iron, it is too heavy for a single horse, so whenever they go uphill, the staff in the rear must help pushing the cart. 

If you keep walking uphill, you will find the ATV tracks at the end of Kampung Ulin. The ATV ride is rather challenging, especially after the rain. The muddy tracks are really tricky and slippery. Often the staffs have to help pushing the ATV. It's so fun though, just get ready to be dirty, the tires will splash mud all over you :)
There is a small waterfall approximately 200 meters from the ATV tracks. You might want to explore it if you still have energy left to walk further uphill ;-) 
Since Dusun Bambu Lembang covers a lot of land, cycling a bike sometimes is preferable than walking. The good news is there are some bicycles for rent here. 
Each activity in Dusun Bambu Lembang requires separate ticket.  The ticket price for each activity varies between Rp. 25,000 and Rp. 75,000 and there is not any one day ticket that covers them all. The good news is that we can choose whichever activities suitable for our family, but the bad news is by the end of the day we might be very surprised when we sum up our total spending!
Accommodations in Dusun Bambu Lembang Bandung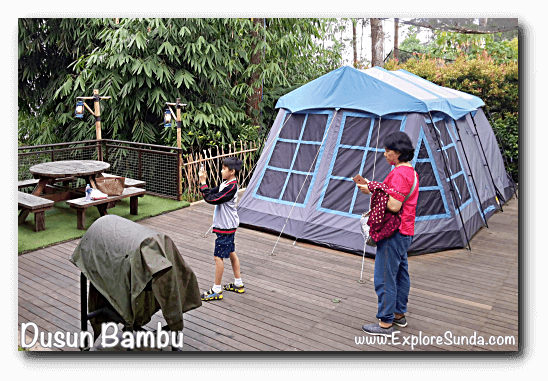 There is no way we can do all of these fun activities in one day. So, either we choose carefully which one we will do, put budget on how much money we will spend, or spend a night or two here in this Bamboo Village :)
There are two types of accommodation here: villas called Kampung Layung and glamping (glamour camping). If you want something different, try the glamping. You will got a spacious land fenced with plants. The tent is standing in the middle of the field (mind you, it is a big tent where we can comfortably stand inside). You are also entitled to an outdoor private bathroom, picnic table and barbecue sets. Don't worry about preparing the barbecue ingredients, they are only a phone call away ;-) 
However, don't expect to get the facility of a hotel room here. Instead of a television set you will get a radio. No lamps inside the tent except for a small emergency lamp. Thankfully you will not sleep on a hard ground, but on top of a mattress with a sleeping bag :)
Restaurants in Dusun Bambu Lembang Bandung

Tired of having fun all day long? Time to hit the restaurant then :) There are several places we can try here:

Pasar Khatulistiwa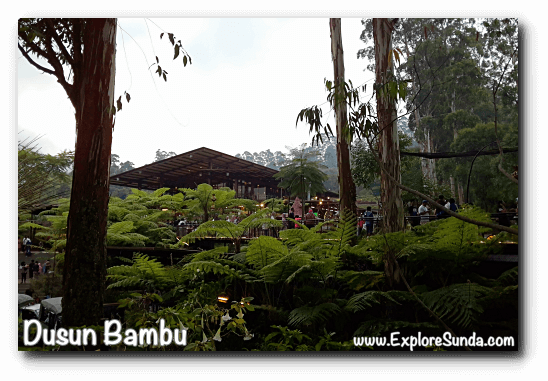 Pasar Khatulistiwa is the foodcourt in the heart of Dusun Bambu Lembang. Many types of food are sold here, most of them are local, such as soto, ox-tail soup, and rice set with fried chicken. There are a lot of side dishes too. For example, sausages and french fries, grilled corn, cotton candy, ice cream, and traditional cakes. 
Cafe Burangrang

It is a restaurant with view of mount Burangrang. Its location is near Pasar Khatulistiwa, but it is much less crowded. 
Saung Purbasari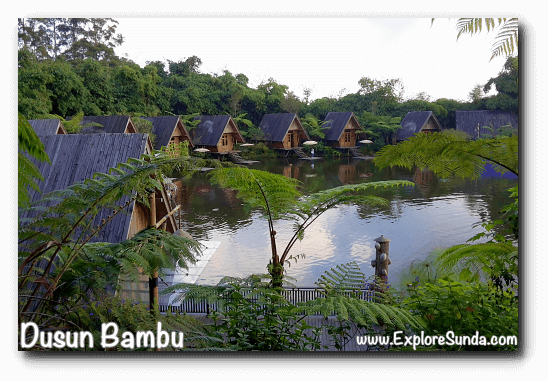 Saung is a Sundanese word for a hut, where farmers usually take a lunch break in the middle of their paddy field. Having that thought in mind, Saung Purbasari is a series of huts circling a pond. There won't be any dining sets in these huts, because we will eat on the floor. It is called lesehan. It is more private than other restaurants in Dusun Bambu Lembang, because each saung will only be occupied by one group of guests.

Do you know?
Purbasari and Lutung Kasarung are the main characters of the famous Sundanese folklore: Lutung Kasarung. This legend was based on the history of Galuh kingdom, one of the famous kingdom in the land of Sunda.
Lutung Kasarung

Last but the most unusual one is Lutung Kasarung. Named after the legendary Sundanese folklore, it looks like several bird nests connected with wooden bridges between tall trees.  Each 'bird nest' is actually a dining room complete with its dining sets. You can dine-in here, you can even rent the room only, without ordering any food. 
You should walk around here, especially during dusk, when thousand of fairy lights on the bridges are turned on. The view will render you speechless...

There are many more places of interest in the land of Sunda: you could explore aquariums inside a mall, explore Indonesian cultures at TMII, and have fun at the beach!
May 23, 23 04:28 AM

Planning to travel to Jakarta? Find the tips on traveling to Jakarta, getting around Jakarta, history, and frequently asked questions here ...

May 22, 23 11:28 PM

Get all the information on Jakarta airport train here: the train stations, how much the ticket cost, and how to buy tickets.

May 19, 23 03:36 AM

Get the best view of Malabar tea plantation, Situ Cileunca, and Pangalengan Bandung from Nimo Highland!