Rides, Cinemas, and Theaters in
Taman Mini Indonesia Indah

Taman Mini Indonesia Indah [TMII] is not only about traditions [in the form of traditional houses, cultural events, customs, etc], but TMII is also a place for the whole family to have fun :)
The rides, cinemas, and theaters in Taman Mini Indonesia are:
Snowbay Waterpark [below]
1. Snowbay Waterpark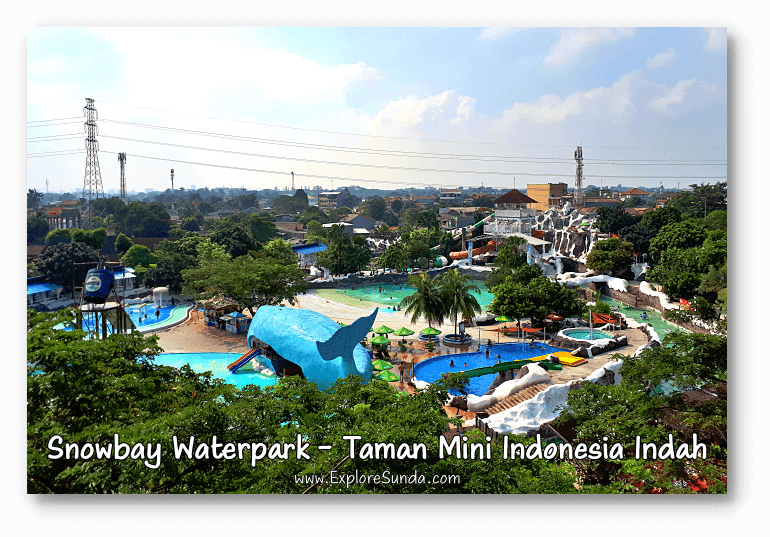 Who doesn't like playing water, especially on the beach? Now you can have fun at Snowbay, the waterpark with a beach theme in Taman Mini Indonesia Indah.
It has an artificial beach called Snowbay Beach as if you were in the real tropical beach. You should try other challenging games too such as Hurricane, Flush Bowl, Cool Running and Typhoon River. Younger children also can join the fun in the tot's pool, play pool or kids' pool. This water park also provides a restaurant named Captain Jack's Cuisine, where you can dine without leaving Snowbay.

2. Go to Among Putro Skyworld, The Planetarium in TMII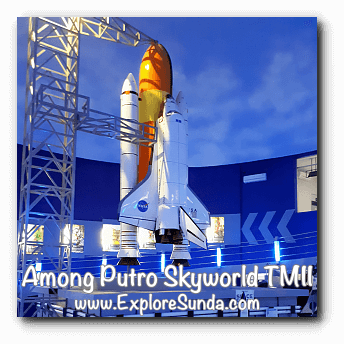 Among Putro Skyworld Indonesia is one of the two planetariums in Jakarta. In addition to the digital planetarium, it also provides a lot of information regarding space, stars, the related technology, even the local legends from all over Indonesia. You also can have fun in watching the 5D cinema, play water in the waterpark, do rock climbing, jump on the trampoline and young children can play in the playground. For additional ticket, you can play the sky laser tag! 
Continue reading Among Putro Skyworld ...
3. Cinemas in Taman Mini Indonesia Indah
There are 2 cinemas in Taman Mini Indonesia Indah, they are unique in their own way.

The first cinema in TMII is Keong Emas IMAX Theater. You can find it easily since it has the shape of a giant golden snail. This is the first IMAX in Indonesia. Watching movies in this theater will make you feel as if you were in the movie itself, you will feel like you are flying in the air like a bird, or suddenly hit the brake in a fast moving car. 

Most of the movies here tell about Indonesian cultures and natures, but sometimes they also provide box office movies. Several years ago I watched Harry Potter: Prisoner of Azkaban here, it was awesome!
Unfortunately, it doesn't update its list of movies nor its hard seats. It still runs a 90s movie where they still used floppy disks! 

Taman Mini Indonesia Indah also has a 4D Motion Cinema. You must wear special spectacles to watch the movie. Then you will feel as if you were in the movie, plus you also can feel the wind, rain, and some fragrances. Afterwards, you can go to Wonder Adventure on the back of the building to do some outbound activities.

Keong Emas IMAX:
Sat, Sun, National Holiday:  Rp.35,000
4D Motion Cinema:
Sat, Sun, National Holiday:  9.00-17.00 Rp.25,000
4. Taman Legenda Keong Emas
Taman Legenda Keong Emas [The garden of the Golden Snail legend] is located next to the Keong Emas IMAX Cinema. Since the IMAX is in the shape of the golden snail [more commonly known as mystery snail or common apple snail with a scientific name of Pomacea bridgeseli], this garden was built to complement the Keong Emas IMAX. Hence, you will see the statues in this garden depict the legend of Keong Emas, a famous Indonesian folklore from East Java. 
Now this garden has been expanded to include a small theme park: a dinosaur zone where you can see some famous dinos, several children rides and a swimming pool. However, you must pay additional tickets for each of the zone or ride you take.
Opening Hours:
Mon-Fri: 10.00-17.00
Sat-Sun, National Holiday: 10.00-18.00
Tickets:
Taman Legenda Keong Emas Rp.30,000
Additional Tickets:
Dinosaur zone: Rp.30,000
Mata Legenda: Rp.20,000
Nirwata Kisar: Rp.20,000
Pirate Ship: Rp.15,000
Beos Train: Rp.15,000
Ulat Selur: Rp.15,000
Anak Tirta Swimming Pool: Rp.25,000
5. Istana Anak-Anak Indonesia
Istana Anak-Anak Indonesia is also known as The Indonesian Children Palace in English.

It looks different from other buildings in Taman Mini Indonesia Indah since it looks like a Cinderella castle with two wings and a high tower, but in the inside it exhibits wayang (Indonesian puppet) and various Indonesian traditional games. It also has diatonic and pentatonic musical instruments. Your children will enjoy exploring and participating in games, either inside the palace or in the front yard as well as the back yard.

Children also can take rides in several outdoor attractions, such as monorail, bumper car, kiddy boat, fancy animal, airplane and ball pool. It even has a children swimming pool! But you must buy tickets for each attraction.

If your children interested in dancing or singing, there are weekly courses of Indonesian traditional dances and vocal here. They even have courses on pedalangan (the story teller in wayang puppet show) and Karawitan Jawa (singing in Javanese language). All courses are for children.
However, as of March 2021, this place is still closed for renovation.
6. Telaga Mina Fishing Pond
If you like fishing, you can join fishing competition at Telaga Mina fishing pond, which is at the rear of Taman Mini Indonesia Indah. Telaga Mina's 3,000 square meters pond is the largest fishing pond in Jakarta. However, you are not allowed to bring home the fishes you catch, because they will be returned to the pond after they are weighed. You win the competition if you catch the heaviest fish.

7. Theaters and Stages in Taman Mini Indonesia Indah
Taman Mini Indonesia Indah has several huge theaters and stages to perform live shows. The theaters are Sangkrini Jaya Raya, Tanah Airku, and Bhineka Tunggal Ika. The open stages are Walls, Candi Bentar, and Dermaga. 
8. Rent a Swan Boat at Plaza Arsipel
The Swan Boat is a pedaled boat. You can rent them to pedal around Miniature Indonesia Archipelago in the main lake of Taman Mini Indonesia Indah.
---
Next:
Explore the traditional houses from every province in Indonesia, the many parks and gardens in Taman Mini Indonesia Indah, 18 museums scattered all over tmii, and the facilities you might need :)
Dec 04, 23 08:41 PM

Summarecon Mal Serpong: the favorite shopping mall in South Tangerang for the whole family to do shopping, pamper in beauty salons, learn to cook in a cooking studio, watch movies, and play in the arc…

Oct 26, 23 11:32 PM

A visit to Benteng Heritage Museum at the old town of Tangerang to see the history and culture of China Benteng.

Oct 13, 23 03:33 AM

Explore De Voyage Bogor, a new European theme garden for selfie and hang out. Take tons of beautiful pictures and join the activities :)