The Top 7 Parks & Gardens
in Taman Mini Indonesia Indah
Taman Mini Indonesia Indah has many beautiful parks and gardens. Each with its own theme. They are not only for sightseeing and relaxing, but their main purpose is introducing the indigenous flora and fauna of Indonesia. 

1. Plaza Arsipel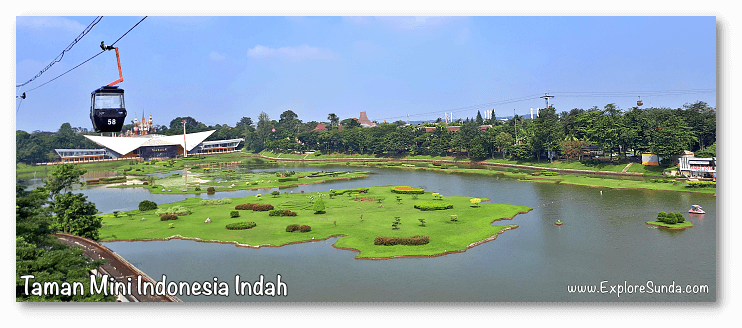 The first park you will see in Taman Mini Indonesia Indah is Plaza Arsipel. It is a man-made lake surrounded by the traditional houses from every province in Indonesia. There are several islands In the middle of the lake that represents big islands in Indonesia: Sumatra, Kalimantan, Java, Sulawesi, Maluku, Papua, and Lesser Sunda Islands (Bali, Nusa Tenggara Barat, and Nusa Tenggara Timur).
You can rent a pedal boat on this lake, but I believe the best way to enjoy the view is by taking a ride on a cable car!
There are two routes of the cable car [kereta gantung in Bahasa Indonesia], one on each side of the lake. In addition to the view of the Plaza Arsipel, you will see the traditional houses too, the domes of the bird park, and Istana Anak [Children Palace in English] looks majestic from a far :)
Cable Cars
Opening Hours:
Mon-Fri: 9.00-16.30
Sat-Sun: 8.30-18.00
National Holiday: 8.30-18.00
Ticket:
Rp. 50,000/person
2. Cactus Garden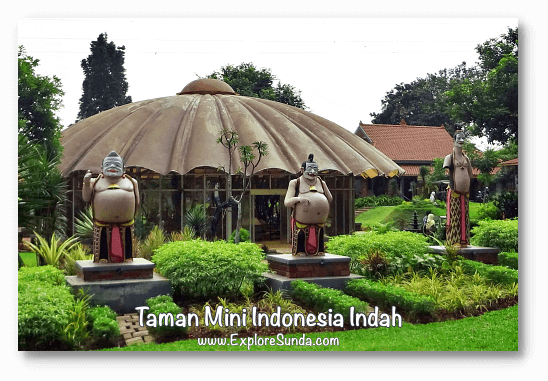 As its name implies, the collections of this garden are cactus and succulent from Indonesia and other countries as well. Among them are cactus from Belgium, Japan, and Mexico.

3. Taman Apotik Hidup [The Herb Garden]
Indonesia is rich with herbs, some are already well known and used in the modern pharmacy industry, but many more still need to be researched. Thus, in this Herb Garden you will be introduced to many herbs from Indonesia. This garden is supported with a library and a laboratory.

4. Taman Melati [Jasmine Garden]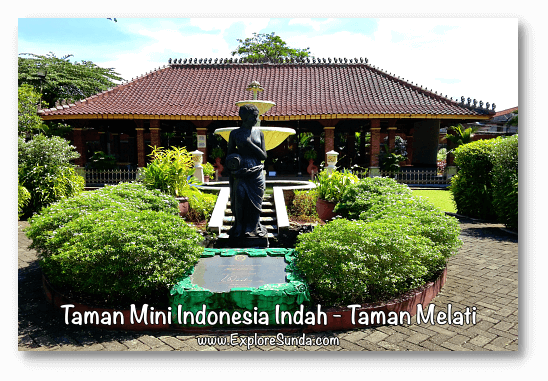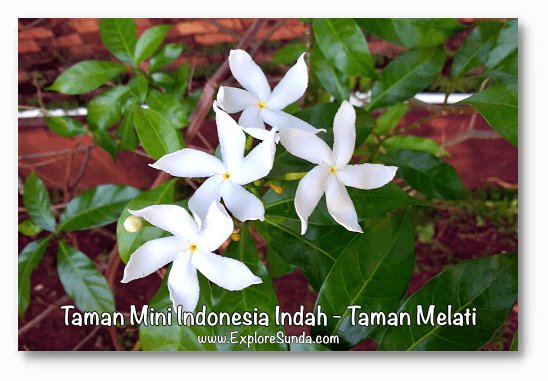 Having a sweet fragrant, jasmine is widely used in many ceremonies, especially wedding. In 1990, Indonesia declared  Jasmine sambac, which is called Melati Putih in Bahasa Indonesia, as one of the national flowers. 
Therefore, Taman Mini Indonesia Indah built Jasmine Garden [Taman Melati in Bahasa Indonesia]  to cultivate seedlings of this flower. Since this garden has a beautiful landscape, it is also rented for garden parties and meetings.
5. Taman Burung [Bird Park] & Taman Bekisar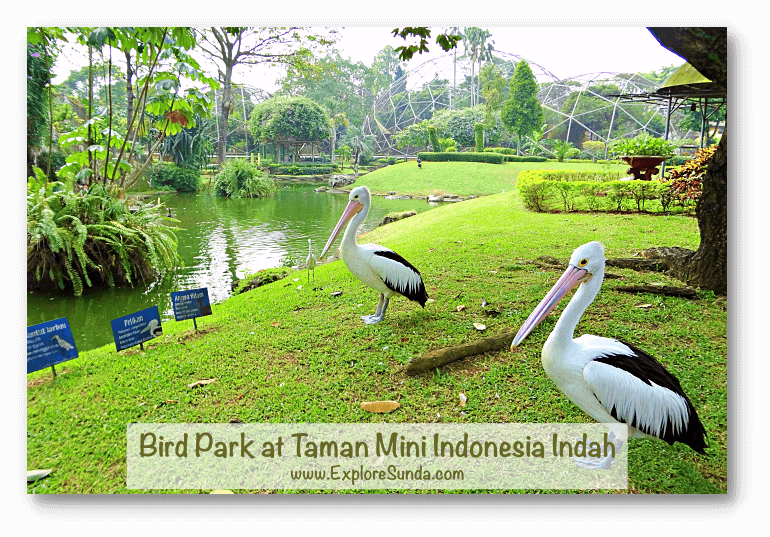 Taman Mini Indonesia Indah has two bird parks. The first one was built in 1975. It is not an ordinary park because it is covered with a giant dome. Hence, most birds are free to fly inside the dome. Then in 1986 the second bird park was built. 
The ticket to TMII bird park is a combo ticket with Bekisar Park. Bekisar is a type of chicken that has a beautiful voice.
Continue reading the full story of the Bird Park and Bekisar Park at Taman Mini Indonesia Indah ...
6. The Tionghoa Indonesia Cultural Park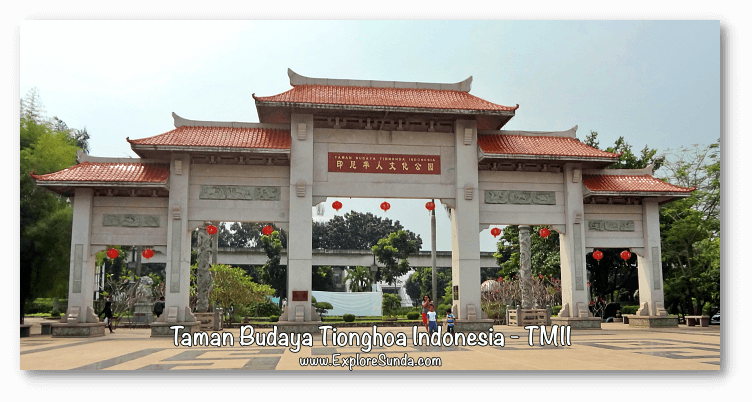 This is the latest park development in Taman Mini Indonesia Indah. Its development reaffirms the Indonesian Chinese existence in Indonesia. The concept of Yin and Yang dominates this garden. It is also decorated with several statues depicting Chinese legends. For example, the statue of General Guan Yu representing loyalty and bravery, the twelve Chinese zodiac, and several famous Chinese legends, such as Sam Pek Eng Thay, Chang'e the moon Goddess, and Sun Go Kong that went to the west to find the book of Buddha. 
There are two pavilions at the lake sides, where visitors can take a rest while enjoying the scenery. 
The Tionghoa Indonesia Cultural Park is integrated with HAKKA and Cheng Ho museums, which you can find at the end of the park. 
7. Taman Legenda Keong Emas
Keong Emas is a snail that are often found near water and rice fields. Keong means snail in English, while Emas is Bahasa Indonesia for golden. It is called golden snail due to the golden color of its shell. It is also popularly known as mystery snail or common apple snail, although its scientific name is Pomacea bridgeseli.  

Taman Legenda Keong Emas in Taman Mini Indonesia Indah is located behind the Keong Emas IMAX Theatre. Initially, this garden is a complimentary to the IMAX theater, since this theater is in the shape of Keong Emas. Hence, the theme of this garden is based on the Indonesian folklore of Keong Emas. It is a love story between Raden Inu Kertapati and Candra Kirana. According to the legend, the princess was bewitched into a golden snail, which would be broken when she found her true love.
Opening Hours:
Mon-Thu: 10.00-17.00
Sat-Sun: 10.00-18.00
National Holidays: 10.00-18.00
Ticket:
Rp. 30,000/person
Taman Mini Indonesia Indah has expanded this garden to include a small theme park with many children rides, a mini zoo to feed some animals, a dinosaur zone, and a swimming pool. The flower garden of Keong Emas and Asmat Museum becomes two of these zones.
Please note that every rides and zone inside Taman Legenda Keong Emas requires you to pay separate tickets, on top of the entrance ticket of Rp. 30,000 [these tickets are on top of the entrance ticket you pay to enter TMII]. 
Other Gardens in Taman Mini Indonesia Indah
There are other smaller gardens scattered all over Taman Mini Indonesia Indah. They are:
1. Miniature Borobudur garden. The miniature is displayed in a glass showcased inside a pendopo [a Javanese house for gathering, usually it doesn't have any wall]. 
2. High Level Conference of Non-Aligned Movement Monument. 
3. A stone inscription to commemorate Asia Pacific Economic Movement (APEC).
If you are interested in visiting any of these gardens and parks in Taman Mini Indonesia Indah, they open from 9am to 5pm, but they will be closed sooner during the month of Ramadhan, and remember many of them require additional tickets.
Do you like this post? Why don't you save it in your favorite Pinterest board :)
Continue exploring Taman Mini Indonesia Indah, there are many traditional houses, museums, and rides to explore. Don't forget to check out the facilities in TMII, you might need them :)

Dec 04, 23 08:41 PM

Summarecon Mal Serpong: the favorite shopping mall in South Tangerang for the whole family to do shopping, pamper in beauty salons, learn to cook in a cooking studio, watch movies, and play in the arc…

Oct 26, 23 11:32 PM

A visit to Benteng Heritage Museum at the old town of Tangerang to see the history and culture of China Benteng.

Oct 13, 23 03:33 AM

Explore De Voyage Bogor, a new European theme garden for selfie and hang out. Take tons of beautiful pictures and join the activities :)