De Voyage
The Selfie Garden in Bogor

De Voyage is the latest trending holiday spot in Bogor in 2018. In a short time since its launch, it becomes viral, both on and off-line. So, we, from the ExploreSunda.com, are curious and eager to explore it!
What is De Voyage?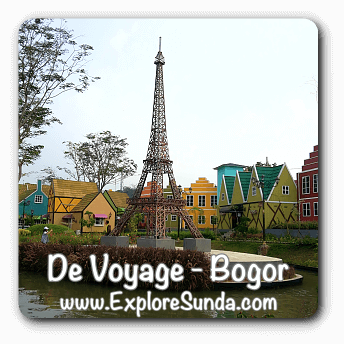 Basically it is a garden decorated with European theme, i.e. European houses and miniatures of several outstanding landmarks in Europe, such as Eiffel tower and Manneken Pis.

Its tag line states it as the place for holiday, selfie and foodies, which is very self-explanatory. They offer 150 selfie spots in this garden, although I'm not certain I can find them all, since the garden is quite small. 
Let's start from the beginning, shall we? Once you enter the garden, the miniature of Eiffel tower welcomes you. It always be the first spot for taking pictures. If you want a group picture, you can ask the staff to take it for you. 
Then stroll along the well maintained garden and take pictures as many as you want. One of the shop in there is renting European costumes if you want to pretend to be in Europe :)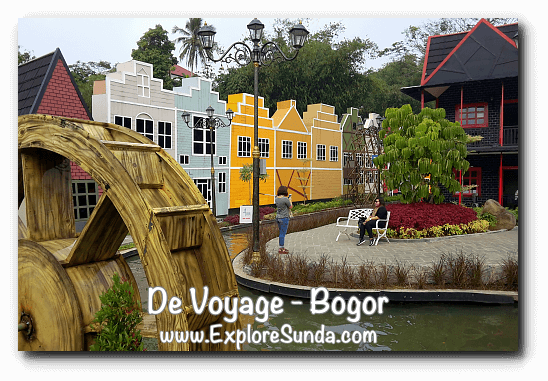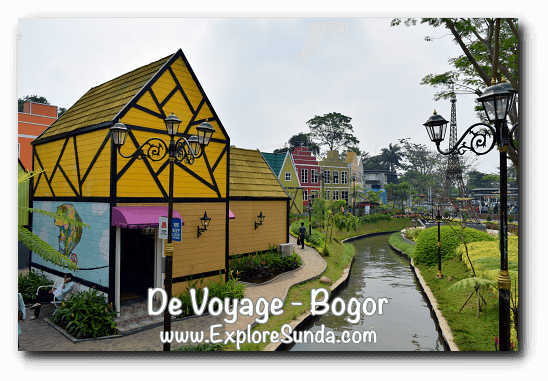 The houses surrounding the garden are only props, i.e. they are there to cover the wall bordering the garden. However, the houses in the middle are real, you can go shopping in there. Some of them sell food and drinks, others are renting costume, offer face painting, and some craft for children. You can rent a boat and paddling around the man-made canal there. It is not exactly like a gondola, but it's quite fun.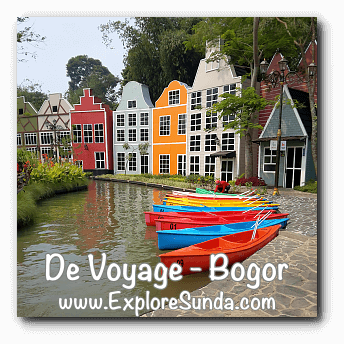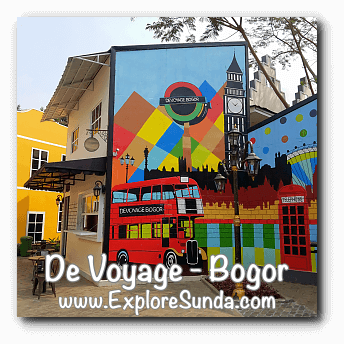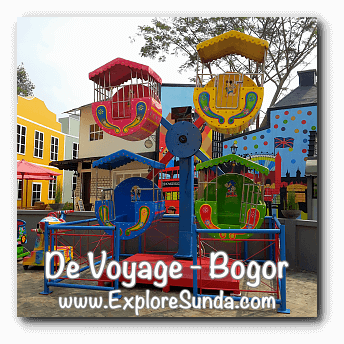 Hence, if the weather is not too warm or rainy, this place is quite cozy for hang out and I'm sure photographers will love it, since there are so many angles for creating beautiful pictures. 

Operating Hours:

Weekday: 9am-7pm
Weekend: 9am-8pm
Ticket:

Weekday: Rp. 25,000
Weekend: Rp. 35,000
However, there are a couple things I don't like here. First, visitors are not allowed to bring any drink, even the children water bottle! I understand if we are not allowed to bring any food or even the branded mineral water. In any place I visit, a water bottle is never been a banned item to enter any entertainment center.

Second thing I don't like is the audio inside the garden. Sometimes it plays instrumental music, which is okay, although it keeps repeating the same song. But then the music is often interrupted with announcements about the rules in the garden. The announcement is really annoying, I feel like a retard who must be reminded every other minute that I am a naughty person who will try to vandalize the garden if no one is watching.
Anyway, the concept of De Voyage is similar to several other parks and gardens in Sunda. They all offer beautiful landscapes, costume rental, souvenir shops, food and drinks. The most famous ones are Farm House Lembang with its European style and Floating Market Lembang with its Japanese costumes. The newest one is the Great Asia Afrika with more choices of backdrops and costumes! In a smaller scale, there is Chinatown in jalan Kelenteng, Bandung.

Directions to De Voyage

De Voyage is located deep inside Bogor Nirwana Residence, near Aston Bogor Hotel & Resort. Since the road signs to the Aston Hotel is easier to find, just follow them until you find the next road sign to De Voyage. Alternatively, use Google map to guide your way. The GPS coordinates are 6°38'16.0"S 106°47'42.0"E (-6.6377778,106.7949982).
Do you still have plenty of time to spend in Bogor? Bogor Botanical Garden is worth a visit. It has lots of old giant trees and its gardens are well maintained with huge space to roam. Alternatively, you could go to Puncak or check out other places of interest in Bogor.

Sep 22, 23 01:49 AM

Explore Eco Green Park in Batu, East Java. Have fun family vacation surrounded by colorful and exotic birds, while learning ecology and green living.

Sep 18, 23 04:59 AM

Have fun in Jawa Timur Park 2, where you explore Batu Secret Zoo, Museum Satwa, join thrilling rides at Happy Land and play in the Fantasy Land waterpark, all in one place :)

Sep 12, 23 06:26 AM

Explore many interesting places outside the land of Sunda, mainly tourist destinations in Central Java, Yogyakarta, and East Java.