A Dutch Village in
FarmHouse Lembang
FarmHouse Lembang is located between Lembang and Bandung,  thus people also called it Farm House Bandung, although the name in front is actually Farm House Susu Lembang, since you can exchange the ticket with a cup of fresh milk from Lembang. This place is very popular in the last few years. So, let's explore it and find out what's hype here :-)
One Day in FarmHouse Lembang

As soon as you have paid the entrance ticket, you can exchange it with a cup of fresh milk or use it to deduct your bill when you dine-in in the restaurant inside. If you opt for the milk, just look up and spot a giant milk container, that's the place to exchange it. You can exchange it before going inside or on your way home.

Ticket:

Rp. 25,000/person

Opening Hours:

Weekdays: 9am-7pm
Weekends: 8am-8pm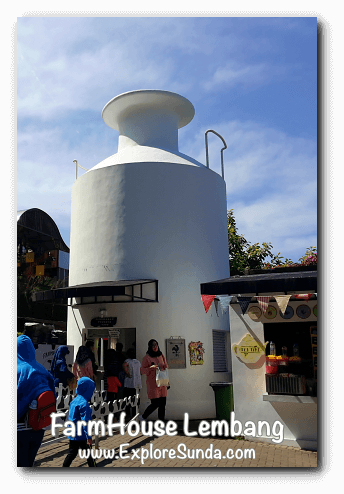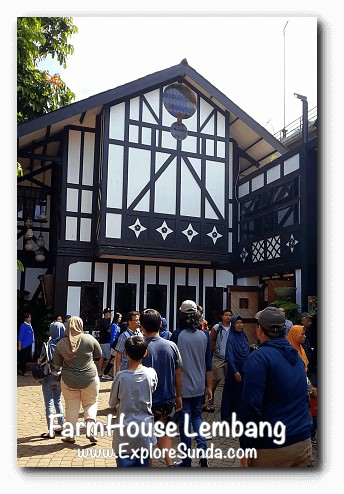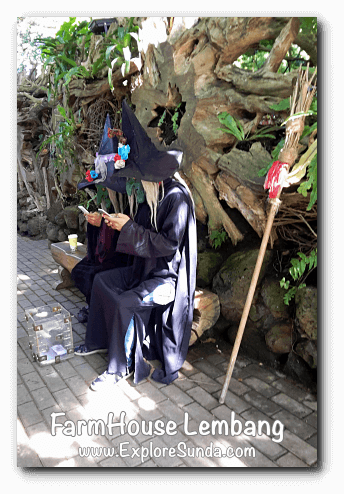 Tickets are sorted out, then you can start to explore FarmHouse Lembang. The first spot is the Lock Love. The path is fenced on each side and you can buy a padlock in the souvenir shop there, write your names on it and lock it on the fence. I guess there are millions of padlocks already placed here. At the end of the path you will find a wishing well. The entrance and exit of this area are 'guarded' by witches, with their crooked noses, green faces, black robes, pointed hats and brooms. Of course we can take pictures with them :)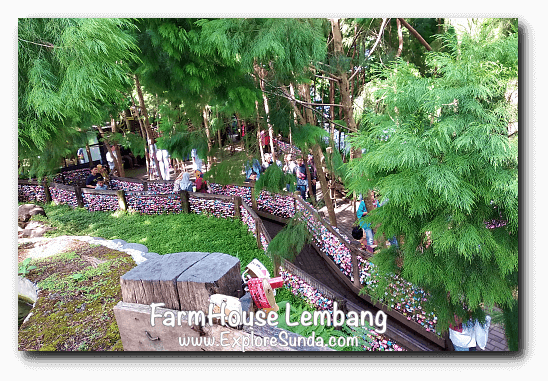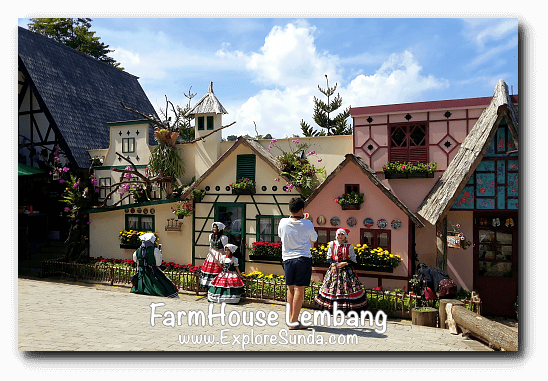 Strolling along the path, watch out and find many spots for selfies and photo groups. For example the front door of a hobbit house, dutch mill, the front of European houses, as well as in the colorful garden.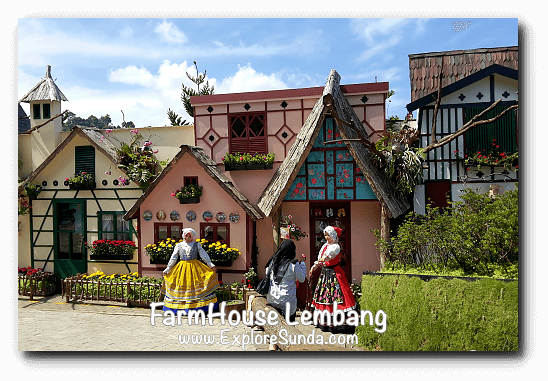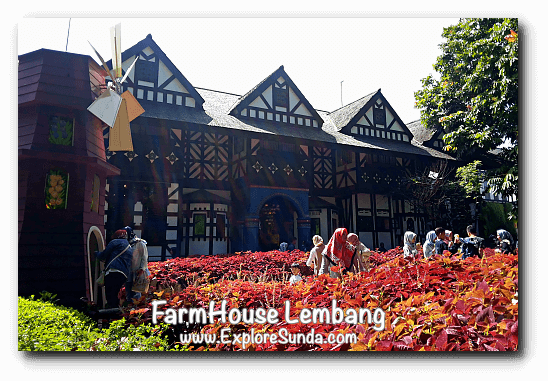 Do you like shopping? There are several shops inside and outside of Farm House. Outside means the area near the parking lot. The big souvenir shop is inside though. It sells various items of clothing and accessories. Some t-shirts, magnets, and keychains are unique to Farm House. Others are the usual items you might find in the factory outlets in Bandung.
In the middle of FarmHouse Lembang, there is a narrow cobbled street with small shops on either sides. They sell food, souvenirs and trinkets. One merchandise is eye catching: bottles of milk tablet! So, if you don't like to drink milk, you can just pop the tablets :)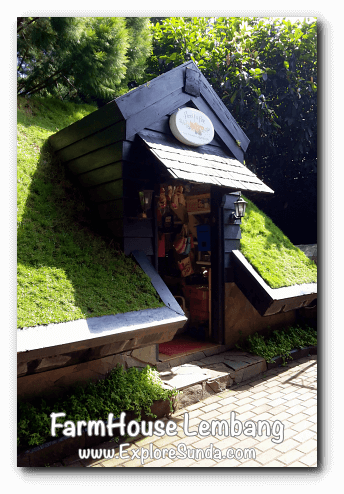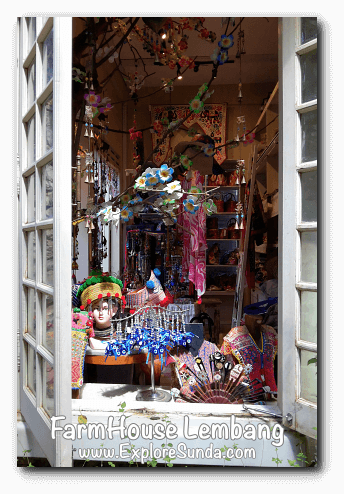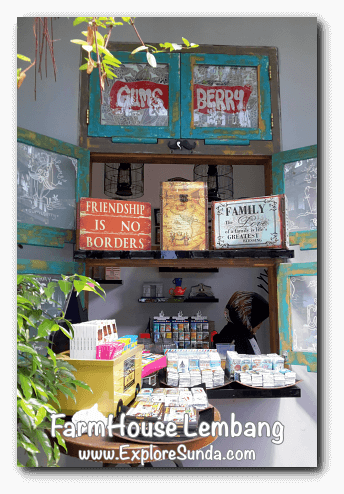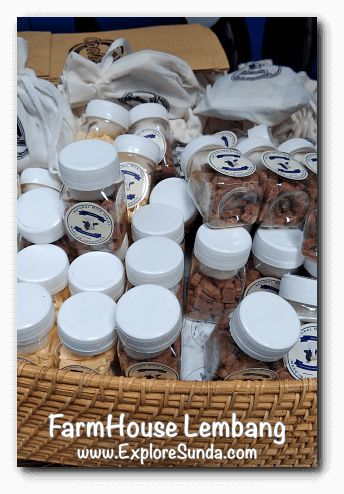 The most favorite shop in FarmHouse Lembang lies in the middle of the street, on top of a French Crepes snack booth: the rental costume shop! You can rent European costumes here, but come early to avoid long queue. Often the stairs are full with visitors queuing. 

Once you have put on the costume, you will have pictures taken on the terrace of the shop.  Then you can walk all over FarmHouse Lembang to get as many pictures as you like. The more people renting the European costumes, the more you will feel like strolling in a European village :)  If you want to take a more professional pictures, FarmHouse Lembang provides photo studio services.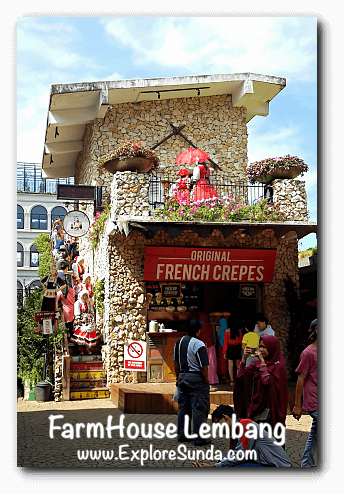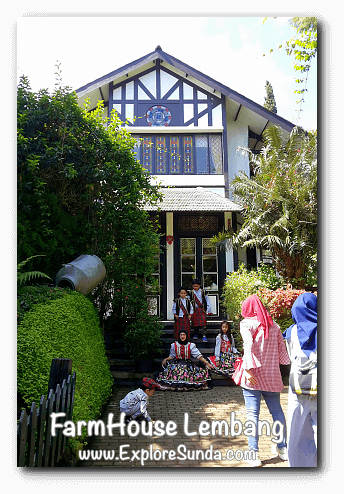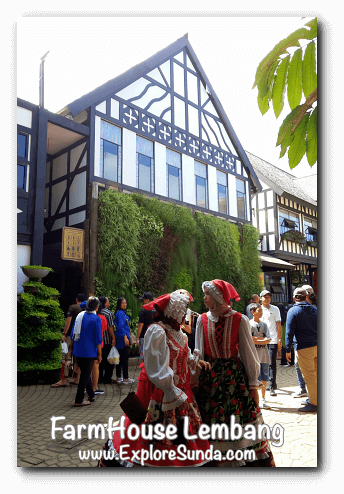 Tired of walking around and take selfies? Let's dine-in in the restaurant. If you don't really like European menu, there are several snack booths you can try. 
Often young children are tired of just walking around and taking photos. Good thing that Farm House provides a playground and petting zoo. The playground is located in one corner and it is more suitable for young children.
Next area is the petting zoo. You can take pictures and pet various animals here, such as rabbits, guinea pigs, iguanas, sugar gliders, calves, mini hedgehogs, sheep and birds. You also can buy carrots to feed rabbits and sheep. 
Once you have bought carrots, you are allowed to enter the rabbit and sheep pens, so you can feed them directly. While the rabbits are often timid and hide inside their shed, the sheep are more aggressive, some will stand on their hind legs and pounce you ;-)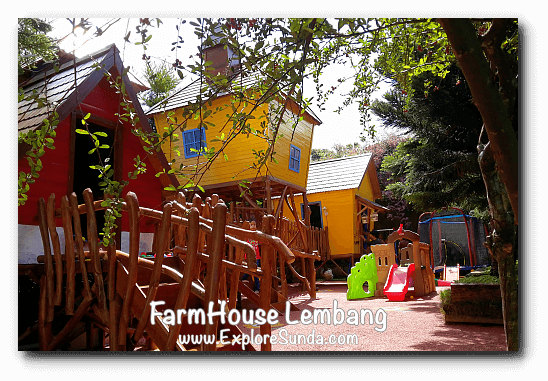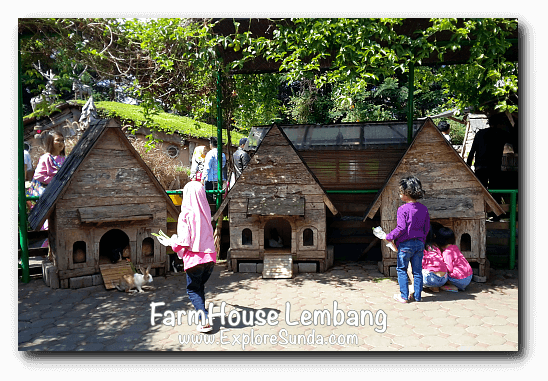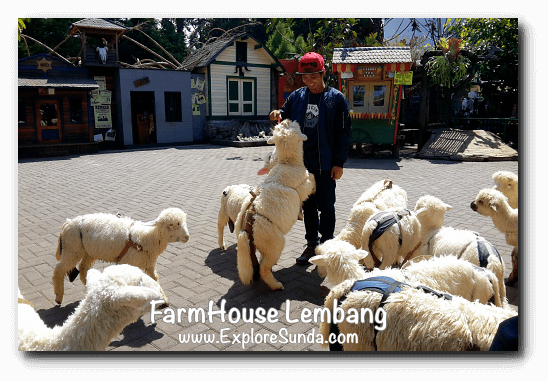 The newest area in FarmHouse Lembang is called The Secret. The entrance is located near the parking lot. As you can guess, it is another area for selfies. Unfortunately, people who rent the European costumes already return their costumes before they reach this area.  Being a new attraction, there is an additional ticket of Rp. 20,000 to enter it. 

Directions to Farmhouse Lembang

The address of Farm House is Jalan Raya Lembang no. 108, Lembang. The GPS coordinates are 6°49'58.0"S 107°36'21.0"E (-6.832778, 107.605835). Actually, Farm House is located in between Bandung and Lembang, thus, from Bandung just follow Setiabudhi street up north to Lembang. 
Since there are so many people visiting Farm House, often the traffic congested. The parking lot inside FarmHouse Lembang is usually fill up since early morning, hence, don't expect too much on getting a vacant parking spot there. Fortunately, Farm House provide a new and bigger parking lot across the street. 
The combination of Lembang's cool weather and beautiful landscape of FarmHouse Lembang make people love to hang out there. However, Lembang has many more attractive places, the nearest one to Farm House is the one and only astronomical observatory in Indonesia: Bosscha. 
Ready to explore other places in the land of Sunda? Here are some places you should check - at first they look so random, but they have one thing in common: they are all gorgeous places in Sunda :)
May 23, 23 04:28 AM

Planning to travel to Jakarta? Find the tips on traveling to Jakarta, getting around Jakarta, history, and frequently asked questions here ...

May 22, 23 11:28 PM

Get all the information on Jakarta airport train here: the train stations, how much the ticket cost, and how to buy tickets.

May 19, 23 03:36 AM

Get the best view of Malabar tea plantation, Situ Cileunca, and Pangalengan Bandung from Nimo Highland!