Shopping In Bogor Indonesia
Shopping has always been one of the favorite family vacation destinations. So, what kind of shopping can you do in Bogor Indonesia?

1. Explore Bag Stores in Tajur, Bogor Indonesia.
Tajur is the name of an area in Bogor Indonesia that is famous for its bag home industry. They made varieties of bags you can imagine, such as women handbag, purse, satchel, luggage, backpack, holdall, tote bag, and many more, in various colors and patterns.
The quality of the bags are okay, I would say they are not high quality products. But if you are looking for a trendy bag following the latest fashion with affordable price, this is the place!

Several years ago when I came here for the first time, there's only one bag factory opened up its warehouse for selling some of its production. The bags are not displayed, they are all piled up on the floor! It is hard to find the bag you want unless you dig those piles.

Recently I went there again and I was surprised! The road is still the same narrow road, but the area has grown into a one stop tourist destination. There are two big stores: SKI, the first store in this area and Stasiun Tas. In addition, there are many small stores too. They are all displaying various bags, most of them are women handbags in any color you can imagine.

I visited SKI because in addition to the bag store, it has spacious parking lot, even for big buses!, a restaurant, several food stalls for local snacks, clothes store in the second floor as well as kids playground. 

Children can do lots of activities in the playground. They can paddle small boats, slide, crawl in a tunnel, slide on the flying fox, etc. But I think the main highlight in this area is the pond. Gold fish occupy half of the pond and we can feed these hungry fishes. The other half is used for big balls attraction.

As you can see in the picture, the guests entered a plastic ball and the staffs quickly filled in the air and sealed the ball. Then they rolled the ball to the pond. They can roll, sit or try to stand in it until their time's up and the staffs pulled the rope back to the ground.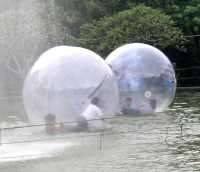 2. Shopping in Bogor Indonesia: Going to Factory Outlets
The second shopping adventure in Bogor Indonesia is going to factory outlets. These stores mainly sell clothes and apparel. The clothes are either export rejects or manufactured more than the customers order. Hence, most of them are branded. However, please be cautious since some of the rejects are still acceptable while some are not.

Most factory outlets are near the toll road. After you exit the toll road, either turn left or right in the stop light, the stores are scattered along the way of this Pajajaran street.

3. Shopping and Hang Out in Malls
Similar to other cities in Indonesia, shopping malls have become one stop family destinations especially during weekends. You can go shopping groceries in the supermarket, hang out in the cafes, have lunch or dinner, watch movies, play in the game arcades, etc. 
In short, you can easily find something to eat in the mall and cool down in the air conditioned building after a day in the outdoor. You might even find some interesting souvenirs there.
The most popular mall in Bogor is the Botani Square. It is in the corner of Pajajaran street and the entrance to Jagorawi toll road. Hence, you can easily spot it as soon as you exit Jagorawi toll road. 
Directions to Bag Home Industry in Tajur, Bogor Indonesia
Bogor is easily accessible from Jakarta since both cities are only 40 kilometers apart, connected by Jagorawi Toll Road.


View Direction to bag stores in Bogor Indonesia in a larger map
This is a Bogor map showing how to go to the bag home industry in Tajur, Bogor Indonesia. Turn left in the stop light after you exit the toll road. Go straight passing Rumah Gaya Factory Outlet then turn left on the corner of Balai Binarum. It is a small road, wide enough for two cars passing by. As shown in the map, you should turn left on the first crossroad and then turn right in the second crossroad. When you see a lot of bag stores on the left and right of the road, you have reached your destination :) SKI, the largest bag store in this area is located at the end of this road.

---
Bogor is not only about shopping. The most famous of this city is its botanical garden, which is in one complex with the presidential palace. 

However, if you love shopping, how about a visit to Bandung? It's a shopping paradise in the land of Sunda :)

Sep 22, 23 01:49 AM

Explore Eco Green Park in Batu, East Java. Have fun family vacation surrounded by colorful and exotic birds, while learning ecology and green living.

Sep 18, 23 04:59 AM

Have fun in Jawa Timur Park 2, where you explore Batu Secret Zoo, Museum Satwa, join thrilling rides at Happy Land and play in the Fantasy Land waterpark, all in one place :)

Sep 12, 23 06:26 AM

Explore many interesting places outside the land of Sunda, mainly tourist destinations in Central Java, Yogyakarta, and East Java.