Favorite Shopping Malls
in Tangerang Selatan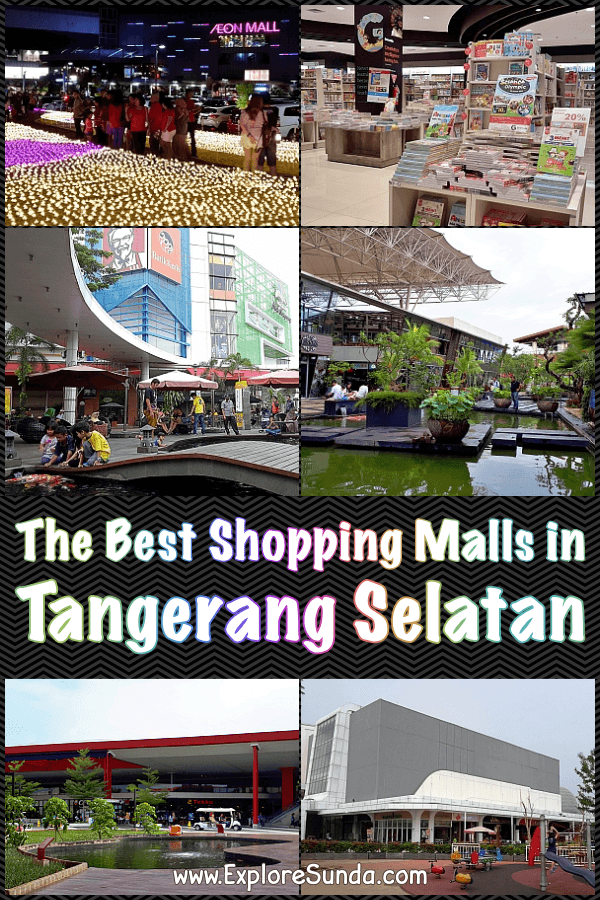 Nowadays shopping malls in Tangerang Selatan [TangSel] have become a necessity, because South Tangerang is one of the prominent satellite cities of Jakarta. Many people live here and commute to Jakarta everyday. 

Having several favorite shopping malls in Tangerang Selatan, we will cover six malls in this page:
Then in the next page we will explore: 
AEON Mall BSD City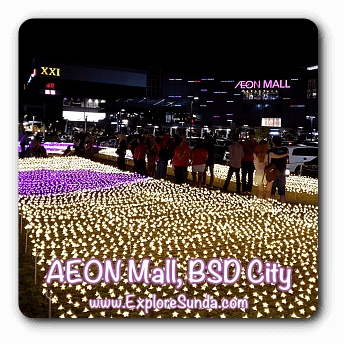 Address: Jalan BSD Raya Utama, Tangerang Selatan.
GPS Coordinates: 6°18'10.0"S 106°38'11.0"E
We start our trip with AEON Mall at BSD (Bumi Serpong Damai) City. It was opened in June 2015. Since then it is the most crowded mall in Tangerang Selatan, especially during weekends.

Many restaurants and food stalls occupy the ground floor and third floor. It has 2 food courts: the Japanese food court on the ground floor and the Indonesian food court on the third floor.

The tenants of this shopping mall are various, from Uniqlo fashion store to book store such as Gramedia and Books and Beyond, from JYSK (the household goods store) to Cinema XXI, from Celebrity Fitness to gadget stores such as Erafone and Fujifilm Digital Imaging, from hair salon to travel bureau, not to mention many smaller shops scattered all over the mall. So, it really caters to the whole family needs.

In addition to this shopping experience, AEON Mall BSD City has two unique attractions. They are:

Magic Fountain. It is an open area with many lights and water holes. The fountain, lights and music plays every hour starting 12pm on weekends and 5pm on weekdays. Usually many children wait impatiently around the fountain. As soon as the fountain is on, they run excitedly and have fun playing water in the middle of the fountain!
Sakura Illumination Park, the outdoor garden on the front lawn of AEON Mall. When the dusk is approaching, the garden starts to lit up with lots and lots of lights. It is visitors' favorite place to take pictures :) You can enjoy it from 6pm until 10pm.
Indonesia Convention Center (ICE)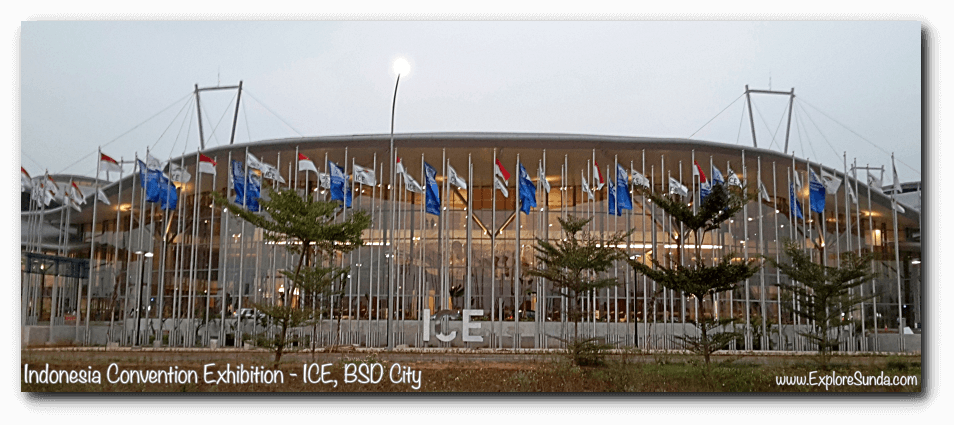 Address: Jalan BSD Grand Boulevard Raya no. 1, BSD City, Tangerang Selatan.
GPS coordinates: 6°18'10.0"S 106°38'11.0"E (-6.302778, 106.636383)
Closed to AEON Mall is a new convention center named ICE - International Convention Exhibition. Many events held here, from trades such as auto show and pet exhibition to performances such as ice skating show and concerts.
The Breeze

Address: Jalan Grand Boulevard, BSD Green Office Park, Tangerang Selatan.
GPS coordinates: 6°18'08.0"S 106°39'16.0"E (-6.302222, 106.654450)
The concept of The Breeze is a mall without walls, hence, most of the tenants occupy small buildings, all of them are connected with pergola and gardens. There are various tenants here, such as cinema, supermarket, fitness center, billiard and bowling alley, but many are restaurants, which really fits as an open air lifestyle mall. Then there is a big pond at one side of the area, where several ducks, geese and swans live.
There are several drawbacks of having too much open air though. First, it's obvious that it is difficult to walk across this mall during the rain. Second, it's too bad that people tend to smoke whenever in the outdoor, which is supposedly forbidden in this area.
QBIG BSD City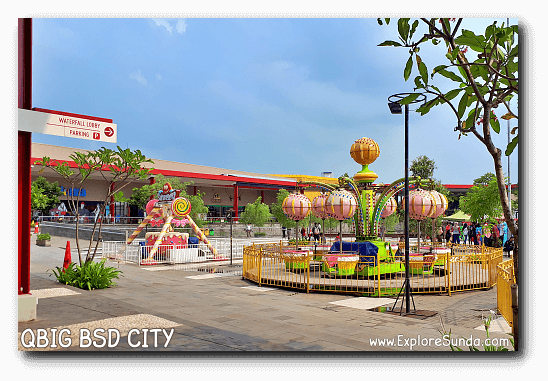 Address: Jalan BSD Raya Utama, Tangerang Selatan.
The GPS coordinates are 6°17'11.5"S 106°38'12.5"E (-6.286535, 106.636791).
Q-big is a huge shopping mall in BSD City. It even has golf carts functioned as shuttles to carry visitors around the court!
This mall is different from others since it consists of several buildings that are connected with gardens. So, if you like open air, this mall will suit you well. Although it's often a bit too warm in the afternoon.
In terms of tenants, Q-big mall is filled with big names such as Kawan Lama group (Ace, Informa, Toys Kingdom), Sport Stations, Mitra 10, the Courts and Lulu supermarket. Each has its own large store. 
One interesting store that is hard to find in other mall is the Art and Craft materials shop called Artland. It has a large range of art supplies, from as simple as glitters and colorful papers to canvas with various sizes, materials for miniatures and sculptures, stencils, and moulds.
Gramedia World BSD City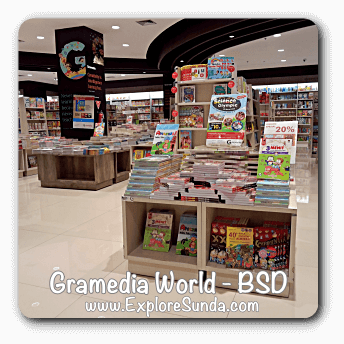 Address: Jalan Raya Pagedangan BSD Utama no. 22, Tangerang Selatan.
GPS coordinates: 6°17'29.0"S 106°38'21.0"E (-6.291389, 106.639168)
As one of the biggest book retailers in Indonesia, Gramedia group will spoil book lovers with the opening of Gramedia World Building in BSD City. The top level of this building is completely dedicated for books, so you will find thousands of books here. 
Exploring Gramedia World BSD City is like walking through any other Gramedia stores in other shopping malls, but the volume of the goods are more than triple. Thus, you will find stationaries, toys, school bags, backpacks, camping gears, and fancy stuffs among things sold here. 
Other Shopping Malls in Tangerang Selatan

Next, we are going to the other side of Tangerang Selatan: Alam Sutera and Bintaro residences. Let's explore other favorite shopping malls there:


Dec 04, 23 08:41 PM

Summarecon Mal Serpong: the favorite shopping mall in South Tangerang for the whole family to do shopping, pamper in beauty salons, learn to cook in a cooking studio, watch movies, and play in the arc…

Oct 26, 23 11:32 PM

A visit to Benteng Heritage Museum at the old town of Tangerang to see the history and culture of China Benteng.

Oct 13, 23 03:33 AM

Explore De Voyage Bogor, a new European theme garden for selfie and hang out. Take tons of beautiful pictures and join the activities :)