What kind of bazaar is Big Bad Wolf book sale?

During my visit to the first event in 2016, my impression was:
Wow, it completely surprised me :) It looks like a book warehouse, where thousands of books pile up high on the counters. All books are imported books in English, where else in Indonesia do we see thousands of titles in English? Double wow. Then came the best feature: the price is much cheaper than in the bookstore! Triple wow :)
Fast forward to 2023, three years after the COVID-19 pandemic that paused many on-site activities, including the Big Bad Wolf book sale event. For the past three years, Big Bad Wolf held its book sale through an online platform (Tokopedia.com). But, this year Big Bad Wolf starts to sell books on-site like it used to be pre-pandemic :)
As usual, Big Bad Wolf sells all kinds of books, such as children, young adults, fiction, non-fiction, romance, thriller, reference, self-help, cookbooks, graphics novel, picture books, coloring books, architecture and design, business and economics, religion, and many more. Unfortunately, this year books in Bahasa Indonesia outnumber English books. These English books are dominated by activity and coloring books for young children. In the Young Adult section, you can still find books by Rick Riordan, the author of best-sellers books: Percy Jackson, Kane Chronicles, and Heroes of Olympus. But again, his translated books in Bahasa Indonesia outnumber the original ones in English. Interestingly, you will see many language books to learn English, Mandarin, Korean, etc.
You will see something new in the 2023 Big Bad Wolf book sale. One corner of the hall filled with books lay haphazardly on the ground. They only use flattened card boxes as their mats. Every title is only one book left, three at most. So, you might be lucky to get a book you are interested in here.
One thing I noticed in the Big Bad Wolf book sale was some books were obsolete. I saw many old magazines (based on their issue numbers). I also found an interesting book on mushroom cultivation that referred to 2012 data and still predicting the 2015 outcome when we are in 2023!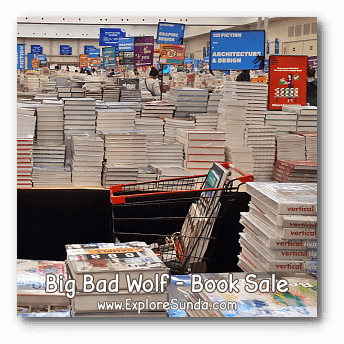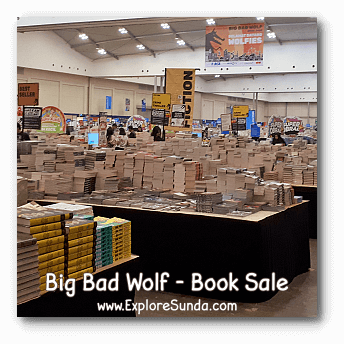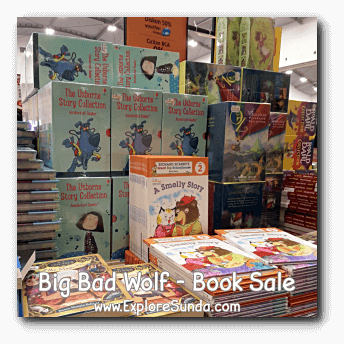 How much is a book, and how to get the price info? Previously, the price is tagged on the plastic wrap of every book. But now they only put on an alphabet code on the plastic wrap. Then you match the code on the book to the price list. It is easy to locate the pricelist since they are on a stand with a bright color. The price starts from Rp. 10,000/book! Of course, the average price is much higher than that. For example, the price of a paperback English novel is Rp. 80,000, and a thin Mandarin myth storybook is Rp. 45,000. It is cheaper than the book price in any bookstore. No wonder many visitors filled in their trolleys to the brim. Some even bought more than one book for each title. You could simply pay them in cash or credit card, the sponsored bank even offers a 0% installment when you reached a certain amount. Thus, you'd better budget your spending before coming to this book sale, since you are the only ones who could put a cap on how much we will spend here. A difficult decision though ;-)

Same as before, whenever you are tired and hungry, there is a food court inside, so you don't need to check out from the book event to quench your hunger and thirst during our book hunting.
Big Bad Wolf also keeps the section where they don't sell books! Here they sell stuffed toys, pillows, bags, stationery, and fancy items instead.
Getting inside the Big Bad Wolf book sale is fun, but getting out is a challenge. First, there are so many books to see. Second, often we have to face a very long queue for paying the goods we purchase, despite the many cashiers there. The confusing queue is not helping either. Since it opens 24 hours a day, you can avoid it by coming during non-peak hours though. It becomes a normal sight that some people visit the Big Bad Wolf book sale from midnight until dawn.
Once you finish paying, don't put away your receipt, since you must show it to security at the exit door. Due to the many books each visitor buys, this procedure creates another long queue.
One last thing: if you live far from BSD (Bumi Serpong Damai) – South Tangerang, Big Bad Wolf collaborates with JNE – a shipping company – to deliver books to your home or your chosen destination anywhere in Indonesia. So you don't have to worry about bringing heavy books with you, just go to the JNE booth and ship the books :)