Big Bad Wolf
Book Sale Jakarta
Who's afraid of the big bad wolf, big bad wolf, big bad wolf … 


Do you remember this song from Disney classic movie? It's true though, we are not afraid of it, we even look forward for its visit, because this wolf is the name of the international book sale and it is coming to Jakarta!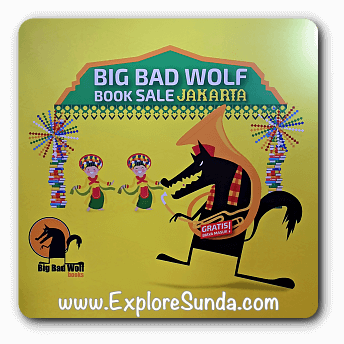 Due to the Covid-19 pandemic, Big Bad Wolf book sale has been moved to the online platform [Tokopedia.com]. The event has been held several times in the past year. It is not the same as browsing through million of books where you can see, touch and even sniff the smell of new books, but at least you can a bit quench your thirst of new stories :)
Check out their instagram for details information on the next event!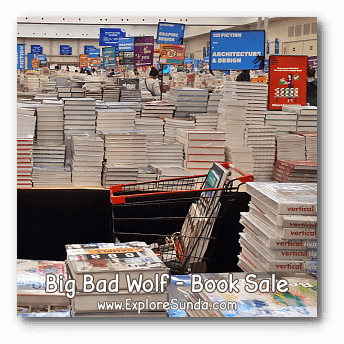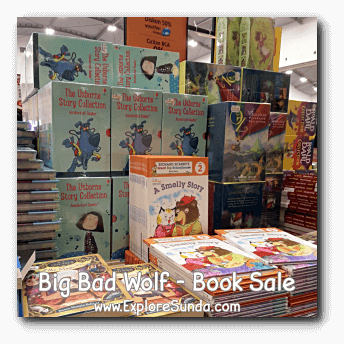 What kind of book sale is Big Bad Wolf?

During my visit to the first event in 2016, my impression was:

Wow, it completely surprise me :) It looks like a book warehouse, where thousands of books pile up high on the counters. All books are imported books in English, where else in Indonesia we can find thousands of titles in English? Double wow. Then come the greatest feature: the price is much more cheaper than in the bookstore! Triple wow :)

Now, in 2020, Big Bad Wolf offers millions of books in English and Bahasa Indonesia, but the majority are imported english books :) 
There are all kinds of books here, such as children, young adults, fiction, non-fiction, romance, thriller, reference, self help, cookery, novel graphics, picture books, coloring books, architecture and design, business and economics, religion and many more.
This year the young adult section is dominated by Rick Riordan, with his best sellers books of Percy Jackson, Kane Chronicles and Heroes of Olympus. Many other classic books such as Alice, Pooh, the Wizard of Oz, Anne Gable and Enid Blyton are also available here. They are offered in book sets, so we can read and collect the whole series.
The price of a paperback story book starts from Rp. 70,000, while normally each would cost us more than Rp. 100,000, especially the hard cover. We also can buy a series of titles in box sets, they are approximately Rp 250,000 on average. No wonder many visitors filled in their trolleys to the brim. Some even bought more than one book for each title. We could simply pay them in cash or credit card, the sponsored bank even offers a 0% installment when you reached a certain amount. Thus, we'd better budget our spending prior coming to this book sale, since we are the only one who could put cap on how much we will spend here. A difficult decision though ;-)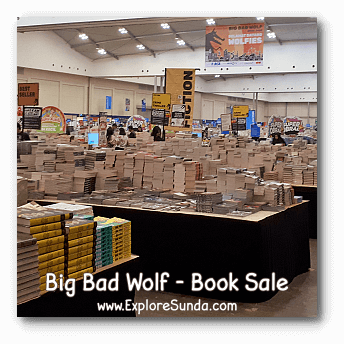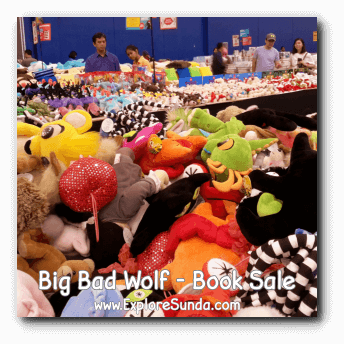 Same as last year, whenever you are tired and hungry, there is a food court inside, so we don't need to check out from the book event to quench our hunger and thirst during our book hunting. Then there is a small playground for children, in case they just got bored looking at books. 
The storytelling session called Buku Ajaib (Magic Book in English) is also continued this year. It is expanded into many other sessions such as coloring, finger puppet DIY, talkshow and cooking class. They are all held on weekends.
Big Bad Wolf also keeps the section where they don't sell books! In here they sell stuffed toys, pillows, bags, stationery and fancy items instead. 
The only hassle I don't like is there are too many security checks on our carry on bags. Once when I entered the building then again when I entered the exhibition hall. Somehow I feel that my privacy was violated by securities kept looking at my private belongings inside my hand bag.
Due to the worsening COVID-19 [popularly known as corona virus] contagion since the beginning of 2020, this year Big Bad Wolf provides hand sanitizers at the entrance and exit of the exhibition halls. The security also check each visitor body temperature.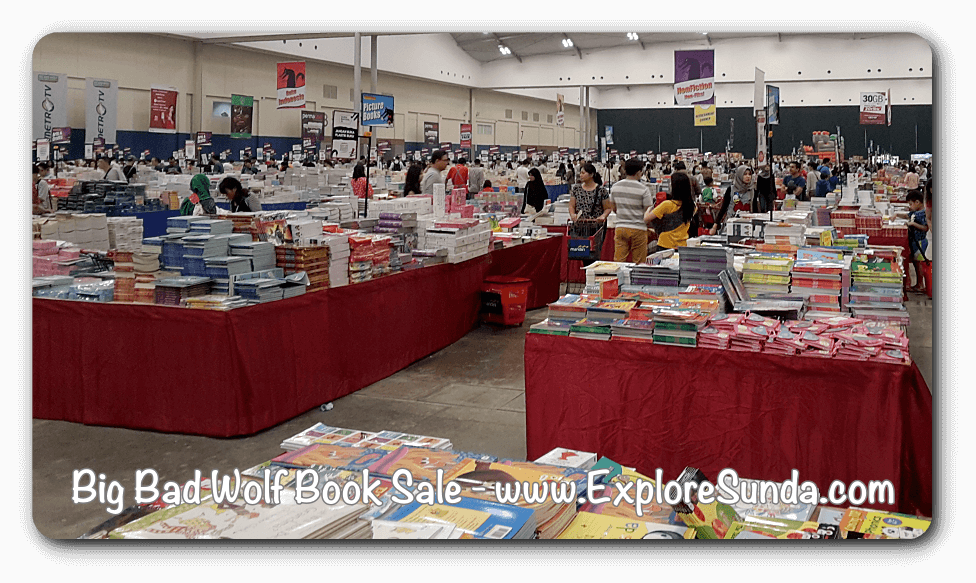 Getting inside Big Bad Wolf book sale is fun, but getting out is a challenge. First, there are so many books to see. Second, often we have to face a very long queue for paying the goods we purchase, despite the many cashiers there. Since it opens 24 hours a day, you can avoid it by coming during non-peak hours though. It is common that some people come after midnight or dawn. 
Once you finish paying, don't put away your receipt, since you must show it to the security at the exit door. Due to the many books each visitor buys, this procedure creates another long queue.
One last thing: if you live far from BSD, this year Big Bad Wolf collaborates with JNE to deliver books to your home or your chosen destination anywhere in Indonesia. So you don't have to worry about bringing heavy books with you, just go to JNE booth and ship the books :)
Tired of book hunting? How about checking out the surrounding area? For example, hang out in AEON mall, play in Scientia Square Park or go wall climbing at Bremgra.

May 23, 23 04:28 AM

Planning to travel to Jakarta? Find the tips on traveling to Jakarta, getting around Jakarta, history, and frequently asked questions here ...

May 22, 23 11:28 PM

Get all the information on Jakarta airport train here: the train stations, how much the ticket cost, and how to buy tickets.

May 19, 23 03:36 AM

Get the best view of Malabar tea plantation, Situ Cileunca, and Pangalengan Bandung from Nimo Highland!