Scientia Square Park
in Summarecon Serpong, Tangerang Selatan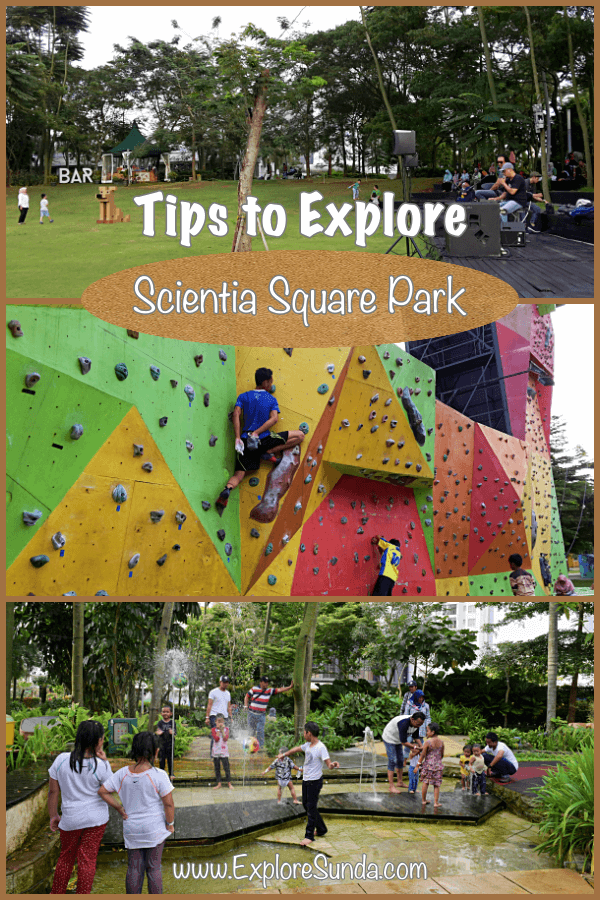 Do you love outdoor activities? If so, Scientia Square Park is a place to go! Scientia is a park where you can do many outdoor activities, such as: wall climbing, skate boarding, in-line skating, feeding the rabbit and fish, learning the metamorphosis of butterflies, or just play with water and swing following the gravity.

Without further ado, 
Let's explore Scientia Square Park!

Fun Activities in Scientia Square Park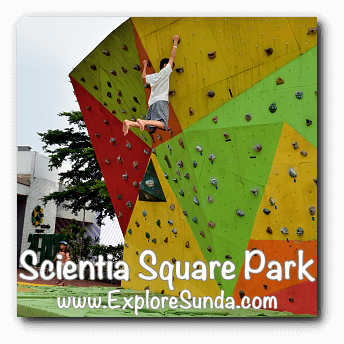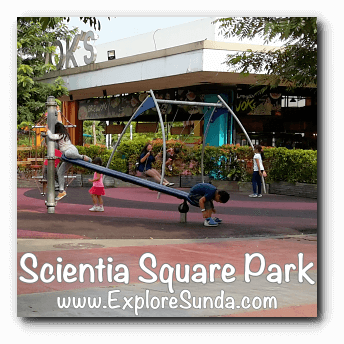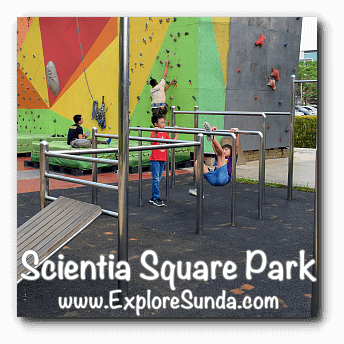 The first thing you will see when you enter the park is the huge and colorful wall for wall climbing. Everyone can try it here without the safety equipment, since most of the walls are not that high and thick layers of foam are laid in front of it to absorb your falls. One staff guards the end of the wall, which is the highest wall. He looks after the safety equipment there.

There is a flat and smooth yard right in front of the wall climbing activity. It is used for playing in-line skate. You can bring your own or rent them. If you don't know how to skate, you can take short courses here. Of course, both renting the shoes and the courses require additional tickets.

Next, you will find some bars where you can try to excel on a monkey bar and its variations. Be careful though, because there isn't any safety net or padded floor to absorb your falls.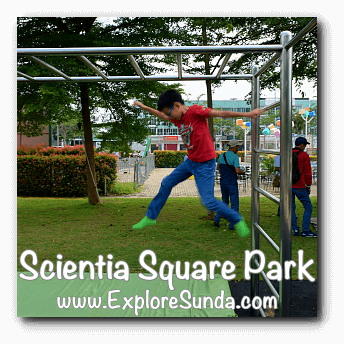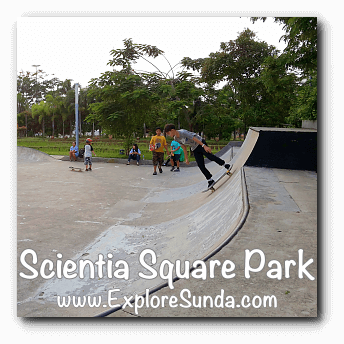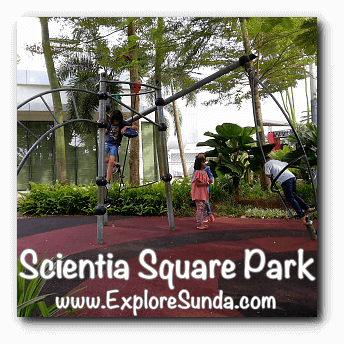 Bring your skateboard to Scientia Square Park, you can hone your skill here, since there is a special ground with several slopes especially designed for skateboarding. The park also provides skateboard for rent, of course additional ticket is required.

Have you ever played snake and ladder? Scientia Square Park has the giant version of it called Slides & Ladder, where the players become the counter! There are several giant dices and based on the number you get, you will walk through the path, either flat, hike the ladder or slides :) The ticket is Rp. 30,000 per person. If there isn't enough players, the staffs will accompany you to play.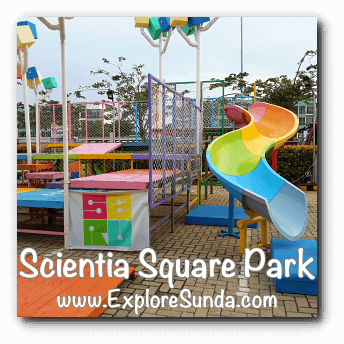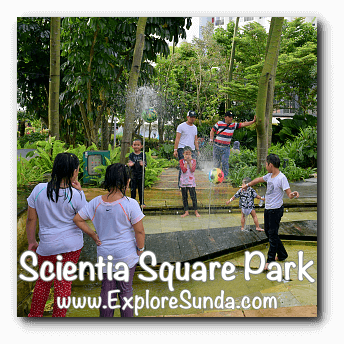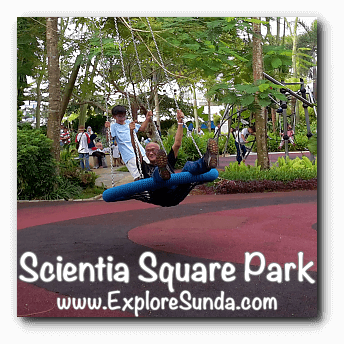 There is a big tent next to the Slides & Ladder. It is for jumping up and down on trampoline. Similar with other activities, there is additional charge to play here.

Don't worry, there are plenty of activities that are included in the price of the entrance ticket. For example, the kids playground near the entrance as well as swings and water streams in one corner of the park. Don't forget to bring spare clothes though ;-)

In the center of Scientia Square Park lays a big lawn with raised benches called Universe Amphitheater. On weekends you can enjoy live music. Children can fly kites, play ball or just run around here.

Right in front of the amphitheater is a paddy field, complete with the water buffalo! Then you can hear engine revved in the background. It is the sound of the Radio Control Cars (RC Cars). The tracks are behind the paddy field, they are only separated with shrubs.

Being outdoors mean you can feed and touch animals. In addition to the water buffalo in the paddy field, Scientia also has a butterfly garden, koi ponds and rabbit house. Usually children are eager to feed the koi fish and rabbits. You only need to buy carrots for feeding the rabbit.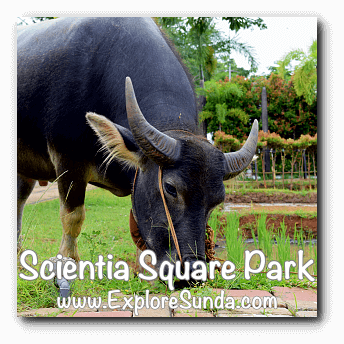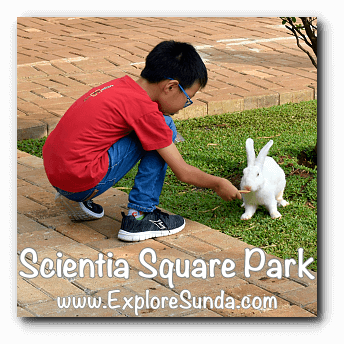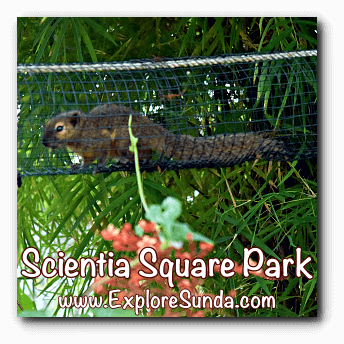 The butterfly garden is the green house in front of the rabbit habitat. Supposedly, you can learn the metamorphosis of a caterpillar until it becomes a beautiful butterfly here. Unfortunately, the butterflies are scarce, you can not find any caterpillar, and the  cocoons are still far away from hatching. The cutest thing there is the three squirrels. They have nest up above the ground and they can only run inside the tunnels of wires.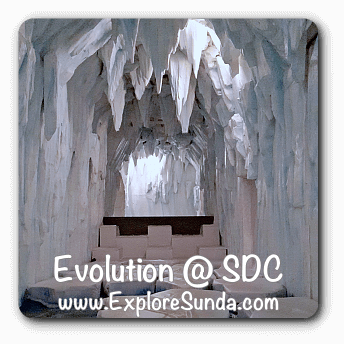 Since the ticket is a paper bracelet, you can go in and out multiple times during the day as long as we wear it. Why would you do that? Because you might want to have lunch or dinner in one of the restaurants there or try to cool down inside Summarecon Digital Center, even take a ride of Evolution - Journey of the Earth at the first floor of SDC.

Where is Scientia Square Park?

The address is jalan Scientia Boulevard Gading Serpong, adjacent to Summarecon Digital Center. 
Scientia opens at 6am everyday. There are several tickets available, as well as memberships. The price of the basic ticket is Rp. 25,000 for weekdays and Rp. 50,000 for weekends. Then there will be additional tickets for some activities and courses inside the park.

Address:

jl. Scientia Boulevard Gading Serpong

GPS Coordinates:

-6.2566667,106.6152725

Opening hours:

weekday: 6am-9pm
weekend: 6am-11pm

Basic Ticket:

weekday: Rp. 25,000
weekend: Rp. 50,000

Sep 22, 23 01:49 AM

Explore Eco Green Park in Batu, East Java. Have fun family vacation surrounded by colorful and exotic birds, while learning ecology and green living.

Sep 18, 23 04:59 AM

Have fun in Jawa Timur Park 2, where you explore Batu Secret Zoo, Museum Satwa, join thrilling rides at Happy Land and play in the Fantasy Land waterpark, all in one place :)

Sep 12, 23 06:26 AM

Explore many interesting places outside the land of Sunda, mainly tourist destinations in Central Java, Yogyakarta, and East Java.