Floating Market Lembang
~The Upgraded and Extended~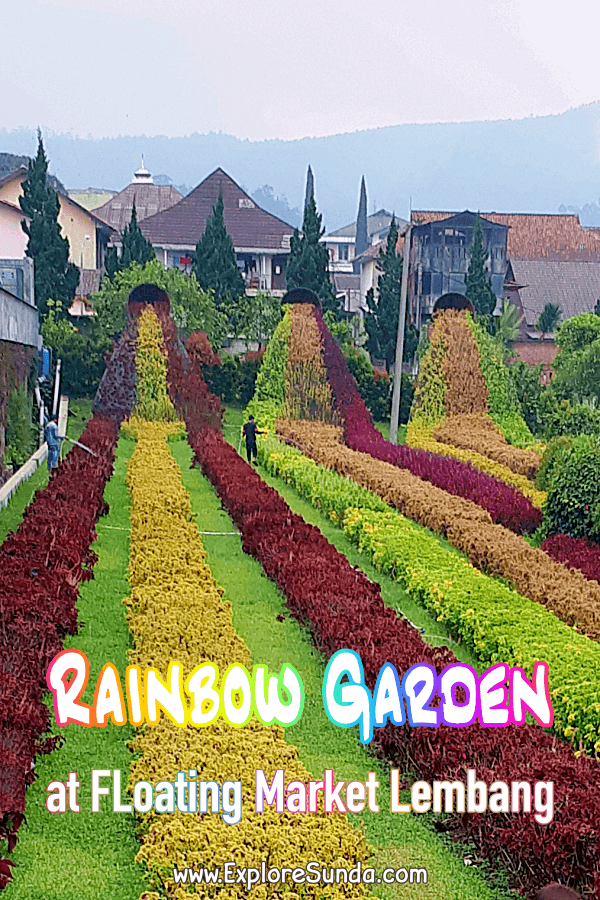 Over the years Floating Market Lembang has been upgraded and expanded. So, in addition to the existing attractions such as feeding rabbit, fish and swans, boating, riding a mini train, and shopping, now they also have Rainbow Garden, Kota Mini, Kyotoku, and swimming pool. 
What are they? Let's explore them :)
Rainbow Garden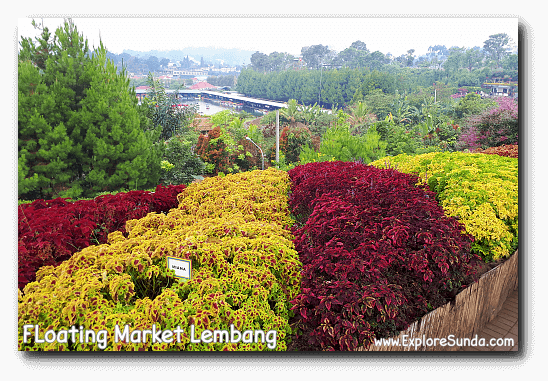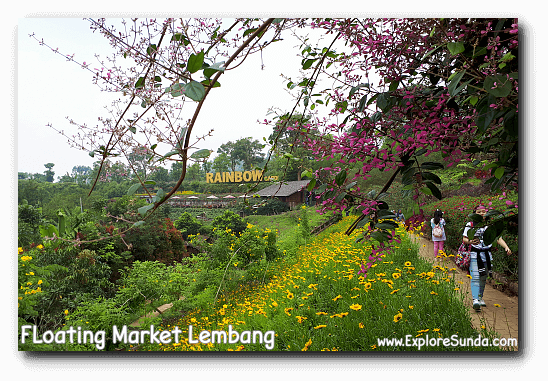 Rainbow Garden is very popular among the visitors to Floating Market Lembang. There are tons of spots for selfies here.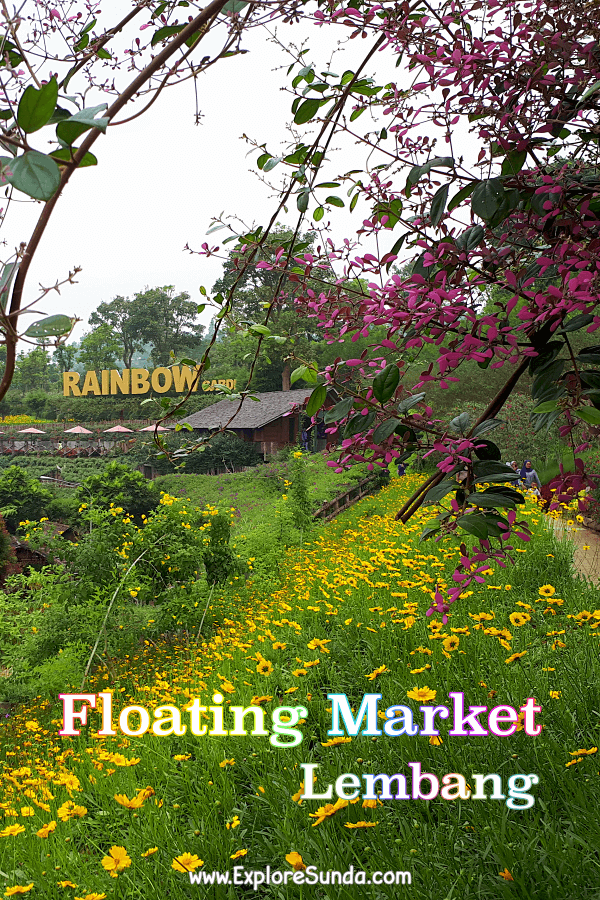 This garden is very colorful, both from the flowers and leaves. There are so many colorful bushes here: red, yellow, purple and green leaves are everywhere. This place is perfect for hang out and taking pictures. There are lawn chairs for photo groups, a swing, a small house that is decorated ready for us to pretend staying in a country cottage :) If you are not afraid of height, there is a platform where you can look around and take another selfie. Of course you have to walk cautiously here or even crawl if you must, because there isn't any railing to protect you from falling and it could only hold up few visitors at any time. 
If you want to explore Rainbow Garden you have to pay additional ticket of Rp. 10,000 /person.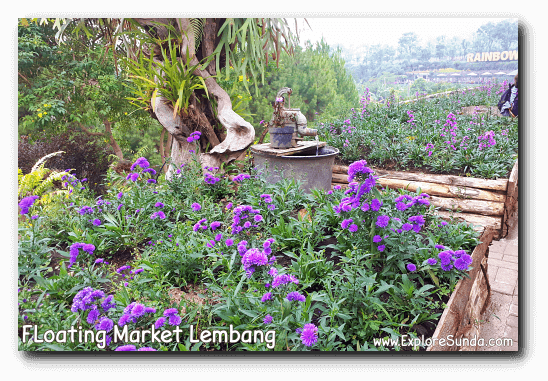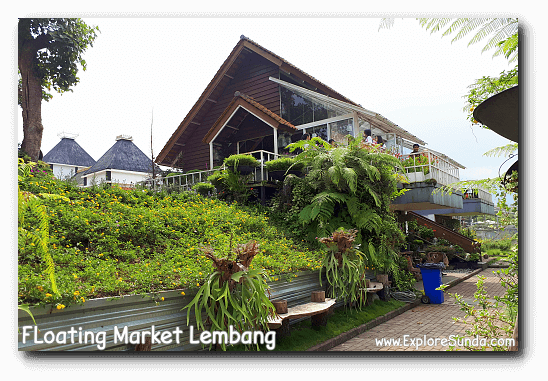 Kota Mini Floating Market Lembang

Walking up some stairs from Rainbow Garden, you will arrive at the front of Kota Mini (Miniature Town in English). You can't peek inside from the front gate of this tiny town, but if you are wondering what is Kota Mini, in essence, it is similar to Kidzania in Jakarta. There are several mini beautiful houses here, where children can play pretend to work on some jobs. For example, work as a firefighter, a baker, a scientist, a beautician and many more. As of June 2019, there are 24 professions, rides, and playground.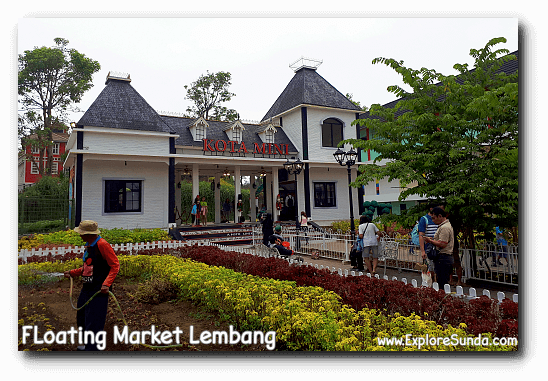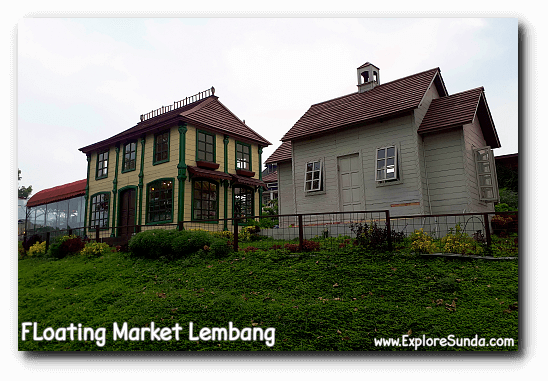 Unlike Kidzania which is located inside a shopping mall and decorated as if it's always night time, we can breath fresh highland air in Kota Mini. This tiny town is set up like a small European town. Each profession is set up inside each of these beautiful houses. The view of Kota Mini is so attractive and gorgeous that people of all ages love to visit it just to enjoy the atmosphere and of course take tons of beautiful pictures :)

The only drawback is that you have to pay additional tickets of Rp. 25,000/person to go inside Kota Mini. Then you have to pay another additional ticket for each game your children want to play. Each ticket costs between Rp. 25,000 and Rp. 35,000/child. 
Kyotoku

While Farm House Lembang is famous for its set up as a European village complete with its costume rental, Floating Market Lembang offers a Japanese set at Kyotoku. Although some part of Kyotoku is free for all visitors, the remaining parts are reserved for photo studios. The general theme here is Japan, but the music blaring from the speakers all over Kyotoku is k-pop music! 
First, you might want to take pictures with the "Japanese Warriors". They are ready to take action near the entrance.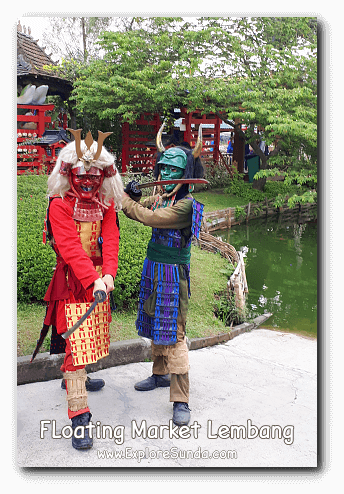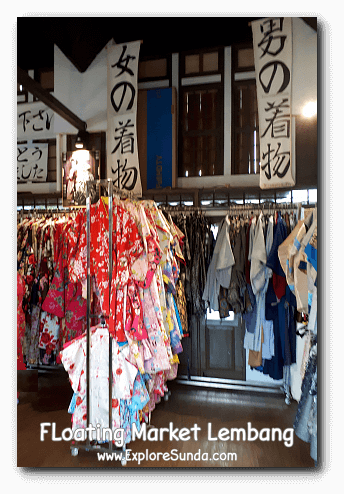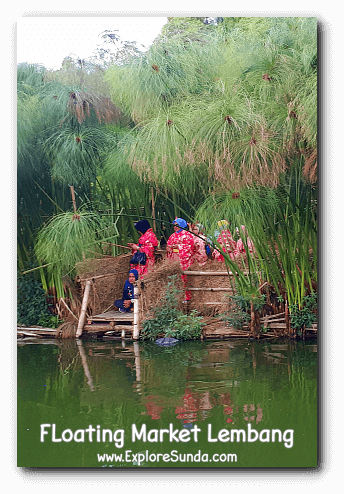 In order to complete this Japanese experience, you might want to rent the beautiful Japanese traditional costumes. Then, you are allowed to explore Kyotoku area and take as many pictures as you like. You might rent a small boat and the staff will take you circling the lake. Or you might want to spend some time in the photo studios, such as dining room, living room, and sakura garden. It's amazing to see so many people dress up in these colorful Japanese costumes :)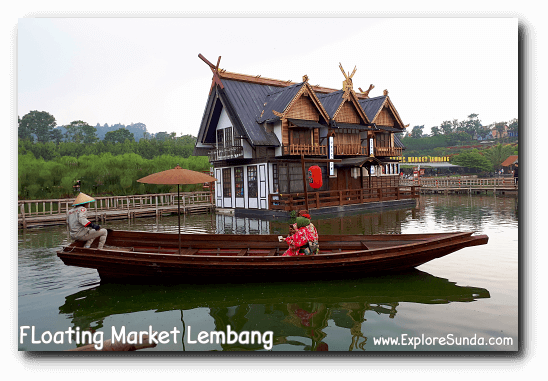 Swimming in Floating Market Lembang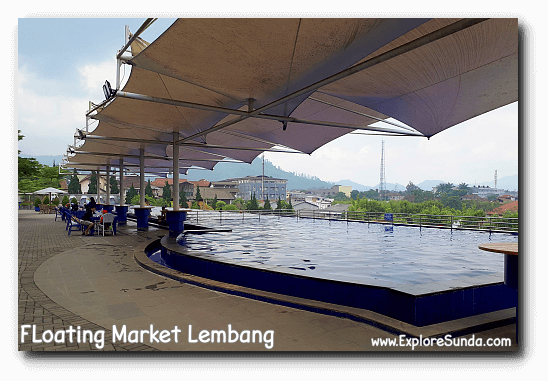 Tired of walking around Floating Market Lembang, let's just swim and float away in the swimming pool! It's located next to Kota Mini. Don't worry about freezing pool, because this swimming pool is filled in with warm water. The water temperature is between 29 and 33 degrees Celsius.
Similar to other attractions in Floating Market Lembang, there is additional ticket of Rp. 50,000/person for swimming. If you don't bring any swim suit, you can rent it :)
The operational hours of the swimming pool is from 9am to 6pm daily.
Floating Market Lembang is huge. The Rainbow Garden, Kota Mini, Kyotoku, and swimming pool is only part of it. There are many more attractions your family might like. Or, you might want to change the costume from Japanese to European, let's head out to Farm House Lembang! If you prefer hanging out in the garden, you are in for a treat because there are many other beautiful gardens in Lembang :)
Floating Market Lembang - Extended
Sep 22, 23 01:49 AM

Explore Eco Green Park in Batu, East Java. Have fun family vacation surrounded by colorful and exotic birds, while learning ecology and green living.

Sep 18, 23 04:59 AM

Have fun in Jawa Timur Park 2, where you explore Batu Secret Zoo, Museum Satwa, join thrilling rides at Happy Land and play in the Fantasy Land waterpark, all in one place :)

Sep 12, 23 06:26 AM

Explore many interesting places outside the land of Sunda, mainly tourist destinations in Central Java, Yogyakarta, and East Java.