Begonia Garden
Maribaya, Lembang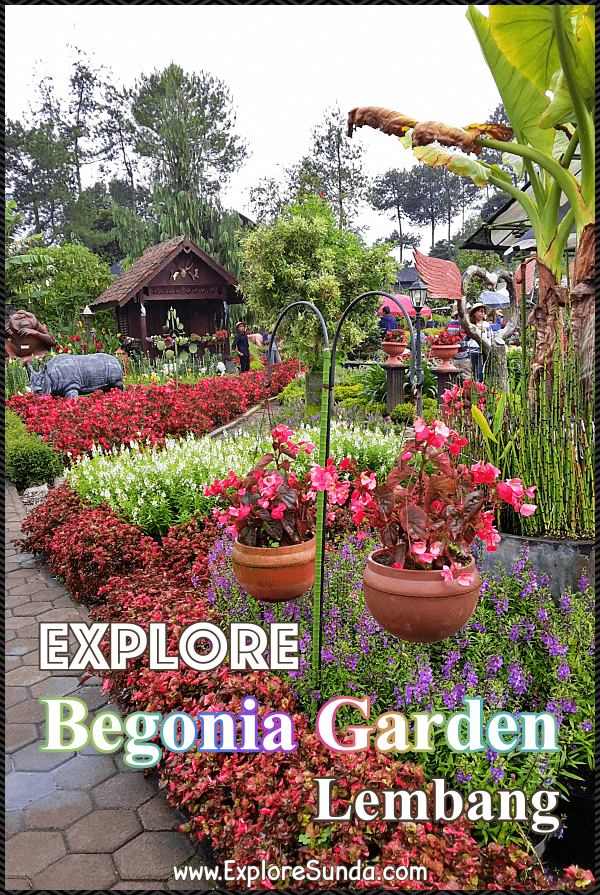 Begonia garden in Maribaya, Lembang (Kebun Begonia in bahasa Indonesia) is one interesting place to visit. Located on Maribaya street no. 120, this flower garden is not far from downtown Lembang, approximately 10 minutes drive on a normal day. The GPS coordinates are 6°49'34.0"S 107°38'20.0"E (-6.826111, 107.638886)

Snapping Pictures at Begonia Garden
The main attraction here is a garden full with blooming flowers. It is a sight to be hold, since it is not everyday we can find this kind of flower garden in the land of Sunda. Thus, it is a perfect place to capture many pictures :) Sadly, we must pay extra Rp. 50,000 for the DLSR camera. The cameras in our smartphones are already included in the Rp. 15,000 entrance ticket though.

Entering the garden, there is a pile of straw hats we can borrow, which we can return them at the exit.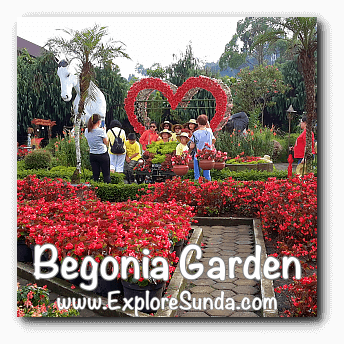 Kebun Begonia also equips with a couple of halls for small reception. As the name implies, a significant portion of the garden is covered with begonia. The remaining is covered with equally beautiful flowers such as roses, hydrangea and many other flowers I am not familiar with.  In one corner they even have a small paddy field complete with a buffalo statue! This garden is also decorated with lots of sculptures, bikes, and benches. All of these create a beautiful landscape and many photo spots. Thus, make sure you have plenty of memory in your smartphone :)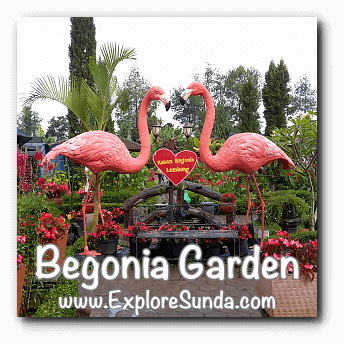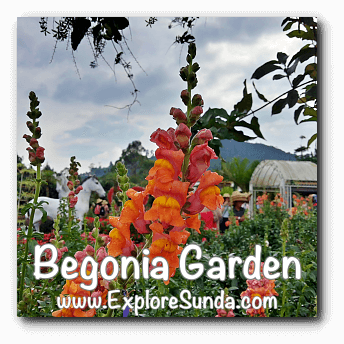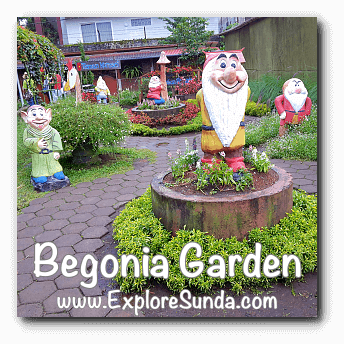 Seeing such a beautiful flower garden, do you want something similar in your own garden? It's simple, this garden has a nursery where you can buy potted flowers. The price is more expensive than similar nurseries in Cihideung, though.

Kebun Begonia also sells some vegetables, such as pumpkins and lettuce, they even have a greenhouse for a self picking cherry tomato.

Tired of taking pictures and shopping? We still can enjoy the beauty of the garden while enjoying some snacks at the cafe. Although the service is slow and the taste is just so so.

Since the garden is an open area, the cafe is always crowded during the rain. Visitors go there to find some shelters and hot drinks and food to warm them up. The rain is common occurrence here because being in a highland,  the weather in Lembang is always cool with unpredictable rain drizzles, which can stop and go all day long.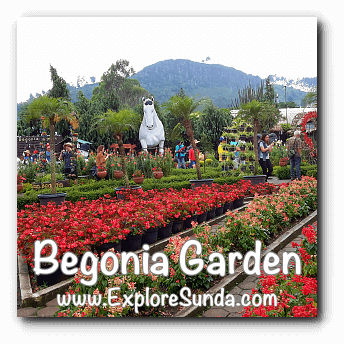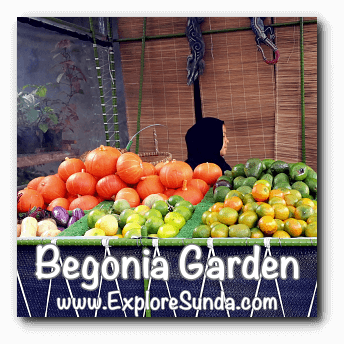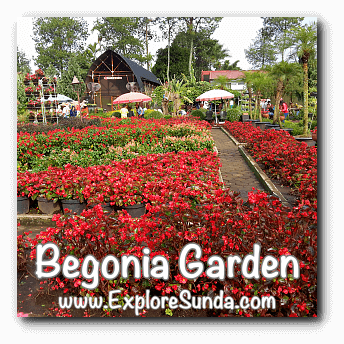 The best thing from Begonia garden is that it is very rare to find a garden full of blooming flowers. However, since the garden is relatively small in size, a couple hours is more than sufficient to explore it. Thus, while you are in Maribaya, Lembang, you may want to visit other places nearby:

If you love to stroll in a garden, you should add Taman Bunga Nusantara in your must visit list, as well as the two botanical gardens in Sunda: Cibodas and Bogor botanical gardens. There is a sakura [cherry blossom] garden in Cibodas and orchid gardens in Bogor. Another orchid park in the middle of pine forest that should be in your list is the Orchid Forest Cikole :)