Cibodas Botanical Garden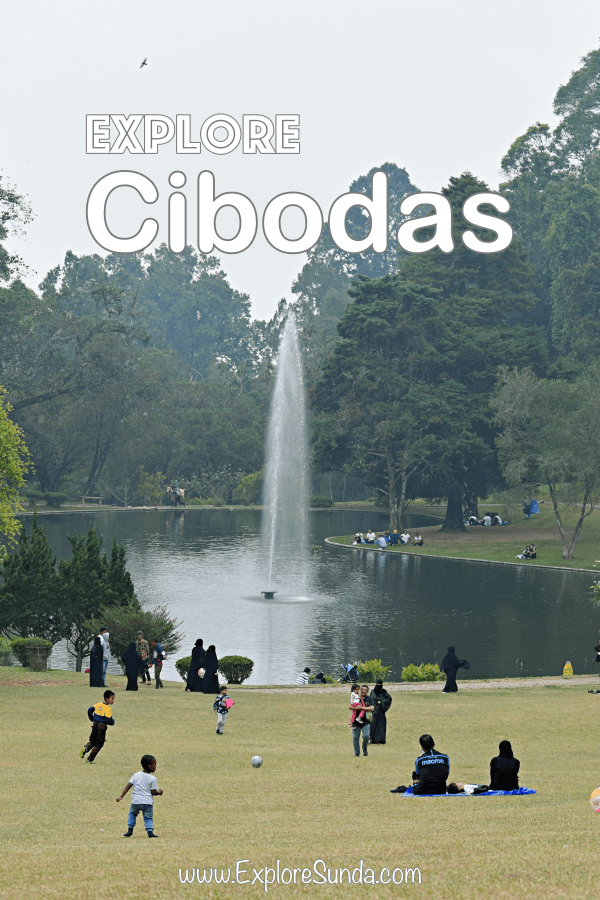 Cibodas Botanical Garden was founded in 1852 by J.E. Teijsmann, a Dutch botanist. It is an 85-ha of parks and gardens on the slope of Mount Gede Pangrango, which is approximately 1,300-1,425 meters above mean sea level. Hence, many subtropical plants thrive here.
While the botanical garden in Bogor is right in the heart of the city, Cibodas is quite remote. The gate to Cibodas is 4 km off the provincial road in Cipanas, Puncak, which is approximately 90 kilometers from Jakarta or Bandung. 
Technically, Cibodas is a botanical garden, but since it is located in the slope of mount Gede Pangrango, there are more wooded areas than garden here. Thus, I think it is more like a park than a garden. Not a flower garden at least ;-)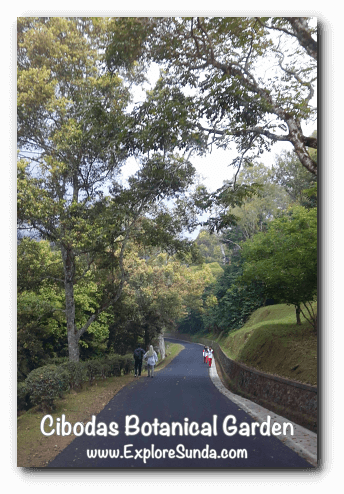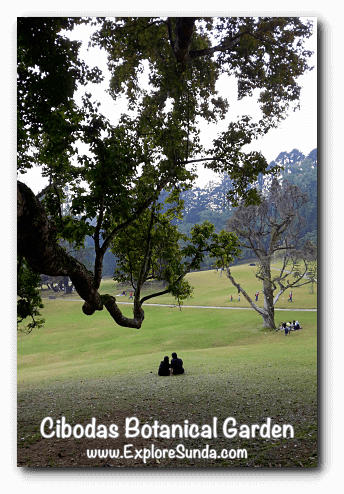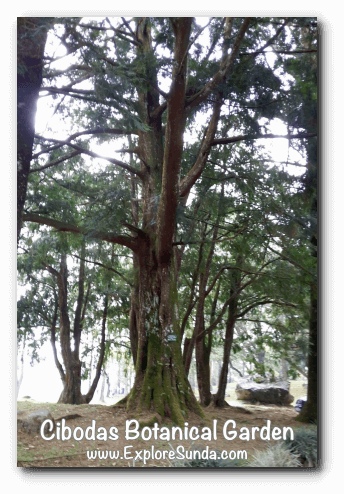 Once we have paid the ticket at the entrance gate, we can drive our car inside the park, as long as we don't go off road. We must drive on the asphalt road and never ever ruin the grass or plants there. Please park on the designated area, although people also use the shoulder to park when the parking area is full. Better yet, take the shuttle bus. We don't have to worry about parking and we can hop on and off at the places of interests in the park.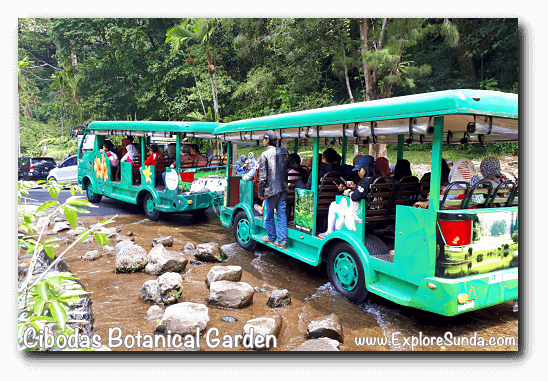 Cibodas is a big park with plenty of big old trees, so sometimes it feels like we are going on an excursion to a rainforest. However, over the years, several thematic gardens are built. We even can spend a night or two in the guest house. Which ones will be your favorite?

Big Pond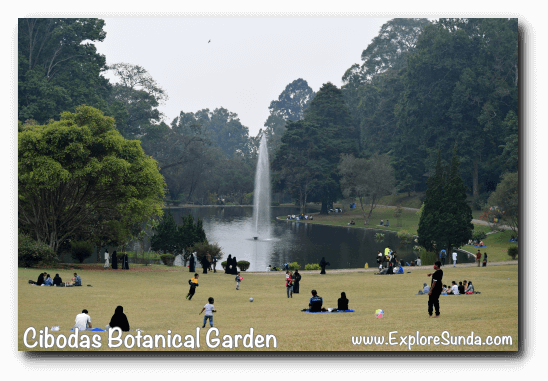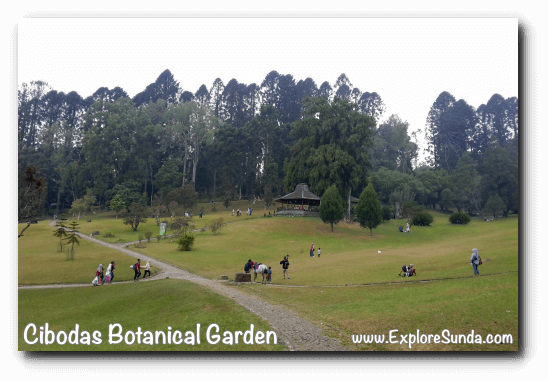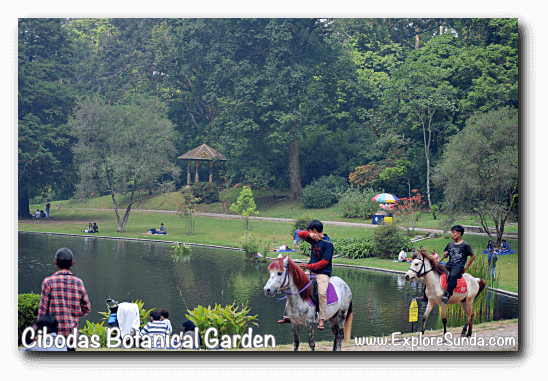 The big pond is the central activity of Cibodas botanical garden since forever. It's gorgeous, picture this: a huge lawn with plenty of big old trees, a big pond with lotus and a fountain at one end, a perfect place for a picnic! You can run around, some even try to be Po, the kung fu Panda, by rolling down the slope :) Or ride a horse to circle the area. There are several horses available for hire if you want to ride one.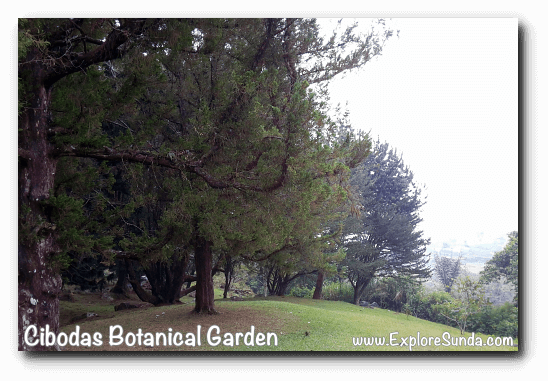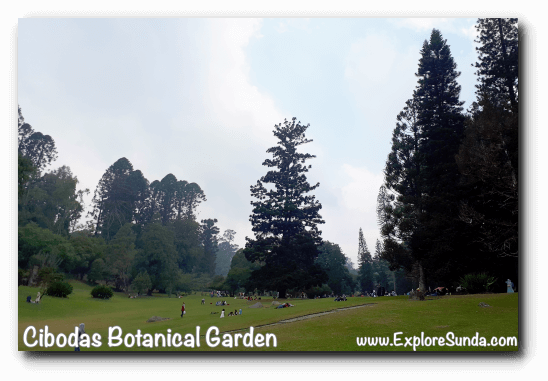 Guest House

If you'd like to spend a night or two in this botanical garden, check out the guest house. It is located at the far end of the big pond. So, yes, the view is definitely magnificent. 

There are several thematic gardens near the guest house. They are fern, moss, and amorphophallus gardens. 

Fern Garden

Since ferns thrive in the highlands, we could easily find them in the mountains. For example, along the way to Domas crater in mount Tangkuban Perahu. But here in Cibodas they are intentionally planted in one area called Fern Garden. 
Do you know?

Ferns are not only beautiful for decorative plants, they are also good for a lot of things, such as medicine, growing media for plants, and cooking ingredients. 

Taman Lumut (Bryophyte Park)

Opened since 2006, presently this garden has 235 types of mosses. It occupies 1,300 meter square of land, so far it is the largest outdoor bryophyte park in the world!

Amorphophallus Garden

The main collection in this garden is Amorphophallus titanum Becc., usually people know it as bunga bangkai (corpse flower) due to its stinky smell like corpse when it blooms. According to its name, this species has a giant flower, which can reach 3.17 meters in height. Too bad it only blooms once every four years.
The next two thematic gardens are the sakura and rhododendron gardens. They are next to each other.
Sakura Garden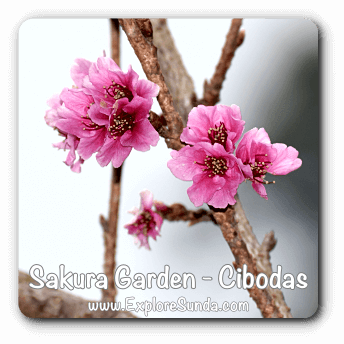 This is the favorite garden beside the lawn at the big pond. We can have picnic under the sakura trees and play water in the stream :)
Read more about Sakura Garden ...
Rhododendron Garden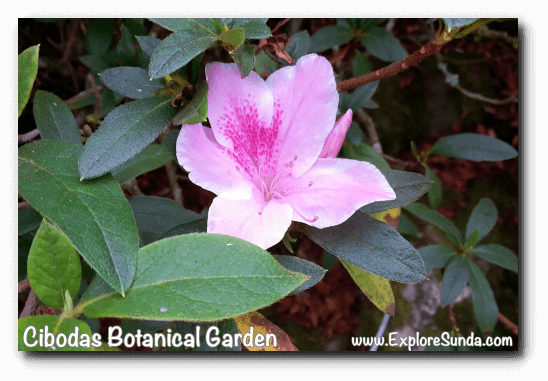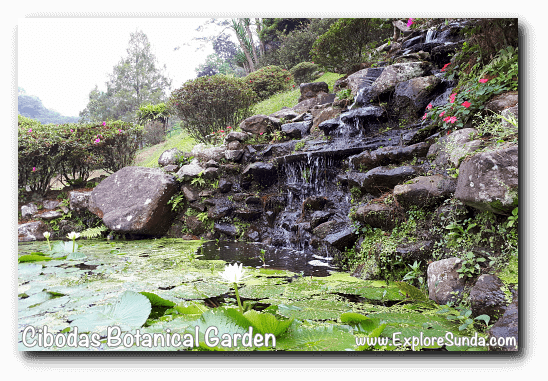 This garden is located on the slope in front of Sakura Garden. It's quite a bit of challenge to climb the stairs to see them. Actually, we can come from uphill, so we don't have to start from the bottom, if you know where to find the entrance. 

It is a well manicured garden, with lots of many different plants and a pond full of water lily, but there is not any explanation of what is rhododendron, so at first we thought it's just a name. Later on I did some research and found out that rhododendron is more popular as Azalea, a flowery colorful shrub. Unfortunately, there are not so many azaleas bloom when we were there. 
Do you know? 

The icon of Cibodas Botanical Garden is Rhododendron javanicum, an orange azalea indigenous of Java.
Rhododendron is the national flower of Nepal.
Curug Cibogo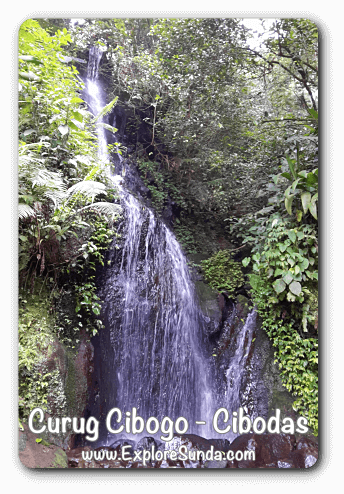 Usually we have to go either for a short or long hike to see a waterfall, but not for Curug Cibogo. This waterfall is located at one end of the Sakura Garden. It is a small waterfall though, but the water is sufficient to create a waterway and a small stream passing through the Sakura Garden. Unlike other waterfalls, people prefer to play in the waterway and the stream instead of in the small pond under the waterfall.
Actually, there are two waterfalls in Cibodas Botanical Garden. One is Curug Cibogo and the other one is Curug Ciismun. However, the latter is a bit far off from other points of interests, and we couldn't find any road sign while the map is useless. So, that would be for the next trip :)
Waterway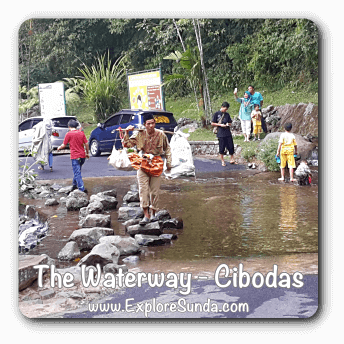 As I previously mentioned, the water from Cibogo waterfall is flooding the asphalt road then create a stream inside the Sakura Garden. The flowing water on this road is called the waterway. It is a challenge to hop on the stepping stones to keep our feet dry, or you have fun by walking in the water :)

Finally, the last two thematic gardens are the medicinal plants collections and liana garden.

Medicinal Plants Collection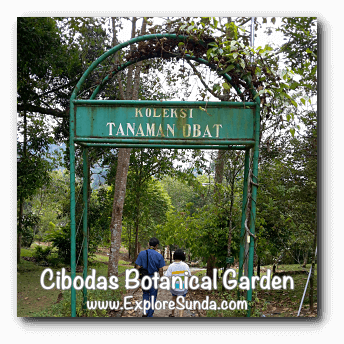 According to the official web of this botanical garden, this place was started in 2005. It occupies approximately 3,000 meter square of land, where 164 medicinal plants grow here. Unfortunately, it seems this place is not maintained well and there is not any information about the plants and what they are for. 

Liana Garden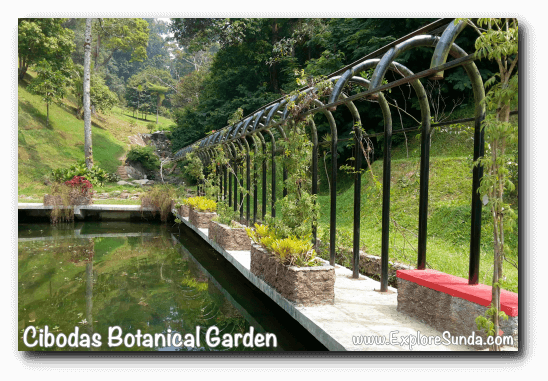 Built in 2017, this is one of the newest thematic garden in Cibodas botanical garden. Liana or climbing plants are plenty and easy to find in the tropical rainforest. Here we will see plenty of structures for the plants to climb, but the plants are few. Sadly, it look deserted. 
At the end of our visit, we found the fountain and big glass house near the exit gate. 
The Fountain and Glass House

The fountain is another point of interest in Cibodas Botanical Garden. 
It is located in the middle of a pond and garden. Behind it is a huge glass house, a building completely made of glass. When we were there in the late of August 2018, the inside is still empty though.
What can we do here? I saw some children play water in the small stream, others ride horses, while the grown up busy with selfies ;-)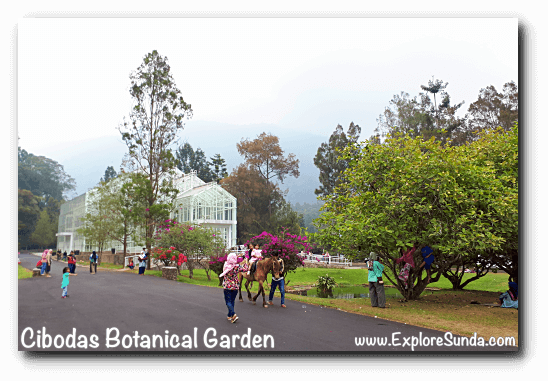 On the other hand, many people visit Cibodas to climb mount Gede Pangrango. Don't worry if it is your first time to climb mount Gede Pangrango, there are several tour guide services  that can help you arrange a guided tour.
Directions to Cibodas Botanical Garden

The only way to visit this botanical garden is driving through the main road of Puncak Pass. First, you should reach Cipanas, either from Jakarta or Bandung. Then, follow the road sign to turn into small road. The botanical garden is approximately 4 kilometers from this fork. The coordinates are 6°49'20.0"S 107°08'28.0"E (-6.822222, 107.141106).

Opening Hours:

8am-4pm daily

Ticket:

Rp. 16,500/person
Rp. 16,000/car
Sep 22, 23 01:49 AM

Explore Eco Green Park in Batu, East Java. Have fun family vacation surrounded by colorful and exotic birds, while learning ecology and green living.

Sep 18, 23 04:59 AM

Have fun in Jawa Timur Park 2, where you explore Batu Secret Zoo, Museum Satwa, join thrilling rides at Happy Land and play in the Fantasy Land waterpark, all in one place :)

Sep 12, 23 06:26 AM

Explore many interesting places outside the land of Sunda, mainly tourist destinations in Central Java, Yogyakarta, and East Java.