Taman Bunga Nusantara

Taman Bunga Nusantara is the garden where we can find lots of blooming flowers within a 35 hectares of perfectly manicured lawn. It has plenty of topiaries, theme gardens, picnic areas, and play grounds. 


When you buy tickets, please consider either buy a combo ticket, which combined the entrance ticket with the tram ticket or buy a separate garden car ticket. The garden tram, train and car operate as a shuttle bus, which we can hop on and off in the designated areas. It is really useful when you are tired exploring this huge garden. It will be too late if you decide to hop on the garden car when you are in the far corner of the garden, since you can only buy the ticket near the entrance.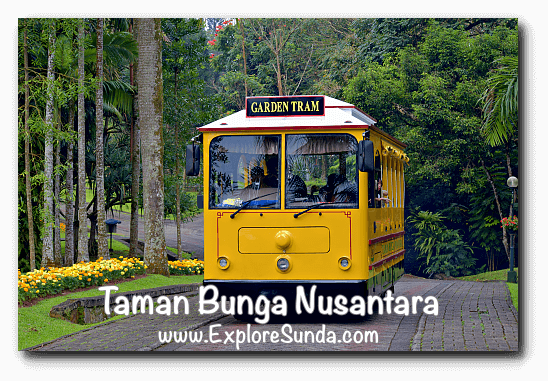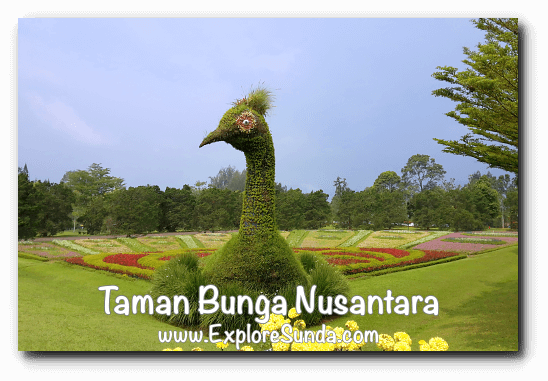 First thing we see upon entering this garden is a cascade waterfall. Next is a topiary of a giant peacock! They need more than twenty-five thousands potted plant to filled in the body and more than sixty thousands potted plant to decorate the tail. The flower pattern of this peacock is changed every two to three months. Actually, that's the secret how Taman Bunga Nusantara manages to have bloomed flowers all year round: they use potted flower plants abundantly! Any withered flower will be replaced simultaneously.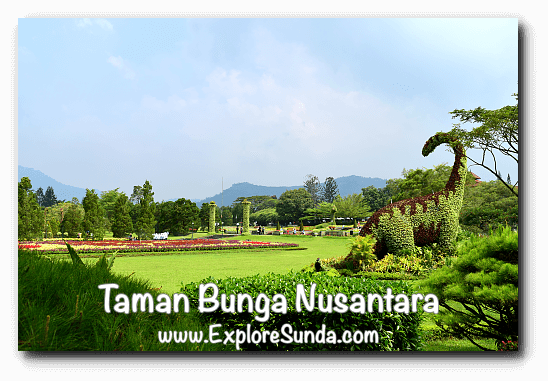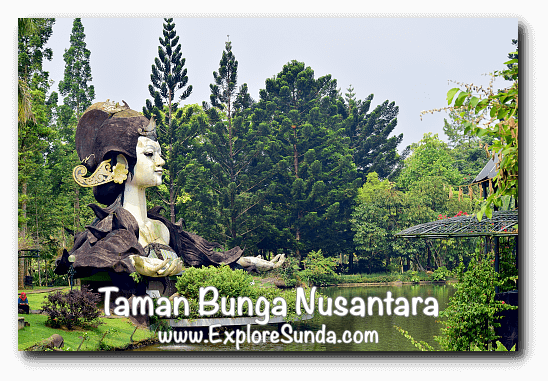 Other topiaries are smaller than the peacock and scattered all over the garden. The two dinosaurs are eye catching, while the giraffes are too blended with the background. There is a giant bunny and we will see more but smaller topiaries in the center of the labyrinth.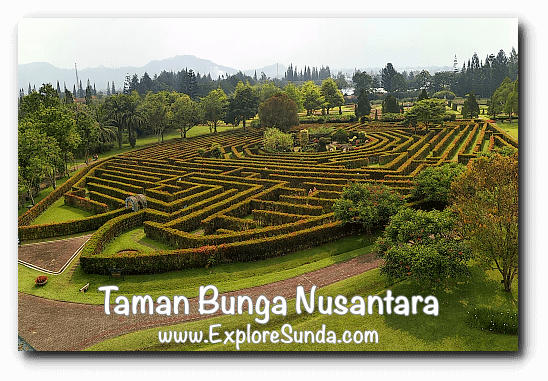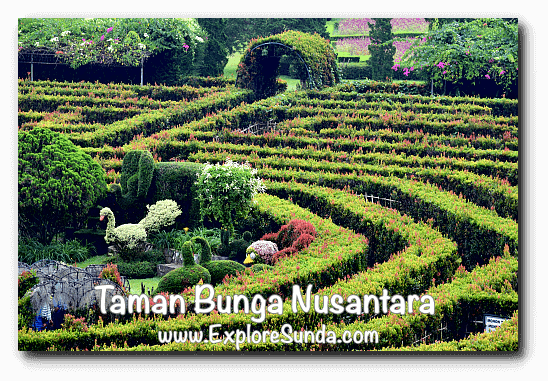 The labyrinth is fun and challenging. It is huge, it covers one hectare of land. There are two entrance to the labyrinth, one is located near the watch tower, the other one is on the opposite side. It is easy to get lost in this labyrinth, but for those who want the easy way out, there is a labyrinth map sold on the entrance ;-)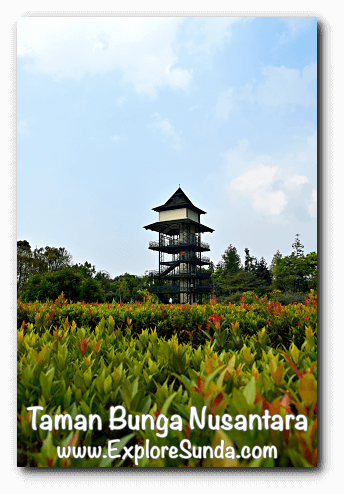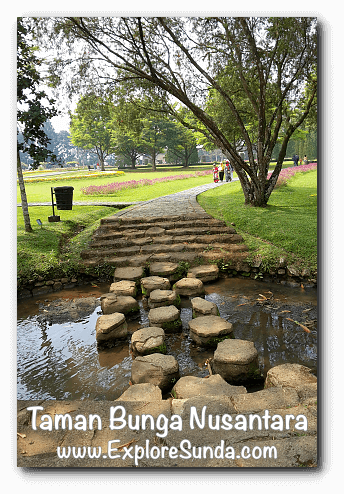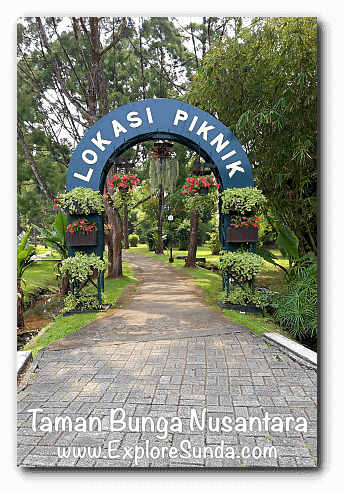 The watch tower is the highest structure in this garden. Hence, we can see the garden below clearly, including the labyrinth. Then further on we can see a fountain.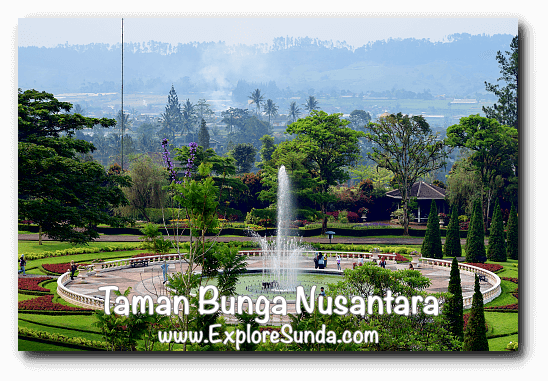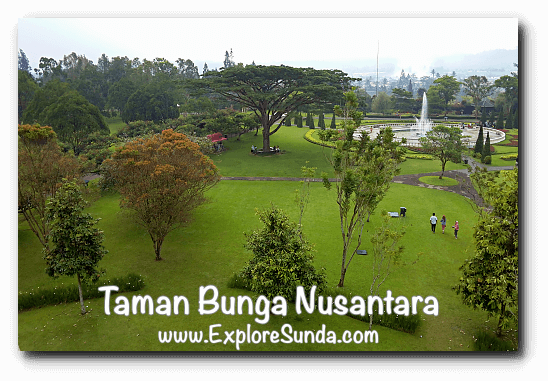 Now, it is difficult to walk around Taman Bunga Nusantara systematically, because we will easily get sidetracked, while the path keeps branching. For example, it is hard to decide whether we keep straight from the peacock topiary to see the clock garden or go left to see water garden or take pictures with the dinosaurs topiary. There are too many beautiful spots to see and take pictures. So, you'd better allocate several hours to spend here.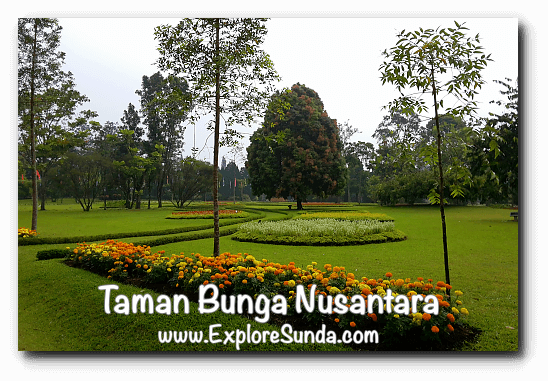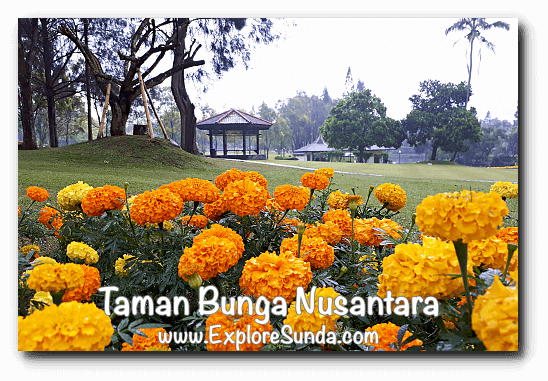 As a flower garden, there are several theme gardens inside Taman Bunga Nusantara. They are: 

Rose garden that full of rose bushes from several types. Not all of them are blooming though.
French garden, typical with its geometric shapes and symmetrical patterns on the principle of imposing order on nature. 
Mediteranian garden, mostly are filled with cacti.
Japanese garden is surrounded by white walls. Tranquility emanates from this garden. It has one cherry blossom tree, although it has no flower, since this tree is not common and difficult to bloom in Indonesia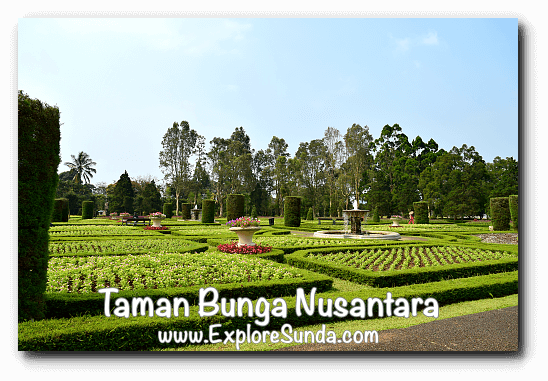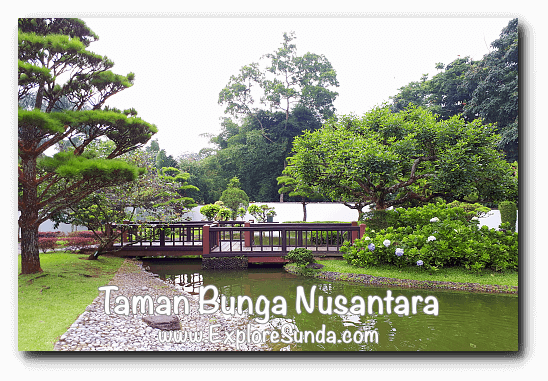 Bali garden, which is a lush tropical garden decorated with a gazebo to relax. It is separated from the rest of the garden by a Balinese gate called Candi Bentar.
Palm garden is a wide lawn where various types of palms are planted.
American garden. There are two types of American garden displayed here: the Country Classic garden and Native garden.
Water garden, where we will see various types of lotus and water lily as well as the giant  water lily called Victoria amazonica, which has huge leaves.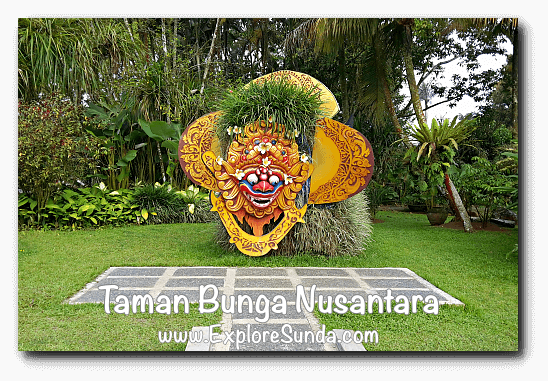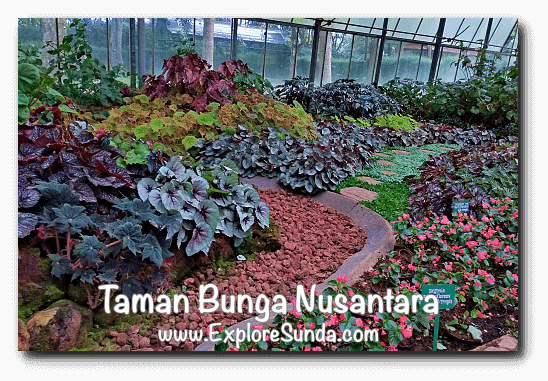 Taman Bunga Nusantara also has a state of the art green house. We have to pay additional ticket of Rp. 5,000/person to enter the premises. Unfortunately, the advanced technology is wasted here. It seems there is no real purpose of what this green house is for. Hence, there is no significant success of planting anything since the beginning. It has been used for many different types of plants and now it becomes a garden for begonia.

Tips: bring an umbrella for the unpredictable weather. During our visit, the weather changes dramatically, from a scorching sun to a pouring rain in a matter of hours.

Since Taman Bunga Nusantara opens daily from 8am to 5pm, we can stay all day long there. There are a couple of restaurants where we can dine-in. Alternatively, bring your own food and have a picnic! This garden has a couple of picnic areas :)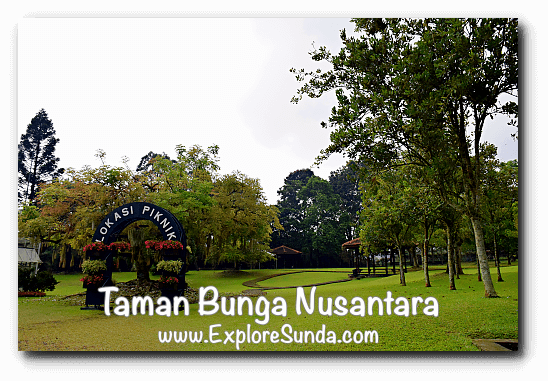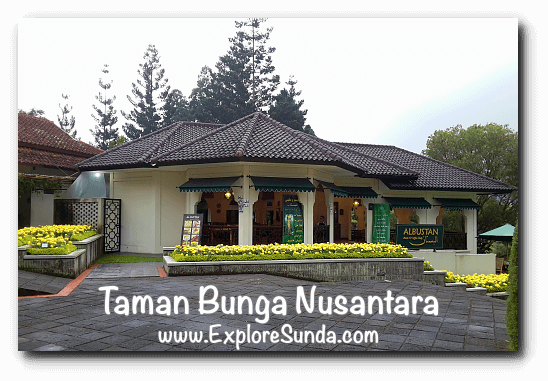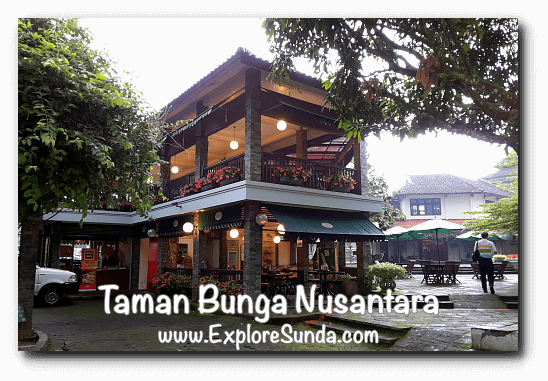 Children can happily play in Alam Imajinasi. There are several games offered there, such as ATV ride, go-cart ride, bumper car, train ride, horse ride, etc. However, we have to pay additional ticket for each game. On average the ticket price is Rp. 25,000.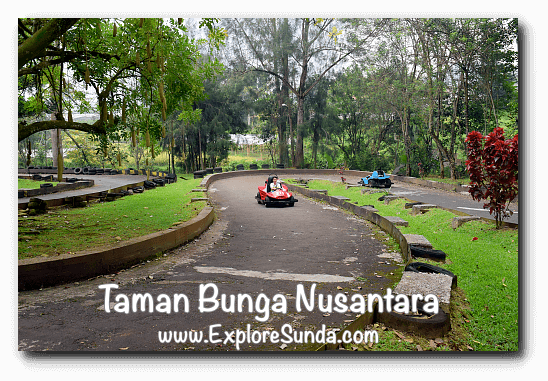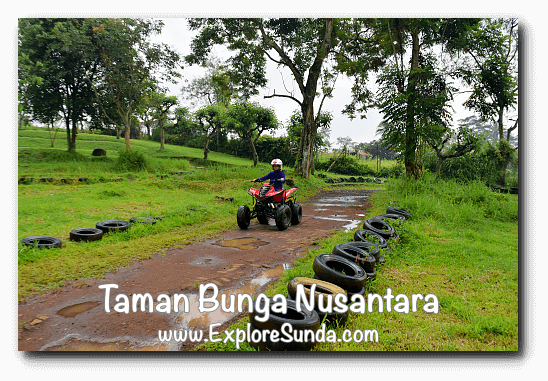 Directions to Taman Bunga Nusantara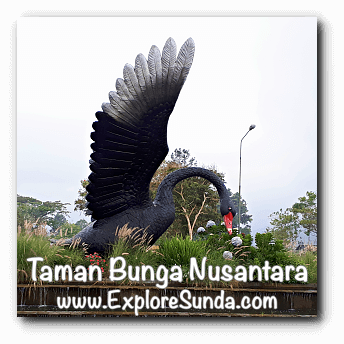 The entrance to Taman Bunga Nusantara is not located on the side of the main road. There are at least three narrow roads leading to this garden. Depending on which road you choose, the distance from Cipanas main road to Taman Bunga Nusantara is approximately 6-8 kilometres. 
If you come from Jakarta, slow down when you have reached Cipanas and look for road sign to turn left to narrow road leading to Taman Bunga Nusantara. 
It might be easier to find this garden using its GPS coordinates: 6°43'38.4"S 107°04'45.4"E [-6.727327, 107.079278]. 
Address:
Mariwati street km. 7, Cianjur regency.
GPS coordinates: 6°43'38.4"S 107°04'45.4"E
Opening Hours:

Weekdays: 8am-5pm
Weekend: 8am-5.30pm
Ticket:

Entrance fee: Rp. 40,000
Entrance fee + Garden tram:     Rp. 50,000
Entrance fee + Dotto train:         Rp. 50,000
Garden car: Rp. 5,000
Taman Bunga Nusantara is not the only beautiful garden/park in the land of Sunda. These other parks are equally interesting, what do you think?
Sep 22, 23 01:49 AM

Explore Eco Green Park in Batu, East Java. Have fun family vacation surrounded by colorful and exotic birds, while learning ecology and green living.

Sep 18, 23 04:59 AM

Have fun in Jawa Timur Park 2, where you explore Batu Secret Zoo, Museum Satwa, join thrilling rides at Happy Land and play in the Fantasy Land waterpark, all in one place :)

Sep 12, 23 06:26 AM

Explore many interesting places outside the land of Sunda, mainly tourist destinations in Central Java, Yogyakarta, and East Java.