Where to Eat in Lembang?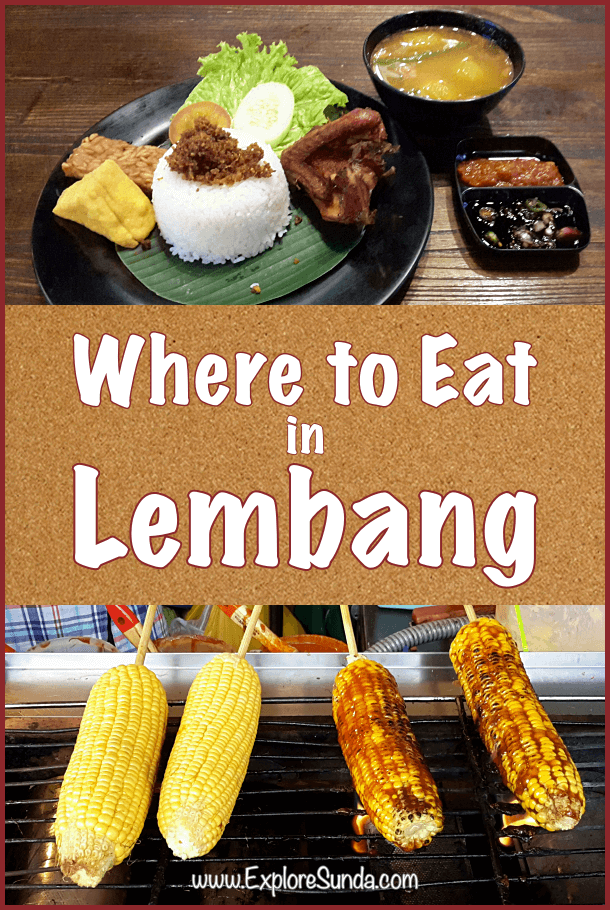 Lembang is one of the top tourist destinations in the land of Sunda, hence, there are two types of places to eat here: 
First option is the foodcourts and restaurants inside the places of interests. Usually they don't allow us to bring any food and drink from outside, hence, our choices are very limited. 
Second option is to go to many independent restaurants scattered around this town. Many of these restaurants only provides places to sit and eat, but some of them have beautiful landscape and offers more than just places to eat.
Most of the restaurants serve Sundanese food, but some also serve Chinese food. Being in the highland, seafood is not common dishes here. 
We, at the ExploreSunda.com, has compiled a list of recommended restaurants around this town. On top of that we also cover special food and drink you can only find here.
Restaurants in Lembang

The downtown has many small restaurants offering various cuisines, such as Sundanese, Chinese, and noodle house. 

Should you crave for Chinese food, Mandarin restaurant is the best. The location is right in the center of the town. 

Although there are several Sundanese restaurants here, our top recommendation is still Sindang Reret restaurant and hotel. The location is in Cikole, near mount Tangkuban Perahu, approximately 15-30 minutes drive from downtown.

Sindang Reret  Restaurant and Hotel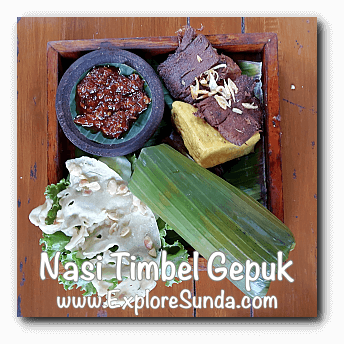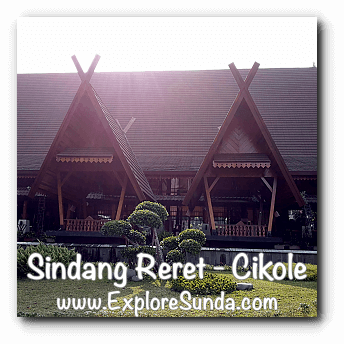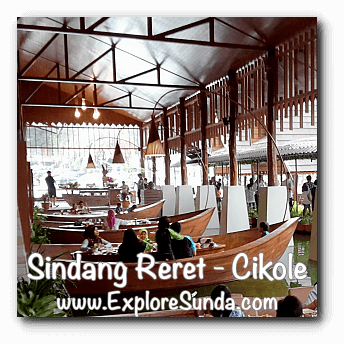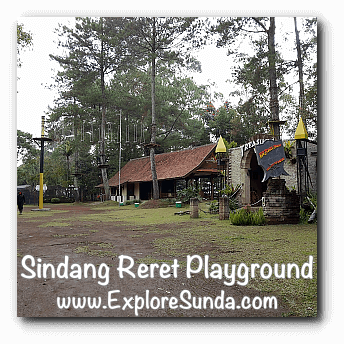 This restaurant specializes in Sundanese cuisines such as fried and grilled gourami fish as well as chicken, gepuk (grilled beef) and karedok (the Sundanese salad with oncom sauce). The food are delicious and the place is cozy. We can choose to dine in the saung (a gazebo where we sit on the floor with coffee table) or on the dining table. But if you are lucky you can dine in a boat!  
Sindang Reret is more than just a restaurant. It is a combination of hotel, restaurant and playground in one area. There are several games offered in the playground, such as ATV rental, horse riding, and walking on a high rope.

Kampung Daun Culture Gallery Cafe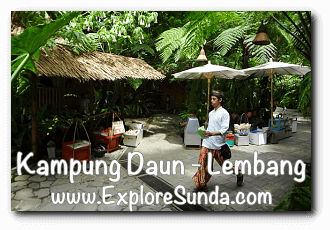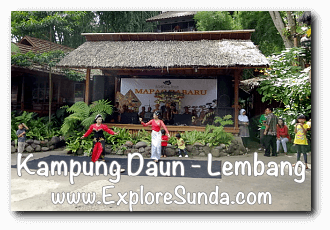 Kampung Daun is located in Trinity Residence in Cihideung village. The lay out is unique, most of the dining areas are in the shape of small gazebos (saung), uphill following the contour of the land. It is a Sundanese restaurant offering typical Sundanese cuisines, similar to Sindang Reret. In addition, many traditional snacks are sold on the path. So, it feels like we are in a small village. Often there are traditional dances perform on the open air stage.

Sapu Lidi Cafe, Resort & Gallery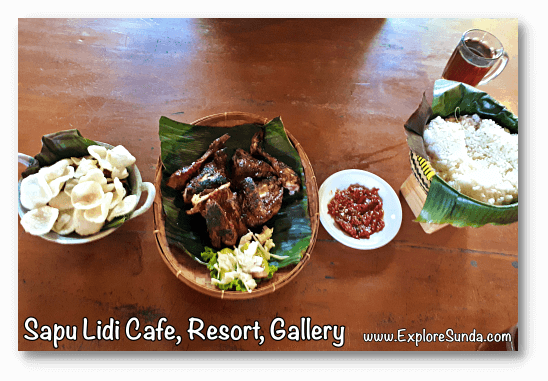 Located at Graha Puspa, a residence complex in Cihideung village, Sapu Lidi Resto provides a cozy ambience. You can choose to dine in its main hall or in saung (Sundanese word for a hut). If you choose a hut, be prepared to sit on the floor (it is called lesehan). There are several huts you can choose, facing a lawn, in a garden, or in the middle of small paddy fields. Even there is a lotus pond in Sapu Lidi.
Sapu Lidi serves Sundanese food, many of the dishes in its menu are in Sundanese words, which may be difficult to pronounce for non-Sundanese persons ;-) The important thing, they are delicious :)
You can buy a local sweet called gulali in the corridor. You even can watch the seller create and form the sweet into many forms.
Specialty Snacks from Lembang
Grilled sticky rice and grilled corn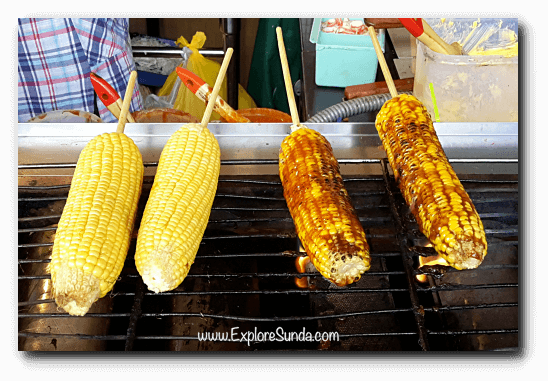 The number one specialty snacks from Lembang since forever are grilled sticky rice (ketan bakar in Bahasa Indonesia) and grilled corn. You can find them in the pedestrian walk in downtown or on the way to mount Tangkuban Perahu and Ciater hot spring. 
The sticky rice is cooked beforehand and cut into cuboid. The seller will grill them upon order. Usually these sticky rice are served with sauce. There are 3 sauces available: peanut, fried coconut shreds, and oncom. You can choose one of them or mix it. The oncom and peanut sauces are a bit spicy, while the coconut shreds is neutral.
Although the process and the look are the same, the taste is slightly different between the stalls. Our recommended vendor is the one in front of Pulau Mas restaurant. 
Since they are at the pedestrian walk, each seller usually only has one bench. If you want to eat the grilled sticky rice and corn as well as hang out, you'd better try the small eateries on the way to mount Tangkuban Perahu. It is only 10 minutes drive from downtown, on the right side of the road. 
However, our favorite place to eat grilled corn is in front of Gracia spa. It is a bit far from Lembang, near Ciater hotsprings, which takes about 30 minutes drive, but it has beautiful view of tea plantation in the background. 
Tempe and Oncom Chips

Another favorite snacks are  tempe chips and oncom chips. The shop is in the front row of the fruit market in the main road of the town. You will not miss it since it has two giant wok pan that can be easily spotted from the street.

Lembang Fruit Market
Although the price of fruits and vegetables in this market is a bit more expensive compare to other traditional market, they are still cheaper with higher quality compare to the ones in supermarket. Here you can find fresh avocado, tomato, broccoli, carrot, pumpkin, orange, and many more. Most of them are locally produced.

Fresh Milk and Yoghurt
Lembang is famous as an important milk producer in Sunda. You can buy fresh milk and yogurt in the North Bandung Milk Cooperation (KPSBU). You can drink the yogurt right away, but the milk must be pasteurized (warm it up until 70 degree Celsius) first. The location of KPSBU is right behind the traditional market.
Alternatively, you can buy frozen yogurt at Cijeruk street, near the intersection of the traditional market. The specialty of this shop is mixing fruits such as strawberry, grape, lychee, mango, etc into the yogurt. It is really delicious. Unfortunately, the shop only sells frozen yogurt (literally frozen like ice cubes) and there is no place for dine in.
Here you can also buy various flavor of popsicles called mambo ice, made of coconut milk and fruits. There are various flavors available, such as avocado, coconut, mocha, chocolate, strawberry, mango, blackberry, and black sticky rice. So, whenever you come here, don't forget to bring your cooler. Alternatively, the owner will wrap your ice with newspaper. Usually they will still be frozen for an hour or so. 
In addition to the list of restaurants and snacks above, every places of interest in Lembang usually offers various kind of food. Have you explored them?
Sep 22, 23 01:49 AM

Explore Eco Green Park in Batu, East Java. Have fun family vacation surrounded by colorful and exotic birds, while learning ecology and green living.

Sep 18, 23 04:59 AM

Have fun in Jawa Timur Park 2, where you explore Batu Secret Zoo, Museum Satwa, join thrilling rides at Happy Land and play in the Fantasy Land waterpark, all in one place :)

Sep 12, 23 06:26 AM

Explore many interesting places outside the land of Sunda, mainly tourist destinations in Central Java, Yogyakarta, and East Java.