Horse Riding at De Ranch - Lembang Bandung
Lembang has several places for horse riding. One of them is De Ranch. I like it here because its horses are the big tall ones, almost like the ones in cavalry. The horses are tame enough even for us who never ride before. They are definitely bigger than the horses used for horse riding in Bandung. If these horses are too big for young children, they can choose the ponies.

Once you have paid the ticket for the ride (Rp. 25,000 per person per ride), you may borrow a cowboy hat and vest to wear during the ride. All set, then you are ready to ride a horse around the pasture. This place has a huge field, in the center there are two fenced fields for horses grassing around. Looking at the mountains in the background, this spot is really picturesque.
The horse ride starts from the ticket booth where the horses are lined up ready for a ride. Although all of these horses are tame, every horse has its own keeper, who will walk beside it to accompany every guest during the ride. Hence, you don't need to worry to fall off the horse, even though you never ride a horse before. Usually, the horse only walks and the reign is held by the keeper. However, if you are confident enough, the keeper will let you handle the horse by yourself. Of course, he will still accompany you throughout the ride.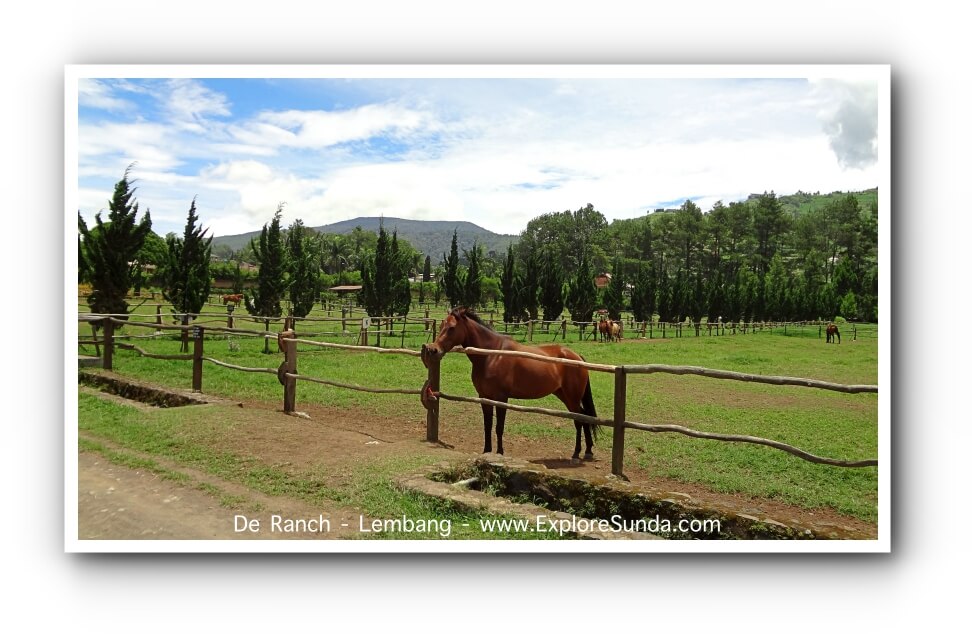 Although the main attraction is the horse ride, De Ranch has several other games and rides. Some of them are trampoline, cycling, horse-cart ride, paddling in a pond, fishing for young children, flying fox, and archery. So everyone can play and enjoy being here.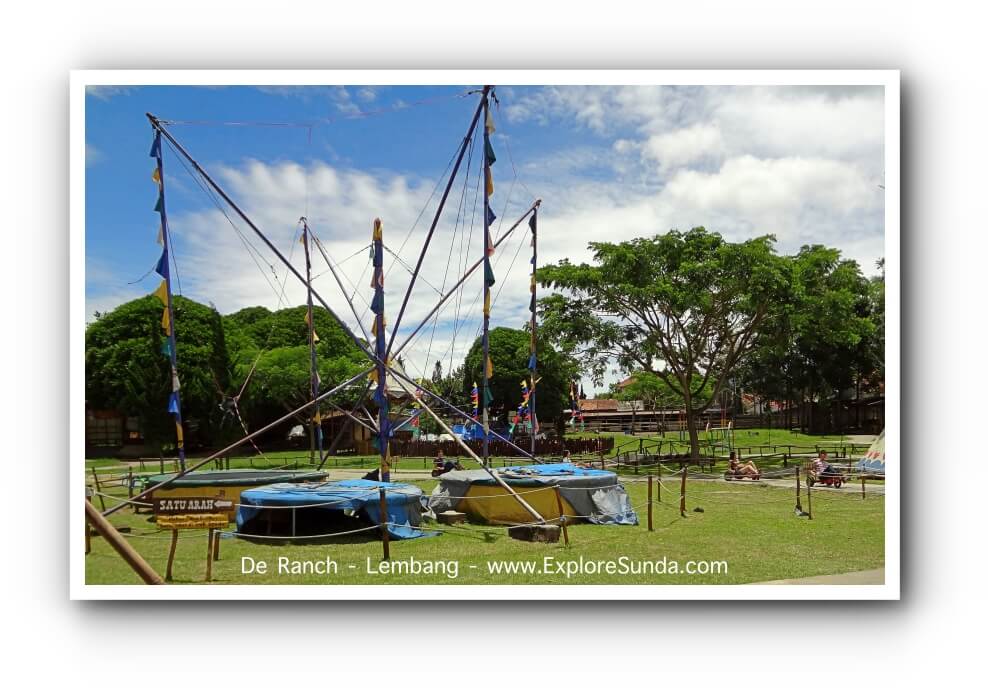 Tickets

Address:
Maribaya street no. 17, Lembang
Opening Hours: 
Tue - Sun : 9AM-5PM
Closed on Mondays
Ticket:
Rp. 8,000/person
Additional ticket for each ride/game applied
The ticket price to De Ranch Lembang is Rp. 8,000/person, which can be exchanged into a cup of drink in the lobby: one ticket for a cup of fresh milk or two tickets for a cup of yoghurt. 

Then you must buy tickets for each ride or game you want to do. The ticket price varies according to the game or ride you choose. For example, a ticket for one horse ride is Rp. 25,000. There is not any one day pass ticket available.

Meals

If you take many rides, you most likely will spend hours at De Ranch. Whenever you are tired playing, there are many food stalls you can choose. The layout looks like a foodcourt with a big hall with lots of tables and chairs in the middle. Even it has two halls, where one has a stage for live performance. However, in my opinion, the food offered are more snack types and the tastes are just average.

Directions to Go to De Ranch Lembang

It is easy to go to De Ranch Lembang. It is just outside the downtown of Lembang, in the direction to Maribaya. Although most visitors come with private vehicles (cars and motorcycles), you can go to De Ranch using public transportation too. There is a public transportation between Bandung and Lembang that will stop at Lembang market. From there we only need to take a short walk or try the a very common public transportation in Lembang: horse carts called delman :)
De Ranch is only one of the many parks in Lembang. Here are some other interesting places nearby:

---
Have you had your fill of Lembang yet? 
Do you know that Bandung has a forest park called Tahura Juanda popularly known as Dago Pakar? It is an easy hiking from Tahura Juanda to Maribaya, Lembang.
Try other places that offer horse riding: De Ranch Cisarua and Gunung Mas Tea Plantation in Puncak are more convenient for you who live in Jakarta. But if you feel adventurous, try the horse back riding through the mountain to reach Gedong Songo temples!
Jan 26, 23 03:00 AM

Explore Tangerang: where fun activities mix with the charm of an old town. Visit museum, have fun in World of Wonders and shopping mall, or stroll in the parks.

Jan 16, 23 10:11 PM

Visiting Bandung will never be the same without shopping in the famous Bandung Factory Outlet! Get to know the best shops here...

Jan 16, 23 01:33 AM

Besides gathering and having a picnic, what people look forward to doing in parks and gardens? Here are the five most popular things they want to do ...