Where to Eat and Sleep in
Ujung Genteng Beach

Are you planning to go to Ujung Genteng beach? Two essential items you need to know beforehand are the availability of eateries and accommodations there.
Good news for you who likes to cook, some accommodations there are equipped with kitchens!
Knowing where to eat and where to sleep will help to prepare your expectations and smoothen your holiday. 
Types of Accommodations in Ujung Genteng Beach

The typical accommodations in Ujung Genteng beach are small and modest guesthouses. They uniformly called themselves as Pondok or Pondokan. They only offer basic facilities. Most of them offer bedrooms only, often with communal bathrooms. Many of these guesthouses have less than ten small bedrooms without air conditions nor water heaters.
Upgrading from these guesthouses are two or three star hotels. There are two hotels that we, at the ExploreSunda.com, are recommending: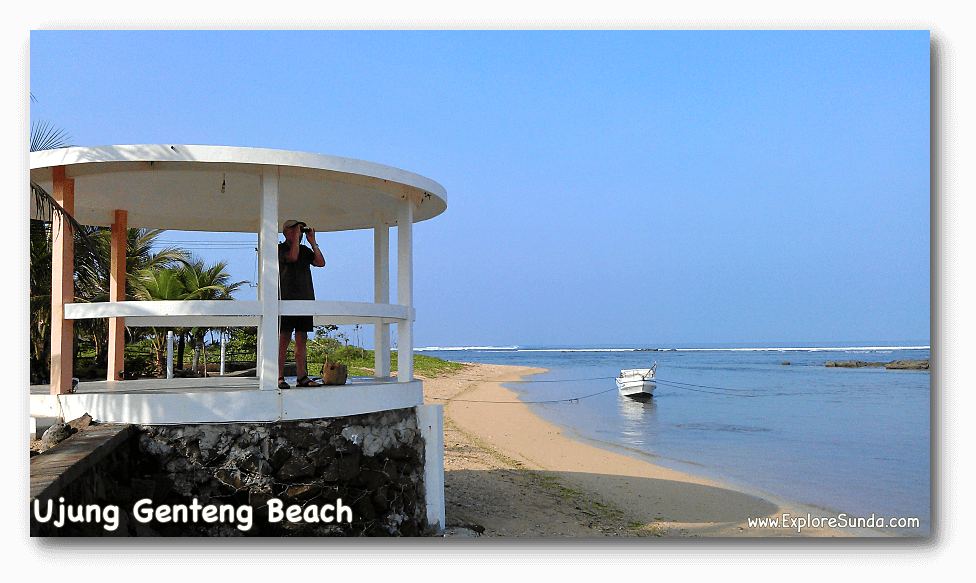 Turtle Beach Resort
This hotel opened around 2012. It is a two-story hotel with a total of ten rooms, some are single rooms and the remaining are two bedrooms with a living room. All rooms are equipped with air conditioners and one basic bathroom. Unfortunately, there is no hot water for showers. All of the rooms are facing a swimming pool. The strongest point of this hotel is that it is located right in front of the beach. 
The gate to Green Turtle Conservatory at Pangumbahan beach is right next door, so the distance between the hotel and the conservatory is only 3 km or 20 minutes by motor vehicle. 
We stayed in this hotel during our holiday in March 2014, since it was the only hotel we could find on the internet. We really enjoyed our holiday there. The manager of the hotel was also helpful in providing information about places of interests and he even could help to arrange transportation or a tour guide.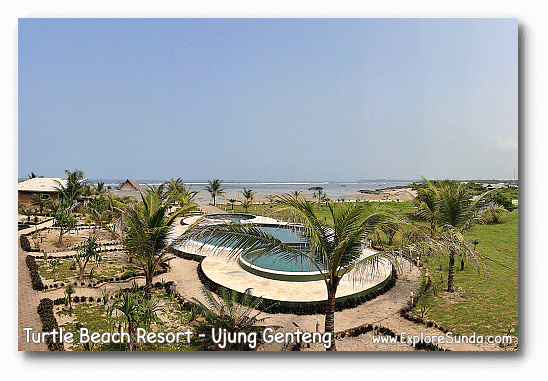 Pondok Hexa
Although its name starts with Pondok, this motel is an upgraded version of the so-called pondok. 
Pondok Hexa  was initially built in the 1990s, but it is well maintained and continuously renovated. Hence, some of the rooms are new. This is the biggest hotel in Ujung Genteng beach. It has rooms with indoor bathrooms, two bedrooms villas, and three bedrooms villas. Each villa is equipped with a kitchen and bathrooms. Pondok Hexa is the only hotel that provides hot water for showers! It also has a small playground, a swimming pool, a restaurant and 2 souvenir shops. The only drawback is the beach is about 50-100 meters from the motel, where you need to cross the yard and street first.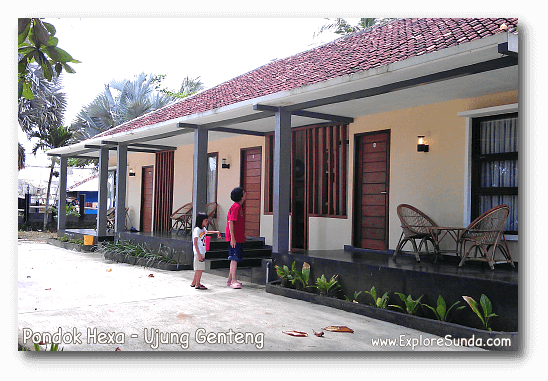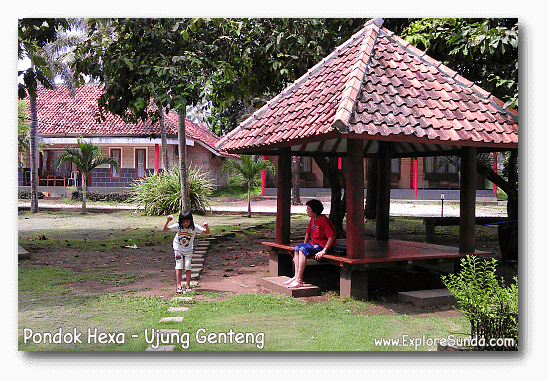 Ujung Genteng  is usually crowded during weekends (tourists arrive on saturday and spend a night there), school breaks (at the end of the year and mid June to mid July), national holidays, especially new year and the peak is during Eid Al-Fitr holiday.
So, other than those busy days, it is easy to find accommodation in Ujung Genteng beach, just drive around and check out the place first. You even can negotiate the price. But it would waste some of your holiday time.
Although it is cheaper and more relaxing to take holiday during low seasons, the bad news is, there are few choices of eateries in Ujung Genteng during the low season. 
Where to Eat in Ujung Genteng?

Being on the beach, the number one choice of food here is fresh seafood. You can buy it directly from the fishermen and ask to cook it. But, many of this type of eateries are closed when only few tourists stay in Ujung Genteng beach. 
We spent our holiday on the weekdays of low season, hence, most of the already limited eateries are closed. The best food in this area is the restaurant in Pondok Hexa. Another option is the restaurant at Turtle Beach Resort.
During our trip to Cikaso waterfall, we found a small restaurant in Surade town, called Dapur Iga. We ordered Nasi bakar teri (rice mixed with herbs and anchovies, wrapped in banana leaves and then grilled) and grilled chicken. They are delicious. Unfortunately, it takes 1 hour drive (approximately 30 km) from Ujung Genteng to Surade.
Knowing your options of food and accommodations in Ujung Genteng, are you ready to explore Ujung Genteng beach? 
May 23, 23 04:28 AM

Planning to travel to Jakarta? Find the tips on traveling to Jakarta, getting around Jakarta, history, and frequently asked questions here ...

May 22, 23 11:28 PM

Get all the information on Jakarta airport train here: the train stations, how much the ticket cost, and how to buy tickets.

May 19, 23 03:36 AM

Get the best view of Malabar tea plantation, Situ Cileunca, and Pangalengan Bandung from Nimo Highland!