Three Zones of Indonesia Time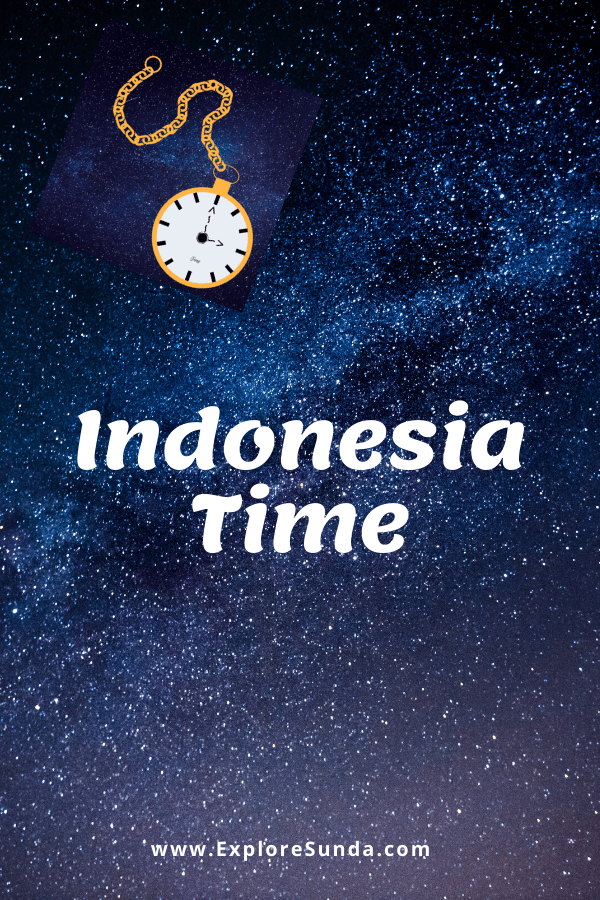 To travel Indonesia, you need to consider Indonesia time, because Indonesia is a big country covering the area of 1.9 million square kilometers. The distance between Sabang in the west and Merauke in the east is 5,236 kilometers. 
Therefore, Indonesia time is divided into 3 zones:
The first time zone is west zone, formally called Western Indonesia Standard Time. It is known as Waktu Indonesia bagian Barat, abbreviated as WIB in Bahasa Indonesia. It covers West and Central Kalimantan, Sumatra and Java, including Sunda. It is GMT+7 hours.
Next is central zone or known as Central Indonesia Standard Time. It is known as Waktu Indonesia bagian Tengah, abbreviated as WITA in Bahasa Indonesia. It covers East and South Kalimantan, Bali, lesser Sunda, and Sulawesi. It is GMT+8 hours.
The east zone or known as Eastern Indonesia Standard Time is GMT+9 hours, for Papua and Maluku. It is known as Waktu Indonesia bagian Timur, abbreviated as WIT in Bahasa Indonesia.
There is no daylight saving time in Indonesia because it is a tropical country, lies right on the equator. Days and nights are equal, 12 hours a day. There is only half hour difference on the time of sunrise when the sun is in the farthest north or south. Hence, the sunrise is between 5.45 and 6.15 am WIB, Western Indonesia Standard Time. Likewise for the sunset, it is between 5.45 and 6.15 pm WIB. 

Since ExploreSunda.com only covers the area of Sunda, the Indonesia time we use here is the Western Indonesia Standard Time, which is GMT+7 hours.
Indonesia Time on Attractions, School, Office and Shopping Malls Operational Hours
The school hours in Indonesia varies, depending on the type of the school. Normally, students in standard schools go to school from Monday to Saturday, the school starts between 6.30am and 7.00am until mid day. The students in national plus and international schools go to school from Monday to Friday. Usually they start a bit later because they study longer everyday to cover up the free Saturday.

The official office working hours are 8.30am until 5.30pm, Monday to Friday. However, based on my experience, many staffs working in Jakarta have to work pass 5.30pm to catch up with the workload. So, don't be surprised if you see many lights in office buildings are still on until late at night.

The operating hours of shopping malls usually 10am until 10pm, except for special occasions such as Late Night Shopping, they will open up until midnight. Thus, supermarkets inside these shopping malls will also have the same operating hours.
It doesn't apply to supermarkets that operate in their own buildings though, some of them starts as early as 8am. Likewise with the department stores that occupy their own buildings. For example, the opening time of Yogya Department Stores ranges from 8am to 10am, and close between 9pm to 10pm, depending on the store location. 
Other types of shopping centers in Indonesia is Trade Centers, known as modern market and some are within ITC group. This is a four to five-story buildings with lots of independent shops selling many types of merchandises. Favorite merchandises sold here are cellular phones and their accessories, computers, toys, clothes and apparels. The most popular trade centers in Sunda are Mangga Dua in Jakarta and Pasar Baru in Bandung. 
As common practice any shopping malls opens from 10am to 10pm. Pasar Baru Bandung opens since early in the morning since its basement is used for fresh market. However, the shops on the ground floor up to the food court in the top floor open around 10am. 
The operating hours of tourist attractions vary considerably, depending on many factors. For example, every museum has different operating hours and one day off every week. You should check it first when you plan your trip. Many tourist attractions such as theme parks open at 10am. Taman Mini Indonesia Indah opens at 7am, but the museums, parks and gardens will not open until later. Taman Impian Jaya Ancol, a.k.a. Ancol opens for 24 hours, but the theme parks and other facilities are not.
Having well informed about Indonesia time, I wish you enjoy your trip to Indonesia. Let's start with  Sunda :)

Sep 22, 23 01:49 AM

Explore Eco Green Park in Batu, East Java. Have fun family vacation surrounded by colorful and exotic birds, while learning ecology and green living.

Sep 18, 23 04:59 AM

Have fun in Jawa Timur Park 2, where you explore Batu Secret Zoo, Museum Satwa, join thrilling rides at Happy Land and play in the Fantasy Land waterpark, all in one place :)

Sep 12, 23 06:26 AM

Explore many interesting places outside the land of Sunda, mainly tourist destinations in Central Java, Yogyakarta, and East Java.