The Fastest Drive from Jakarta to Bandung

A drive from Jakarta to Bandung is so easy and fast after the opening of the Purbaleunyi toll road in 2005. Presently, this is the fastest and the most direct road trip to Bandung. Depending on where you exit in Bandung, the distance is approximately 130 kilometers. You drive on Jakarta Cikampek toll road until you reach km. 66, then you enter Purbaleunyi toll road. There are many established rest areas along the way. Every rest area has plenty of restaurants, a gas station, a mosque, and restrooms. 
A couple of things you should know about the restrooms in the rest areas:

Not all of the rest areas have clean restrooms, often without toilet paper nor handsoap. So, you'd better bring toilet paper or baby wipes.

Although the rest areas provide free restrooms, the janitors expect every visitor to give them some tip (Rp. 2,000 would be enough). 
Enjoy your drive from Jakarta to Bandung
Due to the heavy traffic on Jakarta - Cikampek toll road, an elevated toll road was added (from km.11 to km. 47). Officially, this elevated toll road is named after Sheikh Mohammed Bin Zayed. Hence, it is popularly known as MBZ toll road. Only small vehicles are allowed to drive through it; neither bus nor truck can enter it.
The MBZ toll road is more than five meters above the ground, without any rest area. It means once you go up, you can not stop until you reach the next rest area, which would be km. 57 if you drive from Jakarta to Bandung or km. 7 if you go to Jakarta. So far, MBZ is preferable because this two lanes toll road has light traffic. But, you have to take extra caution because this toll road is a bit bumpy with slight up and down depending on the bridges below it. In some points you can see the grounds below, a bit scary for people with acrophobia.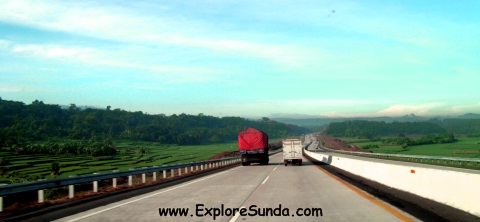 If you choose to drive from Jakarta to Bandung via the ground level of Cikampek toll road, there isn't much to see during the first 50 kilometers. They are mostly industrial parks on either side of the toll road. But as soon as you change lane on km. 66 and  enter the Purbaleunyi toll road, the view changes, especially during rainy seasons.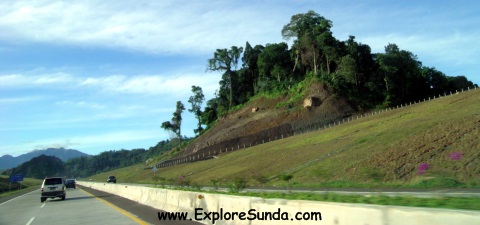 Perhaps you wonder, why rainy season? Because during that time the fields are all green: the paddy fields, the grass, and the pine forest. Sometimes it is foggy, which enhances its beauty. Near km. 115 you will pass a classic railway bridge. It was built circa 1905, during Dutch settlement. It is one of my favorite views at Purbaleunyi toll road, especially when a train passes it.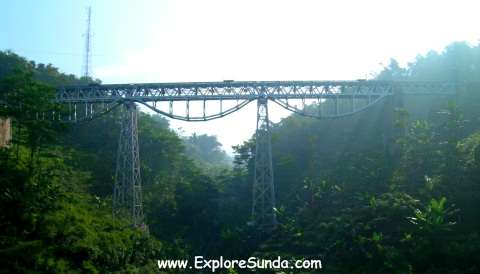 However, you must be cautious all the time, since this toll road is passing several mountains and crossing several long bridges. Hence, there are rarely flat areas in Purbaleunyi toll road, mostly it keeps going up and down. Plus, you must be extra careful when it is raining because it would be challenging to see what lies ahead.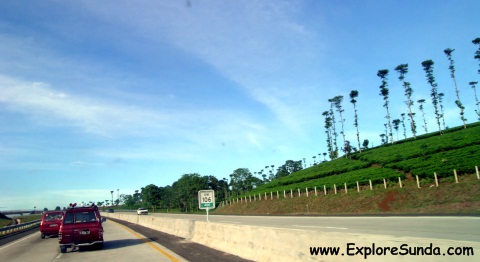 Spend a weekend in Bandung?

To avoid traffic congestion, either you leave early on Friday afternoon before the rush hour or very early on Saturday morning.

When you drive from Jakarta to Bandung, you will pass five entrances to Bandung: Pasteur, Pasirkoja, Kopo, Mohamad Toha, and Buah Batu toll gates. You should exit at Pasteur or Pasirkoja if you want to go to downtown and northern Bandung, such as Dago and Lembang. 
A new toll road at Pasirkoja is called Soroja (Soreang - Pasirkoja). It connects the city of Bandung to the south towards small towns such as Ciwidey, Banjaran, and Pangalengan. If you want to change lane to Soroja, you have to take Pasirkoja exit and immediately choose Soroja lane.
The next exits are Kopo, Mohamad Toha, and Buah Batu. Currently, the end of Purbaleunyi toll road is at the Cileunyi toll gate. Then, it merges into the provincial roads that lead you to towns such as Sumedang, Cirebon, Garut, Tasikmalaya, and Pangandaran beach. This road also leads to Central Java.
Take a drive from Jakarta to Bandung through Cikampek and Purbaleunyi toll road is only one option for a road trip to Bandung. If you are a solo traveler, it might be more economical to catch a bus or shuttle bus.  Alternatively, take a road trip through Puncak Pass, then you can explore some of the many places of interest in Puncak. 

Sep 22, 23 01:49 AM

Explore Eco Green Park in Batu, East Java. Have fun family vacation surrounded by colorful and exotic birds, while learning ecology and green living.

Sep 18, 23 04:59 AM

Have fun in Jawa Timur Park 2, where you explore Batu Secret Zoo, Museum Satwa, join thrilling rides at Happy Land and play in the Fantasy Land waterpark, all in one place :)

Sep 12, 23 06:26 AM

Explore many interesting places outside the land of Sunda, mainly tourist destinations in Central Java, Yogyakarta, and East Java.