Getting Around Bandung
7 Options to Easily Reach Your Destination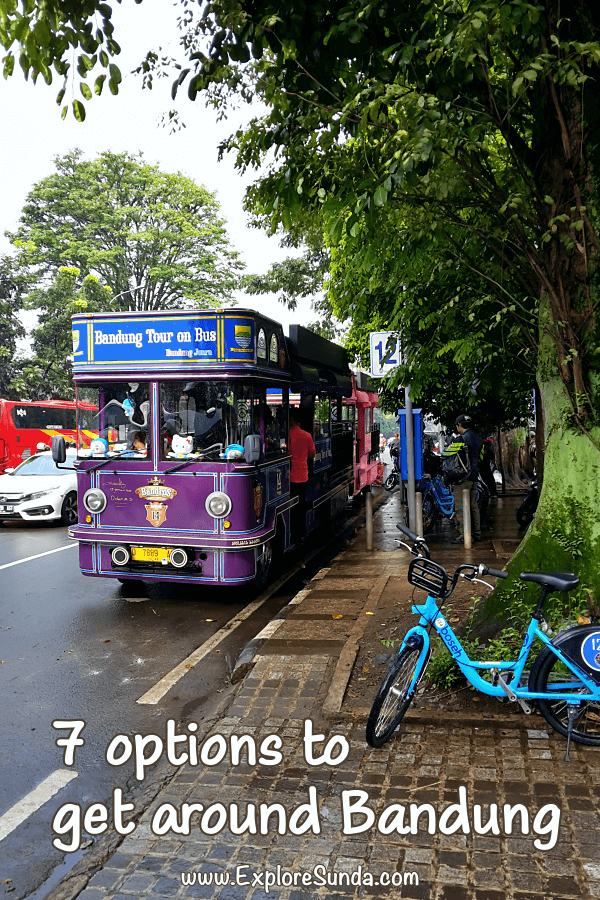 Getting around Bandung is easy, once you know the mode of transportations available in this city.
There are many types of public transportations you will find in this city. In short, the options for getting around Bandung are:

Let's look at them in detail, shall we?
#1. Drive/rent a car.

The most comfortable and convenient way of getting around Bandung is to rent a car with a driver. You don't have to worry about how to get to your destination. You only need to inform the driver where you want to go.  You just sit, relax, and enjoy the view inside a full air-conditioned car. You also don't have to worry about where to park the car. Of course, the biggest drawback of this option is the price. However, if you travel in a group of five, rent a car might be affordable and a better choice than other means of transportation in getting around Bandung. 


Rent a car in Bandung is mostly useful when you want to go to the towns surrounding Bandung, such as Lembang, Ciwidey, Garut, and Pangalengan. 

#2. Call a taxi.

Bandung has several brands of taxis, but you will not see them as many as in Jakarta. Mostly you will see some taxis waiting in hotels or malls. In my experience, some taxis are not well maintained: the cars are old and dirty. Most of the time these drivers do not want to turn on the taximeter (we called it argometer). 
The very recommended taxi in Indonesia is the Bluebird taxi. Therefore, whenever you need a taxi, I suggest you call the Bluebird. Just call its Bandung call center (022-7561234) or book through MyBluebird mobile app (available in Google Play Store and App Store). 
Note: I'm not an affiliate to Bluebird nor receive any financial gain, but this taxi company is the most recommended taxi in Indonesia for its safety and cleanliness. Most of the drivers are respectful and friendly too.
#3. Use ride-hailing apps to request a ride.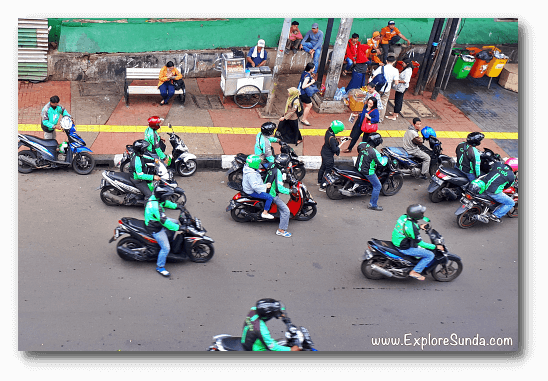 These days the ride-hailing app is very popular. It is a good alternative to a taxi, even to car rental, mostly due to its competitive price. Presently, there are two ride-hailing apps in Indonesia: Gojek and Grab (Uber merged into Grab a couple of years ago). They are widely used in cities such as Jakarta, Bandung, and Cirebon. 
First, you have to download the mobile apps (search Gojek or Grab, they are available in Google Play Store and App Store). Creating an account is pretty straightforward. Next, you only need to choose whether you are going to hail a car or a motorcycle. If you travel alone, a motorcycle taxi (we called it ojek) is cheaper and faster than a car. When you order a car or an ojek, you will see the cost before you confirm the order. You can pay it with cash or through the apps. 
Note: if you approve of the driver, you might make a deal with him/her for a day ride :)
You can book a Bluebird taxi through the Gojek app. Sometimes it is just easier to have one app instead of juggling two or three different apps.
#4. Getting around Bandung on Bandros (Bandung Tour on Bus).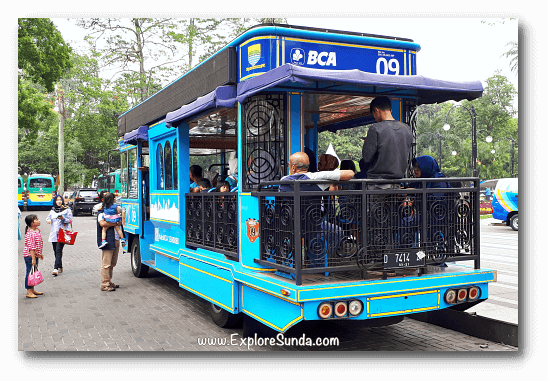 This is a fun way to go on city sightseeing. Bandros is an open-air bus. Their colors are so eye-catching that you will not miss them.  Bandros offers several routes, the most popular ones are going around the city square (it is called Alun-Alun in Bahasa Indonesia) and Braga street. You could get on Bandros at Bandung city hall on Merdeka street, across Geology Museum on Diponegoro street, and beside the city square (Alun-Alun). Last year the ticket was Rp. 20,000/person. The operating hours are from 8 am to 4 pm (the last trip starts at 3 pm).

#5. Catch a city bus.

There are two city buses in Bandung: Trans-Metro Bandung and Damri, both are state-owned companies. Trans-Metro Bandung is similar to the Trans-Jakarta bus in Jakarta. Unfortunately, it is difficult to find information about their routes. Plus, there isn't a fixed schedule, so you just have to wait until the right bus arrives. The ticket is around Rp. 5,000/person. However, if you only have a short holiday in Bandung, I wouldn't recommend getting on any of these city buses, because if you get lost, you will waste your precious time.
#6. Get on Angkutan Kota a.k.a. Angkot.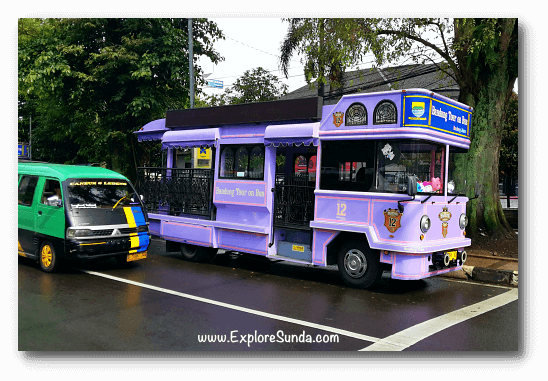 Another public transportation in Bandung is the colorful Angkot (Angkot or Angkutan Kota means city transport in English). They are small bright-painted vans. Different color is assigned to each route. Thus, the trick is to find the right color combination to get you to your destination! 
Anyway, I write about Angkot as for your information only, since it is too confusing for non-regulars, especially the ones who can't speak Bahasa Indonesia, to find the right route then matching it to the right Angkot to take you to your destination.
#7. Rent a bicycle.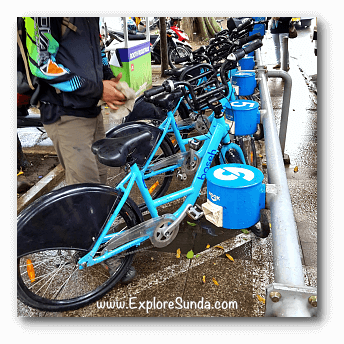 Yes, you read it right! You can rent a bicycle and ride it anywhere in Bandung. The rent is dirt cheap: Rp. 1,000 for the first hour and Rp. 2,000 for every hour afterward. There are several bike-shelters around Bandung, so you can return it to other shelters. For example, you rent a bike on Diponegoro street, adjacent to the Bandros bus stop and across from Geology Museum. Then you ride it to the city square (Alun-Alun in Bahasa Indonesia) and drop it there.
One caveat: the traffic in Bandung is not that bike-friendly. Perhaps you could try biking during the car-free day or Sunday mornings when the traffic is light.
Getting around Bandung is easy when you know the options. Rent a car, call a taxi, and request a ride through ride-hailing apps are your best options, while Bandros (Bandung Tour on Bus) is a fun way for the city sightseeing. 

Have you decided on the places you want to see and things you want to do in Bandung?
Dec 04, 23 08:41 PM

Summarecon Mal Serpong: the favorite shopping mall in South Tangerang for the whole family to do shopping, pamper in beauty salons, learn to cook in a cooking studio, watch movies, and play in the arc…

Oct 26, 23 11:32 PM

A visit to Benteng Heritage Museum at the old town of Tangerang to see the history and culture of China Benteng.

Oct 13, 23 03:33 AM

Explore De Voyage Bogor, a new European theme garden for selfie and hang out. Take tons of beautiful pictures and join the activities :)