Jalan Kelenteng Bandung
The New Chinatown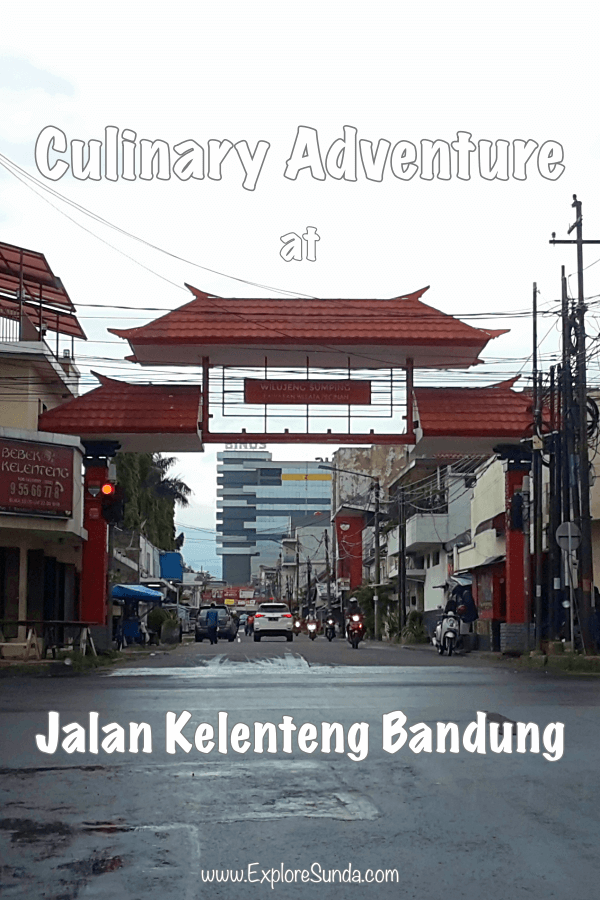 These days in jalan Kelenteng Bandung, we surely will find delicious foods, the largest and oldest temple in Bandung, and the new the new food court and selfies place called Chinatown. Surprisingly, you will find a tiny museum inside the Chinatown!

Kelenteng is an Indonesian word for a Konfucian temple. This street got its name because there are several temples in this street, the first and the largest one is Hiap Thian Kong (Palace of Gods in English), which was opened since 1855. Due to the banned of Chinese name in 1965, it changed its name to  Vihara Satya Budhi. Presently, both names are allowed and used interchangeably. 
The Hiap Thian Kong temple is under Satya Budhi Foundation. Over the years, the foundation built other temples in the same complex: Vihara Samudra Bhakti and Vihara Buddhagaya. Hence, this is the largest complex of temples in Bandung.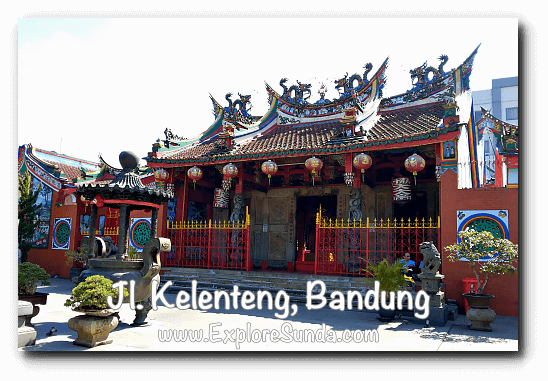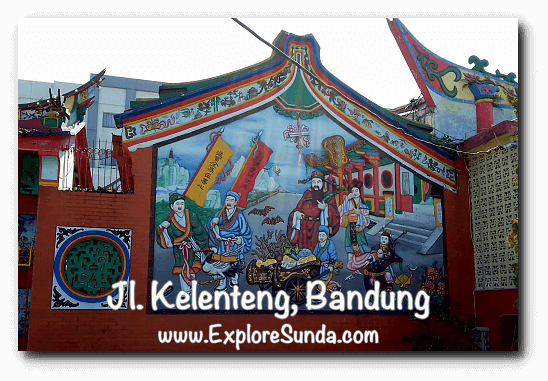 Food Hunting in Jalan Kelenteng Bandung

There are various foods sold in this street, some are offered inside small restaurants, some are sold in food carts, but snacks are usually sold on the tables on the pedestrian walk. 
The most famous food in jalan Kelenteng Bandung is called Nasi Campur. It means mixed rice in English, although, it actually is a rice set with char siew (the red barbecue pork). You will see most restaurants here sell it, but in my opinion the best char siew is sold by Hokie, the food cart right in front of the temple gate.
Actually, there are two food carts here, the other one sells ambokueh. This is another food icon in jalan Kelenteng Bandung. It is a combination of fried rice flour, fried pork sausage, a boiled egg, fried tofu, cucumber and cooked pork ear if you like. We eat it with sweet and sour sauce. Although it is a Chinese cuisine, I never find it outside Bandung.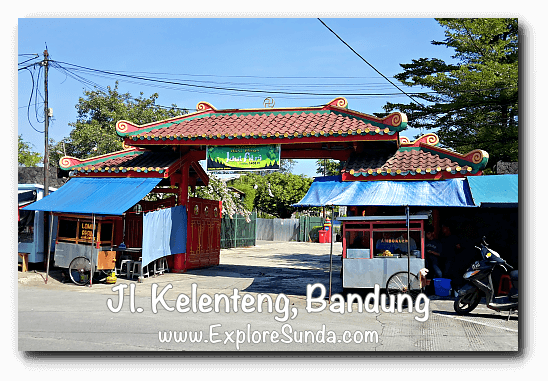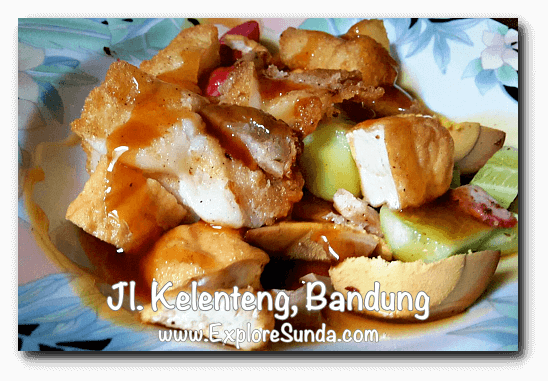 Chinatown: the New Foodcourt in Jalan Kelenteng Bandung

Next, is the Chinatown. Basically, it is a food court designed with Chinese architecture and ornaments. To enter the premises, you have to pay Rp. 20,000 on weekends. All the food sold here are halal food, i.e. food prepared without pork and lard.
All transactions inside Chinatown use Flazz card (the prepaid card from BCA) or BCA debit card. Don't worry, the first kiosk is BCA kiosk where you can buy and/or top up the Flazz card. Alternatively, you can pay with any credit card for any transaction more than Rp. 100,000.
Opening Hours:

Mon-Fri: 11am-10pm
Sat: 11am-11pm
Sun: 10am-10pm
Entrance Fee:

Mon-Thu: Rp. 10,000
Fri-Sun: Rp. 20,000
This place is fully decorated with the traditional Chinese design, including the small garden. Hence, you will find several perfect photo spots here. Chinatown even has a rental costume kiosk, where you can rent a traditional Chinese costume, complete with make-up and a photographer.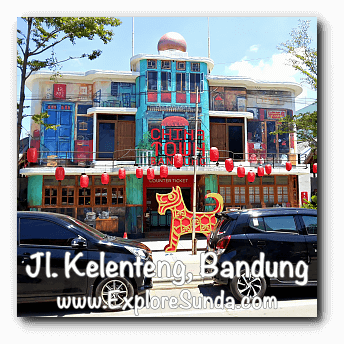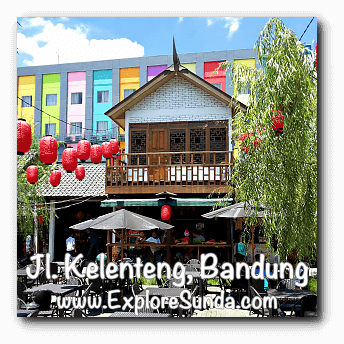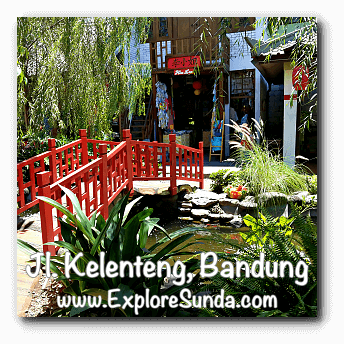 There are two seating options here: outdoor and indoor. Visitors tend to prefer the outdoor seating, although it's a bit too much during the sunny days. Hence, late afternoon to dinner time is a more preferable time. Alternatively, you still can dine-in in the indoor area, although the area is limited.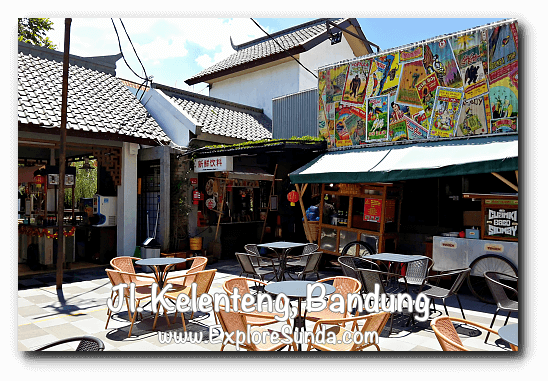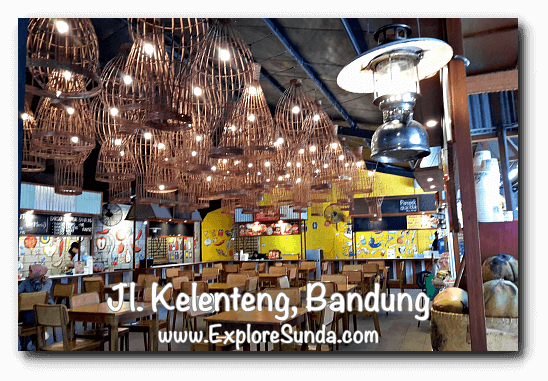 In addition to the food court, there are several souvenir shops too. As you can imagine, most if not all of them are souvenirs made in china :)

When people first enter the Chinatown, often they focus on BCA kiosk, with its bright logo and the salesgirl who reminds every visitor to top up their Flazz card. After that, you might see a green door right across BCA. It is the smallest museum I have ever visited. 
The name of the museum is Bandung Chinatown Museum, which only occupies one small room. One side of the room displays various daily things we used in the past, such as tin cup and plates, old bicycle, coal iron, and manual typewriter. The other side displays the history of Indonesian Chinese in Bandung.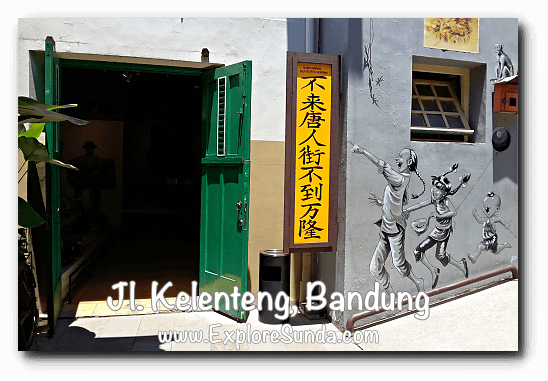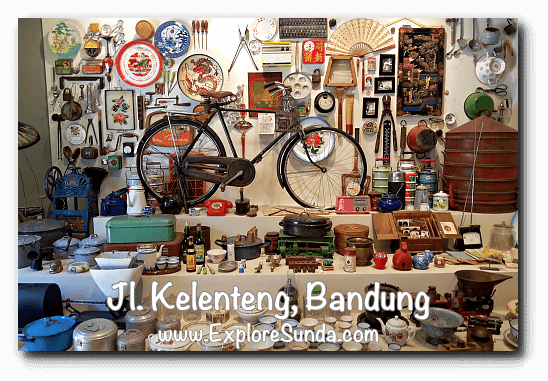 2021 Updates on Chinatown in Jalan Kelenteng Bandung:
The Chinatown in Jalan Kelenteng Bandung is closed. It started to close its doors when the pandemic COVID-19 reached Indonesia in 2020. As of today, we still don't have any information when it will reopen.
Speaking of museum, there are many museums you can visit in Bandung. Geology Museum, Sri Baduga Museum, Asia Africa Conference Museum, and Postal Museum to name a few. Bandung also popular as a shopping paradise, there are so many shopping options in the shopping malls, factory outlets and Pasar Baru to explore. Located in the highland, Bandung is surrounded by cool towns such as Lembang, Ciwidey and Garut. They offer many fun outdoor experiences. So, what would be your next destination? ;-)